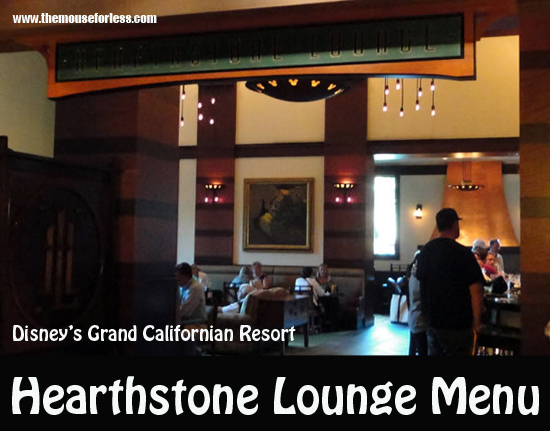 Gather with good friends around the cozy fireplace in this lodge-like lounge and sip on a drink from the full bar. At Hearthstone Lounge, in the morning, enjoy a continental breakfast with fresh bakery goods, specialty coffees, and a sweeping view. Sip your favorite beverage from the full bar and enjoy delicious food from the Hearthstone Lounge Menu. Guests can enjoy coffee and breakfast pastries in the morning, too.
Hearthstone Lounge is located in Disney's Grand Californian Hotel & Spa.  Find more Disneyland dining locations on our Disneyland Resorts menus page.
Restaurant Info: American, Vegetarian, Lunch/Dinner, $– under $14.99 per adult
Annual Passport Discounts: Signature Passport, Premium, Signature Plus Passport: 15%
Annual Passport Discounts: Deluxe, Southern California Select, Southern California Passport: 10% 

Planning a Disneyland Vacation?
For a Free no-obligation quote, contact our sponsor
The Magic For Less Travel
. The Magic For Less Travel is an Authorized Disney Vacation Planner and has been helping guests plan magical vacations since 2002. Receive the best prices and free travel planning services. Their fee-free services will help you save time, money, and stress while planning a vacation designed around you and your needs!
Hearthstone Lounge Menu
Menu Date: 11/2022
Bites [Served until 12am]
Chorizo Poutine 
seasoned Steak Fries, smothered in Chorizo Country Gravy with Cheddar Cheese Curds and Sweet & Hot Peppers – $14.00
Hearthstone Cobb Salad 
Leaf Lettuce, Arugula, Chicken, Cider-glazed Bacon, Point Reyes Blue Cheese, Avocado, Cherry Tomatoes, Radishes, Soft-boiled Egg, Artichoke, Red Onions and creamy Apple Vinaigrette – $18.00
Achiote Shrimp and Grits
Grilled Shrimp on Corn Porridge Grits, Oaxaca Cheese, Chile Butter, Roasted Cherry Tomatoes and Aromatic Herbs – $20.00
Artisanal Cheese and Charcuterie
Shareable Farmstead Local Cheese Selection, Humanely-raised Deli Meats and Traditional Accompaniments – $23.00
Seasonal Burger* 
American Wagyu Patty, Sonoma Sharp White Cheddar, Avocado, Lettuce, Tomato, Bacon-Shallot Jam on a Herb Focaccia Bun served with Seasoned Steak Fries – $24.00
Citrus-Habanero Chicken Wings
Pasture Raised Party Wings, Citrus-Habanero Hot Sauce and Celery Root & Maple-Carrots Slaw- $19.00
Steak Frites
Hickory Molasses-glazed Prime Flat Iron, Garlic-Parmesan Thin Fries, Blue Lake Beans, Demi-Glace, Compound Butter and Watercress Salad- $30.00
Gem Ceasar
Gem Lettuce, Blood Orange Segments, Shaved Parmesan, Croutons, Petite Pea Tendrils, Sunflower Seeds and Caesar Dressing. Add Chicken or Salmon* $12 – $20.00
Artisanal Pizzas [Served until 11pm]
Margherita Pizza 
Fresh Mozzarella, Fresh Basil, Fire-Roasted Tomatoes, Grana Padano and Aged Provolone – $24.00
Forest Mushroom Impossible™ Sausage Pizza
Roasted Mushrooms, Plant Based Sausage, Mushroom Spread, Caramelized Onions, Green Onions, Fresh Mozzarella, Grana Padano and Aged Provolone – $26.00
Charcuterie Pizza
Premium Pepperoni, Proscuitto, Salami, Fennel Sausage, Arugula, Fire-roasted Tomatoes, Grana Padano and Aged Provolone – $27.00
Classic Pepperoni Pizza 
Premium Pepperoni, Grana Padano and Aged Provolone – $26.00
Plant Based [Served until 12am]
Impossible™ Meatballs 
Toasted Pine Nuts, Lemon Zest, Garlic, Shallots and Mushroom Couscous, covered with Smoked Gouda, Cream Sauce and Root Vegetable Ribbons – $21.00
Desserts [Served until 12am]
Seasonal Cheesecake  – $10.00
Vanilla Crème Brûlée
with Orange-Vanilla Biscotti and Citrus-Berry Compote- $10.00
Chocolate Molten Cake
with Almond Brittle, Chantilly Cream, and Warm Chocolate Fudge Sauce – $10.00
Kids Meals [Served until 12am]
Disney Check Meals – Power Pack
Yogurt Smoothie, a Cuties® Mandarin Orange, Carrots and Whole-Grain "Fish" Crackers – $8.00
Disney Check Meal – Hamburger
Yogurt Smoothie and a Cuties® Mandarin Orange – $10.00
Parmesan Crusted Grilled Cheese Sandwich
served with Seasonal Fruit and a choice of Small Lowfat Milk or Small DASANI® Water – $10.00
Chicken Breast Tenders
Ketchup and Honey Mustard served with Seasonal Fruit and a choice of Small Lowfat Milk or Small DASANI® Water – $10.00
Non-Alcoholic Mocktails
Grapefruit Mocktail 
Fever-Tree Sparkling Pink Grapefruit, Falernum, Lime Juice and Grapefruit Juice, garnished with a Grapefruit Wheel – $8.00
White Grape Mocktail 
White Grape Juice, Premium Sparkling Mineral Water, Mint and Pomegranate Seeds, garnished with Green Grape Halves – $8.00
Peach Cooler 
Peach Juice, Peach Fresca® and Sage Syrup, garnished with a Lemon Wedge – $8.00
Apple Mocktail 
Apple Cider, Cinnamon Syrup, Orgeat and Ginger Beer, garnished with a Cinnamon-dusted Apple Slice and Luxardo Cherries – $8.00
Cocktails
Rye Sour 
Whistle Pig 10yr Rye Whiskey, Clover Honey Syrup and Grapefruit Juice, garnished with a Grapefruit Wheel – $17.00
Lemon-Lavender Martini 
Empress 1908 Gin, Carvella Limoncello, Lemon Juice and Lavender Syrup, garnished with a Lemon Wheel – $16.00
Blackberry Bramble 
Tito's Vodka, Lime Juice, Agave Nectar, Mint, Blackberries and a Chambord Black Raspberry Liqueur Float, garnished with a Lime Wedge- $15.00
Aviation Cocktail 
Monkey 47 Gin, Luxardo Maraschino Liqueur, Crème de Violette and Lemon Juice, garnished with Luxardo Cherries and a Lemon Twist – $16.00
Prickly Pear Margarita 
Don Julio Blanco Tequila, Prickly Pear Syrup, Lime Juice and Bitter Truth Orinoco Bitters, garnished with a Lime Wheel and a Pineapple Leaf – $19.00
Napa Martini 
Hanson of Sonoma Vodka, Poire William Brandy, Pomegranate Juice and Ginger Beer, garnished with a Lemon Wheel and Edible Flower – $18.00
Moonshine Tonic 
Ugly California Moonshine, Lemon Juice, Tonic Water and Sage-Maple-Paprika Syrup, garnished with a Sage Sprig and a Lemon Twist – $16.00
Mezcal Paloma 
Del Maguey Vida Mezcal, Grapefruit Juice, Lime Juice, Ginger Syrup and Grapefruit Soda, garnished with a Lime Wheel and Grapefruit Zest – $16.00
Hearthstone Old Fashioned 
Barterhouse 20yr Bourbon, Luxardo Maraschino Liqueur, Hickory Syrup and Angostura Bitters, garnished with an Orange Twist and Luxardo Cherries – $18.00
Rhum Whiskey Sling 
Angel's Envy Bourbon, Rhum Clement VSOP, Lemon Juice, Honey, Vanilla Syrup and Bitter Truth Orange Bitters, garnished with a Honeycomb Wedge and an Orange Wheel – $23.00
Grapefruit Spritz
Ketel One Botanical, Grapefruit & Rose, Moët & Chandon Impérial Brut Champagne and Lemon Juice, garnished with a Lemon Twist and Edible Rose Petals  – $25.00
Red Manhattan 
Eagle Rare 10yr Bourbon, MacMurray Pinot Noir, Agave Nectar and Angostura Bitters, garnished with a Cinnamon Stick and Luxardo Cherries – $24.00
Hibiscus Punch 
Plantation XO 20th Anniversary Rum, Hibiscus Liqueur, Earl Grey Tea-Elderflower Syrup and Lemon Juice, garnished with a Blood Orange Wheel and a Hibiscus Sugar Rim – $17.00
Beer
feature Beer Cocktail Shandy 
Karl Strauss® Windansea Wheat and Lemonade – $13.00
Bud Light 
(ABV 4.2%) Pale Lager, St. Louis, MO – $9.50
Budweiser 
(ABV 5.0%) Pale Lager, St. Louis, MO – $8.50
Coors Light 
(ABV 4.2%) Pale Lager, Golden, CO – $8.50
Miller Lite 
(ABV 4.2%) Pale Lager, Milwaukee, WI – $8.50
Corona Extra
(ABV 4.6%) Pale Lager, Mexico – $9.75
Dos Equis 
(ABV 4.5%) Pale Lager, Mexico – $9.75
Heineken 
(ABV 5.0%) Pale Lager, Netherlands – $9.75
Stella Artois 
(ABV 5.2%) Pale Lager, Belgium – $9.75
Modelo Especial 
(ABV 4.4%) Pale Lager, Mexico – $10.75
Kona Longboard 
(ABV 4.6%) American Lager, Hawaii – $9.75
Sudwerk Brewing Märzen 
(ABV 5.7%) Amber Lager, Davis, CA – $12.00
Blue Moon 
(ABV 5.4%) Belgian White (Witbier), Golden, CO – $9.75
Hanagr 24 Orange Wheat 
(ABV 4.6%) Wheat Ale, Redlands, CA – $12.00
Karl Strauss® Brewing Co., Windansea Wheat 
(ABV 5.1%) Wheat Ale, San Diego, CA – $12.00
North Coast Pranqster 
(ABV 7.6%) Golden Ale, Fort Bragg, CA – $11.00
Sierra Nevada Pale Ale 
(ABV 5.0%) Pale Ale, Chico, CA – $9.75
New Belgium Fat Tire 
(ABV 5.2%) American Amber Red Ale, Fort Collins, CO – $9.75
Rök Berserker 
(ABV 5.5%) Brown Ale, Upland, CA – $11.50
Bear Republic Race 5 IPA 
(ABV 7.0%) India Pale Ale, Healdsburg, CA – $10.75
Ballas Point Grapefruit Sculpin IPA 
(ABV 7.0%) India Pale Ale, San Diego, CA – $11.00
Stone Ruination Double IPA 2.0 
(ABV 8.5%) India Pale Ale, San Diego, CA – $12.00
Angry Orchid Crisp Apple Cider 
(ABV 5.0%) Cider, Cincinnati, OH – $9.75
Ace Hard Cider 
(ABV 5.0-6.9%) Cider, Sebastopol, CA – $9.75
Elysian Space Dust IPA – $12.00
Belching Beaver Hazy Phantom Bride IPA – $12.00
Rosé and Sparkling WineSparkling
Gérard Bertrand, Côtes Des Roses Rosé, France 
Bottle – $55.00
Glass – $13.00
Moët & Chandon Brut Impérial Champagne 
Bottle – $95.00
Glass – $23.00
Louis Pommery Brut 
Bottle – $55.00
Glass – $13.00
Banfi Rosa Regale, Sparkling Red Brachetto d'Acqui, Piedmont, Italy 
Bottle – $61.00
Glass – $15.00
La Marca Prosecco, Italy 
Bottle – $45.00
Glass – $11.00
White Wine
Eroica Riesling, Columbia Valley 
Bottle – $55.00
Glass – $13.00
Fess Parker Riesling, Santa Barbara County 
Bottle – $45.00
Glass – $11.00
Mark West Pinot Grigio, California 
Bottle – $45.00
Glass – $11.00
Matanzas Creek Sauvignon Blanc, Sonoma County 
Bottle – $45.00
Glass – $11.00
Paul Dolan Sauvignon Blanc, Potter Valley 
Bottle – $51.00
Glass – $12.00
Tangent Albariño, Edna Valley 
Bottle – $51.00
Glass – $12.00
Conundrum, California 
Bottle – $65.00
Glass – $16.00
Nielson Chardonnay, Santa Barbara County 
Bottle – $55.00
Glass – $13.00
Baileyana Firepeak Chardonnay, Edna Valley 
Bottle – $75.00
Glass – $18.00
Kendall-Jackson Vintner's Reserve Chardonnay, California 
Bottle – $55.00
Glass – $13.00
Rodney Strong Chardonnay, Chalk Hill 
Bottle – $55.00
Glass – $13.00
Red Wine
MacMurray Estate Pinot Noir, Russian River Valley 
Bottle – $65.00
Glass – $16.00
Flowers Pinot Noir, Sonoma Coast 
Bottle – $95.00
Glass – $23.00
Rutherford Hill Merlot, Napa Valley 
Bottle – $65.00
Glass – $ 16.00
Kunde Merlot, Sonoma Valley 
Bottle – $55.00
Glass – $13.00
Klinker Brick Old Vine Zinfandel, Lodi 
Bottle – $55.00
Glass – $13.00
Francis Coppola Diamond Collection Malbec, California 
Bottle – $51.00
Glass – $ 21.00
Trenza Tinto Tempranillo-Syrah, San Luis Obispo County 
Bottle – $81.00
Glass – $19.00
Qupé Syrah, Central Coast 
Bottle – $61.00
Glass – $15.00
The Prisoner Red Blend, Napa Valley 
Bottle – $55.00
Glass – $13.00
Austin Hope Cabernet Sauvignon, Paso Robles 
Bottle – $81.00
Glass – $19.00
Rodney Strong Cabernet Sauvignon, Sonoma County 
Bottle – $55.00
Glass – $13.00
Schweiger Family Cabernet Sauvignon, Spring Mountain District
Bottle – $81.00
Glass – $19.00
Stag's Leap Artemis Cabernet Sauvignon, Napa Valley
Bottle – $85.00
Glass – $21.00
'Ōlelo Cabernet Sauvignon, Paso Robles 
Bottle – $45.00
Glass – $11.00
** Hearthstone Lounge Menu and Prices are Subject to Change Without Notice **