Disneyland Resort Hotels | Disney's Grand Californian Hotel and Spa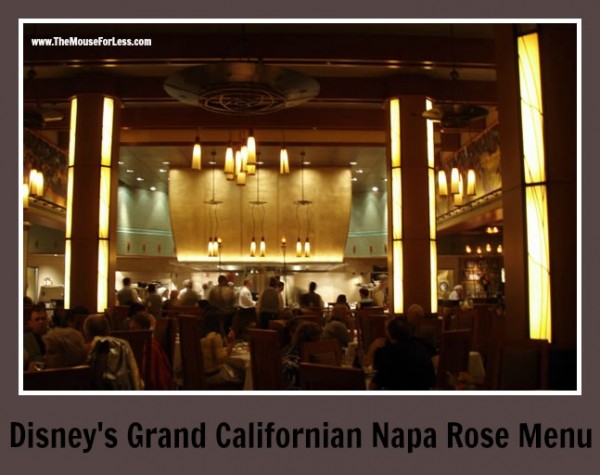 Napa Rose features a menu that changes seasonally and offers unique fresh tastes. For example, start off with appetizers like hand-harvested diver scallops or Portobello mushroom bisque "Cappuccino." Dine on such house specialties as strawberry sage barbeque duck breast or spit-roasted prime rib of pork with ranch-style black beans. Additional, the  chef's 4-course prix-fixe tasting menu at Napa Rose changes weekly.
Beginning on March 30, 2019 Napa Rose will offer a Disney Princess Breakfast Adventure! Breakfast will offer themed activities, a takeaway bag, 3-course meal, and personal interactions and photos with Disney Princesses.
Restaurant Info: Character Breakfast – $125 Per Person (age 3+)
American, Vegetarian, Dinner, $$$ – $36.00-$59.99 Per Person
Disney Princess Breakfast Adventure Menu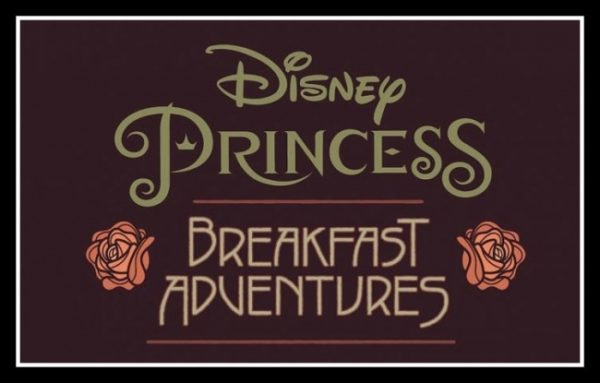 Menu Date: 04/2019
Buffet:  $125.00 adult/child
Cold Starters
Sunrise Citrus and Vanilla Bun
with Raspberry Glaze
Caramel Beignet
Assorted Fruit Slices and Berries
3 Tier Tower
with Chia and Granola Parfait; Open-face Ham and Cheese Sandwich; Banana Wrap
Lobster Salad Crostini
with a Dinglehopper
Hot Offerings
House Made Mac & Cheese
Mini Chicken & Princess Waffles
with Butter and Maple Syrup
Pulled Beef Slider
with Barbecue Sauce, Pineapple Salsa and a Hawaiian Bun
Perfect Scrambled Eggs
Artisan Turkey Sausages
Rotational Selection of Meats
Roasted Tomato and Asparagus
Fresh Mint Papas Bravas
with Romesco Sauce
Desserts Buffet
Chocolate Chip Princess Cake Pops
Petite Raspberry Tarts
Sea Shell Macarons
with Mango Passion Fruit Ganache
Strawberry Honey Sorbet
Almond Crunch
with Vanilla Chantilly
Napa Rose Dinner Menu
Menu Date: 03/2019
Starters
Sauteed Diver Scallop
on Braised Oxtail Ragu with Winter Squash Nage – $22.00
Hearth Roasted Pacific Oysters
with Spicy Kona Kampachi Relish and Tangerine – $20.00
Coastal Mushroom Tart
with Tuscan Kale, Fontina Cheese and Duck Jus – $20.00
Hearty Braised Winter Goose Ragu
with Cavatelli Pasta and Chestnut Coulis – $20.00
Handcrafted Rabbit Bratwurst
with Roasted Winter Pear, Pear-Almond Puree, Sauteed Rapini and Saba Vinaigrette – $20.00
Thyme Roasted Apple Salad
with Upland Cress, Frisee, Coraline, Toasted Walnuts, and French Cheddar Cheese
Smiling Tiger Salad
with Spicy Beef, Asian Greens, Lobster Shrimp Fritters, and Coconut Vinaigrette – $22.00
Soups
Market Seasonal Soup – $15.00
Main Courses
Market Fish of the Day
Sauteed, with Pacific White Shrimp, Light Shrimp Broth, accented with Lemongrass, Mint and Chile – $44.00
Sustainable Fish of the Day
Hazelnut Roasted, with Duck Confit, Salsify and Orange-Thyme Butter – $44.00
Sesame-Lemon Roasted Cabbage Roulade
stuffed with Forager Mushrooms, Minted Green Garbanzo and Red Fresno Piperade – $38.00
Grilled Roasted Eye of Ribeye
with Braised Cap, Bacon Lardons, Roasted Nantes, Carrots, and Black Tuscan Kale- $50.00
Brambly Roasted Angus Beef Filet Mignon 
Rosemary Roasted Marble Potatoes and California Chili Cranberry Essence – $53.00
Grilled Maple leaf Duck Breast
with Apple bread Pudding and Cider Braised Red Cabbage – $44.00
Mountain Lamb "Pot Roast" 
with Pomegranate Mint Glaze and Sweet Potato Quince Puree – $47.00
Sides
Hearth-roasted Fingerling Potatoes
with Caramelized Onions and Comté Cheese – $10.00
Braised Greens 
Anchovy, Garlic, Red Fresno Chile, and Lemon – $10.00
Truffled Mac and Cheese Orecchiette Pasta
with Parmigiano-Reggiano – $12.00
Kids' Entrees
Sautéed Fish of the Day
with steamed Multigrain Rice and Petit Green Beans, includes a glass of 1% Hormone Free Milk and a side of fresh cut fruits. Meets Disney Nutrition Guidelines for Complete Meals without Substitutions – $14.00
Corn Based Gluten Free Fusilli Pasta
with Fire-roasted Roma Tomato Sauce and Petit Green Beans, includes a glass of 1% Hormone Free Milk and a side of fresh cut fruits. Meets Disney Nutrition Guidelines for Complete Meals without Substitutions – $9.00
Chopped Salad
with Roma Tomatoes, Cucumber and Buttermilk Ranch Dressing – $8.00
Petit Filet of Angus Beef
with Mashed Potatoes and Steamed Broccoli – $14.00
Grilled Chicken Breast Scaloppini
with Mashed Potatoes and Steamed Broccoli – $13.00
Cheese Pizza
with our Fire-roasted Roma Tomato Sauce – $15.00
Kids Desserts
Balboa Beach Sand
Tahitian Vanilla Bean Creme Brulee "Ocean" with Graham Cracker "Sand", some fun Fish and a Beach Umbrella – $6.50
Valhrona Chocolate "Brookie" Sundae
Warm Chocolate Brownie with a Chocolate Chip Cookie center – $10.00
Plate of Seasonal Fresh Cut Fruits – $5.00
Artisinal Ice Cream 
1 Scoop $5.00, 2 Scoops $10.00, 3 Scoops $15.00
Seasonal Sorbets
1 Scoop $5.00, 2 Scoops $10.00, 3 Scoops $15.00
Kids Beverages
Hormone Free Nonfat Milk, 1%, or Whole Milk – $2.79
Assorted Fountain Drinks
Coca-Cola, Diet Coke, Sprite, or Fanta Orange soda – $2.79
Assorted Juices
Apple, Orange, Cranberry, or Lemonade – $2.79
Martinelli's Sparkling Apple Cider – $5.00
** Napa Rose Menu and Prices are Subject to Change Without Notice **