Downtown Disney | Disneyland Resort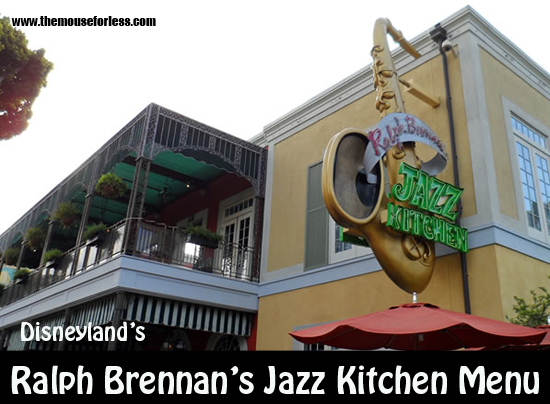 Lunch Menu Kids' Lunch Menu Dinner Menu Kids' Dinner Menu Drink Menu
 At Ralph Brennan's Jazz Kitchen, as part of a total entertainment and dining experience, every detail of this Big Easy-inspired restaurant delivers the tantalizing sights, sounds and tastes of New Orleans.
Restaurant Info: Cajun-Creole, Steak. Unique and Themed Bars and Lounges, $$ – Between $15.00 and $35.99 per person.
Annual Passholders receive 10% discount.
Ralph Brennan's Jazz Kitchen Lunch Menu
Menu Date: 02/2019
Starters
Southern Garlic Cheese Bread
Basil, Mozzarella, Roasted Garlic and Olive Oil Puree – $12.50
Coconut Crusted Shrimp
Pineapple Salsa, House-made Pepper Jelly – $15.50
Popcorn Calamari
Creole Mustard Aioli and Marinara Sauce – $15.95
Boudin Balls
Slow-roasted Cochon Pork, Dirty Rice, Creole Mustard Aioli, House-made Pepper Jelly – $13.50
Cajun Wings
Cajun rubbed Chicken Wings, Crystal Honey Hot Sauce, Buttermilk Ranch Dressing – $14.95
Soups & Salads
Louisiana Soup of the Day
Chef's Creation – $9.50
Gumbo Ya-Ya
Chicken, Andouille Sausage, Dark Roux, Creole Seasoning, Rice – $11.50
French Quarter Salad
Mixed Greens, Candied Pecans, Cherry Tomatoes, Cider Vinaigrette – $9.50
Entree Salads
Grilled Pesto Chicken Salad
Pesto-marinated Chicken Breast, mixed Baby Greens, Mozzarella Cheese, Roasted Red Peppers, Kalamata Olives, Artichoke Hearts, Balsamic Dijon Vinaigrette – $19.50
Green Goddess Salad
Romaine Hearts, Applewood-smoked Bacon, Granny Smith Apples, Cherry Tomatoes, Feta Cheese, Toasted Pumpkin Seeds, Green Goddess Dressing – $16.95
Creole Caesar Salad
Romaine Lettuce, Roma Tomatoes, Shaved Asiago Cheese, Creole Caesar Dressing, Herb Ciabatta Toast – $15.50
Creole Caesar Salad with Grilled Chicken
Romaine Lettuce, Roma Tomatoes, Shaved Asiago Cheese, Creole Caesar Dressing, Herb Ciabatta Toast – $20.50
Creole Caesar Salad with Crispy Fried Shrimp
Romaine Lettuce, Roma Tomatoes, Shaved Asiago Cheese, Creole Caesar Dressing, Herb Ciabatta Toast – $22.50
Burgers, Po-Boys, & Sandwiches
Jazz Kitchen Cheeseburger
Ground Filet Mignon, Jack Cheese, , Lettuce, Tomato, Onion, and Pickles, served with Cajun Fries – $18.50
Bayou Burger
Ground Filet Mignon, Fried Green Tomatoes, Pepper Jack Cheese, Applewood-smoked Bacon, Baby Arugula, Fried Egg, Creole Mustard Aioli, , Jalapeno-Bacon Potato Salad – $19.95
Fried Chicken Po-Boy
Applewood-smoked Bacon, Baby Arugula, Tomatoes, Pickles, Creole Mustard Aioli, Jalapeno-Bacon Potato Salad – $15.95
Cheesesteak Po-Boy
Sliced Filet Mignon, Smoked Gouda Cheese, Sweet Onions, Baby Arugula, Tomatoes, Green Goddess Dressing, Parmesan-Garlic Fries – $18.95
Gulf Shrimp BLT Po-Boy
crispy Shrimp, Baby Arugula, Tomato, Bacon Jam, Creole Mustard Aioli, Cajun Fries – $18.50
Ralph's Sandwich of the Day
Chef's Creation – $16.95
Entrees
Pasta Jambalaya
Gulf Shrimp, Andouille Sausage, Roasted Chicken, Creole Seasoning with Spinach Fettuccine – $24.95
Blackened Chicken "Mac & Cheese"
Applewood Smoked Bacon, Caramelized Onions, Oven-roasted Tomatoes, Baby Arugula, Penne Pasta, Smoked Gouda Cream Sauce, Rosemary Garlic Ciabatta Bread – $22.95
BBQ Shrimp & Grits
"New Orleans" Barbecue Sauce, Andouille Sausage-Parmesan Grits – $21.50
Chicken Fried Chicken & Grits
Southern Greens, Crimini Mushrooms, Lemon-Caper Butter Sauce – $17.50
Desserts
Beignets 
French Donuts topped with Powdered Sugar (5 per order) – $9.50
Double Chocolate Bread Pudding  Souffle
Semisweet Chocolate, White and Dark Chocolate Ganache – $13.50
Make it a la mode – $1.99
Please allow 25 minutes to prepare
Peach Cobbler
served with Dulce de Leche Ice Cream – $9.50
Bananas Foster
Bananas, Brown Sugar, Rum and Banana Liqueur, over Vanilla Bean Ice Cream and flambeed tableside for two – $16.50
Ralph Brennan's Jazz Kitchen Kid's Lunch Menu
Menu Date 03/2019
Kids' Appetizers
Celery and Carrot Sticks
served with Ranch Dressing
Kids' Entrées
Crispy Chicken Tenders
with Honey-Mustard Dipping Sauce. Includes Appetizer, choice of Entree and choice of Side – $9.95
Penne Pasta and Meatballs
with Tomato Sauce and Parmesan Cheese. Includes Appetizer, choice of Entree and choice of Side – $9.95
Grilled Cheese Sandwich
American and Cheddar Cheese on Texas Toast. Includes Appetizer, choice of Entree and choice of Side – $9.95
Grilled Chicken Strips
with Honey Mustard Dipping Sauce. Includes Appetizer, choice of Entree and choice of side – $9.95
Pepperoni French Bread Pizza
Marinara Sauce and Mozzarella Cheese. Includes Appetizer, choice of Entree and choice of side – $9.95
Jazz Kitchen Cheeseburger
on a Toasted Sesame Seed Bun. Includes Appetizer, choice of Entree and choice of side – $9.95
Kids' Sides
French Fries
Mashed Potatoes
Fresh Fruit
Corn on the Cob
Peas & Carrots
Kid's Beverages
Raspberry Lemonade – $5.00
Strawberry Lemonade – $5.00
Kid's Mint Julep – $5.00
Shirley Temple – $5.00
Roy Rogers – $5.00
Yummy Grape Soda – $5.00
Bubble Gum Soda – $5.00
Watermelon Soda – $5.00
Ralph Brennan's Jazz Kitchen Dinner Menu
Menu Date 03/2019
Starters
Southern Garlic Cheese Bread
Basil, Mozzarella, Roasted Garlic and Olive Oil Puree – $12.50
Coconut Crusted Shrimp
Pineapple Salsa, House-made Pepper Jelly – $15.50
Popcorn Calamari
Creole Mustard Aioli and Marinara Sauce – $15.95
Boudin Balls
Slow-roasted Cochon Pork, Dirty Rice, Creole Mustard Aioli, House-made Pepper Jelly – $13.50
Louisiana Crawfish Cake
Cucumber, Roasted Corn Salsa, Chipotle Tartar Sauce – $16.50
Cajun Wings
Cajun rubbed Chicken Wings, Crystal Honey Hot Sauce, Buttermilk Ranch Dressing – $14.95
Soups and Salads
Louisiana Soup of the Day
Chef's Creation – $9.50
Gumbo Ya Ya
Chicken, Andouille Sausage, Dark Roux, Creole Seasoning, Rice – $11.50
French Quarter Salad
Mixed Greens, Candied Pecans, Cherry Tomatoes, Cider Vinaigrette – $9.95
Green Goddess Salad
Romaine Hearts, Applewood-smoked Bacon, Granny Smith Apples, Cherry Tomatoes, Feta Cheese, Toasted Pumpkin Seeds, Green Goddess Dressing – $14.50
Creole Caesar Salad
Romaine Hearts, Cherry Tomatoes, Rosemary Crouton, Creole Caesar Dressing, Shaved Asiago Cheese – $12.50
Seafood
Pasta Jambalaya
Gulf Shrimp, Andouille Sausage, Roasted Chicken, Creole Seasoning with Spinach Fettuccine – $31.50
BBQ Shrimp & Grits
"New Orleans" Barbecue Sauce, Andouille Sausage-Parmesan Grits – $29.95
Blackened Salmon
Cajun Rice, Green Beans, Pineapple Mango Salsa, Mango Beurre Blanc – $29.50
Catfish St. Charles
Gulf shrimp, Oven-roasted Tomatoes, Crimini Mushrooms, Green Onions, Poblano Chili Cream Sauce, Goat Cheese Grit Cake – $27.95
Shrimp Primavera 
Gulf Shrimp, Vegetables, Roasted Garlic, Lemon, Basil, Risotto Cake – $26.95
Beef
Grilled Medallions of Beef
Filet Mignon, Crawfish Mashed Potatoes, Bacon and Pecan crusted Green Beans, Zinfandel Reduction – $36.95
New York Steak au Poivre
Dauphinoise Potatoes, Green Beans, Brandy-Peppercorn Sauce – $37.50
Black & Blue Filet Mignon
Bacon-chive Mashed Potatoes, Asparagus, Gorgonzola Compound Butter – $41.50
Poultry
Rosemary Chicken
Pan-roasted French-cut Chicken Breast, Heirloom Potatoes, Broccolini, Rosemary-Garlic White Wine Sauce – $26.95
Southern Fried Chicken
Red Beans and Rice, Jalapeno-Bacon Potato Salad, Crystal Hot Butter Sauce – $29.50
Blackened Chicken "Mac & Cheese"
Applewood-smoked Bacon, Caramelized Onions, Oven-roasted Tomatoes, Baby Arugula, Penne Pasta, Smoked Gouda Cream Sauce, Rosemary-Garlic Ciabatta Bread – $28.50
Sides
Jalapeno Corn Bread – $5.95
Crawfish Mashed Potatoes – $5.95
Fried Green Tomatoes – $5.95
Bacon-Pecan Green Beans – $5.95
Jalapeno-Bacon Potato Salad – $5.95
Southern Greens – $5.95
Desserts
Beignets
French Donuts topped with Powdered Sugar (5 per order) – $9.50
Double Chocolate Bread Pudding Souffle
Semisweet chocolate, White and Dark Chocolate Ganache – $13.50
Make it a la mode – $1.99.
Please allow 25 minutes to prepare
Peach Cobbler
served with Dulce de Leche Ice Cream – $9.50
Bananas Foster
Bananas, Brown Sugar, Rum and Banana Liqueur, over Vanilla Bean Ice Cream and flambeed tableside for two – $16.50
Ralph Brennan's Jazz Kitchen Kid's Dinner Menu
Menu Date 03/2019
Kids' Appetizers
Celery and Carrot Sticks
served with Ranch Dressing
Kids' Entrées
Crispy Chicken Tenders
with Honey-Mustard Dipping Sauce. Includes Appetizer, choice of Entree and choice of Side – $9.95
Penne Pasta and Meatballs
with Tomato Sauce and Parmesan Cheese. Includes Appetizer, choice of Entree and choice of Side – $9.95
Grilled Cheese Sandwich
American and Cheddar Cheese on Texas Toast. Includes Appetizer, choice of Entree and choice of Side – $9.95
Grilled Chicken Strips
with Honey Mustard Dipping Sauce. Includes Appetizer, choice of Entree and choice of side – $9.95
Pepperoni French Bread Pizza
Marinara Sauce and Mozzarella Cheese. Includes Appetizer, choice of Entree and choice of side – $9.95
Jazz Kitchen Cheeseburger
on a Toasted Sesame Seed Bun. Includes Appetizer, choice of Entree and choice of side – $9.95
Kids' Sides
French Fries
Mashed Potatoes
Fresh Fruit
Corn on the Cob
Peas & Carrots
Kid's Beverages
Raspberry Lemonade – $5.00
Strawberry Lemonade – $5.00
Kid's Mint Julep – $5.00
Shirley Temple – $5.00
Roy Rogers – $5.00
Yummy Grape Soda – $5.00
Bubble Gum Soda – $5.00
Watermelon Soda – $5.00
Ralph Brennan's Jazz Kitchen Drink Menu
Menu Date 03/2019
Jazz Kitchen Non-Alcoholic Drinks
Tropical Storm
Blend of Orange Juice, Pineapple Juice, and a Swirl of Grenadine – $6.00
Virgin Mojito  
Refreshing and Minty – $6.00
Chocolate Soda 
Torani Syrup, Soda, with a squeeze of Lime – $6.00
NOLA Spritzer
Peach, Raspberry, and Sprite. Fruity and thirst quenching – $6.00
Blackberry Sage Black Iced Tea – $6.00
Pomegranate Green Iced Tea – $6.00
Passion Fruit Green Tea – $6.00
Decaf Ginger Peach Black Tea – $6.00
Abita Root Beer – $5.00
Hank's Premium Orange Cream Soda – $5.00
Hank's Wishniak Black Cherry Soda – $5.00
San Pellegrino Sparkling Water – $8.00
Acqua Panna Still Water – $8.00
New Orleans Specialty Drinks
Cat-5 Hurricane
A combo of don Q rum, Myer's Rum, Orange Juice, Pineapple Juice, Grenadine, and a float of Don Q to blow you away! – $16.00
Jorge's Land Mine
Watch out for this one…The Original Moonshine Grain Whiskey, Rum Vodka, Gin, Midori, Sweet and Sour – $15.00
Huckleberry Lemonade
A thirst quencher beverage made with 44° North Huckleberry Vodka and Lemonade – $14.00
Sazerac
Chilled Sazerac Rye Straight Whiskey laced with the right balance of Herbsaint and Bitters – $15.00
Mint Julep
Woodford Reserve Bourbon, fresh Mint Leaves, Simple Syrup, topped with Soda – $15.00
Pineapple Milk
Yup, we really did it. We milked a Pineapple! A refreshing concoction of Skyy Pineapple Vodka, Pina Colada Mix, and Dole Pineapple Juice – $14.00
Bayou Blueberry Smash
A refreshing blend of Skyy Blueberry-infused Vodka and muddled blueberries – $15.00
Raspberry Rum Runner
Cruzan Coconut Rum, Myer's Dark Rum, Creme de Banana, Fruit Juices, and Raspberry Puree – $15.00
Louisiana Lemonade
Lemonade done right with Cruzan Citrus, Raspberry Liqueur, Lemonade, Sprite – $13.00
Southern Peach Sweet Tea
A sweet combo of Deep Eddy Sweet Tea Vodka, Peachtree Schnapps, and lemonade – $13.00
Mardi Gras Mojito
Exciting mix of Don Q Cristal Rum, Mint-infused Simple Syrup, Lime Juice and Sprite – $15.00
Canal Street Coconut Mojito
Cruzan Coconut Rum, Mint, Simple Syrup, Lime Juice, and Soda – $15.00
Creole Pear Mojito
A Southern favorite of Absolut Pear, Mint, Simple Syrup, and Soda – $15.00
Southern Cosmopolitan
Absolut, triple sec, lime juice, Peachtree Schnapps – $14.00
Bananas Foster
Van Gogh Caramel Vodka, Creme de Banana, cream – $15.00
The Curious Sarsaparilla Whiskey Manhattan
A strangely delicious libation made of Jeremiah Weed Sarsaparilla Whiskey and Cinzano Sweet Vermouth – $14.00
The "Who Dat" Martini
A smooth blend of Buffalo Trace Whiskey and Canton Ginger Liquor – $15.00
Cajun Apple
Fireball Cinnamon Whiskey, Sour Apple Pucker – $14.00
House Bloody Mary
Absolut Vodka with our House Bloody Mary Mix served with a Celery Salt rim and Pickled Green Bean – $13.00
Cajun Bloody Mary
Absolut Peppar, Creole Seasoned Rim, Crystal Hot Sauce, Pimento-stuffed Olive – $14.00
Bayou Breakfast Mary
Jim Beam Maple Bourbon, Creole Seasoned Rim, and a piece of Bacon – $15.00
Ralph's Coffee
French Market Dark Roast Coffee, Praline Liqueur, and Frangelico – $12.00
Jazz Kitchen Coffee
French Market Dark Roast Coffee, Brandy and Praline Liqueur – $12.00
Keoke Coffee
French Market Dark Roast Coffee, Kahlua, Brandy, and Creme de Cacao – $12.00
Irish Coffee
French Market Dark Roast Coffee and Irish Whiskey – $12.00
Wines
Brachetto d'Acqui, Stella Rosa, Italy
Glass – $12 | Bottle – $48
Sparkling, Blanc de Noirs, Gloria Ferrer, Carneros
Glass – $12 | Bottle – $46
Rose, Martin Ray, Sonoma County
Glass – $12 | Bottle – $46
Chardonnay, Mondavi Woodbridge
Glass – $8 | Bottle – $32
Chardonnay, Hess, Monterey
Glass – $10 | Bottle – $38
Chardonnay, Meiomi, Sonoma-Monterey-Santa Barbara
Glass – $12 | Bottle – $46
Chardonnay, Neyers, Carneros
Glass – $17 | Bottle – $66
Sauvignon Blanc, Nobilo, Marlborough, NZ
Glass – $10 | Bottle – $36
Pinot Grigio, Estancia, California
Glass – $9 | Bottle – $36
Riesling, Two Vines, Washington State
Glass – $8 | Bottle – $32
Sangria, Bodega de San Antonio
Glass – $8 | Bottle – $29
Red Blend, Noble Vines, "The One", California
Glass – $9 | Bottle – $36
Cabernet Sauvignon, Cupcake, Central Coast
Glass – $10 | Bottle – $40
Cabernet Sauvignon, Mondavi Woodbridge
Glass – $8 | Bottle – $32
Cabernet Sauvignon, Folie a Deux, Alexander Valley
Glass – $13 | Bottle – $50
Cabernet Sauvignon, Geyser Peak, Alexander Valley
Glass – $14 | Bottle – $54
Merlot, St. Francis, Sonoma
Glass – $12 | Bottle – $46
Merlot, BV Century Cellars, California
Glass – $8 | Bottle – $32
Pinot Noir, Gnarly Head, California
Glass – $9 | Bottle – $36
Pinot Noir, Austerity, Santa Lucia Highlands
Glass – $12 | Bottle – $44
Petite Sirah, San Simeon, Paso Robles
Glass – $11 | Bottle – $44
Zinfandel, Ravenswood, California
Glass – $8 | Bottle – $32
Zinfandel, Seven Deadly Zins, Lodi
Glass – $10 | Bottle – $39
Malbec, Trapiche Broquel, Mendoza
Glass – $12 | Bottle – $44
Beers by the Bottle
Wells Banana Bread Beer – $9.00
Stone Ruination IPA – $9.00
Shock Top Belgian White – $8.00
Budweiser or Bud Light – $8.00
Stella Artois Cidre – $9.00
Karl Strauss Tower 10 IPA – $8.00
Cabotella Mexican Ale – $9.00
Becks (Nonalcoholic) – $7.00
Litre Draft Beers
Abita Purple Haze – $18.00
Karl Strauss Windansea Hefeweizen – $18.00
Stella Artois – $18.00
Abita Wrought Iron IPA – $18.00
Abita Amber – $18.00
Abita Turbodog – $18.00
Litre Draft Beer Refills – $13.00
** Ralph Brennan's Jazz Kitchen Menu and Prices are Subject to Change Without Notice **