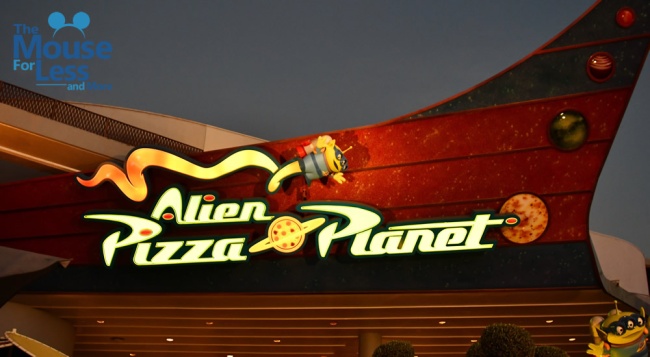 Alien Pizza Planet is THE space hub for all things delicious! Enjoy Italian cuisine from pasta to pizza, and even desserts — all inspired by the cute aliens from beloved classic Toy Story.
Alien Pizza Planet is located in Disneyland theme park.  Find more Disneyland dining locations on our Disneyland Resorts menus page.
Restaurant Info: American, Italian, Vegetarian, Lunch/Dinner, $ – Less than $14.99 per person, Mobile Orders Available
Magic Key Holder Discounts are available
Disney Vacation Club Discounts are available

Planning a Disneyland Vacation?
For a Free no-obligation quote, contact our sponsor
The Magic For Less Travel
. The Magic For Less Travel is an Authorized Disney Vacation Planner and has been helping guests plan magical vacations since 2002. Receive the best prices and free travel planning services. Their fee-free services will help you save time, money, and stress while planning a vacation designed around you and your needs!
Alien Pizza Planet Menu
Menu Date: 05/2022
Pasta
Countdown Chicken Fusilli – $11.99
Fusilli Pasta topped with Seasoned Grilled Chicken, a Parmesan-Pesto Cream Sauce with Sun-dried Tomatoes and Shaved Parmesan Cheese
Tomato Cream Pasta – $11.99
Italian Sausage and Bell Peppers served on top of Chef's choice of Pasta tossed with Blush Sauce
Pizza
Hawaiian-style Pizza – Slice – $8.99
topped with Spiced Pizza Sauce, Pineapple, Red Bell Pepper, Canadian Bacon, Mozzarella & Parmesan Cheese Blend and Green Onions
Mega Pepperoni – Slice – $8.49
Celestial Tomato Sauce topped with Mozzarella Cheese and extra-large slices of Pepperoni
Mozz-114 Cheese Pizza – Slice – $7.99
Celestial Tomato Sauce with a generous topping of Mozzarella Cheese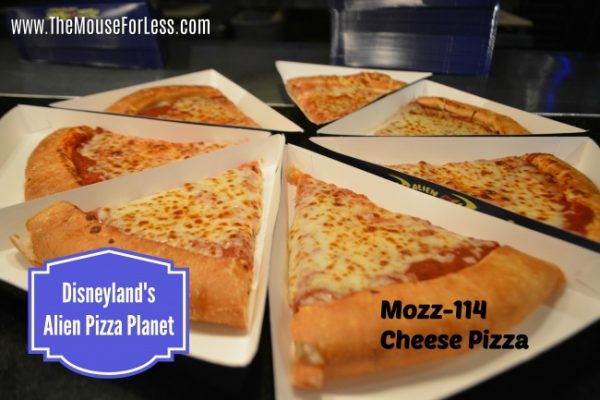 Sides
Astro Antipasto Salad – $10.49
crisp Lettuce with Pepperoni, Tomatoes, Mixed Olives, Pepperoncini, fresh Mozzarella, Roasted Red Pepper, Artichoke Hearts, and Roasted Onion, with Balsamic Vinaigrette and Shaved Parmesan Cheese
Centurion Caesar Salad – $10.49
Grilled Chicken Breast atop crisp Romaine Lettuce tossed in Caesar Dressing, with Croutons and Parmesan Cheese
Satellite Salad – $4.99
Mixed Greens, Tomatoes, Carrots served with choice of Dressing
Garlon Bread – $4.99
served warm with zesty Dipping Sauce
Dessert
The Macarooooon – $5.99
Kids' Disney Check Meals
Kids' menu items for children ages 9 and younger
Space-getti with Meatballs – $7.99
served with Carrots, a Cuties® Mandarin, and choice of Small Lowfat Milk or Small DASANI® Water. Meets Disney Nutrition Guidelines for Complete Meals without substitutions
Kids' Meals
Kids' menu items for children ages 9 and younger.
Kid-Size Cheese Pizza – $6.99
served with Carrots, a Cuties® Mandarin, and choice of Small Lowfat Milk or Small DASANI® Water
Lunar Liquids
Assorted Fountain Beverages
Assorted Coca-Cola offerings available at our beverage station
Regular – $4.29
Large – $4.99
Travel Mug – $10.29
Alien Souvenir Sipper – $10.29
Alien-shaped Premium Sipper – $17.59
Hot Cocoa – $3.49
Coffee
Regular or Decaffeinated – $3.49
Hot Tea – $3.49
Minute Maid Juice Box – $1.99
Low-Fat Milk – $1.99
Dasani Bottled Water – $3.99
Reusable Cutlery Set – $9.99
** Alien Pizza Planet Menu and Prices are Subject to Change Without Notice **