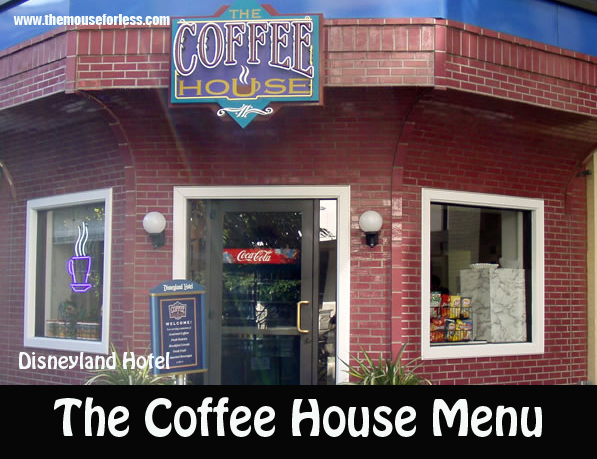 Stop by Coffee House, a convenient coffee shop that is a great way to begin your Disney day in the parks.
Coffee House is located in the Disneyland Hotel.  Find more Disneyland dining locations on our Disneyland Resort menus page.
Restaurant Info: American. Quick Service,
$ – Less than $14.99 per person

Planning a Disneyland Vacation?
For a Free no-obligation quote, contact our sponsor
The Magic For Less Travel
. The Magic For Less Travel is an Authorized Disney Vacation Planner and has been helping guests plan magical vacations since 2002. Receive the best prices and free travel planning services. Their fee-free services will help you save time, money, and stress while planning a vacation designed around you and your needs!
Coffee House Menu
Menu Date:2023
Snacks
DORITOS Nacho Cheese Flavored Tortilla – $4.00
CHEETOS Crunchy Cheese Flavored Snack – $4.00
CHEETOS Crunchy Flamin Hot Cheese Flavored Snack  – $4.00
Honey Almond Glazed Mix – $6.00
Naturally Flavored Pomegranate Pistachios – $4.00
Overnight Oats – $8.00
Protein Pack – $8.00
String Cheese – $1.25
Applesauce – $2.50
Sabra Classic Grab and Go Hummus – $2.50
Kind Peanut Butter Dark Chocolate Bar – $5.50
Uncrustable PB&J Sandwich Grape – $2.50
Uncrustable PB&J Sandwich Strawberry – $2.50
Snack Mix Fruit and Nuts Roasted– $4.00
Pretzel Bites – $5.00
Chia Granola Parfait  – $7.25
Blueberry Greek Yogurt  – $3.50
Strawberry Greek Yogurt  – $3.50
Assorted Cereal  – $4.00
Assorted Cereal with Milk  – $5.00
Oatmeal – $5.50
choice of Oatmeal
Banana – $2.00
Cuties® Mandarin Orange 3 Pack – $5.50
Turkey and Cheese Sandwich – $12.00
Fresh Pineapple – $8.00
Fruit Cup
Fresh Watermelon  – $8.00
Fruit Cup
Mini Charcuterie – $13.00
Protein Pack with Prosciutto, Salami, Cheddar, Purple Moon, Manchego, Cornichons, Sweety Drops, Dried Apricots, Rosemary Sprig
Assorted Pastries
Mini Oatmeal Cookies  – $5.50
Mini Chocolate Chip Cookies – $6.00
Mini Dark Chocolate Chip Cookies  – $6.00
Plain Bagel – $4.00
Everything Bagel  – $4.00
Jalapeño and Cheese Bagel  – $4.25
Cinnamon Roll  – $8.50
Butter Croissant – $4.50
Chocolate Filled Croissant  – $5.50
Puffy Pastry with Raspberry Filling  – $6.00
Raspberry Danish  – $4.50
Blueberry Muffin  – $4.50
Bran Muffin  – $4.50
Double Chocolate Chip Muffin – $4.50
Chocolate Chip Cookie  – $4.75
Salted Double Chocolate Macadamia Nut Cookie  – $4.75
Gluten Allergy Friendly Chocolate Chip Cookie  – $4.50
Gluten Allergy Friendly Fudge Brownie – $4.50
Espresso Specialties
Espresso Single  – $3.00
Regular or Decaffeinated
Espresso Double – $3.75
Regular or Decaffeinated
Cafe Americano – Regular  – $4.25
Cafe Americano – Large – $4.75
Cappuccino – Regular – $4.75
Cappuccino – Large – $5.25
Caffe Latte – Regular  – $4.75
Caffe Latte – Large – $5.25
Caffe Mocha – Regular – $5.25
Caffe Mocha – Large – $5.75
Caffe White Mocha – Regular – $5.75
Caffe White Mocha – Large  – $6.25
Cold Brew Coffees
Cold Brew Coffee – $5.25
Irish Cream Frappe – $5.75
Non-Alcoholic
Hot Drinks
Chai Latte – Regular – $5.00
Chai Latte Large  – $5.50
Hot Chocolate – Regular  – $3.75
Hot Chocolate – Large  – $4.25
Red Eye – Regular 
Regular Coffee with a shot of Espresso – $4.25
Red Eye – Large 
Regular Coffee with a shot of Espresso – $4.75
Steamer – Regular 
Steamed milk with a flavor shot – $4.25
Steamer – Large 
Steamed milk with a flavor shot – $4.75
Hot Tea 
assorted Tea offerings – $3.75
Freshly Brewed Coffee
Coffee – Regular – $3.50
Regular or Decaffeinated
Coffee – Large – $3.75
Regular or Decaffeinated
Café Au Lait – Regular – $4.00
Café Au Lait – Large – $4.50
Iced Specialties
Iced Latte – $5.25
Iced Mocha – $5.75
Iced Chai Latte – Regular – $5.50
Freshly Brewed Iced Tea – $4.50
Blended Latte – $5.25
Blended Mocha – $5.75
Assorted Beverages
DASANI® Bottled Water – $4.50
Bottled Coca-Cola® – $5.00
Bottled Diet Coke® – $5.00
Bottled Sprite® – $5.00
Milk – $2.50
Nestlé® NESQUIK® Chocolate Milk  – $4.00
Simply Lemonade® – $5.00
Simply Orange® Orange Juice – $5.00
smartwater® – $5.00
Perrier® Carbonated Mineral Water – $4.50
Monster™ Energy – $5.50
Coca-Cola® Dreamworld – $5.00
Coca-Cola® Zero Sugar Dreamworld – $5.00
** Coffee House Menu and Prices are Subject to Change Without Notice **