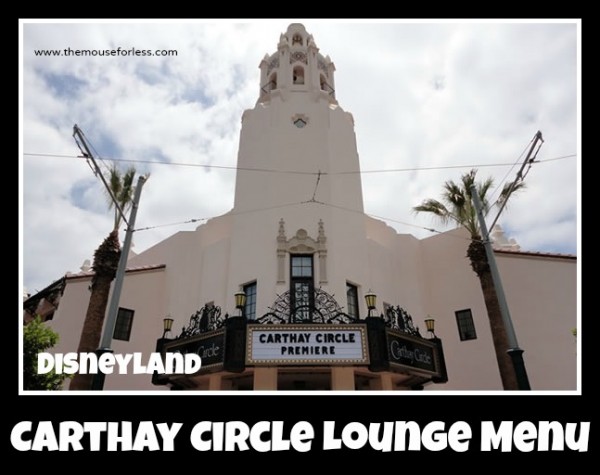 While Disney California Adventure Theme Park is still closed to the public, Carthay Circle Loung is open as Buena Vista Street reopens to the public for shopping and dining as of November 19, 2020.  Enjoy limited food selections at this popular eatery while keeping socially distant.  Outdoor dining only.
Come in and sip on a handcrafted cocktail and snack on elegant bar snacks either before your meal at Carthay Circle or anytime you want to relax.
Carthay Circle Lounge is located in the Disney California Adventure theme park.  Find more Disneyland dining locations on our Disneyland Resorts menus page.
Restaurant Info: American, Lunch/Dinner, $ – $14.99 and under per adult
Annual Passport Discounts: Signature Passport, Premium, Signature Plus Passport: 15%
Annual Passport Discounts: Deluxe, Southern California Select, Southern California Passport: 10%

Planning a Disneyland Vacation?
For a Free no-obligation quote, contact our sponsor
The Magic For Less Travel
. The Magic For Less Travel is an Authorized Disney Vacation Planner and has been helping guests plan magical vacations since 2002. Receive the best prices and free travel planning services. Their fee-free services will help you save time, money, and stress while planning a vacation designed around you and your needs!
Limited Menu for Buena Vista Street Shopping and Dining Reopening
Carthay Circle Lounge Menu
Menu Date:2023
Alfresco Dining
Warm Crab Cake – $22.00
Snow Peas, Sesame, Mint, Cilantro, Ginger – Yuzu Aioli
Roasted Head of  Shrimp – $20.00
Potatoes, Spanish Yellow Pepper Coulis
Endive and Arugula Salad of Pears – $18.00
Candied Pepitas,  Pumpkin – Goat Cheese
Vietnamese Twice-cooked Beef Lettuce Wraps – $16.00
with Pineapple-Mint Salsa
Sweet Potato –  Lemongrass Soup –$16.00
accented with Asian Pears, Kefir Lime – Pork Sausage
Bao Buns of Soy-Ginger Braised Pork Belly – $19.00
Cucumber Kimchi
Moroccan Roasted Chicken Meatballs – $16.00
Pomegranate Relish, Tzatziki
Skuna Bay Salmon – $26.00
Walnuts, Pomegranates, Tahini Yogurt, Yellow Cauliflower Velvet
Strozzapreti Pasta – $22.00
San Marzano Tomatoes, Basil, Parmigiano-Reggiano
Malai Kofta Potato – $16.00
Indian Curry, accented with Coconut, Citrus Cucumber, Yogurt
North African Organic Roasted Chicken Breast – $26.00
Filet Mignon Beef Skewers – $26.00
Aji Amarillo, Peruvian Stewed Beans
Desserts
Hazelnut Crunch Mickey Pop – $11.00
Artisan Selected Cheese Board – $22.00
Apple Sorbert & Caramel Sundae – $15.00
Spiced Sponge Cake, Brown Sugar  Chantilly
Kids' Entrees
Cheese Quesadilla -$13.00
Flour Tortilla
Orecchiette Pasta – $13.00
with Marinara
Chicken Skewers  Pineapple – Ginger Glaze  – $12.00
Kids' Desserts
Hazelnut Crunch Mickey Pop – $11.00
Matinee Features
Rose Petal Soda
locally sourced Purified Sparkling Water flavored with delicate Rose Essence and garnished with an edible Sugar-glazed Organic Rose Petal
Wildberry Lemonade 
All-Natural Lemonade with flavors of Blackberry, Strawberry, Raspberry, and Blueberry with a spritz of Purified Sparkling Water
Twin Bill
a classic combination of natural Lemonade and Iced Tea lightly sweetened with Organic Agave Necta
Shirley Temple
Sprite® with Grenadine and Maraschino Cherries
Roy Rogers
Coca-Cola® with Grenadine and Maraschino Cherries
Aqua Panna 1 L
San Pellegrino 1 L
Assorted Fountain Beverages 
Press Pot Coffee
Iced Tea
Hot Cocoa
** Carthay Circle Lounge Menu and Prices are Subject to Change Without Notice **