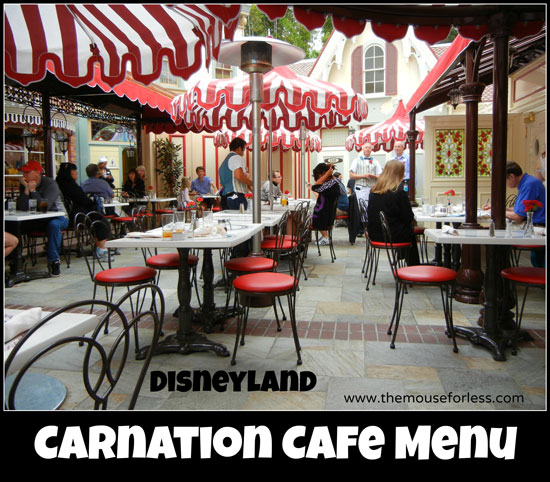 At Carnation Cafe, escape the hustle and bustle of Main Street, U.S.A. and take in the sights from this quaint courtyard eatery.
Carnation Cafe is located in Disneyland theme park.  Find more Disneyland dining locations on our Disneyland Resorts menus page.
Restaurant Info: American, Vegetarian, Lunch/Dinner, $$ – $15-$34.99 Per Adult
Annual Passport Discounts: Signature Passport, Premium, Signature Plus Passport: 15%
Annual Passport Discounts: Deluxe, Southern California Select, Southern California Passport: 10%
Breakfast Menu  Kids' Breakfast Menu  Lunch/Dinner Menu  Kid's Lunch/Dinner Menu

Planning a Disneyland Vacation?
For a Free no-obligation quote, contact our sponsor
The Magic For Less Travel
. The Magic For Less Travel is an Authorized Disney Vacation Planner and has been helping guests plan magical vacations since 2002. Receive the best prices and free travel planning services. Their fee-free services will help you save time, money, and stress while planning a vacation designed around you and your needs!
Carnation Cafe Breakfast Menu
Menu Date: 10/2019
Café Specialties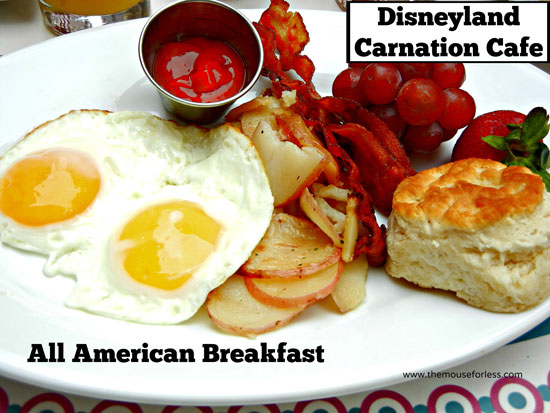 Apple-Granola Pancakes
Roasted Cinnamon Apple and Granola Pancakes served with Hickory-smoked Bacon or Sausage Links – $12.00
Classic Eggs Benedict
Poached Eggs, Grilled Canadian Bacon, and Hollandaise Sauce on a Toasted English Muffin served with Café Breakfast Potatoes – $12.00
Oscar's Choice: All American Breakfast
Two Eggs-Any Style accompanied by Café Breakfast Potatoes served with Hickory-smoked Bacon or Sausage Links and your choice of Toast – $13.00
Country-fried Steak and Eggs
Topped with Country gravy served with two eggs any style, with Café Breakfast Potatoes and your choice of Toast – $15.00
Mickey-shaped Waffle
served with Hickory-smoked Bacon or Sausage Links – $13.00
With Apple or Strawberry Topping – $13.00
Ham and Cheese Omelet
served with Café Breakfast Potatoes and Fruit – $11.00
Spinach and Tomato Egg White Frittata
with Mushrooms, Sour Cream, and Avocado-Black Bean Pico de Gallo served with Café Breakfast Potatoes and Fruit – $11.00
Steel-cut Oatmeal
with Brown Sugar and Berries – $9.00
Fruit Parfait
Seasonal Berries and Bananas, Vanilla Yogurt, and Granola – $7.00
Sides
Hickory-Smoked Bacon – $3.00
Seasonal Fruit – $3.00
Sausage Links – $3.00
Specialty Hot Beverages
Espresso 
Cappuccino 
Cafe Mocha 
Cafe Latte 
Freshly Brewed Joffrey's Coffee
Cinnamon-Spiced Hot Cocoa 
Hot Cocoa 
Hot Tea
Carnation Cafe Kids' Breakfast Menu
Menu Date: 07/2019
Kid's Disney Check Meals
Seasonal Fruit Plate
served with Nonfat Yogurt and Bran Muffin. Choice of Small Lowfat Milk or Small Dasani® Water. Meets Disney Nutrition Guidelines for Complete Meals without substitution – $8.00
All-American Breakfast
Scrambled Eggs, Potatoes, Turkey Bacon, and fresh Fruit served with choice of Small Lowfat Milk or Small Dasani® Water. Meets Disney Nutrition Guidelines for Complete Meals without substitutions – $8.00
Kid's Meals
Whole Grain Mickey-shaped Waffles
served with Turkey Bacon and fresh Fruit. Choice of Small Lowfat Milk, Small Dasani® Water, Small Minute Maid® Juice, or Small Chocolate Milk- $8.00
Whole Grain Silver Dollar Pancakes
served with Turkey Bacon and fresh Fruit. Choice of Small Lowfat Milk, Small Dasani® Water, Small Minute Maid® Juice, or Small Chocolate Milk- $8.00
Carnation Cafe Lunch/Dinner Menu
Menu Date: 10/2019
Thanksgiving Day Offerings
Available November 28 ONLY 
Oven-roasted Turkey Breast
Bourbon Gravy and Cornbread Stuffing
Kids Oven-Roasted Turkey Breast
Pumpkin Pie
Seasonal Offerings
Spicy Chicken Sandwich
Spicy Fried Chicken Breast, Pepper Jack Cheese, creamy Mustard Sauce, and Cilantro served with French Fries – $17.00
Candy Bar Shake
Chocolate Shake with bits of favorite Chocolate Candy – $7.50
Starters
Walt's Chili
Hearty Chili topped with Cheese, Sour Cream, and fresh Tomatoes – $7.00
Fried Pickles with Dipping Sauce
Dill Pickle Spears dipped in Parmesan and Panko, Fried Golden Brown and served with a House Sauce – $8.00
Baked Potato Soup
with Bacon, Cheddar, Monterey Jack, Sour Cream, and Chives – $7.00
House Salad
Our Special Lettuce Blend, Cucumbers, and Tomatoes with your choice of Dressing – $7.00
Entree Salads
Spinach Salad with Grilled Chicken
Grilled Chicken, Spinach, Boiled Eggs, Portobello Mushrooms, Feta Cheese, and Pickled Onions tossed with Golden BaMustard Seed Vinaigrette – $15.00
Romaine Salad with Shrimp
Succulent Shrimp, Romaine, Avocado, Tomatoes, Hickory-smoked Bacon, and Blue Cheese with Creamy Ranch – $17.00
Cafe Specialties
Penne Pasta with Shrimp
Pasta and Sautéed Shrimp with Broccoli and Mushrooms in a creamy Garlic Sauce – $21.00
Main Street Cheeseburger
Angus Chuck Patty, Tillamook Cheddar, Tomato, Red Onion, Lettuce, and House Sauce on Toasted Brioche served with your choice of fresh Fruit or Seasoned French Fries – $15.00
Sourdough Bacon-Cheese Melt
Angus Chuck Patty, Pepper Jack Cheese, Grilled Onions, Hickory-Smoked Bacon, and Spicy House Sauce on Grilled Sourdough served with your choice of fresh Fruit or Seasoned French Fries – $17.00
Roasted Turkey Sandwich
Fresh Sliced Turkey, Tomatoes, Monterey Jack, Lettuce, Pickled Onions, and Mustard Aïoli on a Potato Roll served with your choice of fresh Fruit or Seasoned French Fries – $14.00
Chef's Vegan Burger
House-Made Bean and Vegetable Patty, Tomato, Lettuce, Pickled Red Onions, and Vegan Chipotle-Mayonnaise on a Wheat Roll with your choice of fresh Fruit or Seasoned French Fries – $15.00
Walt's Favorites
Fresh Catch of the Day
Sustainable Fish served with Chef's Choice of Sides – $21.00
Homemade Meatloaf
Our special blend of Beef and Pork served with Ketchup Glaze, Mashed Potatoes, Mushroom Gravy, and Seasonal Vegetables – $17.00
Chicken-Fried Chicken
Buttermilk Fried Chicken Breast served with Mashed Potatoes, Country Gravy, and Seasonal Vegetables – $19.00
Desserts
Banana Hot Fudge Sundae
Chocolate or Vanilla Ice Cream, Bananas, Hot Fudge, Whipped Cream, Sprinkles, and a Cherry – $7.50
Hot Fudge Sundae
Chocolate or Vanilla Ice Cream, Hot Fudge, Whipped Cream, Sprinkles, and a Cherry – $7.00
Classic Malts
Chocolate, Vanilla, or Cherry – $7.00
Shakes
Chocolate, Vanilla, or Cherry – $7.00
Floats
Root Beer, Coke, or Orange Fanta – $7.00
Carnation's Seasonal Cake
Ask your sever  – $7.00
Gourmet Milkshake
Seasonal Milk Shake that Rotates Monthly – $7.50
Beverages
Classic malts
Chocolate, vanilla, or strawberry- $7.00
Ice Cream Floats
Root Beer, Coke, or Orange Fanta – $7.00
Shakes
Chocolate, vanilla, or strawberry – $7.00
Odwalla® All Natural Lemonade
topped with Citrus Foam- $5.25
Freshly Brewed Joffrey's Coffee 
Cinnamon-spiced Hot Cocoa 
Espresso 
Cappuccino 
Cafe Mocha 
Caffe Latte 
Fountain Beverages
Carnation Café Kids' Lunch/Dinner Menu
Menu Date: 10/2019
Kids' Disney Check Meals
PB&J Mickey Painter's Palette
A fun twist on an old favorite! Build-Your-Own Peanut Butter & Jelly Sandwich served with Carrots, Celery, and Raisins. Featuring Smucker's® Sugar-Free ™ Strawberry Jam. Includes choice of Small Lowfat Milk or Small Dasani® Water. Meets Disney Nutrition Guidelines for Complete Meals without substitutions – $8.00
Seasonal Fruit Plate
served with Nonfat Yogurt and Bran Muffin. Choice of Small Lowfat Milk or Small Dasani® Water. Meets Disney Nutrition Guidelines for Complete Meals without substitution – $8.00
Kids' Meals
Chicken Fried Chicken
served with Mashed Potatoes, Broccoli, and fresh Fruit. Includes choice of Small Lowfat Milk, Small Dasani® Water, Small Minute Maid® Juice, or Small Nesquik® Chocolate Milk – $10.00
Hamburger
served with Multigrain Slider Bun, Broccoli, and fresh Fruit. Includes choice of Small Lowfat Milk, Small Dasani® Water, Small Minute Maid® Juice, or Small Nesquik® Chocolate Milk – $10.00
Mac & Cheese
served with Broccoli and fresh Fruit. Includes choice of Small Lowfat Milk, Small Dasani® Water, Small Minute Maid® Juice, or Small Nesquik® Chocolate Milk – $9.00
** Carnation Cafe Menu and Prices are Subject to Change Without Notice **