Disney California Adventure Resort | Pixar Pier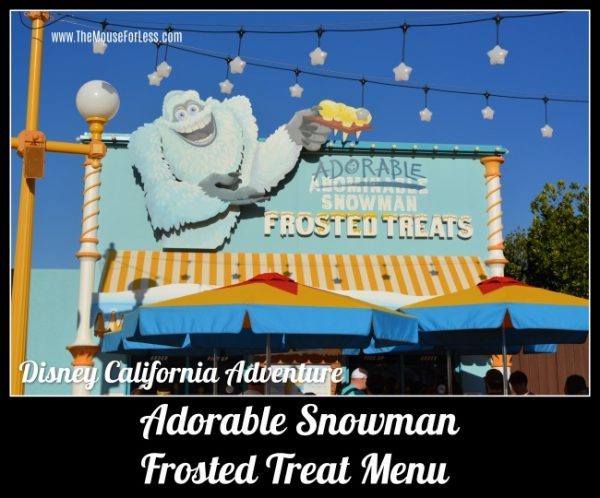 Take a look at the Adorable Snowman Frosted Treat Menu and get ready to grab some yummy soft-serve ice cream at this convenient walk-up counter service location. Look for some delicious, cool treats located under the neon ice cream cone that reminds guests of a nostalgic Boardwalk location. The Adorable Snowman  Menu is simple, but offers some delicious treats perfect for cooling off on a warm Southern California day.
The location of this ice cream stop offers great views for enjoying ice cream or a float while taking in the fun of the Incredicoaster roller coaster.
Restaurant Info: American, Snacks, $ – under $14.99 per adult
Adorable Snowman Frosted Treats Menu
Cones and Cups
It's Lemon! Nondairy soft serve
Regular cup/cone – $3.99
Large cup/cone – $4.79
It's Chocolate!
Regular cup/cone – $3.99
Large cup/cone – $4.79
It's Vanilla!
Regular cup/cone – $3.99
Large cup/cone – $4.79
Specialties
Pixar Pier Frosty Parfait –  Nondairy Lemon soft- serve with Blue raspberry swirl – $5.99
It's Snow- Capped Lemon – Nondairy Lemon soft- serve dipped in White chocolate – $5.29
Barq's Root Beer Float – $5.49
Beverages
Assorted Fountain Beverages – $3.99 regular / $4.19 large
**Adorable Snowman Frosted Treat Menu and Prices are Subject to Change Without Notice **