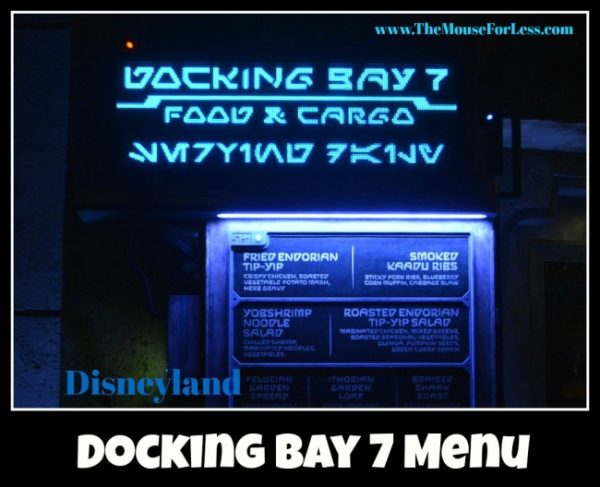 Docking Bay 7 Food and Cargo at Star Wars: Galaxy's Edge is one of the new eateries in the new world. You can enjoy dishes from galaxies far, far away. Sit indoors or outdoors of the rustic restaurant for breakfast, lunch, or dinner.
Docking Bay 7 is located in Disneyland theme park.  Find more Disneyland dining locations on our Disneyland Resorts menus page.
No Annual Passholder Discounts

Planning a Disneyland Vacation?
For a Free no-obligation quote, contact our sponsor
The Magic For Less Travel
. The Magic For Less Travel is an Authorized Disney Vacation Planner and has been helping guests plan magical vacations since 2002. Receive the best prices and free travel planning services. Their fee-free services will help you save time, money, and stress while planning a vacation designed around you and your needs!
Docking Bay 7 Breakfast Menu
Menu Date: 08/2019
Entrees
Rising Moons Overnight Oats
Oats, Dragons Fruit, Yogurt, Seasonal Fruit – $6.99
Mustafarian Lava Roll
Sweet Galactic Delight – $5.99
Kids Disney Check Meals
Ages 9 &Under
Please visit location for kids' breakfast offerings Friday through Sunday.
Docking Bay 7 Lunch Menu
Menu Date: 08/2019
Lunch Entrees
Felucian Garden Spread
Plant-based "Kefta", Herb Hummus, Tomato-Cucumber Relish, Pita – $12.99
All Day Entrees
Smoked Kaadu Ribs
Sticky Pork Ribs, Blueberry Corn Muffin, Cabbage Slaw – $16.99
Fried Endorian Tip-yip
Crispy Chicken, Roasted Vegetable Potato Mash, Herb Gravy – $15.49
Roasted Endorian Tip-yip Salad
Marinated Chicken, Mixed Greens, Roasted Seasonal Vegetables, Quinoa, and Pumpkin Seeds, tossed in Green Curry Ranch – $13.99
Yobshrimp Noodle Salad
Chilled Shrimp, Marinated Noodles, Vegetables, Cilantro – $15.99
Braised Shaak Roast
Beef Pot Roast, Cavatelli Pasta, Wilted Kale, Mushrooms – $18.99
Kids Disney Check Meals
Yobshrimp Noodle Salad
Chilled Shrimp, Noodles, Vegetables, and Sweet Orange Dressing
Served with Small Lowfat Milk or Small Dasani Water – $10.99
A Taste of  Takodana
Black Bean Hummus, Edible Soil with Nuts, Chilled Dipping Vegetables, Multigrain Crisps
Served with Small Lowfat Milk or Small Dasani Water – $8.49
Kids Lunch Menu
Fried Endorian Tip-yip
Crispy Chicken, Macaroni & Cheese, Seasonal Vegetables
Served with Small Lowfat Milk or Small Dasani Water  – $9.99
Docking Bay 7 Dinner Menu
Menu Date: 08/2019
Entrees
Braised Shaak Roast
Beef Pot Roast, Cavatelli Pasta, Wilted Kale, Mushrooms – $18.99
Ithorian Garden Loaf
Plant-based "meatloaf", Roasted Vegetable Potato Mash, Seasonal Vegetables, Mushroom Sauce – $14.99
Disney Kids Check Meals
Yobshrimp Noodle Salad
Chilled Shrimp, Noodles, Vegetables, and Sweet Orange Dressing
Served with Small Lowfat Milk or Small Dasani Water – $10.99
A Taste of Takodana
Black Bean Hummus, Edible Soil with Nuts, Chilled Dipping Vegetables, Multigrain Crisps
Served with Small Lowfat Milk or Small Dasani Water – $8.49
Kids Dinner Menu
Fried Endorian Tip-yip
Crispy Chicken, Macaroni & Cheese, Seasonal Vegetables
Served with Small Lowfat Milk or Small Dasani Water – $9.99
Docking Bay 7 Desserts
Menu Date: 08/2019
Oi-Oi Puff
Raspberry Cream Puff, Passion Fruit Mousse – $6.49
Batuu-Bon
Chocolate Cake, White Chocolate Mousse, Coffee Custard – $6.99
Docking Bay 7 Beverages
Docking Bay 7 Specialty Drinks
Moof Juice
Simply Fruit Punch, Simply Orange with Pineapple, Chipotle-Pineapple – $5.49
Phattro
Goldpeak Unsweetened Tea, Odwalla Lemonade, Desert Pair – $5.49
Batuubucha Tea
Suja Pineapple Passionfruit, Kombucha – $5.49
Beverages
Assorted Fountain Beverages
Coco-Cola Offerings
Large – $4.49
Regular – $3.99
Dasani Bottled Water – $3.99
Black Caf
Regular Coffee – $2.99
Minute Maid Apple Juice – $1.99
Lowfat Milk – $1.99
*Docking Bay 7 Food and Cargo at Star Wars: Galaxy's Edge Menu Items & Prices are Subject to Change without Notice*