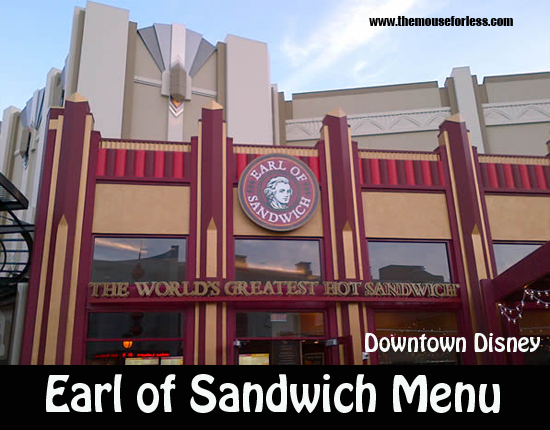 Serving Lunch, and Dinner, Earl of Sandwich offers up sandwiches that are hearty enough to satisfy healthy appetites even during dinner time. The extensive lunch and dinner menu also includes a full line of freshly tossed salads, made-to-order wraps, signature soups, and freshly baked desserts.
Earl of Sandwich is located in the Downtown Disney District.  Find more Disneyland dining locations on our Disneyland Resorts menus page.
Restaurant Info: American Cuisine. Quick Service, $ – $14.99 and under per adult

Planning a Disneyland Vacation?
For a Free no-obligation quote, contact our sponsor
The Magic For Less Travel
. The Magic For Less Travel is an Authorized Disney Vacation Planner and has been helping guests plan magical vacations since 2002. Receive the best prices and free travel planning services. Their fee-free services will help you save time, money, and stress while planning a vacation designed around you and your needs!
Earl of Sandwich Lunch/Dinner Menu
Menu Date: 06/2021
Hot Sandwiches
The Original 1762 
Roasted Beef, Cheddar and Horseradish Sauce – $8.99
The Earl's Club
Turkey, Bacon, Swiss, Lettuce, Roma Tomato, and Sandwich Sauce – $8.99
Italian
Salami, Capicola, Ham, Mortadella, Mozzarella, Roma Tomato, and Italian Seasoning and Italian Dressing – $8.99
The Full Montagu 
Roasted Beef, Turkey, Swiss, Cheddar, Lettuce, Roma Tomato, and Mustard Sauce – $8.99
French Dip
Roasted Beef, Swiss and sautéed Onions served with Au Jus – $8.99
Tuna Melt 
Albacore Tuna Salad, Swiss and Mayonnaise – $8.99
Chipotle Chicken Avocado 
Grilled Chicken, Bacon, Cheddar, Avocado, Lettuce, and Chipotle Sauce – $8.99
Ham and Swiss 
Ham, Swiss and Mustard Sauce – $8.99
Holiday Turkey 
Turkey, Cornbread Stuffing, Turkey Gravy, Cranberry Sauce and Mayonnaise – $8.99
Caprese 
Fresh Mozzarella, Roma Tomato, Basil and Balsamic – $8.99
Hawaiian BBQ
Grilled Chicken, Ham, Swiss, Pineapple and BBQ Sauce – $8.99
Veggie
Feta, Cucumber, Red Peppers, Red Onions, Lettuce, Roma Tomato, and Creamy Mediterranean Dressing – $8.99
Fresh Green Salads
Earl's Cobb Salad
Greens, Grilled Chicken, Bacon, Cheddar, Roma Tomato, Cucumber, Cranberries, and Ranch Dressing – $8.99
Chicken Caesar Salad
Romaine, Grilled Chicken, Shaved Parmesan, House-made Croutons and Caesar Dressing – $8.99
Berry Chicken Almond Salad
Spinach, Spring Lettuce, Grilled Chicken, fresh Strawberries, fresh Blueberries, Almonds, and Balsamic Vinaigrette – $8.99
Greek Salad
Romaine, Grilled Chicken, Feta, Roma Tomato, Kalamata Olives, Banana Peppers, and Zesty Italian Dressing -$8.99
Thai Chicken Salad
Greens, Grilled Chicken, Chinese Greens Mix, Sweet Chili Sauce, Wonton Strips and Thai Peanut Dressing – $8.99
House Salad
Greens, Roma Tomato, Cucumber, House-made Croutons, and Ranch Dressing – $5.99
Quinoa Chicken
Greens, Grilled Chicken, Feta, Quinoa, Red Onions, fresh Strawberries, Mandarin Oranges, and Balsamic Vinaigrette – $8.99
Wraps
Buffalo Chicken Wrap
Grilled Chicken, Cheddar, Romaine, Roma Tomato, Celery Salt, Buffalo Sauce, and Ranch Dressing – $8.99
Chicken Bacon Avocado Wrap 
Grilled Chicken, Bacon, Romaine, Avocado, Roma Tomato, Cucumber, and Balsamic Vinaigrette – $8.99
Thai Chicken Wrap
Grilled Chicken, Romaine, Chinese Greens Mix, Sweet Chili Sauce, and Thai Peanut Dressing – $8.99
Chicken Caesar Wrap
Grilled Chicken, Shaved Parmesan, Romaine, House-made Croutons and Caesar Dressing – $8.99
Spicy Tuna Wrap
Albacore Tuna Salad, Romaine, Roma Tomato, Kalamata Olives, Banana Peppers, Chipotle Sauce, and Balsamic Vinaigrette – $8.99
Turkey N' Cheddar Wrap
Turkey, Cheddar, Romaine, Roma Tomato, and Mayonnaise in a Whole Wheat Wrap – $8.99
Soups
Tomato Soup
Cup – $2.99
Bowl – $3.99
Featured Soup
Check for Daily Selections
Cup – $3.49
Bowl – $4.49
"N' More"
Cheese Pizza Bread
Pizza Sauce, Italian Seasoning, and Mozzarella on Artisan Bread – $5.99
Pepperoni Pizza Bread
Pizza Sauce, Italian Seasoning, Mozzarella, and Pepperoni on Artisan Bread – $6.99
Mac n' Cheese – $5.99
Potato Wedges – $3.99
Just 4 Kids
Pizza Bread 
Pizza Sauce, Italian Seasoning, and Mozzarella – $4.49
Grilled Cheese
Cheddar, Swiss, and Mozzarella – $4.49
Turkey N' Swiss
Turkey, Swiss, and Mayonnaise – $4.49
Beverages
Assorted Fountain Beverage
Regular – $3.39
Large – $3.99
** Earl of Sandwich Menu and Prices are Subject to Change Without Notice **