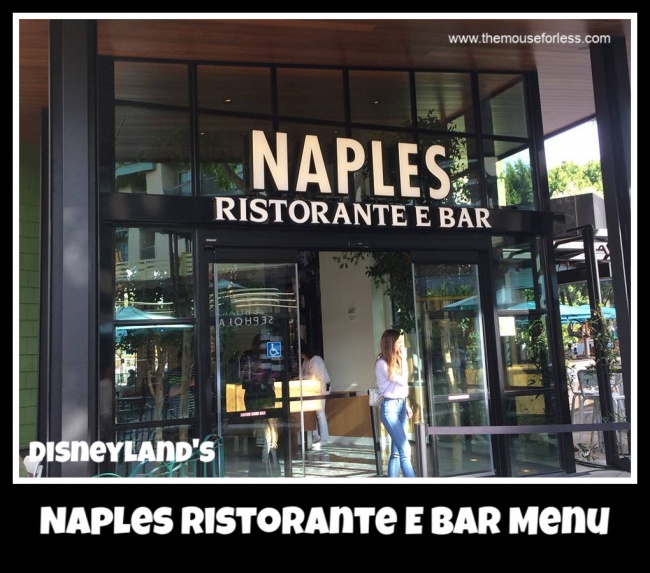 The authentic soul of Southern Italy in the heart of Downtown Disney, Naples provides a fun, casual environment in which to enjoy delicious thin-crust pizzas and a full menu of regional Italian specialties. With spacious patio dining, refreshing wines and spirits, and a special menu for our younger guest, Naples is the perfect destination for celebrating with family and friends.
Naples Ristorante e Bar is located in the Downtown Disney District.  Find more Disneyland dining locations on our Disneyland Resorts menus page.
Restaurant Info: Italian, Pasta, Healthy Selections, Vegetarian, Lunch/Dinner, $$ – $15 to $34.99 Per Person
Annual Passport Discounts: 10%
Lunch and Dinner Menu  Drink Menu  Kids' Menu
Naples Ristorante e Bar Lunch and Dinner Menu
Menu Date: 06/2021
Antipasti (Appetizers)
La Bruschetta Classica
Toasted Ciabatta, Tomato, Garlic, Parmesan, Extra Virgin Olive Oil
Caprese Salad
Heirloom Tomato, Mozzarella, Basil, Sea Salt, Extra Virgin Olive Oil
Calamari Fritti
Spicy Tomato Sauce
Burrata 
Focaccia Bread marinated with Cherry Tomato and Balsamic Reduction
Salad
Spinach & Pumpkin
Roasted Pumpkin, Gorgonzola, Walnuts, Balsamic Vinaigrette
Della Casa
Mixed Greens, Roasted Red Bell Peppers, Marinated Mushrooms, Tomatoes, Italian Vinaigrette
Arugula
served with Shaved Parmesan Cheese, Cherry Tomatoes and Lemon Dressing
Classic Ceasar (with or without Chicken)
crisp Romaine leaves, Shaved Parmesan, Toasted Croutons, House-made Dressing
Entrées
Spaghetti
Hand-crafted Meatballs, Marinara
Lasagna
eight layer Pasta with Meat Sauce and Béschamel Sauce
Pollo alla Parmigiana
Breaded Chicken, Tomato Sauce, Mozzarella, Parmesan, and Spaghetti with Marinara
House-made Gnocchi
Eggplant Tomato Sauce, Basil, Parmesan Cheese, Extra Virgin Olive Oil
Penne Pasta
Chicken, Broccoli, Chili Flakes, Parmesan Cheese Sauce
Salmone
Seared Salmon Filet, Zucchini, Sun-dried Tomatoes, Garlic
Wood-fired Authentic Pizza Napoletana
10″ Individual
20″ Large
1/2 Meter 'Family'
Classic Neapolitan
fresh Mozzarella, Tomato Sauce
Margherita
fresh Mozzarella, Basil, Tomato Sauce
Pepperoni
Pepperoni, fresh Mozzarella, Tomato Sauce
Marinara
Tomato Sauce, Garlic, Anchovy
Porchetta
Porchetta Ham, Marinara, Mozzarella Cheese
Pollo
Roasted Chicken, Smoked Mozzarella, Red Onion, Fontina Cheese, BBQ Sauce
Funghi
Roasted Mushrooms, Tomato, Mozzarella
Classic Build Your Own
fresh Mozzarella, Tomato Sauce
Quattro Formaggi
fresh Mozzarella, Fontina, Provolone, Parmesan, fresh Tomatoes, Basil
Desserts
New York Cheesecake
Raspberry Sauce, Whipped Cream
Gelati e Sorbetti
assortment of Italian Gelati and Sorbets
Naples Ristorante e Bar Drink Menu
Menu Date: 06/2021
Beverages
Lunch Punch
Lemon Juice, Pomegranate Juice, Apple Juice
Traditional Italian Sodas
choice of Strawberry, Chocolate, French Vanilla or Raspberry, Club Soda and a touch of Cream
Naples Blush
Pomegranate Juice, Blood Orange Juice, Lemon Juice, Sparkling Soda
Passion Unsweetened Ice Tea 
Black Unsweetened Iced Tea
Strawberry Lemonade 
Soft Drinks
Bottled Mineral Water
Sparkling or Still
Cocktails
Aperol Spritz
Aperol, Prosecco, Orange Juice
Gin & Honey
Monkey 47 Gin, Grapefruit Juice, Prosecco, Honey
Caribbean Hurricane
Cruzan Rum, Passion Fruit Juice, Orange Juice, Simple Syrup and Grenadine
Manhattan in Sorrento
Maker's Mark, Cinzano 1757, Amaro Montenegro
Sicilian Mule
Svedka Vodka, Amaro Averna, lime juice, Gosings Ginger Beer
Naples Sangria
A refreshing blend of Merlot, Brandy, Triple Sec, and Ginger Ale – Available in glass or pitcher
Flights
Mule Flight
a flight of three unique, Italian inspired Mules: Sicilian, Naples, Venetian
Sangria Flight
flight of three refreshing Sangrias: Red, Pink and White
Premium Flight
Mermaid Red, Mango Cart, Space Dust IPA
Naples Flight
Peroni, Angel City, Modelo Especial
Wine Flight
Inception Syrah Blend, Inception Pinot Noir, Inception Chardonnay
Wines
Brachetto Banfi 187mL
Brut Rosé, Schramsberg, Calistoga 750mL
Cuvée Brut, Patina, France 750mL
Prosecco Rosé, Maschio, Piemonte 187mL
Prosecco Ruffino, Veneto 187mL
Chardonnay, Patina Label, Spain
Chardonnay, Mezzacorona, Trentino
Chardonnay, 'Patina', ABC, Santa Barbara
Chardonnay, Inception, Santa Barbara County
Moscato, Mezzacorona, Trentino
Pinot Grigio, Anterra, Italia
Pinot Grigio, Ruffino Il Ducale
Riesling, Bone Dry, Von Buhl
Rosé, Domaine de Cala, France
Sauvignon Blanc, Margerum Patina Label, Santa Barbara
Sauvignon Blanc, Drylands, Marlborough
Cava, Lanson, France
Amarone DOCG, Farina, Veneto
Blend, 7 Moons, California
Blend, Opus One, Napa
Brunello di Montalcino DOCG, G. Mazzi, Toscana
Cabernet Sauvignon, Patina, Spain
Cabernet Sauvignon, Mezzacorona, Trentino
Cabernet Sauvignon, Serial, Paso Robles
Cabernet Sauvignon, Unshackled, Prisoner
Chianti Classico, Castello di Querceto, Tuscany
Chianti Classico Riserva, Poggio Basso, Toscana
Malbec, Lote 44, Mendoza, Argentina
Montepulciano d'Abruzzo, Carletto, Abruzzo
Merlot, Patina Label, Spain
Pinot Noir, 'Patina', ABC, Spain
Pinot Noir, Inception, Central Coast
Pinot Noir, Mondavi "Private Selection", California
Sangiovese Blend, Il Ducale, Ruffino
Syrah Blend, Inception, CA
Valpolicella Classico, Ripasso, Santi Solane, Veneto
Zinfandel, XYZin, California
Draft
Modelo Especial Draft
Peroni Italian Draft
Coors Light
Mermaid Red Draft
Mango Cart Draft
Space Dust IPA Draft
Angel City IPA Draft
Lost Coast "Great White"
Goose Island IPA 
Stella Artois 
Fat Tire 
Guinness
Samuel Adams Boston Lager 
Corona Extra
Blue Moon
Angry Orchard
Budweiser
Bud Light 
Michelob Ultra 
Naples Ristorante e Bar Kids' Menu
Menu Date: 06/2021
All kids menu items for children 9 and under.
Kids' Entrées
All kids' entrees are served with a side of fruit.
 Cheese Pizza 
Pepperoni Pizza 
Pasta
choice of Penne or Spaghetti served with choice of Butter, Olive Oil, Tomato Sauce or Cream Sauce
Mac & Cheese
Elbow Macaroni in a Creamy Cheese Sauce
Chicken Breast
Hormone-free Chicken Breast with Roasted Potatoes and Seasonal Vegetables
Children's Desserts
Fresh fruit
Gelati
Vanilla, Chocolate, or Berry Sorbet
Two-Scoop Gelato Sundae
Kid's Beverages
Fruit Smoothies
Strawberry or Peach
Italian Sodas
Strawberry, French Vanilla, or Chocolate
Naples Blush 
Pomegranate Juice, Blood Orange Juice, Lemon Juice, Sparkling Soda
Soda
** Naples Ristorante E Bar Menu and Prices are Subject to Change Without Notice **