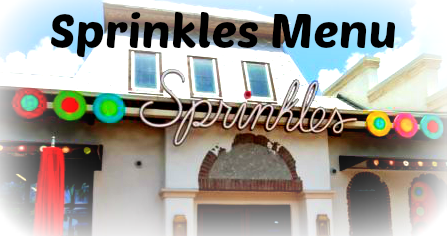 Stop in for a decadent treat at this irresistible snack shop featuring gourmet cupcake, cookie creations, and more.  Sprinkles is located in the Downtown Disney District.  Find more Disneyland dining locations on our Disneyland Resorts menus page.
Restaurant  Info: Quick Service, Bakery Cuisine, $ – $14.99 and under per adult

Planning a Disneyland Vacation?
For a Free no-obligation quote, contact our sponsor
The Magic For Less Travel
. The Magic For Less Travel is an Authorized Disney Vacation Planner and has been helping guests plan magical vacations since 2002. Receive the best prices and free travel planning services. Their fee-free services will help you save time, money, and stress while planning a vacation designed around you and your needs!
Sprinkles Menu
Menu Date: 06/2021
Cupcakes
Red Velvet
Southern-style Light Chocolate Cake with Cream Cheese Frosting – $5.00
Gluten-free Red Velvet
a Gluten-free twist on our classic Red Velvet – $5.75
Sugar-free Red Velvet
a Sugar free twist on our classic Red Velvet – $5.75
Vegan Red Velvet
a Vegan twist on our classic Red Velvet – $5.75
Dark Chocolate
Belgian Dark Chocolate Cake with Bittersweet Chocolate Frosting – $5.00
Sprinkle
Birthday Cake topped with Vanilla Buttercream and colorful non pariel Sprinkles – $5.00
Vanilla
Vanilla Cake with Creamy Vanilla Frosting – $5.00
Black and White
Belgian Dark Chocolate Cake with creamy Vanilla Frosting – $5.00
Strawberry
pure Strawberry Cake with Sweet Strawberry Frosting – $5.00
Salty Caramel
Caramel Cake with a buttery Caramel Cream Cheese Frosting topped with Fleur de Sel – $5.00
Carrot
Walnut-studded Carrot Cake with Cinnamon Cream Cheese Frosting – $5.00
Banana
Banana Cake with creamy Vanilla Frosting – $5.00
Vanilla Milk Chocolate
Vanilla Cake with Fudgy Milk Chocolate Cream Cheese Frosting – $5.00
Chocolate Marshmallow
Belgian Dark Chocolate Cake and Marshmallow Cream with Bittersweet Chocolate Ganache – $5.00
Triple Cinnamon
Lightly Spiced Buttermilk Cake with Cinnamon Cream Cheese Frosting dusted with Cinnamon Sugar – $5.00
Gluten-free Lemon Blueberry
Gluten-free Lemon Cake studded with wild Blueberries topped with Lemon Cream Cheese Frosting – $5.75
Limited Edition
Innovative flavors for a limited time – $6.50
Cookies
Chocolate Chip – $4.00
Double-Chocolate Chip – $4.00
Fudge Brownie – $4.00
Gluten-free Chocolate Chip – $4.00
Salted Oatmeal Cornflake – $4.00
Red Velvet – $4.00
Drinks
Organic Milk – $4.00
Soda – $4.00
Water – $4.00
** Sprinkles Menu and Prices are Subject to Change Without Notice **