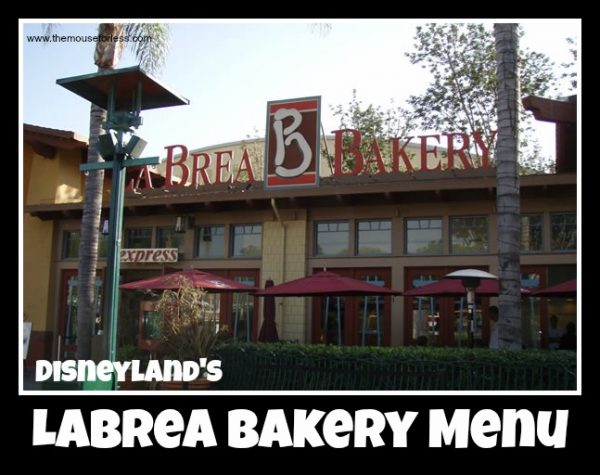 As of January 9, 2023, LaBrea Bakery has officially closed at the Disneyland Resort. 
Follow the irresistible aroma of baking bread to this lovely Craftsman-style café, featuring sandwiches on fine artisan breads, fresh salads, and eclectic California cuisine.  At La Brea Bakery Cafe, guests can grab a bite at the quick-service counter or take a seat on the delightful patio and enjoy the table-service restaurant outdoors.
La Brea Bakery Cafe is located in the Downtown Disney District.  Find more Disneyland dining locations on our Disneyland Resorts menus page.
Restaurant Info: American, Sandwiches, Healthy Selections, Vegetarian, Lunch/Dinner, $$ – $15 to $35.99 Per Person
Annual Passport Discounts: 10%

Planning a Disneyland Vacation?
For a Free no-obligation quote, contact our sponsor
The Magic For Less Travel
. The Magic For Less Travel is an Authorized Disney Vacation Planner and has been helping guests plan magical vacations since 2002. Receive the best prices and free travel planning services. Their fee-free services will help you save time, money, and stress while planning a vacation designed around you and your needs!
La Brea Bakery Café Menu
Menu Date: 06/2021
Breakfast (Available Until 2pm)
Blueberry Buttermilk Pancakes
with Powdered Sugar and Maple Syrup – $15.00
Pecan Stuffed French Toast
filled with our Cream Cheese Blend and Pecans then topped with Bananas, fresh Berries and Powdered Sugar -$16.00
Breakfast Croissant
Farm-fresh Scrambled Eggs, Pecanwood-Smoked Bacon and White Cheddar with Fresh Fruit – $16.50
Eggs Any Style
two Farm-fresh Eggs with choice of Pecanwood-Smoked Bacon, Chicken Apple Sausage or Pork Sausage with Breakfast Potatoes and Toast – $17.00
Brioche French Toast
topped with Powdered Sugar and fresh Berries – $15.00
Salads (Available Starting at 11am)
Southwestern Steak Salad
Chopped Romaine, Avocado, Black Beans, Roasted Corn, Red Onions, Roma Tomatoes, Red Bell Peppers, Queso Panela Cheese with Chipotle Ranch Dressing, topped with Tortilla Strips and warm Skirt Steak grilled medium – $22.00
Caesar
Romaine, Garlic-Anchovy Caesar Dressing, Rustic Croutons, and Parmesan – $15.00
with Chicken – $21.00
with Salmon – $23.00
with Sautéed Shrimp – $24.00
Mixed Greens Salad
Mixed Greens, Roma Tomatoes, Radish, tossed with Balsamic Dressing – $13.00
with Chicken – $19.00
with Salmon – $21.00
with Sautéed Shrimp – $22.00
Cobb Salad
Romaine, Arugula, Roasted Turkey Breast, fresh Grilled Corn, Pecanwood-Smoked Bacon, Cherry Tomatoes, Avocado and Gorgonzola Cheese with Creamy Honey Dijon Dressing – $21.00
Soups & Starters (Available Starting at 11am)
Tomato Basil Bisque Bread Bowl – $12.00
New England Clam Chowder Bread Bowl – $14.00
Mac and Cheese Bread Bowl – $15.00
Garlic Bread – $7.00
Sandwiches (Available Starting at 11am)
Chimichurri Steak Burger
Grilled Skirt Steak, Chimichurri sauce, Sautéed Peppers & Onions, Queso Panela Cheese, Tortilla Strips and Chipotle Ranch on a grilled La Brea Telera Roll served with aside of Giardiniera – $22.00
La Brea Bakery Burger
Grass-fed ground beef, balsamic onions, white cheddar, butter leaf lettuce, and vine ripe tomatoes on a brioche bun with choice of fries, La Brea Bakery yam chips, or pesto pasta salad – $19.00
Spicy BBQ Bacon Chicken
BBQ grilled chicken breast, with sriracha bacon jam, sharp cheddar cheese and BBQ sauce on a telera roll with choice of fries, La Brea Bakery yam chips, or pesto pasta salad – $19.00
Turkey Avocado and Bacon
Roasted Turkey, Avocado, Pecanwood-smoked Bacon, Arugula, and Chipotle Mayo on our Country Wheat Bread with choice of Side – $18.50
Turkey Bacon Panini
Roasted Turkey, Pecanwood-smoked Bacon and Smoked Mozzarella, pressed on our Sourdough Bread with choice of Side – $18.50
B.E.L.T.
two Over Easy Eggs with Vine-ripened Tomatoes, Pecanwood-smoked Bacon, Butter Leaf Lettuce, Herb Aïoli on Grilled Country White Table Bread with Breakfast Potatoes – $17.50
Grilled Cheese
a blend of three cheeses on garlic-rubbed rustic bread served with a cup of tomato bisque with choice of fries, La Brea Bakery yam chips, or pesto pasta salad – $17.00
Main (Available Starting at 11am)
Pan-fried Salmon
served with creamy Cauliflower Mash topped with Pea Shoots, Red Onions and Feta Salad – $27.00
Blackened Fish Tacos
three Corn Tortillas filled with Blackened Fish, Cabbage and Pea Shoot Slaw, and Chipotle Ranch. Served with Pico de Gallo, Black Beans and Cilantro Rice – $21.00
Spaghetti Meatball
Spaghetti tossed in our San Marzano Marinara Sauce topped with our giant Meatball and Parmesan Cheese – $22.00
Fusilli Alfredo
rich and creamy Alfredo Sauce with Parmesan Cheese – $19.00
Fusilli Alfredo with Chicken
rich and creamy Alfredo Sauce with Parmesan Cheese – $25.00
Fusilli Alfredo with Salmon
rich and creamy Alfredo Sauce with Parmesan Cheese – $27.00
Fusilli Alfredo with Sautéed Shrimp
rich and creamy Alfredo Sauce with Parmesan Cheese – $28.00
Fettuccini Chicken Brandy Cream
Chicken Breast, Sun-dried Tomatoes, Wild Mushrooms, Peas, Garlic, fresh Herbs in a rich Brandy Cream Sauce with Parmesan Cheese – $24.00
For the Kids
(12 & Under)
Pancakes
powdered sugar and maple syrup with choice of kids milk or soft drink  – $10.50
French Toast
powdered sugar and maple syrup with choice of kids milk or soft drink – $10.50
Scrambled Eggs and Bacon
with choice of kids milk or soft drink – $10.50
Grilled Cheese Sandwich
white cheddar on french bread served with fries or fresh fruit. Choice of kids milk or soft drink  – $10.50
Mac and Cheese
with fresh fruit and choice of kids milk or soft drink  – $10.50
Chicken Strips
with fries or fresh fruit and choice of kids milk or soft drink – $10.50
Desserts
La Brea Bakery Bread Pudding
Whipped Cream, Chocolate, and Caramel Sauce – $9.00
Dark Chocolate Ganache Cake – $9.00
Nancy's Fancy Gelato
choice of Vanilla Bean, Butterscotch Budino, Passion Fruit, Chocolate Fondente (Vegan), or Coconut Stracciatella (Vegan) – $6.00
Beverages
Silverback Single Origin Coffee – $4.50
Cold Brew Coffee – $7.00
Iced Tea and Soft Drinks – $4.50
Fresh Squeezed Orange Juice – $5.00
La Brea Bakery Ginger Lemonade – $4.50
Evian or San Pellegrino – $8.00
Espresso – $5.00
Cappuccino or Latte – $5.50
Hot Chocolate – $4.50
Draft & Bottled Beers
Rotating Handle Draft
Ask Server – $8.00
Palomino Pale Ale
Bootleggers Brewery, Fullerton, CA – $8.50
White Rascal Belgium Ale
Avery Brewing, Boulder, CO – $8.50
Yeti Imperial Stout
Great Divide Brewing, Denver, CO – $8.50
Stella Artois
Anheuser Busch, Belgium – $8.50
Ace Pineapple Cider
Ace Cider, Sonoma, CA – $8.50
Wines
Robert Mondavi Private Selection Chardonnay
Glass $10 | Bottle $36
Jam Cellars Chardonnay, Napa Valley
Glass $12 | Bottle $44
Robert Mondavi Private Selection Cabernet Sauvignon
Glass $10 | Bottle $36
Went, Livermore Cabernet Sauvignon, Valley CA
Glass $13 | Bottle $48
Davis Bynum Russian River Pinot Noir, Valley CA
Glass $13 | Bottle $48
14 Hands Stampede Blend
Glass $10 | Bottle $36
Mezza Corona Pinot Grigio
Glass $10 | Bottle $36
Specialty Cocktails
Mimosa
sparkling wine, orange juice – $9.00
Bellini
sparkling wine, peach puree-  $9.00
La Brea Bakery Bloody Mary
Skyy Vodka, all natural bloody mary mix, Tajin rim – $15.00
Moscow Mule
Skyy vodka, lime juice, ginger beer, bitters – $13.00
Frontier Old Fashion
Bulleit Bourbon, bitters, orange, cherry – $15.00
Grapefruit Margarita
Sauza 100% Blue Agave Tequila, St. Germain, Grapefruit Juice, Salted Rim – $15.00
** La Brea Bakery Menu and Prices are Subject to Change Without Notice **