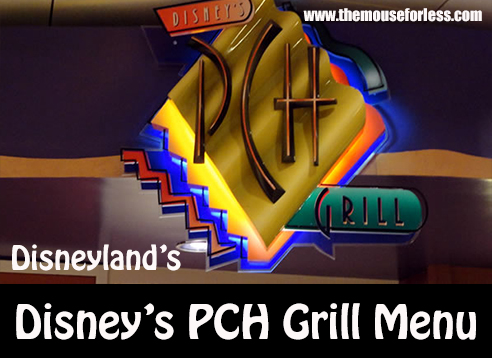 There's something for everyone! At Disney's PCH Grill, enjoy popular American favorites with a fresh California twist. House specialties include flatbreads from the wood-burning oven, grilled breast of chicken with roasted garlic sauce and signature chilaquiles with shredded beef, salsa verde, and queso fresco. Start your morning with the Surf's Up! Breakfast with Mickey & Friends buffet at Disney's PCH Grill featuring Mickey waffles and pancakes.
PCH Grill is located in Disney's Paradise Pier Hotel.  Find more Disneyland dining locations on our Disneyland Resorts menus page.
Restaurant Info: American, Vegetarian, Breakfast/Dinner, $$$ – $15 to $59.99 Per Person
Annual Passport Discounts: Signature Passport, Premium, Signature Plus Passport: 15%
Annual Passport Discounts: Deluxe, Southern California Select, Southern California Passport: 10%
Character Breakfast  Easter Brunch Menu  Lunch/Dinner Menu

Planning a Disneyland Vacation?
For a Free no-obligation quote, contact our sponsor
The Magic For Less Travel
. The Magic For Less Travel is an Authorized Disney Vacation Planner and has been helping guests plan magical vacations since 2002. Receive the best prices and free travel planning services. Their fee-free services will help you save time, money, and stress while planning a vacation designed around you and your needs!
Disney's PCH Grill Breakfast Menu
Menu Date: 03/2020
Buffet Starters
Smoked Salmon with Traditional Accoutrements
Omelets with all the Traditional Accoutrements
Assorted Breakfast Pastries, Muffins, Breakfast Breads, and Bagels
Contains Gluten and some Dairy
Parfait Bar 
With Plain and Strawberry Yogurt, fresh Berries, Dried Fruits, and House-made Granola
Sliced Seasonal Fresh Fruits and Berries
Buffet Entrees
Assorted Breakfast Flatbreads
Fluffy Scrambled Eggs
Chilaquiles
With Shredded Beef, Salsa Verde, and Queso Fresco (contains Dairy)
Egg White Frittata
contains Dairy
Scrambled Eggs
Buffet Sides
Crispy Maple Bacon
Country Pork Sausage
Chicken Apple Sausage Links
Children's Buffet
Grilled Peanut Butter and Banana with Chocolate-stuffed French Toast
Contains Gluten and Dairy
Mickey-shaped Waffles
Contains Gluten, Eggs, and Dairy
Minnie Pancakes
Contains Gluten, Eggs, and Dairy
Disney's PCH Grill Brunch Menu
Menu Date: 03/2020
Easter Brunch Offerings
Cold Station
Baby Kale & Quinoa Salad
Roasted Cauliflower
Dry Raisins and Chia Dressing
Baby Mixed Greens Toasted Almonds
Baby Heirloom Tomatoes
Pickled Carrots
Buttermilk Dressing
Red Onion Crispy Chickpea Salad
Pomegranate Raspberry Dressing
Traditional Caesar Salad
Shaved Parmesan Crisps
Antipasto Plate with Cured Meats & Assorted Marinated Vegetables and Cheeses
Selection of Seasonal Fresh Fruit Salad
Green Bean Salad
Fingerling Potato Salad
Crisp Pancetta
Shallot Vinaigrette
Easter Hot Selections
Garden Herb-marinated Chicken Breast with Roasted Chicken Au Jus
Roasted Seasonal Vegetables
Crisp Bacon
Chicken Apple Sausage & Country Pork Sausage
Chilaquilies with Scrambled Eggs
Egg White Frittata with Ricotta Cheese, Fresh Spinach and Basil
Breakfast Potatoes with Peppers & Onions
Biscuits & Gravy
Wood-oven Fired Breakfast Flatbreads
Easter Egg Station
Omelets with Traditional Accompaniments
Huevos Rancheros with Black Beans
Easter Kid-friendly Offerings
Mickey Mouse shaped Waffles & Pancakes
French Toast & Bananas with Caramel Sauce
Oatmeal with Golden Raisins
Cold Station
Chilled Juices
Fresh Sliced Seasonal Fruit
Vegetable Crudité 
Mini Bagels with Cream Cheese
Smoked Salmon with Classic Condiments
Sicilian Pasta Salad
Fingerling Potatoes and Prosciutto
Mexican Caesar Salad
Hawaiian Macaroni Salad
Hot Entrees
Mickey Mouse Waffles
with whipped cream, sweet butter, and choice of two: Maple Syrup, chocolate sauce, caramel sauce, or berry compote
Scrambled Eggs
Bacon and Sausage
Rotational Soup
Traditional French Toast
Rotational Entrees
Starches & Vegetables
Garlic Mashed Potatoes
Rosemary Roasted Potatoes
Baked Potatoes
Piquillo Pepper Rice
Mexican Rice
Oven Roasted Asparagus
Charred Broccoli
Haricots Vert with Caramelized Onions
Ratatouille 
Pasta & Pizzas
Chicken Alfredo
Bolognaise
Meatballs
Arugula with Wild Mushrooms
Margherita 
Cheese, Pepperoni, and Artisan Sausages 
Dessert
Assorted Mini Pastries
Beignets
choice of 2: Crème Anglaise, Chocolate Sauce, Caramel Sauce, or Berry Compote
Homemade Bread Puding
Disney's PCH Grill Dinner Menu
Menu Date: 03/2020
Cold Station
Build-Your-Own Salad Bar
Seasonal Composed Salads
Antipasto
Italian Salad
Pasta Primavera
Soup
Italian Minestrone
Pizza
Cheese
Pepperoni
Margherita
Hot Station
House-Made Meatballs
Slow-Cooked Lasagna
Grilled Salmon with Olive Beurre
Braised Lamb Osso Buco
Eggplant Parmesan
Build-Your-Own Pasta
Seasonal Grilled Vegetable Medley
Desserts
Tiramisu
Verrines
Mini Pastries
Panna Cotta
Cannolis
Italian Rum Cake
Kids' Buffet
Make-Your-Own Pizza
Ask Your Server For Details
Grilled Hot Dogs
Steamed Corn on the Cob
Macaroni and Cheese
Chicken Nuggets
** Disney's PCH Grill Menu and Prices are Subject to Change Without Notice **