April 1, 2018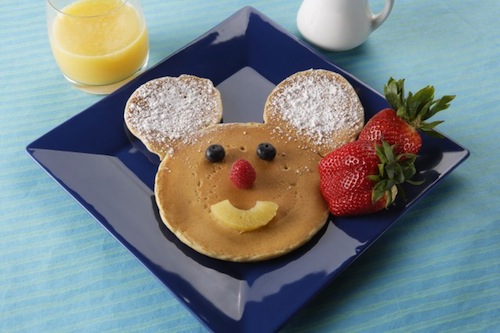 Celebrate spring and Easter at Disneyland Resort. There are a number of Easter Day Offerings at Disneyland Resort. There are special meals at the Disneyland Resort Hotels, as well as fun activities for the family. Following are the offerings available at the Disneyland Resort for Easter Day. Click on the name of the restaurants for the full menu of the restaurant. For reservations, call 714-781-DINE 60 days prior to the event.
Egg-stravaganza
It's time once again for Egg-stravaganza at the Disneyland Resort! This popular egg-themed scavenger hunt has become a springtime tradition and takes place at Disneyland, Disney California Adventure, as well as the Downtown Disney District.
From March 16 through April 1, Guests can participate by picking up a map and stickers for $5.99 (plus tax) at select merchandise locations throughout Disneyland Resort. Then, Guests will need to search for special hidden "eggs" themed to Disney and Pixar characters, and record their egg-ceptional discoveries by placing the corresponding sticker on the themed Egg-stravaganza map which represents that location.
When finished, you can return your map to a redemption location for a special surprise. Redemption locations include Elias & Co. at Disney California Adventure; Disney Showcase in Disneyland; and World of Disney Store in the Downtown Disney District.
Purchasing limits will apply, while supplies last. There are no discounts that will apply and separate admission is required to enter Disney Theme Parks. The experience is subject to restrictions and may change without notice.
The Mouse For Less Tips
If you don't have a park ticket, you can participate in the Downtown Disney District's version of the Egg-stravaganza. This is a great way to get in on the fun, without stepping into either Disneyland or Disney California Adventure.
Easter Day Dining Offerings at Disneyland Resort
Disneyland Resort Hotels
Storytellers Cafe
Disney's Grand Californian Hotel & Spa
Characters Included
Brunch Buffet: 7:00 a.m. – 2:00 p.m.
Dinner Buffet: 2:00 p.m. to 10:00 p.m.
PCH Grill
Disney's Paradise Pier Hotel
Characters Included
Start your meal with fresh ready-made salads or compose your own. Also enjoy barbecue ribs, hand-carved roast beef or slow-cooked pork shoulder. Sides include garlic mashed potatoes and creamy mac and cheese. You'll also find pizza and pasta.
The kids can enjoy slider-sized cheeseburgers, chicken tenders and corn on the cob.
Enjoy a blissful end to your meal with a sampling of seasonal sweets from the dessert station.