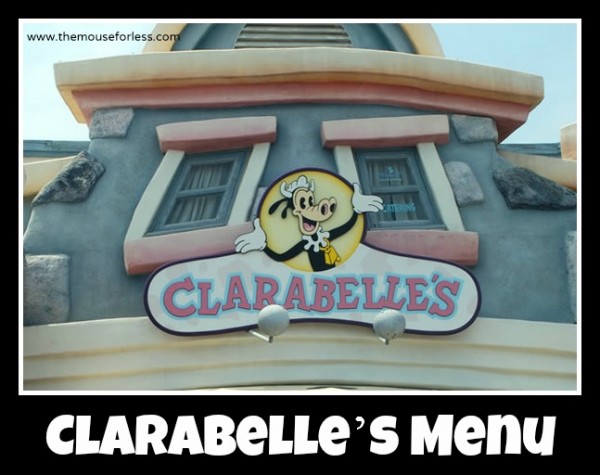 "Mooove" on over to Clarabelle the Cow's counter to grab an utterly delicious snack at Clarabelle's Hand-Scooped Ice Cream Parlor
Clarabelle's is located in Disneyland theme park.  Find more Disneyland dining locations on our Disneyland Resorts menus page.
Restaurant Info: American, $ – Under $14.99 per adult
Annual Passport Discounts are available

Planning a Disneyland Vacation?
For a Free no-obligation quote, contact our sponsor
The Magic For Less Travel
. The Magic For Less Travel is an Authorized Disney Vacation Planner and has been helping guests plan magical vacations since 2002. Receive the best prices and free travel planning services. Their fee-free services will help you save time, money, and stress while planning a vacation designed around you and your needs!
Clarabelle's Menu
Menu Date: 08/2022
Seasonal Offerings
Sandianada – $7.99
two scoops of Watermelon Sorbet layered with fresh Watermelon Chunks, our House-made Tamarindo Sauce and Chili-Lime Seasoning
Specialties
Mickey Mouse Ear Hat Bowl with Sundae – $15.49
choice of any Sundae served in a souvenir Mickey Mouse Ear Hat Bowl: The Oswald Sundae, Mint Chocolate Chip Sundae, Chocolate Chip Cookie Hot Fudge Sundae or Strawberry Sundae
Mickey Mouse Kitchen Sink – $13.49
choice of any Sundae served in a souvenir Mickey Mouse Kitchen Sink: The Oswald Sundae, Mint Chocolate Chip Sundae, Chocolate Chip Cookie Hot Fudge Sundae or Strawberry Sundae
Minnie Mouse Kitchen Sink – $13.49
Choice of any Sundae served in a Minnie Mouse Kitchen Sink: The Oswald Sundae, Mint Chocolate Chip Sundae, Chocolate Chip Cookie Hot Fudge Sundae or Strawberry Sundae
Sundaes
The Oswald Sundae – $7.99
scoops of Vanilla and Chocolate Ice Cream served in a Waffle Cup topped with Whipped Cream, Hot Fudge, Chocolate Morsels, Cherries, and Chocolate-dipped Frozen Bananas
Mint Chocolate Chip Sundae – $6.99
scoops of Mint Chocolate Chip Ice Cream served in a Waffle Cup topped with Whipped Cream, Hot Fudge, Chocolate Morsels, and a Cherry
Chocolate Chip Cookie Hot Fudge Sundae – $7.99
Vanilla Ice Cream and two Freshly Baked Chocolate Chip Cookies topped with Whipped Cream, Hot Fudge, Chocolate Morsels, and a Cherry
Strawberry Sundae – $6.99
scoops of Vanilla Ice Cream served in a Waffle Cup topped with Strawberry Sauce, Whipped Cream and a Cherry
Desserts
Hand-dipped Frozen Banana – $5.99
dipped in Dark or Milk Chocolate with one Topping of choice, including The Whole Herd, a mix of all Toppings
Hand-dipped Ice Cream Bars – $5.69
choice of Ice Cream Bar flavor, Chocolate Coating and one Topping of choice, including The Whole Herd, a mix of all Toppings
Ice Cream Float – $5.99
one scoop of Vanilla Ice Cream with choice of Soda
Ice Cream By The Scoop
Dipped Waffle Cone or Cup
single scoop – $6.29
double scoop – $6.99
Waffle Cone or Waffle Cup
single scoop – $5.79
double scoop – $6.49
Regular Cone or Regular Cup
single scoop – $5.29
double scoop – $5.99
Ice Cream Flavors
Vanilla
Chocolate
Strawberry
Mint Chocolate Chip
Cookies and Cream
Rocky Road
Chocolate Chip
Cookie Dough
Vanilla (No Sugar Added)
Mango Sorbet
Ice Cream Toppings $.99
Caramel
Chocolate Chips
Hot Fudge
Mickey's Confetti
Sprinkles
Strawberry Topping
Crushed Peanuts
Toasted Coconut
Crushed Pretzel Pieces
Crushed Waffle Cone
Alcoholic Beverages
Hard Float – $12.50
choice of Ice Cream Bar flavor served in your choice of Alcoholic Hard Soda or Dark Beer
Sandianada Hard Float – $15.50
Watermelon Habanero Hard Cider, a Scoop of Watermelon Sorbet, Fresh Watermelon, House-made Tamarindo Sauce and Chile-Lime Seasoning
Tropical Hard Float – $15.00
Pineapple Hard Cider with Mango Sorbet and Toasted Coconut
ACE Pineapple Hard Cider (ABV 5.0%) – $13.25
Honest Abe Watermelon Habanero Hard Cider (ABV 7.0%) – $13.25
Beverages
Assorted Fountain Beverages
Regular $4.29
Large $4.99
Dasani Bottled Water – $3.99
** Clarabelle's Menu and Prices are Subject to Change Without Notice **