Disneyland Resort Hotels | Disney's Paradise Pier Hotel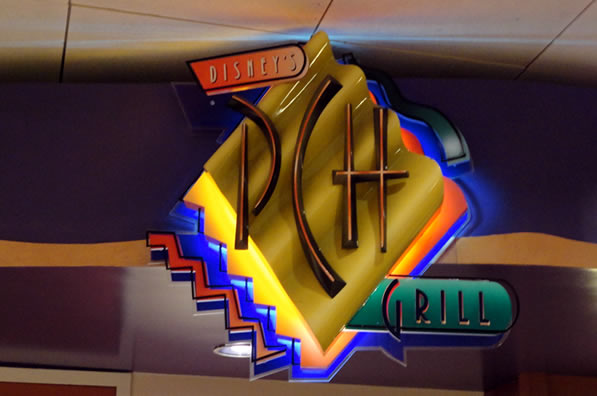 Character Breakfast  Lunch/Dinner Menu  Reviews
There's something for everyone! Enjoy popular American favorites with a fresh California twist. House specialties include flatbreads from the wood-burning oven, grilled breast of chicken with roasted garlic sauce and signature chilaquiles with shredded beef, salsa verde and queso fresco. Start your morning with the Surf's Up! Breakfast with Mickey & Friends buffet at Disney's PCH Grill featuring Mickey waffles and pancakes.
Restaurant Info: American, Vegetarian, Lunch/Dinner, $$ – $15 to $35.99 Per Person
Menu
Menu Date: 11/2012
Character Breakfast
– Lilo & Stitch Aloha All-You-Care-to-Eat Beach Party Feast
Buffet – $29.99/adult, $15.99/children
selections change, may include:
omlet station, egg station, bacon, sausage, scrambled eggs, huevos rancheros, shredded beef machaca and tortillas, chicken flautas, "Mickey" chicken nuggets, "Mickey" pancakes, "Mickey" waffles, Beignets, french toast, tater-tots, cold smoked salmon, cereal, muffins, donuts, fruit
Lunch/Dinner – no Disney characters
Starters
Creamy Mushroom Bisque
Forest Mushrooms Sauteed with Marsala Wine in heart Cream – $5.49
California Cheddar French Fries
with Bacon Bits and Chives – $6.49
Chicken Quesadilla
topped with Creamy Guacamole, Mild Chilies, and Zesty Salsa – $7.99
Chicken Noodle Soup
Home-style and full of Vegetables – $5.49
Mixed Greens Salad
with choice of Dressing – $5.49
Sandwiches and Salads
Sandwiches served with a side of French Fries, Pickle Spear, Lettuce & Tomato
The PCH Club
Turkey, Lettuce, Tomato, Bacon, and Mayonnaise – $10.49
PCH Patty Meltdown
Angus Beef Patty, Sliced Turkey Breast or Slice Roast Beef Grilled with Cheese and Caramelized Onion – $11.99
The PCH Cobb
Chicken, Crumbled Blue Cheese, Bacon, Tomato, Egg, Avocado and Blue Cheese Dressing – $11.99
The Hollywood Burger
Angus Beef or Turkey Patty on a bed of Grilled Zucchini and Caramelized Onions served with seasonal Fruit – $10.99
Crab Louis
Mixed Greens, Tomato, Hard Boiled Egg, Avocado, Crab Meat and Thousand Island Dressing – $11.99
Grilled Chicken Breast Sandwich
topped with Roasted Chilies, Lettuce, Tomato, Guacamole and Monterey Jack – $11.99
Hail "Mexican" Caesar
Grilled Chicken, Cilantro Dressing, Queso Fresco, Pico de Gallo, Roasted Corn and Tortilla strips – $10.99
Classic Burgers
Order your "Classic" with a 1/3-pound Angus Beef, Veggie, or Turkey Patty includes side of French Fries, Pickle Spear, Lettuce, and Tomato
Classic American
with choice of Cheese – $8.99
Mushroom Classic
Sauteed Mushrooms and Swiss cheese – $9.99
Bacon Classic
Bacon, Cheddar, and Barbecue Sauce – $9.99
Classic Chili Fave
Beef or Turkey Patty, smothered in Chili, Onions, and Cheddar – $8.99
Big Kahuna
Half-Pound Angus Beef with teriyaki, Grilled Pineapple, Bacon, Cheese and Avocado – $12.99
Personal-sized Pizza Pies
From Our Wood-Burning Oven!
Cheese Pizza
Mozzarella, Provolone, and Romano Cheese – $9.49
Ohana Hawaiian Pizza
Mozzarella, Provolone, and Romano with Pulled Kalua Pork, Barbecue Sauce, and Grilled Pineapple. – $9.99
The Works Pie
3 Cheeses, Pepperoni, Sausage, Pulled Pork, Pineapple, Mushroom and Onion. – $10.29
Pepperoni or Sausage Pizza – $9.99
Entrees
Primo Angel Hair Pasta
with Marinara Sauce – $14.79
Add Turkey Meatballs or Grilled Chicken – $3.49
Surfside Grilled Chicken Breast
with a Lemon-Garlic Jus and seasonal Vegetables – $14.49
Grilled New York Steak
with a Red Wine Sauce, Roasted Potatoes and seasonal Vegetables – $22.99
"Paradise" Pork BBQ Baby Back Ribs
with French Fries and "Cali" Slaw tossed with a White Balsamic and Honey Dressing – $20.99
Santa Monica Fresh Catch of the Day
Seasonal Fish cooked to order with Chef's choice of sides – $14.99
Kids Menu
All entres include fresh Fruit or seasonal Vegetables – 7.99
Macaroni & Cheese
Tender Macaroni Noodles with Cheese
Grilled Chicken Breast
served with Roasted Potatoes
Meatball Sandwich
Tender Turkey Meatballs with Marinara Sauce sprinkled with Parmesan on a Warm Roll
Pizza
Build-Your-Own Cheese or Pepperoni Pie – it's hands-on fun!
All meals served with choice of Minute Maid Juice, Dasani Water, Nesquik Low-fat Chocolate Milk or Low-fat Milk
Dessert
"Cali" style Cheesecake
Been California Dreamin of cheesecake? Here is it is!! – $5.99
PCH Grill Sundae
Three scoops of Ice cream, Caramel or Chocolate Syrup, Plus nuts and sprinkles – $7.99
Dreyer's Ice Cream
Enjoy your dessert Ala Mode – $1.79
Splitsville Sundae
Banana, Three scoops of Ice cream, topped with Caramel or Chocolate Syrup and More! – $8.99
The Whole PCH Grill and Kitchen Sink
Ten scoop of Ice cream… Then tell us what you don't want on it. – $21.99
California Farmers Carrot Cake
Bursting with fresh carrots, Golden Stake Raisins, and California Nuts with a rich Cream Cheese Frosting – $5.99
Decadent Red Velvet Cake
Moist Red Velvet Cake with creamy Frosting – $5.99
Non-Alcoholic Specialties
Glowing Character Punch
Minute Maid Light Lemonade Punch served in a souvenir cup with a glowing Disney Character Light – $6.99
Mega-Berry Smoothie
Raspberry Puree and Nonfat Yogurt blended with Odwalla Berries GoMega (an excellent source of Omega-3) – $4.99
Specialty Cocktails
Magical Star Cocktail
Light up your celebration with X-Fusion Organic Mango and Passion Fruit Liqueur, Parrot Bay Coconut Rum, Pineapple Juice, and a souvenir Multicolored glow Cube – $10.75
Superfruit Martini
Van Gogh Acai-Blueberry Vodka, Stirrings Pomegranate Liqueur, Cranberry Juice, Agave Nectar, and Freshly Squeezed Lemon Juice – $9.50
Agave Nectar Margarita
Tierras Organic Blanco Tequila, Agave Nectar, and Freshly Squeezed Lime Juice – $10.50
Bacardi Mojito
Bacardi Rum, fresh Mint, and Lime topped with Soda Water – $9.50
Ultimate Long Island Iced Tea
Bacardi Rum, Teaka Sweet Tea Vodka, Hendrick's Gin, Paton Citronge, and Sweet-and-Sour with a splash of Coca-Cola – $10.50
Featured Draft Beer
Karl Strauss Windansea Wheat Hefeweizen – $7.25
Newcastle Brown Ale – $7.25
Specialty Coffee
Espresso – $3.19
Cappuccino – $4.29
Caffe Latte – $4.29
Caffe Mocha – $4.49
Beverages
Coke, diet Coke, Sprite, Fanta Orange, Lite Pomegranate Lemonade and Freshly Brewed Iced Tea – $2.99
1-Liter Smartwater or San Pellgrino – $7.59
** Menu and Prices are Subject to Change Without Notice **