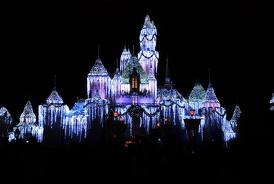 From a New Year's Cupcake at Jolly Holiday Bakery in Disneyland park to the Napa Rose New Year's Eve Bash, the Disneyland Resort will ring in the new year with something fun for everyone! Celebrate New Years Eve at Disneyland Resort for a memorable way to
The following are the offerings available at the Disneyland Resort for New Year's Eve in addition to their regular menu. Click on the name of the restaurants for the full menu of the restaurant. Reservations must be made in advance by calling (714) 781-DINE or (714) 781-3463 unless otherwise noted.
Peak Dining Pricing at Disneyland Resort restaurants will be in effect during the holiday season
New Years Eve at Disneyland
Menu Date: 11/2015
New Years Eve at Disneyland Park
Disney California Adventure Park
Resort Hotels
New Years Eve at Disneyland's Paradise Pier Hotel
PCH Grill New Year's Eve Dinner Buffet and Character Celebration
Join Mickey and his pals for a delicious buffet. After dinner celebrate the new year inside the Pacific Ballroom, capped off by a midnight toast a balloon drop.
Food offerings may include a collection of fresh fruits and salads, carved to order meats, garlic marinated chicken breast, and vegetable lasagna. Top it off with a selection of desserts created by the Disneyland Resort Pastry Team. Kids can join the party and there will be special buffet options for them such as chicken fritters, "ice cream" mashed potatoes, peas and carrots, mini hot dog sliders, and more.
Dinner is served from 5:30 – 10:00 p.m. The New Year's Character Celebration will be held from 5:30 p.m. to 1:30 a.m.
Cost: $75 per adult and $25 per child (age 3-9). Tax and gratuity not included.
Make reservations by calling 714-781-DINE between 8 a.m. and 9 p.m. Pacific Time.
Disney's Grand Californian Hotel
Napa Rose
Early Dinner – From 5:30 p.m. – 7:00 p.m. bring the entire family to Chef Andrew Sutton's 4-course wine country feast. The early dinner is available for $130 per person.
Late Dinner & Gala – Beginning at 8:15 p.m., begin the festivities with music and champagne. At 8:45 p.m., the "Napa Style" New Year's 5-course tasting menu begins. Pair your tasting experience with a flight of world class wines. After dinner, take your hat and party favors to the dance floor to countdown to 2016. The party continues until 1:00 a.m. The late dinner  & gala is available for $250 per person and the wine flight is available for $65 per person (age 21 and over).
Wine, liquor, beverages, tax and gratuity are not included. Seating is on a first-come, first served basis. Reserve either Napa Rose experience by calling 714-781-DINE.
NOTE: Additional holiday items for all locations will be added as they become available.
** Menu and Prices are Subject to Change Without Notice **