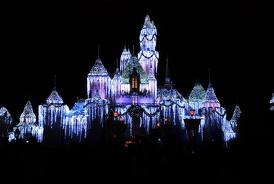 Following are the offerings available at the Disneyland Resort restaurants for Christmas Eve and/or Christmas 2013, some in addition to the restaurants regular menu. Click on the name of the restaurants for the full menu of the restaurant. Reservations must be made in advance by calling (714) 781-DINE or (714) 781-3463.
Peak Dining Pricing at Disneyland Resort restaurants will be in effect during the holiday season
Menu
Menu Date: 12/2013
Disneyland Park
Blue Bayou
Christmas Eve and Christmas Day
Menu: Horseradish Crusted Prime Rib with Yorkshire Pudding, Creamed Spinach, Pomegranate Jus
Price: $38.99
Cafe Orleans
Christmas Eve and Christmas Day
Menu: Flat iron steak with bone marrow demi-glaze, garlic mashed potatoes and acorn squash
Price: $19.99
Dessert: Sweet potato pecan pie – $8.49
Carnation Cafe
Christmas Eve and Christmas Day
Menu: Slow Roasted Turkey with Bourbon Gravy, Mashed Potatoes, Seasonal Vegetables, Cranberry Orange Relish and a Dinner Roll
Price: $15.99 Adult; $8.49 Child
Special holiday offerings are also available at the following Disneyland park dining and snack locations; no reservations required:
French Market – New Orleans Square
Traditional Holiday Dinner: Honey Glazed HamTart Cherry and Pineapple Compote, Chive Mashed Potatoes and Savory Roasted Beets in a Honey Thyme Vinaigrette In addition, dinner menu served all day
Cost: $12.99 Adults; $6.99 Child-size portion
Village Haus – Fantasyland (Nov 8 – Jan 5)
Holiday Grilled Chicken Sandwich: With Roasted Mushrooms, Swiss Cheese, Arugula and Basil-Roasted Garlic-Parmesan Aioli. Served with French Fries or Sliced Apples – $8.99
A la carte Holiday Grilled Chicken Sandwich – $6.99
Redd Rockett's Pizza Port – Tomorrowland (Nov 8 – Jan 5)
Fresh Roasted Turkey Pizza: Oven roasted Turkey with Crasins, Mozzarella, Parmesan and fresh Sage and White sauce
By the Slice – $7.49; Whole – $32.99
Rancho del Zocalo – Riverfront (Nov 8 – Jan 5)
Holiday Chicken Tamales: Tamale Plate – $9.99
Tamale/Carne Asada Plate – $12.99
Dulce de Leche Crepe – $5.19
Disney California Adventure Park
Carthay Circle Restaurant – Buena Vista Street
Will offer a special holiday menu the week before Christmas.
Wine Country Trattoria – Golden Vine Winery
Christmas Eve and Christmas Day
Menu: Pistachio Crusted Lamb with Zinfandel Demi, Garlic Mashed Potatoes, and baby Carrots
Price: $41.99 with WOC
Special holiday offerings are also available at the following DCA park dining and snack locations; no reservations required:
Flo's V8 Café – Carsland
At this quick service pit stop, holiday tunes are rocking from the juke box and lights are twinkling from the record-clad Christmas trees. Plus, for the holidays, Flo's V8 Cafe is serving up a holiday version of the "Ugly Crust Pie" – Pear and Cream Cheese and kids arrive in a winter-themed Lightning McQueen car lunchbox!
Sweet Potatoes as an additional side offering – $2.59
4″ Pumpkin Pie – $5.19
Pacific Wharf Café – Pacific Wharf (Nov 8 – Jan 5)
Turkey Pot Pie Soup in a Bread Bowl – $9.59
White Chocolate and Cranberry Bread Pudding – $5.19
Cocina Cucamonga Mexican Grill – Pacific Wharf
Carnitas Plate with Rice and Beans – $10.99
Downtown Disney
Catal Restaurant
December 16 – 24 and December 26 – 30
3-course Holiday Prix Fix Menu: Enjoy a generous wedge salad, a 10-ounce prime rib with cheese mashed potatoes and warm apple cobbler or chocolate ganache cake for dessert.
Price: $32 per person (tax and gratuity not included)
December 25
3-course Christmas Prix Fix Menu: Start with crispy lobster arancini (rice balls), followed by a savory braised lamb shank with winter squash risotto and bourbon chocolate pecan tart for dessert. A kids' menu will be available on Christmas Day.
Price: $55 per person (tax and gratuity not included)
Ralph Brennan's Jazz Kitchen
December 24-29
Special Holiday Menu: Includes New Orleans classics such as sweet potato-andouille bisque, tasso- and chestnut-stuffed Gulf shrimp and "turducken," a boneless chicken stuffed inside a boneless duck stuffed inside a boneless turkey (if you haven't tried, it's a must).
Resort Hotels
Disney's Grand Californian Hotel
Storytellers Café
Christmas Eve
Buffet: Carved Turkey Breast with Cranberry Sauce, Black Pepper Crusted New York with Rosemary Au-jus and Creamed Horseraddish, Roasted Garlic Mashed Potatoes, Roasted Butternut Squash, Salmon with Blood Orange Vinaigrette, Roasted Herb Chicken Breast with Garlic Jus, Pan Seared Pork Loin and Calvados Demi, Penne Pasta Italian Sausage and Roasted Peppers, Chicken Tamales, Chef Bill's Corn Chowder, Baby Winter Greens with Honey Balsamic Dressings, Fresh Fruit Platter, Assorted Fruit Pies and Special Holiday Desserts.
Cost: Adult $30.99; Child $14.99
Napa Rose
Sold Out
Disneyland Hotel
Steakhouse 55
Christmas Eve
3-course Menu: Duck Confit with Blood Orange Vinaigrette, Mixed Greens Salad, Bison Filet with Berry Demi Glace and Mushroom Risotto, Poached Pear Huckleberry Tart.
Price in Restaurant: Adult $60; Child $13
Price for Room Service: Adult $55; Child $14
Goofy's Kitchen
Sold Out
Disney's Paradise Pier Hotel
PCH Grill
Christmas Eve
Buffet: Baby Greens, Beets & Butternut Squash with Corriander Vinaigrette, Onion and Fennel Salad with Fresh Herbs and Blood Orange Essence, Tomato-Mozzarella Tossed in Lemon Olive Oil with Fresh Basil and Aged Balsamic Reduction, Roasted Butternut Squash Soup with Cornbread Croutons, Oven Baked Ham with Sweet Marmalade Glaze, Pan Seared Chicken Breast with Sun Dried Tomato Relish and Sweet Wine Glaze, Onen Roasted Red & Yellow Poatoes, Herb Crusted Mac & Cheese, Sauteed Brussels Sprout with Crispy Pancetta, Roasted Root Vegetables with Squash and Onions, Carved Herb Marinated Prime Rib with Creamy Horseraddish and Beef Au Jus, Artisan Breads and Rolls with Sweet Butter, Traditional Holiday Desserts
Cost: Adult $36.99; Child $16.99
NOTE: Additional holiday items for all locations will be added as they become available.
** Menu and Prices are Subject to Change Without Notice **