Restricted Rides for Service DogsCautionary Attractions for Service Dogs Service Dog Relief Areas Animal Behavior Tips
Guests who require a service dog are permitted into the park and on many of the rides. The animal must be trained and be controlled throughout all locations of Walt Disney World. A leash or harness is required at all times. In addition to dogs, the only other service animal permitted in the parks at Walt Disney World is a miniature horse.
Restricted Rides for Service Dogs
Though Walt Disney World is accepting of service dogs, there are a number of rides in which it would be a danger for the animals to ride. These restrictions are for the safety of not only the guests, but the companions as well. These rides are:
Affection Section- Rafiki's Planet Watch
Cautionary Attractions for Service Dogs
Some attractions at the Walt Disney World resort will do their best to accommodate service dogs, though the animal may have difficulty boarding, or may be frightened by the attraction experience. The following attractions are cautioned for experience with a service dog:
Gorilla Falls Exploration Trail
The aviary area of Maharajah Jungle Trek
Service Dog Relief Areas
Designated areas are provided throughout Walt Disney World Resort theme parks. A map can be found at Guest Services showing the location of these areas.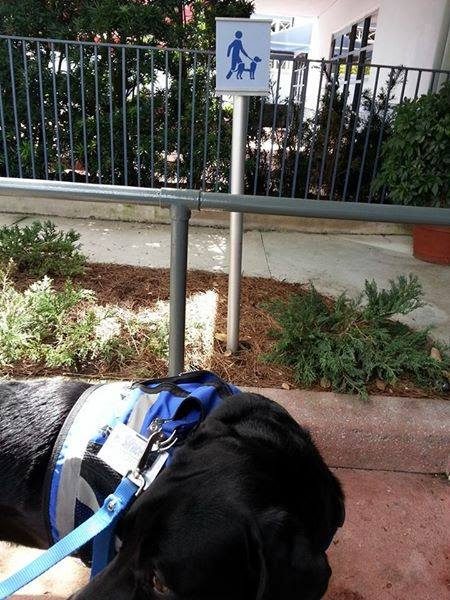 All five lands in the Magic Kingdom are equipped with pet relief areas. These areas are conveniently located near popular attractions:
EPCOT also provides a number of service dog relief areas. These areas can be found:
MouseGear (next to  restrooms)
Imagination! (near restrooms)
United Kingdom (near restrooms)
Norway (across from restrooms)
Disney's Hollywood Studios provides two relief areas. One is found in the courtyard area near First Aid, and next to the restrooms by the ABC Sound Studio (currently showing Star Wars: Path of the Jedi).
Disney's Animal Kingdom provides four service dog relief areas, located conveniently throughout the park.
Rafiki's Planet Watch (right of Conservation Station Entrance)
Restaurantosarus (next to restrooms)
Maharajah Jungle Trek (right of restrooms)
Camp Minnie-Mickey (left of restrooms)
Animal Tips
On restricted rides for service animals, guests can choose to use Rider Swap, if they are traveling in a group. There is also a kennel which the animals can be placed in, which is usually a small cage at the ride exit.
Give the animal breaks during the day, as the Florida heat can be taxing on the animals. Shops and restaurants are a great way to give a service animal an air-conditioned break. Guests can feel free to ask a cast member for water for their animal, and at restaurant locations, they will even include ice if asked!
Keep your animal's behavior in mind when it comes to various attractions. Some service dogs may have a fear of loud noises, such as fireworks, or may have trouble sitting for a long time. Keep various treats and water handy in the event that a service animal may become uncomfortable.
It is important that guests have a service dog that is well trained in commands, such as being able to sit down when necessary, and heel on either side of the guest, as crowds can be heavy throughout the parks.
Prepare for a long day in the parks. Remember to have enough food to maintain the regular schedule of the service animal's diet.