Restricted Rides for Service DogsCautionary Attractions for Service Dogs Service Dog Relief Areas Animal Behavior Tips
Guests who require a service dog are permitted into the park and on many of the rides. The animal must be trained and be controlled throughout all locations of Walt Disney World. A leash or harness is required at all times. In addition to dogs, the only other service animal permitted in the parks at Walt Disney World is a miniature horse.
Restricted Rides for Service Dogs
Though Walt Disney World is accepting of service dogs, there are a number of rides in which it would be a danger for the animals to ride. These restrictions are for the safety of not only the guests, but the companions as well. These rides are:
Cautionary Attractions for Service Dogs
Some attractions at the Walt Disney World resort will do their best to accommodate service dogs, though the animal may have difficulty boarding, or may be frightened by the attraction experience. The following attractions are cautioned for experience with a service dog:
Service Dog Relief Areas
Designated areas are provided throughout Walt Disney World Resort theme parks. A map can be found at Guest Services showing the location of these areas.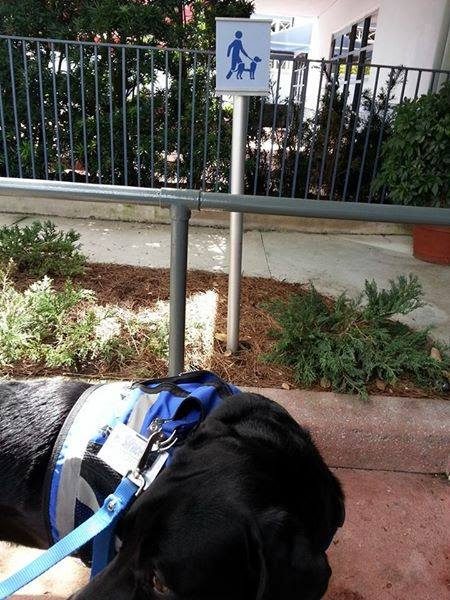 All five lands in the Magic Kingdom are equipped with pet relief areas. These areas are conveniently located near popular attractions:
EPCOT also provides a number of service dog relief areas. These areas can be found:
Disney's Hollywood Studios provides two relief areas. One is found in the courtyard area near First Aid, and next to the restrooms by the ABC Sound Studio (currently showing Star Wars: Path of the Jedi).
Disney's Animal Kingdom provides four service dog relief areas, located conveniently throughout the park.
Animal Tips