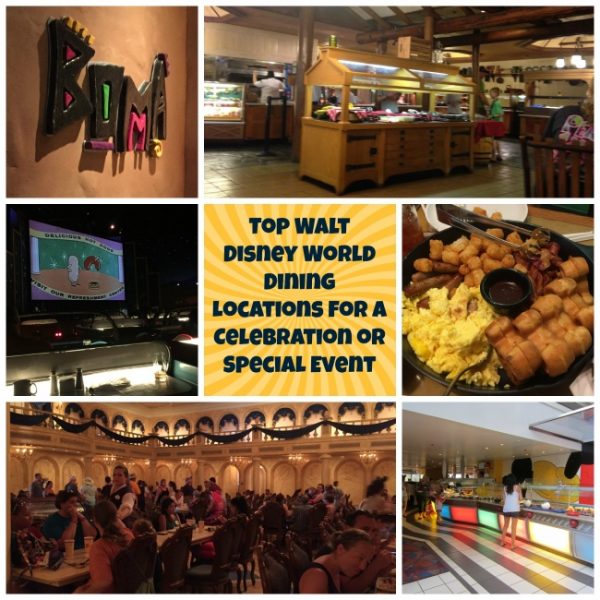 There are so many great restaurants to choose from at Walt Disney World it can be nearly impossible to decide which one to enjoy! When you are looking for the perfect dining location for a celebration there are a few options that really stand out from the crowd. We have chosen our favorites based on certain categories. No matter who or what you are celebrating, these restaurants truly are great experiences.
Family Reunion Child's Birthday Adult Birthday Princess Holiday Love Teenage Boy Graduate Vacation
Top Dining Location for a Celebration – Family Reunion
'Ohana at Disney's Polynesian Village Resort
What better place to celebrate family that at a restaurant named 'Ohana?! Ohana does mean family! This restaurant is a fantastic experience for the whole family with a Hawaiian feel that cannot be matched. The food is fantastic! It is all-you-can-eat served family style on massive skewers. All of this fun is right outside the Magic Kingdom too; you can see the castle outside the restaurant's windows! Other restaurants that stand out for this category include: 50's Prime Time Cafe for the family atmosphere, Via Napoli because sharing a giant pizza is what family is all about, and the Garden Grill for great character interaction and great food.
Top Dining Location for a Celebration -Child's Birthday
Chef Mickey's at Disney's Contemporary Resort
Chef Mickey's is a great choice for a child's birthday for the character interaction. Meeting Mickey and the gang is such a fun way to celebrate! This restaurant has a great celebratory atmosphere, and offers food that isn't necessarily outstanding but everyone can typically find something they will enjoy on the buffet. This is a great pick to allow your child to get some special attention from Mickey Mouse himself! Other restaurants that stand out in this category include Crystal Palace for the character interaction or Hollywood and Vine for the Disney Junior characters. See also Celebrating a Birthday at Disney.
Top Dining Location for a Celebration – Adult Birthday
Jiko at Disney's Animal Kingdom Lodge
This category is a tough one because at Disney everyone is a kid again! Jiko is a great option to celebrate though because of the unique food and atmosphere with the African savanna right outside the restaurant. This is also an upscale restaurant making it nice for adult dining. Other great restaurants to celebrate an adult include: Tutto Italia, California Grill, and Le Cellier. See also Celebrating a Birthday at Disney.
Top Dining Location for a Celebration – Princess
Cinderella's Royal Table at the Magic Kingdom
This one was a tough decision between Be Our Guest and Cinderella's Royal Table, but Cinderella won out in the end. Dining inside of Cinderella Castle is a magical experience. Each princess receives a magic wand and each prince a sword to defend the royal family. This special dining location paired with meeting your favorite princesses is hands-down the best way to celebrate a special princess. The downside to this experience is that reservations are nearly impossible to obtain unless they are made exactly 180 days out, and this is an expensive dining experience. Other great restaurants to celebrate a princess include: Akershus, 1900 Park Fare (for dinner), Be Our Guest, and Trattoria al Forno (for breakfast). While not necessarily a meal, the Perfectly Princess Tea at the Grand Floridian is also a special experience.
Top Dining Location for a Celebration – Holiday
Liberty Tree Tavern in the Magic Kingdom
Liberty Tree Tavern serves up holiday meals all year long. Turkey, gravy, and delicious dessert make for a sumptuous dining celebration. Particularly suitable for a Thanksgiving feast, Liberty Tree Tavern is a great place to celebrate any holiday. Many restaurants serve special menus on holidays around Disney World some of these include: Chef Mickey's, Trail's End, Whispering Canyon, Tusker House, Flying Fish Cafe, and Cape May Cafe. If you are staying in a Disney Vacation Club resort you may also be able to order a holiday meal to your room, and enjoy your own private family feast. Many people also enjoy 50's Prime Time Cafe, because of the Mom's kitchen theme throughout the restaurant.
Top Dining Location for a Celebration –  Love
Victoria and Albert's at Disney's Grand Floridian Resort
Victoria and Albert's is Disney's most upscale and private dining experience. This is an extremely expensive and deluxe restaurant that has won numerous awards through the years. When celebrating love, what better way to spoil one another than to enjoy a meal so special and elaborate. If you are still looking for an upscale dining experience at maybe a little lower price point several other restaurants are perfect locations for a special date including: Le Cellier, California Grill, and Narcoosees. Tony's Town Square Restaurant is also a fun choice if for no other reason than to share pasta like Lady and the Tramp. See also Celebrating an Anniversary at Disney.
Top Dining Location for a Celebration – Teenage Boy
Whispering Canyon at Disney's Wilderness Lodge Resort
This one is a number one pick because of sheer food volume and high meat quantity. Teenage boys typically love nothing more than to eat, and Whispering Canyon may actually fill the bottomless pit that is a teenage boy's stomach. This all-you-can-eat location features ribs, chicken, sausage, and pulled pork all served family style. There are also plenty of sides that come along with that, but the meat is the star of the show here. This restaurant has a fun, cowboy environment and the waiters typically get into the theme. It's a lot of fun and a lot of food. Other great options in this category include: Sci-Fi Dine-In because of the unique theme, and Splitsville for great food and bowling.
Top Dining Location for a Celebration –  Graduation
Boma at the Animal Kingdom Lodge
Boma is a great choice for celebrating graduation. The large quantity and variety of food make it likely that everyone will find something to enjoy. The African theme and animals right outside the resort make for a special experience to celebrate a grand accomplishment. Be sure to try the zebra domes! Other great choices for celebrating a graduate include: Rose and Crown and Yak and Yeti. These restaurants are all internationally flavored with unique and fun menus. A great way to celebrate an adult accomplishment!
Top Dining Location for a Celebration – Vacation
Beaches and Cream at Disney's Beach Club Resort
Beaches and Cream is a fantastic place to celebrate vacation. What better way to enjoy vacation than ice-cream? This small, adorable restaurant is perfect for indulging in some sweet treats. They serve up decadent ice-cream sundaes of all sizes, including the massive kitchen sink that typically requires at least 4 people to complete. In addition to the ice-cream, Beaches and Cream has classic diner foods that are wonderful vacation treats. Other restaurants around Walt Disney World that celebrate vacation include: 'Ohana, Hoop Dee Doo Revue, and Be Our Guest.