Splitsville | Disney Springs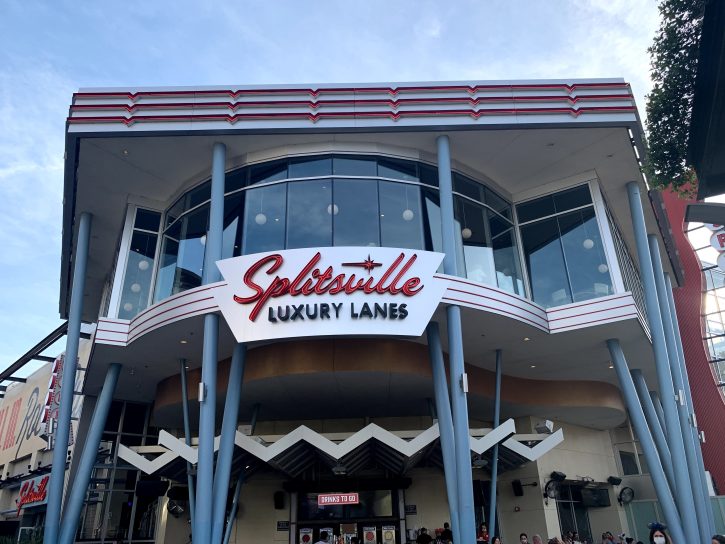 1494 East Buena Vista Drive
Lake Buena Vista, FL 32830
(407) 938-7467
About Splitsville Luxury Lanes | Disney Springs
Splitsville Luxury Lanes redefines the bowling experience with its two-level, high-end alley that goes well beyond the ordinary. It's an entertainment hub where you can easily while away several hours, surrounded by a vibrant, retro aesthetic filled with lively colors and playful designs. While Splitsville doubles as both a bar and bowling alley, creating a buzzing atmosphere, its expansive space ensures the noise is enjoyable rather than overpowering. The lively setting, complete with multiple bars, makes it an ideal spot for catching any sports game. For families, there's no need to worry: the ground level maintains a kid-friendly vibe, while the upper floor transitions to an adult-centric space as the evening progresses. Splitsville is an excellent choice for a fun-filled break from the parks.
Splitsville is located on the West Side of Disney Springs. It opened in late 2012 as part of the transformation of Downtown Disney into Disney Springs.
You can reserve the entire alley for a fee.
A few of the offerings at Splitsville include:
Live music
Dancing
30 lanes of bowling – spread over two floors
5 bars
A surprising menu including everything from burgers to sushi
An upstairs outdoor dining porch
Billiards tables
There are more than 60 televisions
Family-Friendly environment
Splitsville Bowling
There are 30 lanes of bowling at Splitsville. There is even a lane concierge to deliver your shoes and help you set up your bowling game. Kids' balls feature special Mickey and Minnie Mouse designs! When you arrive, everyone's names will be on the overhead screen and the scoring is done automatically. Bowling is normally first come first serve. If you have a large group, lanes should be reserved a few days in advance so that your group won't be split up.
Bowling Prices

Monday through Friday
Daytime (10:30.m. to 4:00 p.m.): $21 person
Evening (4:00 p.m. to close): $26 person

Saturday and Sunday
All Day & Evenings (open to close): $27 person
*Pricing includes bowling shoe rental and are the same for adult and children
Bowling Time
The amount of time you bowl is based on your party size. Splitsville differs from regular bowling alleys and the prices are per person rather than by the hour.
1-2 People: 1 Hour
3-4 People: 1 Hour 15 Minutes
5-6 People: 1 Hour 30 Minutes
7-8 People: 1 Hour 45 Minutes
Two lanes are required for 9 or more people.  To guarantee the lanes together, you must make a reservation prior to your arrival.
Billiards are $16 per table per hour
Priority Bowling
Splitsville does offer Priority Bowling for parties of 8 or less. This is your pass to the fast lane. Priority Bowling allows your group to receive the next available lane upon check-in, and is subject to any other Priority Bowling party or lane reservation.  This rate is $10 per bowler higher than the walk-in rates.
Monday – Friday
10:30a.m.to 4p.m. – $31 per person
4p.m. to close – $36 per person
Saturday & Sunday
10a.m. to close – $37 per person
Dining
Splitsville has an extensive menu.  It is not your typical bowling alley.  They offer everything from burgers and chicken tenders to sushi and steak. The Disney Dining Plan is accepted and this counts as a table service restaurant. Be sure to check out the menu. Advanced dining reservations are not required, but are available and recommended.
You can choose to have your food delivered to your lane while you bowl or dine at the regular tables before or after your games.
Mouse For Less Tips
As a family-friendly and luxury bowling alley this is a fun place to knock down a few frames.
The lanes in Splitsvlle are split up into groups of four or six for each section so as not to be so overwhelming.
You are encouraged to order some snacks while bowling to further enhance the fun.
The lanes are all equipped with bumpers and other accessories to help kids have the best bowling experience.
Park in the Orange garage if you are driving to Disney Springs for your bowling fun.