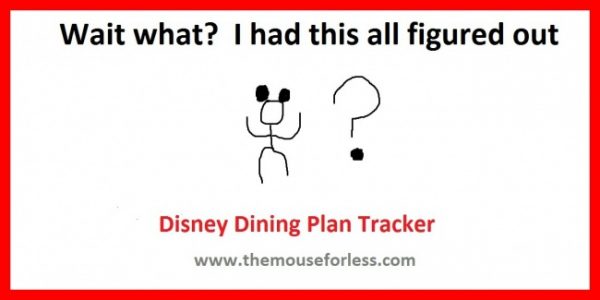 Here's a fun and easy-to-use tool for planning and keeping track of meal credits on the Disney Dining Plan, the Disney Dining Plan Tracker. The Excel program will track up to eleven days of credits, and has spaces to note Advanced Dining Reservations numbers and times. The Disney Dining Tracker was developed by Carys the Mouse Eared Kiwi. Enjoy!
This is great to use when figuring out your Advanced dining reservations, or you could possibly print it out and make notations in it on your trip.   Another helpful tip on your trip, you can ask at any guest services counter or your hotel front desk for a print out of your dining credits.    This is really helpful if you changed plans on the go.  In addition, each time you use dining plan credits, your remaining credits should show up on the receipt.
Download the Disney Dining Tracker
Click the link to open and view the Excel file or right mouse on the link and "save" to your computer.  Depending on your browser and computer program this may have a pop up window, it may show on the bottom of your screen, or in the upper right corner.
You should get a download that looks like this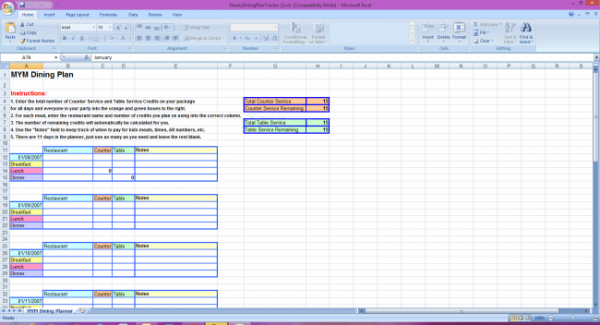 Do you feel you need some more help with the planning before filling out your Disney Dining Plan Tracker?   Check out these pages we have put together with the help of our Disney experts:
Visit our Best Value for Quick Service Restaurants page for a list of best value restaurants on the Disney Quick Service Dining Plan as well as our Best Value 1 Table Service Credit Restaurants at Walt Disney World for restaurants on the Disney Dining Plan.
Walt Disney World Dining Packages
Advanced Dining Reservations Explained