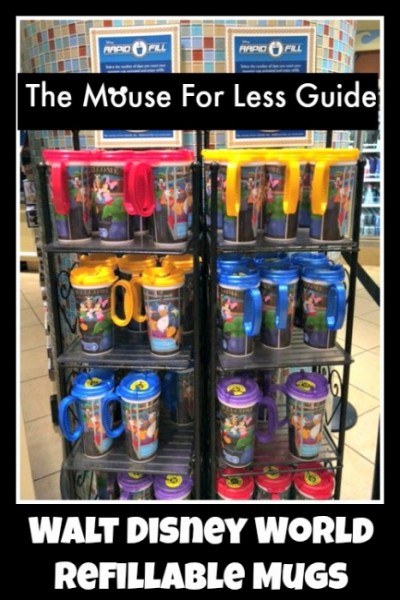 What Are Rapid Fill Refillable Mugs?   How They Work   Resort Locations Using Other Cups   Worth the Price?
What are Rapid Fill Refillable Mugs?
Rapid Fill refillable mugs are beverage mugs available at Walt Disney World resorts. The Rapid Fill refillable mugs employ a radio frequency identification (RFID) chip embedded into the bottom of the mug that turns on the beverage machine when the mug is placed on it. The chip can be programmed to work for multiple days. The mug is active for the length of the guest's stay at the resort.
The cost of a Rapid Fill Refillable Mug is $19.99 plus tax for the entire length of your stay, regardless of the length of stay.
Rapid Fill refillable mugs can be purchased by anyone, not just Disney Resort Guests, in the food courts of most resorts. Some resorts do not have a food court, so these mugs are also available at select quick service restaurants, pool bars or other locations.
Rapid Fill refillable mugs may only be purchased at Walt Disney World Resort hotels with self-service beverage stations. The resort refillable mugs are not refillable in the theme parks or at the water parks. While the water parks do have a refillable mug system, currently the water park mug is only valid in water parks. Because of the RFID chip embedded in the Rapid Fill refillable mugs, they cannot be microwaved. With this program, any old mug from a previous vacation will not work to activate the new soda machines. Guests must purchase new Rapid Fill mugs for each Walt Disney World visit.
If you have an older Rapid Fill mug (with a RFID chip) from the previous year, you can bring it back and activate it for your resort stay. You will not receive a discount, however, for reusing your older mug. Mugs purchased prior to August 2013 when the Rapid Fill program began or that lack a RFID chip, can not be reactivated.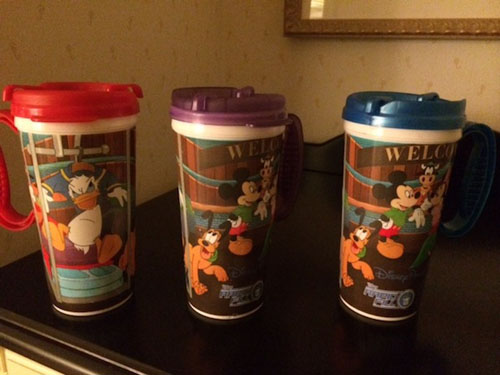 When you first purchase your mug, the security tag holding the lid onto the mug will be clipped off at the check-out stand by a Cast Member. Once you've purchased your mug, head over to the beverage station and look for a sink to rinse out any storage debris and dust that may have accumulated before your purchase. Once "neat and pretty" you can then fill your mug with any of the offerings that are available at the beverage station.
The Rapid Fill mugs can be used not only at the resort it was purchased, but at any Rapid Fill machine any Disney-owned resort on property. So, you are welcome to take your mug with you should you resort-hop. Just keep in mind that the refills are not available at the theme parks.
Disney Dining Plan guests will receive this mug as part of their package—a Rapid Fill mug will be included for each member of your party at no additional charge. Just use the Dining Plan on your MagicBand to "pay" for the mug wherever they are sold at your resort.
How The Rapid Fill Mugs Work
The mugs work when they are placed flat on the stand below the soda dispenser, which allows the machine to read the RFID chip inside the mug. The soda dispensers will let you fill your mug up one full pour, roughly 16 oz. Once the Rapid Fill mug has reached its "fill capacity," the dispenser's screen alerts the guest with a "Fill Complete" message. Guests must then wait for 2 minutes to refill the same mug. If a guest tries to fill the mug prior to the 2 minute "no fill" period, the screen will alert the guests to the amount of time remaining before the next refill can be dispensed.
The Rapid Fill policy applies only to the soda selections dispensed by the Rapid Fill machines. Guests may fill their mugs with the Coca-Cola products offered, including Coke, Diet Coke, Coke Zero, Sprite, Sprite Zero, Fanta Orange, Barq's Root Beer, HiC Punch, Minute Maid Lemonade, Powerade. Refills of coffee, hot tea, hot cocoa and iced tea are not dispensed via the new Rapid Fill system. These beverages are available, however, with unlimited refills when you purchase the Rapid Fill mug.
For those guests who wish to fill a water bottle, or any other container with water, they may still do so with no restrictions. Ice and water remain free.
The Rapid Fill refillable mugs will not get you milk or fruit juice from any food court, nor will it work for alcoholic beverages at the pool bars or in the sit-down restaurants if your resort has one.
Resort Locations To Purchase Rapid Fill Mugs
What About Paper Cups?
The Rapid Fill Beverage Stations also impact guests who buy paper cups. One-time purchase paper cups are also RFID-enabled, but they work a little differently than the mugs. The paper cup can be refilled for one hour, up to 3 times. The cup will then deactivate after one hour or 3 refills, whichever comes first. The LCD screens found on the beverage dispensers will keep track of what you've already poured and will tell you how many refills you have left. Paper cups are also confined to the time limit of 2 minutes.
Is It Worth The Price?
There is a certain amount of personal preference involved, but then again there are some empirical statistics that may make a difference as well.
First of all, how long are you staying at Walt Disney World? The longer your stay, the more economical the mug becomes as it evens out after visiting the beverage stations anywhere between 6-8 trips to the beverage station.
If you drink a lot of coffee or tea, it could be a good value too. While the Moderates and Deluxes offer a 4-cup coffee pot in the room, that may not be enough for some guests. (The Value resorts do not feature a coffee pot in the room.) If you enjoy a good cup of joe, or a piping cup of tea, you may want to consider purchasing the mug.
How far from a refill station is your room located? Is your family typically in a hurry to get to the parks? Or is a leisurely walk back to your room to deposit your mug after breakfast just fine with you? Each family will have to work out the statistics to decide if purchasing a Rapid Fill mug is going to be worth it money-wise for you.
How about adding a little Magic to your daily grind? Here's where sentiment meets practicality: How many pins do you buy at $8-$12 each and put away until your next vacation? How many plush dolls? How many Vinylmation? That's why the mugs can be a good deal, even at home, since you can use them in a very practical way, every day. They are pretty rough and tumble, dishwasher safe, (do not microwave them!) and very portable, which makes them a usable souvenir and, unlike a t-shirt, one that you're unlikely to grow out of.
For even more money saving food and beverage tips, visit our Dining Tips page.