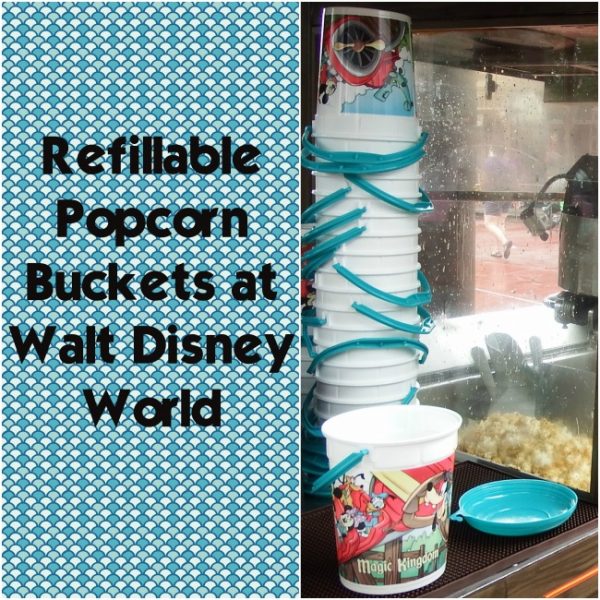 Refillable Popcorn Buckets
General Information Locations Tips
Walt Disney World refillable popcorn buckets are a trending item around the four theme parks. They come in all shapes and sizes, and vary with the seasons. Popcorn buckets range from your typical bucket shape with a lid to Star Wars droids and space ships. There are different buckets available at various locations around the parks. You can choose your favorite design to carry around for refills. This is a fun souvenir that can actually save some money on snacks during your trip!
General Information
Popcorn buckets vary in price depending on the bucket design and the location of purchase. Popcorn buckets range in price from $10 to more than double that. Each bucket refills for the same price at $2.00. This is a good deal when you consider that purchasing a single popcorn snack costs around $5. Popcorn bucket refills are a decent value for a shareable snack at a Disney park.
Popcorn is a snack credit on the Disney Dining Plan, so is a refill. A popcorn refill is not the best use of a Dining Plan snack credit if you are looking to maximize value. However, the initial purchase of a popcorn bucket is not allowed as a snack credit option.
Popcorn buckets are advertised as refillable for length of stay. Popcorn buckets can be refilled at any location that sells popcorn. It does not matter what location or which park you originally purchased your popcorn bucket. Also, keep in mind that pricing and availability are always subject to change at Disney parks.
 Flavored popcorn refills are available at some locations for the same price as the regular popcorn if you want some variety in your salty snacking. Currently at Epcot, the popcorn cart outside of the Imagination Pavilion offers a variety of flavored popcorn and the Canada pavilion has Maple flavored popcorn. Keep your eyes peeled around the parks for other flavors to sample. 
In the past an Annual Pass discount has not been offered for popcorn buckets or refills, but Disneyland Resort now has an Annual Passholder refillable popcorn bucket that refills for $1.00.
Locations
Refillable popcorn buckets can be found at popcorn carts around the theme parks and water parks and Disney Springs. Following is a list of a few common locations where Popcorn buckets can normally be purchased and/or refilled.
Main Street Popcorn Cart – Left entrance of train station near Guest Relations
Castle Plaza Popcorn Cart – On the Tomorrowland side of the hub at the end of Main Street
Fantasyland Maurice's Amazing Popping Machine – Between Gaston's Tavern and Ariel's Undersea Adventure
Fantasyland Storybook Circus Popcorn Cart
Liberty Square Popcorn Cart – Near Liberty Tree Tavern
Frontierland – Beside Westward Ho Refreshments
Frontierland – Outside Big Thunder Mountain Railroad
Tomorrowland Popcorn Cart
Adventureland Snack Cart- Between Pirates of the Carribbean and Jungle Cruise
Future World West Popcorn – Cart across from Imagination Pavilion
Future World East Popcorn – Near Test Track
Canada Pavilion
Fife and Drum Tavern – America Pavilion
Future World Popcorn Cart – Near pin trading station
Hot and Fresh Popcorn – Just past Starbucks
Animation Courtyard Popcorn Cart
Hub Popcorn Cart – near Hyperion Theater
Hollywood Hills Amphitheater – Fantasmic!
Mahindi Snack Cart in Harambe
Harambe Market
Corn-Ivore – Dino – Land
The Feeding Ground – Discovery Island
Thirsty River Bar and Trek Snacks outside the entrance to Expedition Everest
Tips
If you are looking for a particular themed Refillable Popcorn Buckets think about the most likely location for the design. If it is a Star Wars design you really want, Disney's Hollywood Studios is probably the place to be, but if it is a princess design you may have more luck at Magic Kingdom.
If all that salty popcorn makes you thirsty, remember that you can get a free cup of water at any dining location that serves fountain drinks. Bring some water flavoring to improve the taste.
A refillable popcorn bucket can double as a useful souvenir. Bring some Disney magic back home and enjoy some popcorn at home using your bucket.
Bring a carabiner clip to attach your popcorn bucket to your park bag. This way you do not have to carry it in your hands.