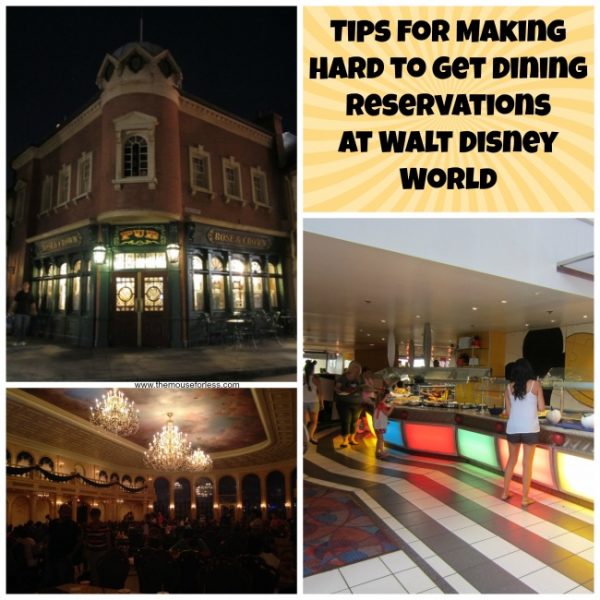 Tips for Making Hard to Get Dining Reservations
Some of the restaurants at Walt Disney World are extremely popular among guests visiting the parks. These restaurants book up very early and it can seem nearly impossible to snag a reservation at these in-demand locations. We have some tips for making hard to get dining reservations to make your vacation practically perfect in every way.
Making Reservations     Specific Restaurants
Making Reservations
The biggest tip for making hard-to-get dining reservations are to make your reservations at the earliest possible time. Guests can book dining reservations 180 days in advance starting at 6:00 a.m. EST online or via the MyDisneyExperience app. If you wish to book over the phone at 407-WDW-DINE. Phone lines open up 1 hour later at 7:00 AM EST.
It is important to be prepared and know what reservation you are looking for and what times you are willing to accept for that reservation. Disney does not allow you to hold dining reservations that overlap in times; they are aware that you cannot be in two places at once. Plan ahead so that you are sure of what you are doing, and don't get confused when the window opens for you to make reservations.
Those guests staying at a Walt Disney World resort may book dining reservations for the duration of their stay on the very first day that reservations are available for their trip. For example, if you are staying at a Disney resort for 7 days, then you may book your day 7 dining reservations 187 days out, on the same day that you can book your day 1 reservations.
When making several reservations on the same morning, make the reservations for the most popular restaurants first to give yourself the greatest chance of getting those reservations. In addition, consider making your harder to get reservations for the day that's furthest out, meaning don't make your reservation for Cinderella's Royal Table for the first day of your vacation, instead, make it for the last day of your vacation.
If the Blue Fairy is not with you, and you do not get the dining reservations you were hoping for at 180 days out, keep trying! Make sure you check back periodically to see if any cancellations have occurred. Guests must cancel or modify a reservation 24 hours in advance in order to avoid a $10 penalty fee for not showing up for a reservation. This means that as the day approaches, you become more and more likely to get a reservation that someone canceled. Don't give up; just keep swimming!
Specific Restaurants
Most restaurants at Walt Disney World are fantastic dining experiences with great food. Despite the fact that nearly every dining location is very good, some are so special and unique that their popularity overwhelms the capacity of the restaurant. It can be extremely hard to get reservations at these locations, especially during the busy summer and holiday seasons.
Restaurants with a Fireworks View
Nothing ends an evening at Walt Disney World quite like dinner with a view of the nighttime fireworks shows. Restaurants with Fireworks Views offer a little extra if you can time the reservation to coincide with the fireworks show.

Happily Ever After
California Grill at the Contemporary is the most popular location for dining and viewing the Magic Kingdom fireworks. Most guests try to get a reservation for 90 minutes to 1 hour in advance of the fireworks in order to be at the restaurant when the show begins. Many guests are not aware that if you dine at the California Grill at any time during the day, you may return, show your receipt, and watch the show from the special viewing balcony. When it is offered guests may also book the Celebration at the Top fireworks dessert party. If you cannot get a reservation at California Grill, other restaurants offer a decent view of the fireworks including: 'Ohana, Narcoosee's, and The Plaza Restaurant.

Epcot Forever
Several locations around World Showcase offer great views of Epcot Forever. The most popularly booked locations are Rose and Crown and La Hacienda de San Angel.  Other restaurants with fireworks views that may be easier to get reservations for include: Monsieur Paul, Spice Road Table, and Shiki-Sai: Sushi Izakaya. If you have no luck at all with getting a dining reservation for these locations, but have your heart set on dining with the fireworks nearby, try Cantina de San Angel. This is a quick-service dining location that does not accept reservations. Here, if you arrive early enough, you can enjoy Mexican food with an excellent view of Epcot Forever.
Castle Dining
Dining reservations for Be Our Guest and Cinderella's Royal Table are nearly impossible to get at any time of the year. These are two of the most popular restaurants in Walt Disney World. If you want to dine at these locations, be sure to search for reservations way in advance. If you cannot get a reservation at either of these two restaurants but must have princess dining try Akershus, 1900 Park Fare (for dinner), or Trattoria al Forno (for breakfast). All of these restaurants are very popular as well, but not quite as renowned as Be Our Guest and Cinderella's Royal Table.
Victoria and Albert's
Victoria and Albert's is Disney's most expensive and deluxe restaurant. The chef's table at this location is a unique experience in which the chef speaks with your table and personalizes a special menu just for your group. This is and extremely difficult reservation to obtain. If you are hoping to enjoy this experience be sure to book as early as possible.
Character Dining
Most character dining locations are very popular. Some of the hardest to get reservations include any restaurant with princess dining and Chef Mickey's. Chef Mickey's is lots of fun, and it is great to dine with all of the fab 5 characters. If this reservation escapes you be sure to check out Tusker House, The Garden Grill, or Hollywood and Vine (for dinner). You get to meet Mickey Mouse at all of these locations, and he'll be in a cute outfit to match the theme of the restaurant.