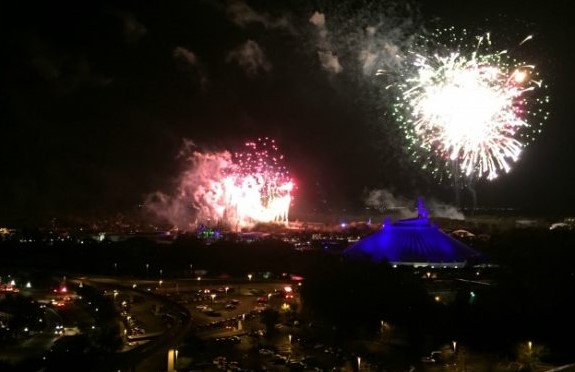 Celebration at the Top
Celebration at the Top is an upcharge experience in which guests get to view the Magic Kingdom fireworks show from a private balcony at Disney's Contemporary Resort. During the event, Guests can indulge in a high-energy cocktail party enjoying fine food, simmering sips and beautiful music while awaiting an incredible fireworks spectacular. Music for the fireworks show is piped into the dining area and out on the balcony.
In addition to private fireworks viewing, guests also enjoy beverages (alcohol included) and culinary offerings, including sushi, small bites, and desserts, and some favorite dishes from the history of California Grill. This is an exclusive and fine dining experience.
Pricing for this event is $129 plus tax and gratuity per person. Booking can be done on the Disney website or over the phone. Currently, this event is offered on select Saturday nights only. The whole experience is estimated to last 2 hours and 30 minutes. Valet parking, snacks, beverages, and fireworks viewing are included in this price.
Location
Check-in for Celebration at the Top is on the second floor of the Contemporary Resort at the check-in desk for California Grill. Guests may check in around 15 minutes prior to the opening of the dining room. The event is held on the 15th floor of the resort in the Sonoma and Napa rooms of the California Grill. The dress code for the California Grill applies to guests attending this event. This means that guests must wear nicer clothing. Dress shorts are permitted.
Food and Beverages
The food is subject to change, but includes a variety of snack sized offerings. Canapés and sushi can be expected, as well as bite-size desserts such as fruit tarts and creme brulee. The beverages offered include soda and non-alcoholic drinks along with a selection of California wines, beers, and cordials. The bartenders can create a variety of drinks by guest request.
Savory snacks and drinks are served prior to the fireworks, and desserts are served after the show. Guests are welcome to watch the fireworks from inside the dining rooms or out on the private balcony. Champagne is served in lighted glasses just prior the the fireworks show.
All guests must be age 21 or over to partake in alcoholic beverages.