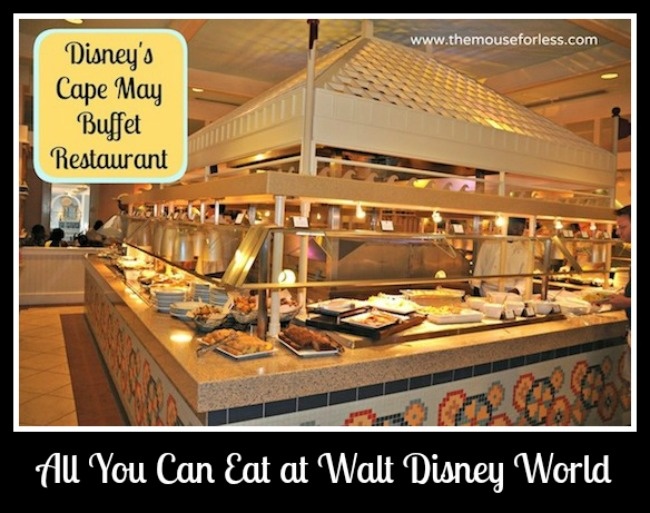 All You Can Eat Restaurants at Walt Disney World
Restaurants that are buffets or all you can eat at Walt Disney World are quite varied across the resort. There are dining establishments that offer up high quality food and there are those that are more value based. Some all you can eat restaurants offer a fun theme or character dining experience, other restaurants have the merit of a great location for dining in Walt Disney World, and many are great options for groups with picky eaters or vegetarians. What all of these have in common though, is that guests can eat as much or as little as they desire of the food offered.
Character Dining  Non-Character Dining  Family Style Service  MouseForLess Picks
Character Dining
All you can Eat Restaurants with character dining are very popular at Disney World. It is highly recommended that guests book a dining reservation as close to the 180 day booking window as possible for the best choices of dining locations. Check out our Dining Reservations page and our Character Dining page for more information. Character Dining restaurants that are all you care to enjoy include: 'Ohana (breakfast), 1900 Park Fare, Akershus, Cape May Cafe, Chef Mickey's, Crystal Palace, Garden Grill, Hollywood and Vine, Tusker House.
The best value for character dining is Cape May Cafe at the Beach Club in the Epcot Resort Area. This restaurant offers an all you care to enjoy buffet and features characters including Mickey, Minnie, Goofy, and Donald.
The most popular character dining location that is all you can eat is Chef Mickey's in the Contemporary Resort.  This restaurant has a loud, upbeat atmosphere and is all about family fun. Characters may include Mickey, Minnie, Goofy, Pluto, and Donald.
There are a few all you can eat locations where guests can dine with royalty. These include Akershus in Epcot and 1900 Park Fare at dinner at the Grand Floridian Resort. These restaurants include princess interactions along with an all you can eat menu.
Non-Character Dining
Of the restaurants that are all you can eat at Walt Disney World, there are many that are not character dining but are well themed and well rated. Some of the non-character dining locations offer more variety and quality of food as compared to the character dining options. These all you can eat restaurants include: 'Ohana, Boma, Trail's End, Whispering Canyon, Biergarten, Fresh Mediterranean Market, Garden Grove Cafe, and the Wave of American Flavors.
Boma at the Animal Kingdom Lodge is a buffet restaurant featuring a plethora of African inspired cuisine options. There are some normal American buffet choices, but there are also many options that are not commonly found on a buffet line. It can be a lot of fun to sample more adventurous food choices!
Trail's End at Fort Wilderness may be out of the way for many guests, but this buffet is a great value. This buffet features down-home country comfort foods like fried chicken and mashed potatoes. Trail's End is a great place to dine for a few minutes away from crowds.
Family-Style Service
Many of the all you can eat locations at Walt Disney World are buffet style dining, but others are served family style. These locations serve food to the table and diners eat as much as they desire. These locations are: Whispering Canyon Cafe, 'Ohana, and Garden Grill.
This one is a hard choice for Best Value, because the Garden Grill is also not a bad value considering that it is a character dining restaurant. The reason that Whispering Canyon Cafe in the Wilderness Lodge wins the prize in this category is because of the sheer volume of meat that is available for guests to devour. Whispering Canyon serves up ribs, chicken, brisket, and sausage along with side dishes all in a big family skillet. This restaurant is a carnivore's dream!
MouseforLess All You Can Eat Restaurant Best Picks
Whispering Canyon Cafe wins the prize for best value because it is a great choice whether guests are on the Disney Dining Plan or paying out of pocket. For guests paying out of pocket, the canyon skillet offers as much food as you can enjoy at at good price as compared to similar restaurants at Disney. The food is delicious and the atmosphere fun for the entire family. For guests on the dining plan this restaurant becomes a great value once you add in the bottomless Sheriff Shakes to drink and a large piece of apple pie for dessert. This is a meal fit for a hungry cowboy or girl just in from the range.
Akershus is a great value on the Disney Dining Plan because of how expensive the restaurant can be. This character meal featuring Disney Princesses, is in the Norway pavilion of World Showcase at Epcot. At this restaurant the food is served buffet style. The main draw for this dining location is getting to eat with the princesses and the location just outside of the Frozen Ever After attraction featuring the well-loved characters from Frozen.
**All menus and recommendations are subject to change at any time. **