July 14 – November 19, 2022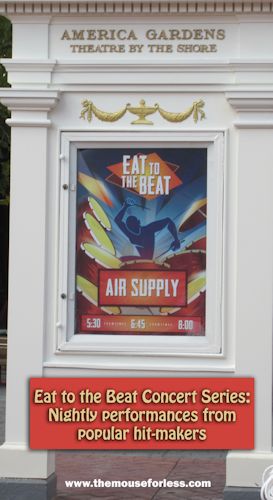 Concert Line-up   Dining Packages   Concert Tips
With the Eat to the Beat Concert Series, set the mood for food at the EPCOT International Food and Wine Festival with the savory sounds of dazzling, diverse musical acts, live on stage at World Showcase, America Gardens Theatre. Crowd favorites and new performers will rock the stage and have you on your feet as you Eat to the Beat. The Eat to the Beat Concert Series takes place three times per evening during the EPCOT Food and Wine Festival and are free with EPCOT admission.
2022 Eat to the Beat Concert Information
Show Times:
5:30 p.m., 6:45 p.m., and 8:00 p.m.
2022 Schedule of Performers: (Friday-Monday)
July 14 and 15: Baha Men
July 16 to 18: Big Bad Voodoo Daddy
July 22 and 23: Tonic – NEW!
July 24 and 25: Jeremy Camp – NEW!
July 29 and 30: Taylor Dayne
July 31 and August 1: Tiffany
August 5 to 8: Joey Fatone & Friends
August 12 and 13: The Devon Allman Project
August 14 and 15: Christopher Cross
August 19 and 20: Journey Former Lead Vocalist Steve Augeri
August 21 and 22:Air Supply
August 26 and 27: Blanco Brown – NEW!
August 28 and 29: 98°
September 2 and 3: Southern Avenue
September 4 and 5: Kris Allen & David Cook
September 9 and 10: Hoobastank – NEW!
September 11 and 12: Jimmie Allen
September 16 and 17: Los Amigos Invisibles – NEW!
September 18 and 19: American Authors
September 23 and 24: BBMAK
September 25 and 26: Postmodern Jukebox
September 30 and October 1: Stokley – NEW!
October 2 and 3: Shelia E.
October 7 and 8: Mark Wills
October 9 and 10: 38 Special
October 14 and 15:Robert Randolph Band
October 16 and 17: Newsboys – NEW!
October 21 and 22: Ray Parker Jr. – NEW!
October 23 and 24: Billy Ocean
October 28 to 31: Hanson
November 4 to 7: Boyz II Men
November 11 and 12: Kenny G
November 13 and 14: Sugar Ray
2022 Schedule of Performers: (Tuesday-Thursday)
July 19 to 21: C'Nergy
July 26 to 28: Country Airwaves
August 2 to 4: Element
August 9 to 11: Latin Ambition
August 16 to 18: Epic
August 23 to 25: Evolution: Motown
August 30 to September 1: M-80s
September 6 to 8: The Vybe
September 13 to 15: Foreigners Journey
September 20 to 22: SMB "The Female Collective"
September 27 to 29: Epic
October 4 to 6: Latin Ambition
October 11 to 13: The Vybe
October 18 to 20: 506 Crew (Reggae)
October 25 to 27: M-80s
November 1 to 3: Country Airwaves
November 8 to 10: Foreigners Journey
Eat to the Beat Concert Series Entertainment is subject to change without notice. For the latest information, check Disney's web site.
Eat to the Beat Concert Series Dining Packages
If your favorite band is performing at the Eat to the Beat Concert Series during the Epcot International Food and Wine Festival, consider purchasing the all-new Eat to the Beat Dining Package.
These packages not only guarantee a spot for one of the Eat to the Beat Concerts, but guests will also be able to enjoy a delicious meal at select Epcot restaurants for either lunch or dinner.
Booking Info
The dining package includes an appetizer, entree, dessert, and non-alcoholic beverage or 1 full buffet.
Reservations require a credit card guarantee and pricing does not include tax or gratuity. Epcot park admission is also required and not included in the dining package price. Dining reservation start times must be 2.5 hours prior to Eat To The Beat show time. Badges for the reserved concert seating will be given to guests at the restaurant.
Guests would arrive at the America Gardens theater 15 minutes prior to their Eat to the Beat Concert show time and enter via the designated Dining Package entrance.
Eat to the Beat Dining Packages
CANADA:
GERMANY:
Biergarten

Lunch or Dinner: $57 for adults; $32 for Child (3-9)
MOROCCO:
Spice Road Table (Same Day Dining Packages Only)

Lunch or Dinner: $44 for adults; $16 for Child (3-9)
AMERICAN ADVENTURE:
THE LAND:
THE LIVING SEAS:
Coral Reef

Lunch or Dinner: $69 for adults; $22 for Child (3-9)
* Prices do not include tax and gratuity.
Eat to the Beat Concert Series Tips:
The early concert is generally the most popular. If you'll be attending this show, be sure to line up early.
Guests nibbling and sipping their way around the World Showcase can see performers from many countries weave music, dance, acrobatics, comedy and other acts into the festivities.