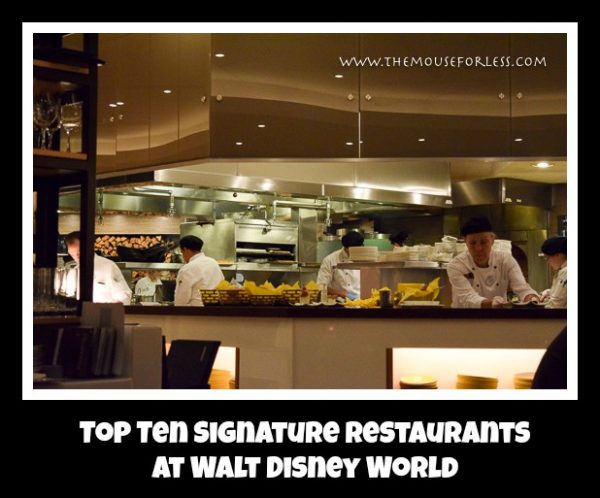 One of the most talked about parts of any Walt Disney World vacation is the food.  Thanks to the voting of the members of the Mouse for Less Facebook group, we have a definitive list of the Top 10 Fine/Signature Restaurants in Walt Disney World.
Located both in and outside of the theme parks, these restaurants offer a wide range of cuisines and experiences during your vacation.
Before we crown the winners, a few notes. Many of these restaurants are known not just to be good for "theme park food" but notable on their own merits versus food anywhere. However, many are also not (or are not seen as) young child friendly, or might be more expensive than some would like to spend. As such, a few of the restaurants that didn't receive as many votes we think might be more because less people have experienced them personally rather than a lack in quality. With that being said, we have one honorable mention.
Honorable Mention
Victoria and Albert's
While in isolation, it might seem odd, Victoria and Albert's finished just outside of our top ten by votes. A AAA 5-Diamond winning restaurant that routinely ranks on lists of the best restaurants in the United States as a whole, Victoria and Albert's is the ultimate in fine dining. However, the exclusivity of the experience and the price do make it a less common experience for many Disney Vacation goers – thus less votes.
If you are wanting to have an unforgettable and world class meal, this is the place for you. And if that doesn't sound amazing enough, you can get and even more exclusive and individualized experience in Queen Victoria's Room or at the Chef's Table.
In Walt Disney World dining, Victoria and Albert's is truly in a category all its own, so we are happy to give it the most honorable of all mentions.
Top Ten Signature Restaurants
10. Narcoossee's
Located in the Grand Floridian Resort and Spa, Narcoossee's is one of the most unique locations in Walt Disney World. It is located in a building that juts out into the Seven Seas Lagoon, allowing for every table to have a water view. This also affords views of the Magic Kingdom fireworks and the Electrical Water Pageant. Naturally, the cuisine is centered on seafood, and also on the freshest seasonal offerings. As is the case with the other restaurants on this list, be sure to leave room for dessert that is both delicious to eat and beautiful to see.
The dress code here is business casual.
9. Le Cellier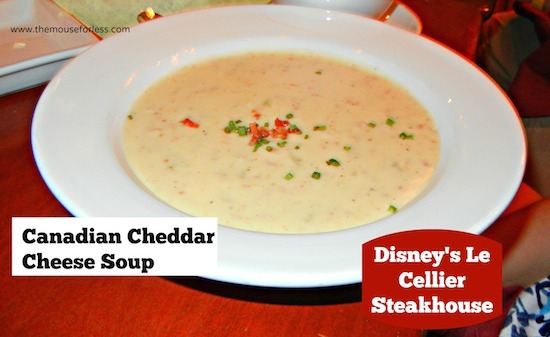 Of all the parks in Walt Disney World, Epcot is the one most known for its food. As such, it is only natural that our first inside the park offering on this list is in Epcot's World Showcase. Le Cellier is the centerpiece of the Canada pavilion.
This restaurant is primarily a steakhouse, and is subject of many debates as to whether it is the best steak you can get inside a theme park. However, one of the most talked about menu items here is the Cheddar Cheese Soup. Make sure you leave room for dessert!
8. The Boathouse
As Disney Springs has opened more and more locations over the past few years, the variety and quality of food offerings has provided all visitors with a delicious embarrassment of riches. One of the early parts of this renaissance was the Boathouse.
Located in The Landing, the Boathouse is known as much for its Amphicars as its food, but the food itself is definitely worth the trip. Whether you are looking for some great sea food, a tasty sandwich, a personal steak, or just some mac n' cheese, the Boathouse is a great place to introduce yourself to the idea of a Disney Signature Restaurant.
7. Flying Fish
Heading over to Disney's Boardwalk, we arrive at Flying Fish. While Flying Fish has always had a following, a recent renovation (and the addition of the AbracadaBar) have made it even more of a destination.
As you may have guessed from the name, Flying Fish features seafood, but in many unique dishes. If you are looking for creative seafood dishes made with the freshest of ingredients, this place is for you.
Flying Fish also has a minimum dress code, so be sure to check that out ahead of time.
6. Jiko
One of the resorts most known for great food is Disney's Animal Kingdom Lodge. Located in the lower level of Jambo House, Jiko – The Cooking Place, is the culinary crown jewel of this resort.
The cuisine here is some of the most inventive and unique in all of Walt Disney World. It combines the flavors of Africa, India, and the Mediterranean and offers great options for vegetarian and vegan visitors as well as the meatiest of meat lovers. For wine enthusiasts, Jiko also offers an enormous list of South African wines (perhaps the largest in all of the United States). The whole experience is wonderful.
As mentioned for several other restaurants, Jiko does have a minimum dress code.
5. Tiffins
If you have listened to any advice about dining at Disney's Animal Kingdom, you have probably heard great things about Tiffins. One of the most recent additions to the "signature restaurants" category, Tiffins already has a dedicated following, allowing it to standout even among the great culinary offerings of the Animal Kingdom.
Like Jiko, the cuisine here takes you on a culinary journey around the world, and with Tiffins that world is even larger. Your meal here includes some great tastes from Africa, Asia, and South America – with specialty cocktails to complement your food.
4. Yachtsman Steakhouse
Located just outside the International Gateway inside Disney's Yacht Club Resort, the Yachtsman Steakhouse brings guests the finest of surf and turf surrounded by the style and feel of New England.
As you might imagine, the "turf" gets the most attention here. From walking by a visible butchering/aging room for the meat to the variety of cuts and types of meat, this restaurant is a meat-eaters paradise. There are also some tasty sides, rolls, and desserts, but be honest – if you are heading to the Yachtsman Steakhouse, you are probably there for the steak.
Like with most of the previously mentioned signature restaurants outside of the parks, Yachtsman Steakhouse has a minimum dress code.
3. Hollywood Brown Derby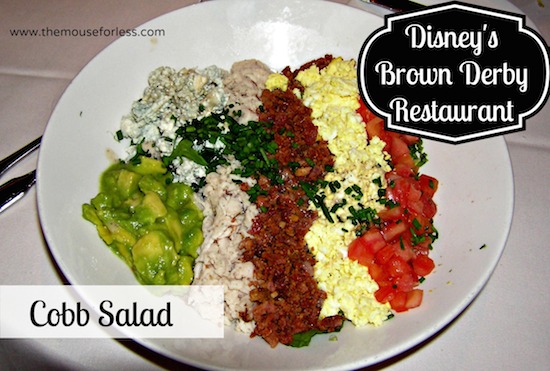 Going back to the original idea of the Disney MGM Studios park, the Hollywood Brown Derby is an authentic replica of the legendary Hollywood landmark. Located on Hollywood Boulevard in Disney's Hollywood Studios, the Hollywood Brown Derby provides a variety of well-made delicious food (including the famous cobb salad) with good service surrounded by sketches of celebrities.
One special aspect of this restaurant is that it also features one of Disney's most unique dining experiences – Dine with an Imagineer. With this you not only get four delicious courses from the Brown Derby, you also get to have a conversation with one of the creative minds that makes Disney Disney.
2. Cinderella's Royal Table
Responsible for the catch-phrase "there's a restaurant in there?," Cinderella's Royal Table is the essence of Walt Disney World distilled into a single meal. Somewhat uniquely (for signature restaurants) available for Breakfast, Lunch, and Dinner, this restaurant has long been one of the hardest Advance Dining Reservations to get in all of Walt Disney World.
This restaurant is one of the signature restaurants that truly is an orchestrated and full experience. From your entry photograph with Cinderella, to the beautiful and effect-laden dining room, to the wandering princesses and multi-course meal this restaurant is routinely on every Disney fan's bucket list.
1. California Grill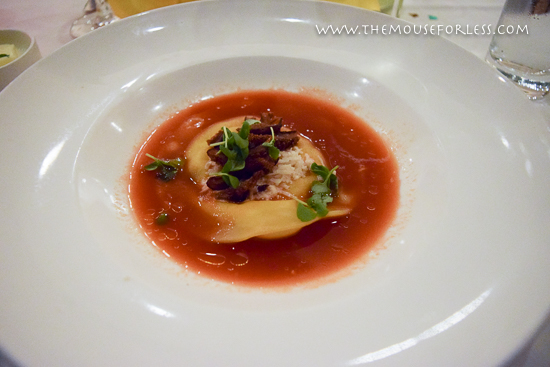 Dinner and a show, but Disney style. Located at the top of the Contemporary Resort, California Grill has one of the most devoted followings of any Walt Disney World restaurant. Highlighting the culinary diversity of California, this  signature restaurant is sure to have your new favorite, whether that is expertly prepared sushi, artisanal pizza from the wood burning oven, inventive entrees with the freshest of ingredients, or the legendary Sonoma Goat Cheese Ravioli.
Beyond the excellence in the food (and wine) is the experience. California Grill has beautiful views from the dining room itself, but also has a private viewing deck, which offers a unique view of the Magic Kingdom fireworks – with the soundtrack piped in for added effect.
California Grill does also have a required dress code, so be sure to arrive prepared.
If you are looking to have a special meal while on your Walt Disney World vacation, it would be hard to do better than the experience of dining at California Grill – and that is why it is our top vote-getter among all the signature restaurants.