Late November- December 30, 2021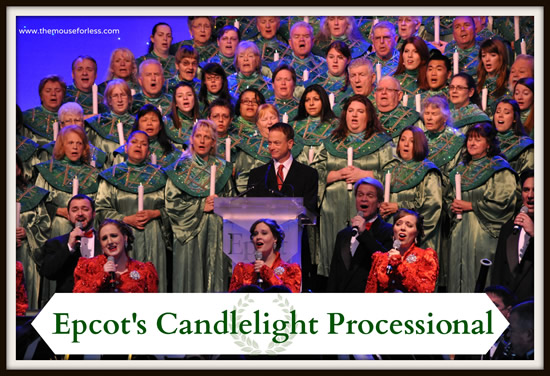 Dates, Times & Location Celebrity Narrators Seating Dining Package Who is Involved Tips
The Candlelight Processional is a breathtaking retelling of the Christmas story in words and music complete with a 50 piece orchestra, choir and celebrity guest narrators. The narrator reads the Christmas story and interspersed are favorite carols of the season. The choir consists of members of Disney's Voices of Liberty (red & black attire), the Cast Member choir (green robes), and visiting high school and guest choirs (gold robes). The theater is handicap accessible and a sign language narrator will also be available to interpret for each performance. This is a not to be missed event for anyone looking to experience a meaningful Christmas musical event. While this show has a definite Christian slant, many people have said that this is a very enjoyable show regardless of what holidays one may celebrate.
The following are details for 2019. 2021 details will be updated when released. 
Candlelight Processional Dates, Time, and Location
Late November through December 30
The Candlelight Processional is held in Epcot at the American Gardens Theater. The Theater is located in the American pavilion. This is an open air theater, and although there is a roof, you may get wet if it rains. Remember to dress for being outside. Although you are in Florida, it still may be quite cool on a December evening.
The Candlelight Processional is held every night during the Christmas season. The first performance is usually held a within a few days of Thanksgiving (give or take) and then runs daily through December 30. There are three performances each evening at 5:00, 6:45 and 8:15 p.m. The length of the show is about 45 minutes.
Celebrity Narrators
The schedule of celebrity performers varies from year to year, although many have made repeat performances over the years. Program offerings, celebrity narrators and other elements are subject to change without notice and often do.
2019 List of Narrators:
November 29-December 1 – Ming-Na Wen
December 2-5 – Neil Patrick Harris
December 6-7 – Whoopi Goldberg
December 8-12 – TBD
December 13-15 – Gary Senise
December 16-18 – Pat Sajak
December 19-21 – TBD
December 22-24 – Steven Curtis Chapman
December 25-26 – Edward James Olmos
December 27-28 – TBD
December 29-30 – Lisa Ling
* Show times are nightly at 5:00, 6:45 and 8:15 p.m. Celebrity narrators, dates and times are subject to change without notice.
 Attending the Candlelight Processional
The performance is included in regular Epcot park admission at no additional cost. All Epcot guests are welcome to view this moving presentation. Introduction of the Candlelight Processional Dining Packages, however, has meant far less viewing space for the general public in recent years. That means that guests will need to line up early to get a seat to this popular show, sometimes up to several hours for later shows. Seating is available on a first come, first served basis – after those who have purchased a Dining Package (see below) have been seated.
Standing in line does not guarantee seating. All seating opens up 15 minutes prior to the show starting. Generally, if you are not going to purchase a Candlelight Processional Dining Package, the 5:00 p.m. show on a non-Extra Magic Hour weekday is the least crowded. Thanksgiving weekend and Christmas week shows are most popular. Shows featuring well-know celebrities are also going to be very crowded. If lines are long, consider asking a cast member about the likelihood of getting in.
One thing to note if you don't want to wait in a long line: Although this may not be the best option, as the view is obstructed, the music can easily be heard from outside the theater. Some latecomers just hang out in the area of the America Pavilion and listen to the beautiful music and narration.
Candlelight Processional Music
Music can vary from year to year. A sample song list can be found below. CDs with processional music are available for purchase at retail carts near America Gardens Theatre.
Orchestral Medley
"Candlelight Overture" (Instrumental Only)
Processional Music
The following songs are sung as the choirs enter the America Gardens Theater. The musical selections are listed alphabetically and do not necessarily represent the order of appearance:
"Candlelight Carillon" (Percussion Only)
"God Rest Ye Merry Gentlemen"
"Hark! The Herald Angels Sing"
"O Little Town of Bethlehem"
Processional Choral Selections
The following songs are sung during the Processional program. The musical selections are listed alphabetically and do not necessarily represent the order of appearance:
"Angels From the Realms of Glory"
"Il Est Ne" (English & French)
"The Hallelujah Chorus"
"Away in a Manger"
"Joy to the World"
"O Come All Ye Faithful"
"O! Holy Night"
"Rejoice With Exceeding Great Joy"
"Shout for Joy"
"Silent Night" (English & German)
"What Child Is This?" (English & Spanish)
Orchestral Recessional
(End Music)
The following song is sung during the Recessional program:
"The Wonderful World of Christmas"*
* Note: In 2012, a new song replaced the "Wonderful World of Christmas"
It is customary to stand while the Hallelujah is being sung. Apparently when Handel's Messiah was first performed, the King was in attendance and as the chorus is the end of the performance, he decided to stand up and stretch his legs. Of course, at that time, no one was to remain seated while a king was standing so the entire audience stood as well and that tradition has continued to this day.
Candlelight Processional Dining Package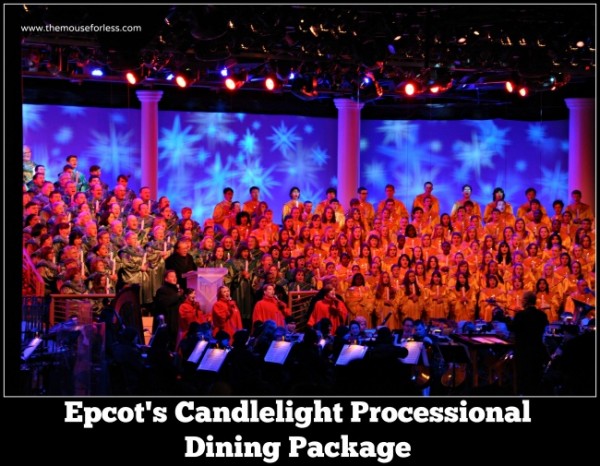 The Candlelight Processional Dining Package combines an Epcot dining experience with reserved VIP seating for the Candlelight Processional. The price for the package is tiered depending upon the restaurant selected. Those on the Disney Dining Plan may exchange "table" credits for the Candlelight Processional Dining Package.
Packages are available for breakfast, lunch and dinner with set time windows for specific Candlelight Processional performances. The breakfast option is generally less expensive than lunch and dinner. You must eat prior to your performance time.  Dining packages are paid for at the individual restaurant and badges for reserve seating will be handed out during your meal and are required to get into the VIP area of the Candlelight Processional show. Keep it in a safe place and ask for it if you've paid and for some reason the badge is not offered.  Overall, the Candlelight Processional Dining Package a pretty good deal. The Candlelight Processional Dinning Packages do not include Epcot park admission.
While you'll still have to wait in line if you purchase a Candlelight Processional Dining Package, the good news is the Dining Package line will be seated at the front of the theater before the general public is admitted. If you really want to see this show, you should definitely consider purchasing a Candlelight Processional Dining Package. Unlike the stand-by line where you must line up very early to have any hope of getting in, you can queue up in Candlelight Processional Dining Package line much closer to show time and be assured of a seat. Specific seats are not assigned, however, and your position in line will determine your seat. If your pick of seats is important to you, you'll need to queue up about 30 – 45 minutes before show time. Just remember that 15 minutes prior to the performance, the reserved seating will open up to those non-package guests waiting in the stand-by line. Therefore, purchasing a package does not guarantee a seat should you arrive at the last minute or late.
Price Range for 2019 Candlelight Processional Dining Packages
(Prices will vary by restaurant):
Breakfast: Beginning at $40 per adult; $23 per child
Lunch: Beginning at $52 per adult; $19 per child
Dinner: Beginning at $57 per adult; $24 per child
Epcot Restaurants Offering 2019 Candlelight Processional Dining Packages:
Breakfast
Lunch/Dinner
Included with Each Candlelight Processional Dining Package Meal: All meals include a three-course meal (appetizer, entree, dessert) and a non-alcoholic, non-specialty beverage or OR one (1) full buffet where applicable. Gratuity and alcoholic beverages are not included. Some menu items may not be available for the Candlelight Processional Package.
Disney Dining Plan Exchanges: Two Table Service credits are required for those on the Standard and Deluxe Disney Dining Plans. Those with the Quick Service Dining Plan are not eligible to book the Candlelight Package with their dining plan.
The Candlelight Processional Dining Package may be reserved 180 days in advance by calling (407) WDW-DINE or through Disney's Online dining reservation system, or ask your Magic For Less Travel specialist to make your arrangements for you. You must mention at the time of booking that you are interested in the Candlelight Processional Dining Package. Have the name of your restaurant ready and the time you wish to dine. Packages are limited, so call as early as possible, and it can't hurt to have a few alternate restaurants in mind. A credit card guarantee will be taken at time of booking, and full payment will be made at the restaurant where you booked your package after you dine. Specific advance cancellation policies and penalties will apply. Those on the dining plan can use 2 table credits to reserve this package. Previous ADRs for a qualifying Epcot restaurant can not be converted to a Candlelight Processional Dining Package. Your Epcot restaurant server will give you the badge for reserved entry into the theater.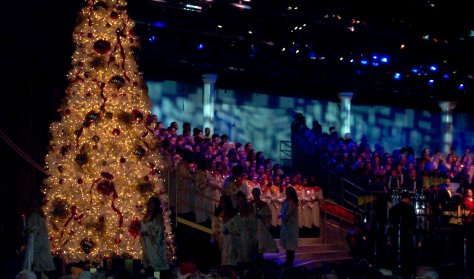 Candlelight Processional Numbers
Candlelight Processional is an amazing production. Well before the event even begins, hundreds of people give countless hours to make each performance memorable.
In preparation for Candlelight Processional shows, …
·         72 official Disney Cast Choir rehearsals were held with
·         Over 700 participating Cast Members to learn
·         11 song selections, plus 1 Processional and 1 Recessional, totaling to
·         897 measures of music
·         16 Guest Talent Coordinators trained to prepare for working with
·         268 Guest Choir Groups containing a total of
·         18,560 performers from across the country
·         12 Celebrity Narrators were scheduled to perform in
·         102 performances, over the course of 34 days (November 27 through December 30)
On any given night of a Candlelight Processional performance, there are…
·         300 Guest Choir Members
·         48 Cast Choir Members
·         45 Orchestra Members
·         8 Voices of Liberty
·         6 Fanfare Trumpets
·         1 Conductor
·         1 Celebrity Narrator and
·         1 Sign Language Interpreter onstage, all supported by
·         27 Entertainment/Guest Choir Support Personnel
·         10 Event Operations Support Personnel
·         5 Managers
·         4 Custodial Support Personnel
·         4 Caterers
·         3 Emergency Aid Personnel
·         1 Security Personnel
Candlelight Processional Tips
"I have done it at Rose and Crown (dinner package) before and it worked out great. If you are already planning to eat in World Showcase, all the better." — Tia
"The Candlelight Processional was AMAZING! (our first time) LeVar Burton was the narrator, and he did a fabulous job! The whole thing was very moving! I especially loved the Herald Trumpets!" — Flo in NY
"If you REALLY want to see the show, get the package. Otherwise you will be spending hours in a line to get in. Time is Money, do you really want to spend that much time WAITING for something? BTW, the show is FANTASTIC, (book the package!!!)" — Carrie
" Choose your seat carefully. There are poles in the theater that can partially block your view. Once the theater starts filling after the rope drop, it will be difficult to change seats if you're not satisfied. Also, if it's a chilly night, be sure to dress warmly." — Amy
"The best way to see the show is with the dinner package. If you cannot book the package, I would suggest a weeknight visit, and get in line EARLY for the show. If you can get to the first show of the evening that might be a little better in terms of available seating, because I know a lot of people think the show is better in the darker evening hours. Because the people who purchase the dinner packages will be seated first, those without the package will be seated as room allows, and the seats are usually towards the back or sides of the theater." — Anna
"The lines for the candlelight processional are oriented the same every year. Facing the theater, the line for those with the Dining Package are on the left of the theater and the stand-by line is to the right of the theater. After dark, a cast member will hold a flashing blue light stick to designate where the lines end." — Nan in GA
If the weather is chilly, bring something to sit on. The metal benches get really cold! — Melissa
If you don't get in or don't think your kids will sit still through it, you can still sit in the American area and hear some of the beautiful music and story, and when the kids get antsy, move on. Worked for us the one year we were able to go during the holidays. — Mic