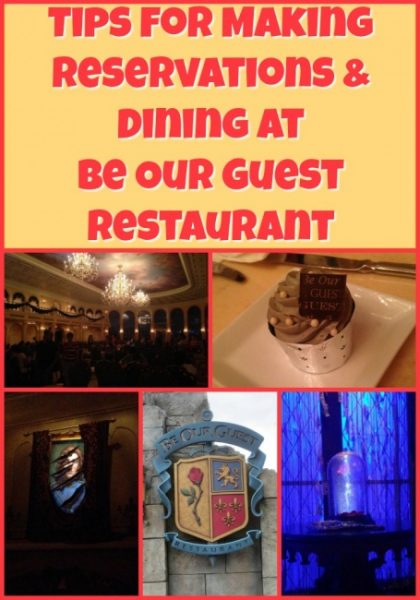 Tips for Making Reservations and Dining at Be Our Guest
One of the most popular restaurants at the Walt Disney World Resort is Be Our Guest Restaurant. Not only is the food fantastic, (try the grey stuff….cupcake! It really is delicious!) but when you step inside the doors, you really are stepping into the world of the animated classic film.
Due to people's ferver to dining at this restaurant, it can sometimes be difficult to make a reservation to dine here!
Making Reservations    Dining at Be Our Guest
Making Reservations for Be Our Guest Restaurant

 Making an Advance Dining Reservation for Be Our Guest is a challenge. Be Our Guest is commonly booked full at 180 days out. For general tips on making hard to get dining reservations check out our dining page. Also be sure to look at the full menu for Be Our Guest.

 If you are staying in a Walt Disney World resort, you may book all of you dining reservations at 180 days in advance of the first night of your stay. This is a major advantage. When this window opens, book Be Our Guest Restaurant first, before guests who are not staying on site have the opportunity to make a reservation.

 Book your reservation online. At 180 days in advance, the online booking service opens at 6:00 a.m. while the phone lines open at 7:00 a.m. Book online for an hour advantage.

 Try booking breakfast or lunch. These meals are counter-service meals rather than table-service and are easier reservations to obtain than dinner. The Beast is only present in the castle for dinner, so if meeting the Beast is a priority, you will have to dine at dinner.

 Keep checking back. If you do not get the reservation you want, keep trying. Someone may cancel their reservation at any time, and then it can become yours.

 Make a reservation at an odd time to eat. The reservations for normal meal times fill up first. Try to eat an early or late meal instead. You are on vacation, there are no set lunch hours.  Anytime is a perfect time for eating.

 Check several times the day before and the day on which you hope to dine at Be Our Guest. You can call 407-WDW-DINE, check the app, and even go to the restaurant and ask at the podium if there is any availability. Day of reservations are not uncommon as guests cancel or modify reservations to avoid the $10 no-show penalty fee.
Dining at Be Our Guest Restaurant
The Restaurant
Be Our Guest Restaurant has three separate rooms in which to dine, the West Wing, the Ballroom, and the Rose Gallery. The West Wing is dark, but very interesting to look at, especially the slashed portrait of the beast that changes as lightning flashes. The Ballroom is huge and beautiful. In addition, just like in the film. There are large "windows" with gently falling snow outside. The Rose Gallery is beautiful as well, with the standout feature being a massive rotating statue of Beauty and the Beast dancing together.
Dining at Be Our Guest is about more than just the food; the atmosphere is amazing and it is worth seeing at least once.
Breakfast and Lunch
Be Our Guest Restaurant now offers a quick service breakfast daily from 8:00 a.m. through to 10:30 a.m. The Quick-service lunch is available from 10:30 a.m. to 2:30 p.m,
Breakfast and lunch are quick-service meals, but due to the popularity of the restaurant, they do typically require that you make a reservation. Breakfast offers croissants and danishes in addition to an entree. Lunch is mostly sandwiches and soups. Your breakfast lunch can be pre-ordered ahead of time so that you can skip the line and get to a table much faster. These two meals can only be ordered up to 30 days in advance.
If you don't pre-order your meal, you will be able to order from a touch-screen terminal and soon your food will magically appear! For cash orders or special dietary requests, Cast Members are also available to assist you!
At both breakfast and lunch you may sit wherever you please and your food will be brought to your table. Silverware is located at stations around the restaurant for you to pick up while you are waiting for your food to arrive.
As with all dining reservations, a credit card guarantee is required at the time of reservation and the standard cancellation policy applies.
Dinner
Dinner is a table service prix fixe three course dining experience at Be Our Guest Restaurant. At dinner the menu is more upscale and the atmosphere is slightly quieter. Order-ahead dining is not available for Guests with dinner reservations.
This experience costs $60 for adults and $36 for children and takes 2 credits on the dining plan.
Guests eating dinner have the opportunity  to meet the Beast since the restaurant is located in his castle. Even at dinner, guests are welcome to explore all three rooms of the restaurant and enjoy the elaborate theme.
Dinner begins at 4:30 p.m. until park close.