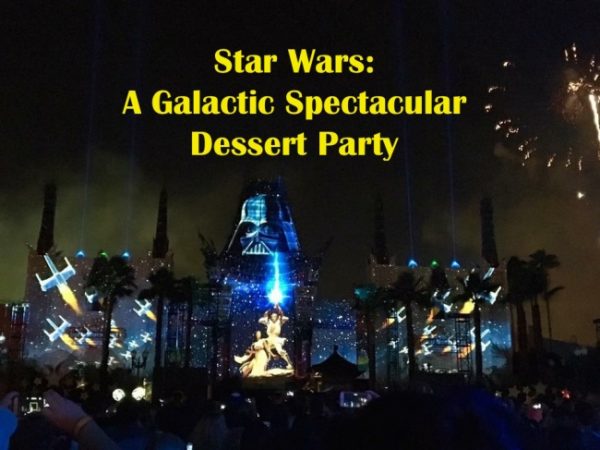 A Galactic Desert Party Menu A Galactic Desert Party Location and Time A Galactic Desert Party Price and Reservation
On select days throughout the summer, experience an out of this world dessert party and a special location for viewing the unique Star Wars themed nightly show, A Galactic Spectacular, with the Galactic Spectacular Dessert Party at Disney's Hollywood Studios. Here guests sample Star Wars inspired desserts and select alcoholic and non alcoholic beverages, accompanied with a premium viewing experience for a dazzling show of fireworks, lights, and projected scenes from the films.
After checking in at the entrance to Star Wars Launch Bay, guests experience the Launch Bay photo opportunities, exciting exhibits and thrilling character encounters in addition to Star Wars themed desserts (including the famous Darth Vader Cupcakes), a souvenir Chewbacca stein and a selection of beverages. After enjoying desserts from the comfort of Star Wars Launch Bay, guests move to a reserved viewing area for Star Wars: A Galactic Spectacular!
A Galactic Spectacular Dessert Party Menu
Deserts
Blue Milk Panna Cotta with Crispy Pearls
The Pastry Menace Eclairs
BB8 Mini Droid Cupcakes
Rice Crispy Bon Bons
Yoda Pistachio Morella Cherry Bites
Death Star Chocolate Cake
Sun Citrus Financier
Mini Darth Vader Cupcakes
Green Grape Sabers
Raspberry and Blueberry Sabers
Freeze Fried Nutella Truffle
Galactic Worm Space Debris Space Pudding
Savory Snacks
C3-P0 Crackers
Cheddar and Green Olive Sabers
Quarter Ration Biscuits
Scorched Pesto Crisps
Alcoholic Drinks
"The Force"- Pomegranate Lemonade with Jim Beam Bourbon
"First Order Finale"- Blood Orange Lemonade with Coruba Coconut Rum
"Jakku Juicy Cocktail"- Green Apple Lemonade with Citrus Vodka
"Corellian Smuggler's Coffee"- Coffee with Bailey's
Non Alcoholic Drinks
Coffee
Tea
Hot Cocoa
"Padawan Punch"- Blood Orange Lemonade
"Ewok Juice"- Green Apple Lemonade
Assorted Soft Drinks
All of these options may not be available each night, as the menu alters evening to evening. If you wish to experience these treats from a galaxy far far away but do not wish to attend the dessert party, you can also find some of these Dining options at Disney's Hollywood Studios on select menus.
A Galactic Spectacular Dessert Party Location & Time
Check in is located at the entrance to Star Wars Launch Bay. Guests may check into their reservation beginning at 8:45 pm, approximately one hour before the show's start.
While the Star Wars Launch Bay will remain open to all guests during the dessert party, Guests of the Dessert Party will be given a wristband and special access to a reserved space at the base of the Cantina steps.
A Galactic Spectacular Dessert Party Price & Reservation
Along with a park admission ticket, a separate reservation is required for this event. The cost is $69.00 for adults and $39.00 for children ages 3 to 9. This includes the price of admission to the party, the drinks and desserts, as well as a Chewbacca Stein to commemorate your galactic experience. Reserve your spot by calling 407-939-3464 or visiting DisneyWorld.com.