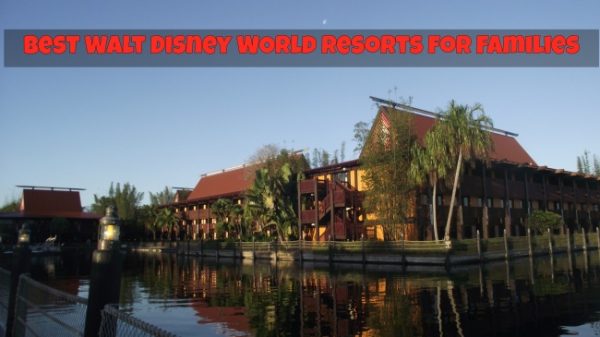 Walt Disney World is the perfect place for a family vacation, and here are the top resorts for families at Walt Disney World Resort! You can stay on property at the Walt Disney World Resort and rely on Disney to take care of everything you need from transportation to dining., which is ideal for a family and helps Mom and Dad to enjoy the vacation as well as the kids! Of the more than 29 resorts at Walt Disney World, all of them are fantastic, but there are a few that are better suited to cater to the needs of a family than the others. These resorts all have some specific perk that makes them great places to spend your family vacation.
Value Resorts     Moderate Resorts      Deluxe Resorts
Value Resorts
The benefit of a Value Resort to a family comes in the form of its price. These rooms are considerably cheaper than many others on the property. The theming around all of the Value Resorts is generally larger than life and perfect for family fun. A negative when looking at the value resorts is that these rooms tend to be smaller than the rooms at the more expensive resorts. These resorts are an excellent choice for families looking to save money and stay comfortable.
Disney's Art of Animation Resort
Disney's Art of Animation Resort is perfect for families because of the suite-style rooms. These rooms are more spacious than a typical Disney resort room, and each of them has a fun theme. These suite-style rooms can sleep six people rather than the standard four. Another major perk is the inclusion of a kitchenette with a microwave and mini-fridge. This benefit can save a family some additional money, as you can store some food in the resort room.
Other than the resort rooms, the theming at Art of Animation makes it ideal for families. This resort is themed to Disney animated films like Cars, The Lion King, Finding Nemo, and The Little Mermaid. Keep in mind that The Little Mermaid rooms are not suites. The main pool area is themed to Nemo and features a massive pool and some amusing decorations and interactive elements.
Disney's All-Star Music Resort
Disney's All-Star Music Resort is another value resort that offers suite-style rooms. Having this extra space is a significant benefit for families staying at this resort. The theming here features large musical icons. Walking by a large drum set or an electric guitar as tall as a building is a fun experience for any Guest. It is excellent for a family to have more space at a cheaper price point, which is what you get at Disney's All-Star Music Resort.
Moderate Resorts
The moderate resorts at Walt Disney World are just what the name implies; these resorts are priced between the value and deluxe resorts and have amenities that are just between the other two resort categories. These can be perfect for families since the price is not overly exorbitant, the rooms are a bit more spacious than at the value resorts, and the pools are well themed, and fun and all have pool slides, or in the case of Port Orleans Riverside, have access to a pool slide at Port Orleans French Quarter.
The Cabins at Disney's Fort Wilderness
For a family, the benefit of a cabin at Disney's Fort Wilderness is the kitchen area. Here guests can actually prepare an adequate meal and avoid a meal in the parks.  Also, the cabins can sleep up to 6 guests plus one infant (3 and under) in a porta crib.  There is also a little more privacy at a Fort Wilderness cabin since these are not part of a larger resort building but are separate buildings themselves.  The resort itself has many additional activities available as well.  While having more room and a kitchenette is fantastic, there is a downside; these cabins are a little off the beaten path and extra time should be allotted when traveling from the cabins to the parks.
Disney's Caribbean Beach Resort
Disney's Caribbean Beach Resort is vast and beautiful. This resort has standard resort rooms with two beds and a bathroom, but they are a bit larger than the Value Resort rooms. The benefit for a family at this resort are the pirate-themed rooms. These rooms are decorated with pirate ship beds, carpet that looks like a ship's deck, and other pirate-themed elements. The fun of these rooms will have the whole crew ready to sail away on the ocean blue, which can add an extra touch of magical fun to a family vacation, as you never leave the fully immersive theming that is present throughout Walt Disney World.   Some of the standard view rooms will sleep 5 guests, although the 5th guest needs to be able to sleep on a small fold down bed.
You need to make sure you reserve a room for 5, as not all the rooms will sleep 5. 
Disney's Port Orleans Resort
Disney's Port Orleans Riverside is similar to Caribbean Beach in that it has themed rooms. The rooms at Port Orleans Riverside are themed towards princesses rather than pirates! These royal rooms are perfect for any family with princess lovers and again will keep the family immersed in the magic of a Disney vacation. Disney's French Quarter side of Port Orleans resort also has excellent amenities for families. This side of the resort has an impressive pool area that is a ton of fun for the whole family. The size of the two Port Orleans resorts are nice, but it may be beneficial to request a specific room at these resorts because of the internal bus transportation system here that can add a little time to traveling to the parks.  Some of the standard rooms (all views) in Riverside will sleep 5 guests, although the 5th guest needs to be able to sleep on a small fold down bed.  You need to make sure you reserve a room for 5, as not all the rooms will sleep 5. 
Deluxe Resorts
The Deluxe Resorts are all fantastic in their own way. These each have spectacular theming and amazing attention to detail. These resorts are mostly very close to the parks, have table-service restaurants in the resort, and have pools with slides. All Deluxe Resorts are conducive towards a fantastic family trip, and that means that guests will pay quite a bit more to stay in these special places. The resorts listed here each have something special that makes them extra family-oriented as compared to the other deluxe resorts.
Disney's Beach Club Resort
Stormalong Bay sets Disney's Beach Club Resort apart from all of the other deluxe resorts. This pool is basically a water park reserved for guests staying at the resort. Stormalong Bay is amazing! The word "pool" does not fully encompass the enormity of this area. There is a massive body of water with a sandy ocean-like floor and a zero-entry slope instead of stairs or a ladder. Not to mention the enormous shipwreck with a slide that all kids will love. Stormalong Bay is a special perk for guests of the Beach Club, and this is something to keep in mind when choosing a resort for the family. It's also important to remember that this resort is within walking distance of Epcot; another great benefit of the expensive deluxe resort!
Disney's Animal Kingdom Lodge
If the zoo is a perfect place for families to take a day trip, then Disney's Animal Kingdom Lodge is the ideal resort for families at Disney. This resort is on a savanna, where guests can view zebras, antelope, and more throughout the day and night. There is so much activity at this resort that a resort day is strongly encouraged to take in all of the experiences. Just imagine walking out on the balcony of your resort room and being face to face with a giraffe! Now that is being immersed in the magic and away from the real world!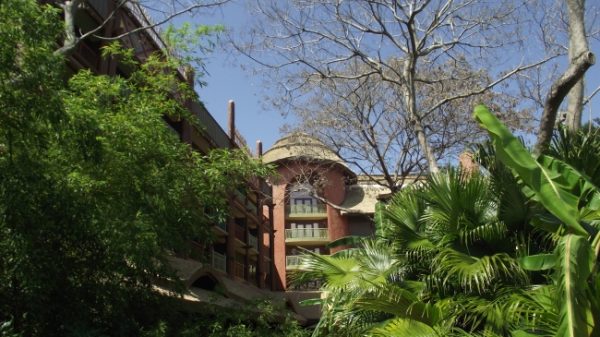 Disney's Polynesian Village Resort
Disney's Polynesian Village Resort is fantastic for families in that it is so close to the Magic Kingdom. Of the four Magic Kingdom resorts, this is the most family friendly because of the Hawaiian theme and laid back atmosphere. There is a colossal Volcano themed pool adjacent to a beach area. In the evenings, there is a fire twirling performance. At the doors of this resort, guests are greeted with "Aloha!" and a lei. These features are in addition to being a boat or monorail ride away from the Magic Kingdom. The proximity to the premier park at Walt Disney World makes the Polynesian resort an excellent choice for a family trip. Being able to walk out the doors and board a monorail to the Magic Kingdom is a special treat for guests visiting this resort.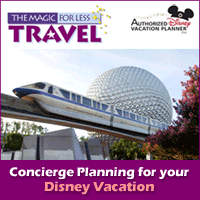 Looking for a discounted rate for your Disney Vacation? Let The Magic for Less Travel, an Authorized Disney Vacation Planner, work for you. Their concierge services are always provided free of charge, and The Magic for Less Travel will help you find the best published or unpublished discount for your vacation. Already have a vacation booked directly with Disney? Contact The Magic for Less Travel to see if they can help you find a lower rate.
GET A FREE QUOTE NOW!