February 14, 2019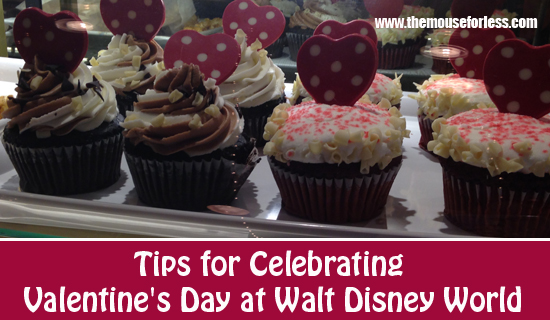 The great thing about celebrating Valentine's Day with a loved one at Walt Disney World is its endless variety. One moment you can be clutching that special someone while falling 13 stories in a runaway elevator, the next moment you can sip an aromatic Merlot during a romantic, candle lit dinner for two.
2019 Valentine's Day Info
Special Valentine's Day Events Wine & Dine Your Valentine Celebrating Valentine's Day Magical Experiences
Below is information for 2018. Additional 2019 information will be added as it becomes available.
Special Valentine's Day Events
Special Treats
Many of the parks and resort hotels offer specialty treats such as themed cupcakes and cookies, as well as other desserts. Mickey Mouse-shaped sugar cookies, elaborately decorated Mickey Mouse-shaped Rice Krispies treats and other Valentine's Day sweets are offered at a variety of locations at Walt Disney World Resort, including Goofy's Candy Company and Candy Cauldron at Disney Springs;  and the Main Street Confectionery at the Magic Kingdom. Be sure to stop by Karamell-Kuche in Germany Pavilion at Epcot for an assortment of covered strawberries.
At the Magic Kingdom, take a stroll to the Main Street Bakery to find a special Valentine's Day Cinnamon Roll from February 11-17. Or try the chocolate-covered strawberry-inspired Milkshake of the Month at The Plaza Restaurant. It's  a Strawberry and Chocolate Milkshake topped with whipped cream, chocolate drizzle, a strawberry and chocolate shavings. Finally, at Pecos Bill Tall Tale Inn and Café you'll find hand-dipped white and dark chocolate strawberries.
If you're at Epcot, Fountain View will be offering a Valentine's Day Chocolate Cupcake with strawberry white chocolate mousse, strawberry buttercream, chocolate ganache drips, disco dust, a chocolate heart ganache and strawberry crispy pearls from February 11-17. And for Valentine's Day only, Sunshine Seasons will offer a decadent heart-shaped Red Velvet Cake with strawberry mousse filling, chocolate pearls and edible flowers.
At Disney's Animal Kingdom, you can pick up a Valentine's Day Cupcake at Creature Comforts consisting of chocolate cake with strawberry buttercream topped with chocolate and strawberry crispy pearls, mini heart sprinkles and a chocolate-covered strawberry.
At Disney's Hollywood Studios, a special Valentine's Day-themed cupcake is available at ABC Commissary, Catalina Eddie's, Fairfax Fare, Rosie's All-American Café, and Trolley Car Café.
Disney's Port Orleans Riverside and French Quarter are offering a special Chocolate Strawberry Cupcake at Riverside Mill Food Court and Sassagoula Floatworks and Food Factory. And at Sassagoula Floatworks, you'll find a Strawberry Beignet Sundae with chocolate ice cream, whipped cream, strawberry drizzle and heart-shaped sprinkles, YUM!
Over at Roaring Fork at Disney's Wilderness Lodge you can get a Chocolate Cupcake with Chambord cream filling and topped with raspberry ganache icing, raspberry chocolate hearts and crispy pearls. And BoardWalk Bakery at Disney's BoardWalk will be serving up a Valentine's Day Red Velvet Cupcake with chocolate-cherry filling and a ganache-dipped chocolate red rose.
At Intermission Food Court at Disney's All-Star Music Resort, you can find a Chocolate Strawberry Whoopie Pie, a Red Fruit Cupcake and a Raspberry Ganache Cheesecake. And at Disney's Saratoga Springs Resort & Spa and Disney's Old Key West Resort, you'll find a Chocolate Raspberry Cupcake, and at Satatoga Springs only you can also get a beautiful gift box with chocolate-covered strawberries.
Wine & Dine Your Valentine Disney-Style
No matter how you choose to celebrate Valentine's Day at Walt Disney World Resort, there are always so many great dining choices. Here are our restaurant suggestions for a romantic interlude at Walt Disney World Resort:
Victoria & Albert's, Disney's Grand Floridian Resort & Spa
Victoria & Albert's restaurant offers an intimate 2.5-hour dining experience amongst gentle harp strains and the sparkle of imported crystal in a Victorian dining room. Maid and Butler service, personalized menus and a long-stem rose for each lady are just a few of the touches that create an opulent, palate-pampering experience in this five-diamond restaurant (awarded by AAA). Be prepared to linger over this experience. An extensive wine list is also available.
California Grill, Disney's Contemporary Resort
This classic fine-dining restaurant that serves award-winning gourmet dinners and sweeping views atop Disney's Contemporary Resort. Fresh sushi is on the menu. Dine late and watch the fireworks bursting over Cinderella Castle complete with piped in musical score. New for 2016, since Valentine's Day falls on a Sunday, enjoy Brunch at the Top at California Grill. Reservations can be made by calling 407-WDW-DINE.
Narcoossee's, Disney's Grand Floridian Resort & Spa
This creative seafood restaurant is nestled on the waterfront overlooking Seven Seas Lagoon with spectacular views of the Magic Kingdom park and fireworks. Whole Main Lobster is on the menu.
Jiko-The Cooking Place, Disney's Animal Kingdom Lodge
Relax and enjoy the warm, soothing colors of an African sunset in a beautiful setting as you savor a truly unique culinary experience with one of the finest collections of South African wines in the U.S. Don't forget to visit the animal viewing area at the resort after your meal. For Valentine's Day, Jiko is offering a special Valentine's Day dessert.
Artist Point, Disney's Wilderness Lodge
This restaurant draws inspiration from the sprawling dining rooms found in National Park lodges across the Pacific Northwest, focusing on seafood, sirloins and game, with cedar plank roasted king salmon and wild boar on the menu. After you're meal, take a stroll at the rear of the resort and watch Fire Rock Geyser erupt or sit and rock for a spell in front of the roaring fire of the huge lobby fireplace. A special Sweetheart Dinner Menu will be available and features five courses for $75. Add a wine pairing for $25.
Hollywood Brown Derby, Disney's Hollywood Studios
Your partner will think you're a star when you surprise them with dinner at The Hollywood Brown Derby at Disney's Hollywood Studios. Take in the glamour of the Golden Age of Hollywood in the intimate atmosphere while sharing a mini dessert trio.
Be Our Guest, Magic Kingdom
Beneath shimmering chandeliers, lovebirds can dine in fairy tale elegance at Be Our Guest Restaurant in New Fantasyland. Known as the place where Belle and Beast fell in love, the grand ballroom in Beast's Castle is the perfect setting for romance as 'snow' falls on the French countryside outside the windows and guests dine on French-inspired cuisine and fine wines.
Coral Reef, Epcot
Located in The Seas with Nemo & Friends Pavilion, this seafood restaurant features a spectacular view of the pavilion's enormous aquarium. Diners are entertained by barracuda, angelfish, sharks, dolphins, rays and even Mickey in a scuba suit. This restaurant also seems to be a little less expensive that some of Walt Disney World's upscale eateries.
Monsieur Paul, Epcot
Step upstairs to turn of the 20th century Paris for an intimate, French dining experience in this tucked-away Parisian bistro with a magnificent French wine list. Don't skip dessert such treats as Grand Marnier Souffle and Vanilla Creme Brulee. It's possible, although not guaranteed, to get an excellent view of Epcot's evening fireworks spectacular, Illuminations, from this elevated restaurant.
San Angel Inn, Epcot
This romantic restaurant with subdued lighting and a starry sky overlooks the Mexico pavilion's "River of Time" boat ride and a volcano! Be sure and watch for the shooting star over the Aztec temple and make a wish.
Tiffins, Disney's Animal Kingdom
Romance is in the air at Tiffins in Disney's Animal Kingdom, where you can enjoy exotic tastes over a candlelit dinner. End your evening by watching the Tree of Life awaken with a beautiful showcase of color and light.
Flying Fish, Disney's Boardwalk
This newly reimagined signature restaurant serves fresh seafood in a high-energy, upbeat setting at Disney's BoardWalk. Specialties are prepared with flair right before your eyes in the onstage show kitchen. Take in the wondrous décor-an artistic and nostalgic interpretation of an Atlantic Boardwalk. The wine menu is especially extensive. Stroll along the boardwalk after your meal and play some carnival games. In addition, you can stop for a post-dinner cocktail at AbracadaBar before taking a romantic stroll along the water.
Todd English's BlueZoo, Dolphin Resort
BlueZoo features an award-winning celebrity chef, ulta-modern decor designed to make you feel underwater and a focus fresh seafood and creative cocktails. Enjoy an upscale meal and then head to the Boardwalk for an evening at Jellyrolls, a sing-a-long dueling piano bar. Free child care offered at Camp Dolphin while you dine at this restaurant.
The Spirit of Aloha Dinner Show, Disney's Polynesian Resort
Get carried away by the spirit of the Pacific in this live celebration of Polynesian culture. Watch hula dancers to fire twirlers as you feast on an all-you-care-to-eat meal with a South Seas flair. Presented at 5:15 p.m. and 8:00 p.m. at Luau Cove Tuesday through Saturday. Reservations can be made 180 days in advance. After the show, stroll the torch-lite grounds of the Polynesian Resort for some added romance.
Fork & Screen, Disney Springs West Side
For something uniquely different, have dinner and take in a movie at the same time! AMC Downtown Disney 24 theater features Fork & Screen, which provides restaurant dining with "seat-side service" while you watch a movie. Visit AMC's web site for additional details.
Maria & Enzo's Ristorante, Disney Springs
Share plates of spaghetti and other tasty Italian dishes just like Lady and the Tramp did!
The Edison, Disney Springs
Enjoy electrifying entertainment, craft cocktails and contemporary American fare. At night, this "industrial Gothic"-themed space transforms into a nightlife hot spot with weekends featuring live bands, cabaret dancers and aerialists.
Dine in Style, Disney's Grand Floridian Resort & Spa
For those who prefer to dine in an even more intimate setting, the Grand Floridian can arrange a private dinner for two, served against the elegant backdrop of the Grand Floridian beach – or aboard the Grand 1 – on a sunset excursion along Seven Seas Lagoon and Bay Lake. Certain menu items can be specially prepared for the evening. Seven-day notice is requested.
There are over 100 restaurants at Walt Disney World to choose from. Reservations for most restaurants can be made 180 days in advance and should be made well in advance for Valentine's Day. Call 407-WDW-DINE to discuss different options and to make reservations or peruse our menu section for ideas.
Need Babysitting? There are two options for Child Care at Walt Disney World – child care centers and in-room babysitters. For more information and a list of discounts to make your evening a little more affordable, visit our Options for Child Care page.
Celebrating Valentine's Day at Walt Disney World Resort
Disney Floral & Gifts
What makes Disney Floral & Gifts "magical" is they truly enjoy creating a one of a kind special moment just for you. Around Valentine's Day, the shop is filled with roses, mixed floral and rose bouquets that are being prepped and designed for delivery to Walt Disney World resorts. Here's a secrets: each bouquet that leaves the shop includes an exclusive card and hidden surprise.
Let the Dream Makers help you create a gift experience that your loved one will remember forever. Personalized surprise gifts can be delivered throughout the Walt Disney World Resort or arrange a sensational celebration that takes over your loved one's Disney Resort hotel room. Imagine returning to your resort room to candle light, rose petals, and luxurious romantic gifts waiting just for you. These ideas and more are available by speaking with a Disney Florist Dream Maker. If you can dream it, a Disney Dream Maker can do it! Call (407) WDW-GIFT (939-4438).
Explore the variety of gifts at Disney Floral & Gifts that are just perfect for Valentines day. From princess tiaras and glass slippers, to gift baskets and bouquets brimming with Disney magic, from champagne to chocolate, you can have the perfect Valentine's Day gift delivered right to your resort room. Visit Disney Floral & Gifts to see what's available for Valentine's Day.
Valentine's Day Spa Package
Senses – A Disney Spa has created an exclusive Valentine's Day massage package designed to be enjoyed with that special someone. This "Part of Your World" package is available at both Disney's Grand Floridian Resort & Spa and Disney's Saratoga Springs Resort & Spa from February 10-18. The "Part of Your World" package includes a couple's massage with apricot-infused body oil, a chocolate hand-hydration treatment, sparkling wine served in a chocolate champagne glass and a take-home, custom-blended bath salt. The regular price is $340 (plus tax) for 50 minutes and $450 (plus tax) for 80 minutes (A 20 percent gratuity is added automatically for convenience, with any additional gratuity paid at your discretion). There is a Disney Vacation Club discount of 15 percent.
Order a Special Valentine's Day Cake
Have a special cake delivered to your resort room or Walt Disney World restaurant. Custom cakes are available to order by calling Disney's Cake Hotline at 407-827-CAKE (2253) 48 hours in advance. Cakes can be delivered to most Walt Disney World table service restaurants. If you are staying at a Resort that offers room service you can also have a custom cake delivered to your room. If your Resort does not have this option, prompts on the Cake Hotline will direct you to the right resource. You can also pick up a special cake at the BoardWalk Bakery with a 48 hours advance notice. A standard non-personalized, 6-inch cake can be purchased for about $21 from the BoardWalk Bakery on a walk-up basis and without notice at most table service restaurants.
To have an allergy free cake delivered to a Walt Disney World resort restaurant to which you "already have reservations," contact Erin McKenna Bakery located at Disney Springs. Erin McKenna Bakery caters to special diets and allergies, including refined sugar-free, gluten-free, wheat-free, casein-free, soy-free, egg-free, Kosher and vegan items. Guests can order a two-layer, 6-inch cakes that will serve 8-10 people. To order, call the bakery at 855-GOBABYCAKES (462-2292) at least one week in advance. You will need to give them your restaurant confirmation number, date, and reservation time. Cakes are served at the conclusion of your meal.
More Valentine's Day Fun at Disney Springs
Nothing says Valentine's Day better than chocolate. Stop by The Ganachery and watch expert chocolatiers create richly exotic treats. Sample in store and take home an elegant, hand-packaged gift box for that special someone. Chocolate Lollipops and Raspberry and Dark Chocolate Marshmallows will be available. One of the special ganache squares being featured this year is Strawberries and Champagne featuring Cinderella's Coach, and you can even order a chocolate ganache pairing with Rosa Regale.
Decadent hot-fudge sundaes – perfect for sharing – can be found at the world-famous Ghirardelli Ice Cream & Chocolate Shop.
There is also a gallery of goodies at Amorette's Patisserie – a sophisticated pastry shop filled with Disney-inspired cakes, cookies, cheesecake, macarons and eclairs. At Amorette's Patisserie, you'll be able to order a couple new desserts from February 11-17. The first is a Beauty and the Beast-themed Rose Petit Honey Cake with Grand Marnier-soaked strawberries, rum roasted pineapple and honey Chantilly cream. The second is a Strawberry Champagne Toast Dessert – strawberry mousse with a Champagne gelée Feuilletine crunch and strawberry pâté de fruit. You'll also find some delicious hand-dipped chocolate strawberries!
Chocolate-covered strawberries, holiday cupcakes, rice krispy treats, cookies, and more are available at Goofy's Candy Company and Candy Cauldron.
The general atmosphere of Disney Springs will be perfect for lovers. Keep your eye out for live musical entertainment that will be specializing in love songs. Or stop at a Disney PhotoPass Photographer who will have themed props
Valentine's Day Merchandise in the Parks
Each year, Disney develops a handful of items specifically for Valentine's Day. For 2018, look for a special Aladdin themed MagicBand. The Disney pin trading team also created some Valentine's Day pins, including a few limited edition and new open edition pin. Other gift ideas include the "I'll Be Your Mickey" and "I'll Be Your Minnie" T-shirts, which are perfect for a romantic day at Disney Parks. Or pickup a Disney photo frame to preserve your memories.
Magical Experiences
With so many magical experiences at Walt Disney World, it's hard to pick just a few. Whether you splurge on a sumptuous couples spa experience at at Senses – A Disney Spa at Disney's Grand Floridian Resort or simply stroll the beach hand-in-hand at Disney's Polynesian Resort while taking in the fireworks, you're sure to find something to make your Valentine's Day special.
Preserve Your Special Memories: Preserve and personalize your fond Walt Disney World memories by scheduling a special 30-minute Professional Portrait Session with a Disney Photographer . Call (407) 934-4004 to book a session at a select Resort location. OR, take advantage of Disney's PhotoPass Services and create special memories you can relive again and again.
Epcot International Festival of the Arts: Guests can celebrate romance with a brush stroke of sense-tempting activities during this Epcot festival that celebrates the visual, culinary and performing arts. The festival offers everything from sparkly, bubbly drinks to imaginative works of art and performances by Broadway stars.
Kilimanjaro Safaris at Sunset: At Disney's Animal Kingdom, guests can experience this popular attraction in a whole new light. Travel to the tranquility of the African savanna and see an array of exotic animals under the setting sun. After all, nothing says romance like the glow of twilight's golden hour.
Happily Ever After Fireworks: An evening around the Most Magical Place on Earth isn't complete without experiencing Happily Ever After – the newest and most spectacular fireworks showcase in Magic Kingdom history. Guests can experience the magic of beloved Disney movies firsthand—and be inspired to find their own happily ever after.
Fireworks Dessert Party: Make your evening extra sweet at a special dessert party that provides a wonderful vantage point for Wishes Nighttime Spectacular fireworks. Held at the Tomorrowland Terrace Restaurant in the Magic Kingdom most nights, this dessert party includes a self-service buffet offering an array of tempting sweets and beverages. Reservations will be accepted by calling (407) WDW-DINE. Admission to Magic Kingdom theme park is required.
"Star Wars A Galactic Spectacular Dessert Party": At Disney's Hollywood Studios enjoy a special viewing of the "Star Wars A Galactic Spectacular" fireworks while sampling a selection of sweets as the night sky erupts with impressive fireworks, set to the memorable Star Wars themes. On the menu are Star Wars-themed desserts treats and a selection of alcoholic and non-alcoholic beverages. For reservations, call 407-WDW-DINE
Star Wars: Secrets of the Empire: Venture to The VOID and embark on the new hyper-reality, multi-sensory experience, Star Wars: Secrets of the Empire. In groups of four, teams suit up and go undercover as Stormtroopers to capture imperial intelligence vital to the budding rebellion's survival. The experience is untethered and unbelievable.
Fantasmic Dinner Package: Take in dazzling views of the fireworks, dancing water jets and breathtaking action of Fantasmic at Disney's Hollywood Studios-all with reserved seating without rushing dinner. Seasonally, on select nights. Call to reserve in advance. Admission to Disney's Hollywood Studios theme park is required.
Couples Day at the Spa: What's more romantic than a luxurious spa treatment? Imagine sharing it with that special someone. Senses – A Disney Spa at Disney's Grand Floridian Resort or Senses – A Disney Spa at Disney's Saratoga Springs Resort, both feature a "couples room" where guests can enjoy specialized spa treatments – such as massages and facials – with the one they love. For information about spa treatments, call 407-WDW-SPAS
Specialty Firework Cruise: Explore scenic waterways aboard a guided pontoon boat and thrill to views of the kaleidoscopic IllumiNations: Reflections of Earth fireworks and laser spectacular, departing from select Epcot area resorts. Add an onboard dinner to make your voyage a grand occasion! Seats 8-10. Call (407) WDW-PLAY in advance to reserve.
Ultimate Specialty Firework Cruises: For the ultimate luxury voyage with private dining, captain and butler service, book the Grand 1 – a 45-foot Sea Ray yacht for your unforgettable celebration. Romantic evening cruises include a captain and private deck hand. The crystal-clear view of the Magic Kingdom's fireworks is unparalleled. Seats up to 18 and departs from Disney's Grand Floridian Resort and Spa. Call (407 (407) 824-2682 up to 90 days advance to reserve.
Ferrytale Wishes: A Fireworks Dessert Cruise: Couples can take in a breathtaking view of the Magic Kingdom's evening firework display, "Wishes" from an exclusive and romantic spot on Seven Seas Lagoon with desserts and drinks. The medley of famous Disney songs and the voices of Disney characters are piped through the boat's sound system for this magical viewing. For reservations, call 407-WDW-DINE.
Italian Water Taxi Cruise/VIP Wine Tour: Guests can experience the unforgettable romance of an intimate cruise aboard Venezia, the breathtaking 40-ft Italian Water Taxi courtesy of The BOATHOUSE.  Couples will relax and unwind to beautiful Italian music, savor award-winning wines and feast on delicious hors d'oeuvres. The ride will take guests on a journey winding through waters of Lake Buena Vista and the gorgeous scenic riverway. Sweetheart Wine Tasting Cruises embark Friday. Call 407-939-2628 to make a reservation.
Carriage Rides: Intimate horse-drawn carriage rides depart from Boatwrights Dining Hall at Disney's Port Orleans Riverside Resort and Pioneer Hall at Disney's Fort Wilderness Resort and Campground for a 25-minute trip up and down the scenic Sassagoula River or Bay Lake. Call (407) WDW-PLAY in advance to reserve.
Horseback Riding: A horseback ride through one of the backwoods trails at Walt Disney World Resort is just the thing for couples who share a love of nature and each other. Disney's Fort Wilderness Resort & Campground offers wrangler-led tours (45 minutes) through the woods. Tours leave several times daily from Trail Blaze Corral, and may be reserved by calling 407-939-7529.
Balloon Ride: Located on the waterfront at Disney Springs, Characters in Flight gives romantics a chance to take their love to new heights. Operating daily,the giant balloon provides breathtaking sights from 400 ft. up in the air with an unparalleled, 360-degree view of the Vacation Kingdom and beyond. Flights take place between 8:30 a.m. and midnight (weather permitting) and last approximately 8-10 minutes. Romantics who time their flight to sunset or fireworks bursting above the parks are in for a special treat. Tickets can be purchased at Disney Springs West Side; tickets are $12.00 per child and $18.00 per adult.
Private Pool Cabanas: Indulge and enjoy a private poolside space at Disney's Polynesian or Contemporary resorts. Just steps away from the water's edge, cabanas feature personalized service from an attentive Cast Member. Additional amenities include plush furnishings and towels, a 32-inch flat-screen television with cable, a DVD/CD/MP3 player and a mini refrigerator stocked with sodas and water-all in an exclusive area reserved just for you! Private dining and poolside massages are available at an additional cost. For reservations, please call (407) WDW-PLAY or (407) 939-7589.
Sunset and cocktails at Disney's Polynesian Village Resort: Disney has some spectacular beaches that are perfect locations to watch the sunset, like the one at Disney's Polynesian Village Resort. Sip on some champagne and strawberries against the backdrop of the Seven Seas Lagoon and the beautiful new Bora Bora Bungalows. Take a moonlit stroll along the torch-lined waterfront and visit Trader Sam's Grog Grotto, the latest addition to the newly reimagined Disney's Polynesian Village Resort.  Located off the Great Ceremonial House, the themed lounge will serve exotic drinks and small plates, while offering scenic views of the marina and Seven Seas Lagoon.
Have a Private Floating Picnic: Pontoon and canopy boats can be rented from a number of resort marinas as well as at Fort Wilderness Campground and Resort. Cruise the waterways of Bay Lake from the Contemporary resort to Fort Wilderness, Seven Seas Lagoon adjacent to the Magic Kingdom, Crescent Lake adjacent to the Epcot resorts or Sassagoula River between Port Orleans resorts and Downtown Disney. Pick up food "to go" from Contemporary Contempo Cafe, Polynesian Captain Cook's Snack Company, Grand Floridian Gasparilla Grill & Games, Wilderness Lodge Roaring Fork Snacks, Earl of Sandwich, Wolfgang Puck Cafe, Old Key West Good's Food To Go, Port Orleans Riverside Riverside Mill, Yacht & Beach Club Beach Club Marketplace and a number of other places on property. Call 407-WDW-PLAY to rent.
Romantic Stroll at Disney's BoardWalk: Guests can experience the timeless charm of Disney's BoardWalk, a quarter-mile promenade of exquisite dining, unique shops and exciting nightlife.
A Bicycle Built for Two: Take a spin around around Crescent Lake on a two-person Surrey Bike with your date. Rentals are available on the Boardwalk daily until 10:30 p.m.
Renew Your Wedding Vows: A vow renewal ceremony at Disney World could be as lavish or as intimate as you want. It's all done through Disney's Fairy Tale Weddings. Whether you dream of an intimate renewal with just the two of you or a much grander affair, almost anything is possible. Vow renewals follow exactly the same guidelines as Wishes, Couture Escape and Memories wedding packages.
The Mouse For Less Tips

Curious about other romantic options? Check out our Romantic Disney Dates for all Budgets article.