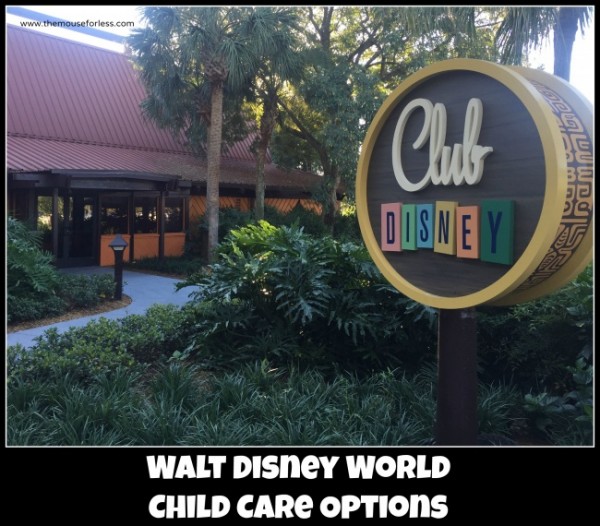 Child Care Options at Walt Disney World Resort
Sometimes, even in the midst of Walt Disney World, parents need a night out for themselves. Fortunately, there are options for child care at Walt Disney World — child care centers and in-room babysitters. The centers are operated by Walt Disney World, but the sitters are not. Walt Disney World does recommend Kids Night Out for in-room child care, but there are other options available as well. In addition, there are supervised resort activities at select resorts where kids can have some fun and adults can have some down time.
In Room Child Care  Captain Hook's Pirate Crew Children's Activity Centers Resort Kids' Activities Discounts
In Room Child Care
Kid's Night Out can be contacted at 407-828-0920. Reservations must be made at least 24 hours in advance and up to two months in advance. Kid's Nite Out in-room child care is available for children 6 months to 12 years old. Reservations may begin as early as 6:30 a.m. and/or may begin as late as 11:00 p.m. There is no limit to the number of hours that you may utilize the services of a caregiver. Services are available 24/7.
Kid's Nite Out Caregivers provide one-on-one, in-room childcare in the comfort of your Walt Disney World Resort room. They can also provide a fun sitter to just hang out with your family if you need a father's/mother's helper. The professional well-trained staff of Kid's Nite Out gives your child individual attention by playing a variety of fun-filled activities including reading books, coloring, or playing "I Spy" games. The Kids Nite Out sitters are all over the age of 18 years and are certified in child/infant CPR and basic first aid. Water activities are not permitted (bathing, boating, swimming).
Per child rates are based on a 4-hour minimum. Cancellations must be made 24 hours in advance to avoid the 4-hour charge (make sure that you speak to a live person when you cancel a reservation).
Rates are as follows:
1 child $20.00
2 children $23.00
3 children $26.00
4 children $29.00
Before 8:00 a.m. and after 9:00 p.m. there is an additional $2 per hour charge and there is also a one-time transportation fee of $12.
Nightly Supervised Children's Activity Centers
Disney has closed its three Children's Activity Centers located at Disney's Animal Kingdom Lodge, Disney's Polynesian Village Resort and Disney's Yacht & Beach Club Resorts as well as The Pixar Play Zone located at The Contemporary Resort.   
Camp Dolphin
Phone: 888-828-8850 or 407-934-4241
Activities: Games, arts & crafts, a Disney movie as well as special events and a video arcade.
Location: Walt Disney Dolphin on the first level, next to the Health Club; during busier times of the year, the Camp may be moved to one of the resort's ballrooms.
Hours: 5:30 p.m.-midnight daily
Ages: 4-12 years old, must be toilet trained
Menu: dinner at nearby Picabu restaurant is included for children who are at Camp Dolphin from 7 to 8 p.m. Pre-selected favorites included cheeseburger, mac & cheese, chicken fingers and hot dog. A stop at The Fountain ice cream shop afterwards for dessert is also included.
Child activity centers are located in the  Disney World Dolphin hotel, but you don't have to be staying at this  location to use Disney's kids clubs.
Rates are $12 per hour per child with a 2 hour minimum for Camp Dolphin. There is no discount for booking multiple children. Reservations can be made 180 days prior at Camp Dolphin by calling 407-939-3463. A 2-hour minimum length of stay fee will be assessed for all cancellations not made at least 24 hours in advance. Participating children must be potty-trained, and no pull-ups are allowed. Parents are provided with beepers for emergency contact.
Advance reservations are required. Same day reservations are sometimes available; call the location directly after 4 p.m. for availability.
Magical Resort Kids' Activities
Wonderland Tea Party
At the Wonderland Tea Party, everyone is delightfully entertained during a 60-minute tea party hosted by Alice and the Mad Hatter at Disney's Grand Floridian Resort & Spa. Children between the ages of 4 and 12 are invited to attend, Monday through Friday from 2:00 p.m. to 3:00 p.m.
Cost: $49 per child, plus tax
During the festive celebration, children sip tea, decorate and eat cupcakes, listen to stories and create flower bouquets.
For reservations up to 90 days in advance, please call (407) WDW-DINE or (407) 939-3463.
Disney's Pirate Adventure
Disney's Pirate Adventure is for aspiring buccaneers between the ages of 4 and 12. Children board a pirate-themed boat and scour the waterways around Walt Disney World Resort in search of pirate treasure during a swashbuckling high-seas adventure.
On this guided expedition, each participant enjoys a light snack and beverage, learns how to talk like a pirate, visits legendary ports-of-call, and—if he or she is lucky—returns with a bag of pirate booty! Disney's Pirate Adventure is a 2-hour sailing voyage that takes place each day at select Walt Disney World Resort hotels. Cost is $39-$49 per child.
Cruises currently being offered:
Albatross Treasure Cruise – The Bayside Marina at the Yacht Club; daily weather permitting 9:30 – 11:30 a.m.
Island of the Caribbean Pirate Adventure – Disney's Caribbean Resort; daily weather permitting 9:30am – 11:30am.
Space is limited. For reservations, please call (407) WDW-PLAY.
Children must be potty trained.
Captain Hook's Pirate Crew
Little Guests can take part in Captain Hook's Pirate Crew at Disney's Beach Club Resort.
The experience has Captain Hook looking for a new band of adventurers to learn the pirate code and follow clues leading to hidden treasure. As part of Captain Hook's Pirate Crew, young buccaneers will comb through the resort and set sail on a pontoon boat around Crescent Lake including an escape room type experience.
Once the treasure is unearthed, there will be a Pirate Feast that includes selections such as Cannon Meatballs with marinara or macaroni and "gold" sauce for entrees, along with a treasure chest treat or fruit for dessert.
Captain Hook's Pirate Crew is priced at $55 (plus tax) per child and is available for ages 4 to 12 and will be offered from 5:00 p.m. to 8:30 p.m. Captain Hook's Pirate Crew begins on April 28 and to book reservations, call 407-824-KIDS.
Discounts
The Kids Club at the Dolphin Hotel offers children two hours of complimentary time at Camp Dolphin when parents dine at Shula's Steak House, Todd English's bluezoo or Il Mulino New York Trattoria OR purchase a spa service at Mandara Spa. Simply present your receipt as proof of purchase (one child admitted for each adult entrée purchased OR for the purchase of any spa service of 75 minutes or more).
Wonderland Tea Party offers 20% to Disney Vacation Club members