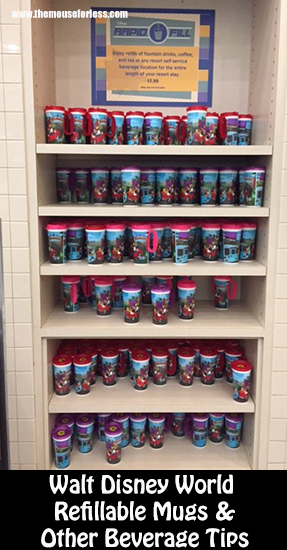 For Current Deals Look for the

Mickey Ears
Resort Refillable Mugs     Water Park Refillable Mugs     Club Cool     Water Tips     Other Beverage Tips
Resort Refillable Mugs
Refillable mugs can be purchased at food courts and fast food locations at all of the Disney resorts and are good for refills at any resort where they can be purchased for the duration of your vacation stay (up to 14 consecutive days). This means for $19.99 plus tax guests have unlimited beverage refills at select resort locations and the souvenir mug is yours to keep. The price of a large counter-service soda can run $3.99 plus tax, so the purchase of approximately six large drinks during a stay will get you to the break even point. Soda vending machines at the resorts are also reported to cost about $3 per soda. Refillable mugs could previously be purchased at a reduced cost for 1-, 2- or 3-day length of stays, but those options have been discontinued.
For complete information on refillable mugs and to read a discussion as to whether they are a good deal, visit our Resort Refillable Mugs page.
Water Park Refillable Mugs
Refillable mugs can also be found at Disney's water parks. The water park mugs sell for $11.99 plus tax, and can be refilled all day long with soda. The water park refillable mugs can be used interchangeably at either of Disney's two water parks, Typhoon Lagoon or Blizzard Beach. Mugs must be refilled at the drink stations, which use a bar code activation system. The downside to purchasing a refillable mug at the water parks is that if you won't be returning at least few times (or drink a lot of soda), you probably won't get your money's worth.
Club Cool
There are a couple of beverage deals at Epcot parks and one is completely free. Stop by Club Cool located near Fountain View Starbucks in Future World. This exhibit is sponsored by Coca-Cola and features Coke products distributed worldwide. Sample cups are small, about 3 oz, but you can try as many flavors as you like and as often as you like. The following flavors are only available in the United States at Epcot and World of Coca-Cola attractions in Atlanta, Las Vegas, and Disney Springs. Club Cool also sometimes offers a "Magical Moment" by recognizing the first tasting/testers of the day:
Fanta Pineapple: Greece – With more than 90 distinct flavors available in more than 180 countries, Fanta made its European debut in the 1940′s and was introduced to the USA in 1960. Fanta Pineapple is caffeine-free and features a sweet pineapple taste.
VegitaBeta: Japan – Originally launched in Japan in 1992, VegitaBeta is a non-carbonated beverage with apricot and passion fruit flavors and is rich in beta-carotene that contributes to its unique orange color.
Fanta (Melon Frosty): Thailand This is the number one soft drink of Thailand. With a fun melon flavor, this carbonated beverage is beloved in Thailand's sunny, tropical climate.
Bibo: South Africa – Originally created in 1998, Bibo is a fruit flavored line of juice drinks popular in South Africa. The brand features fun characters such as Johnny Orange, Taka Strawberry, and Paolo Peach.
Sparberry: Zimbabwe – A raspberry flavored cream soda, Sparberry launched in Africa in 1955. It is exclusively available in several countries in southeast Africa.
Guarana Kuat: Brazil – This is a guarana berry flavored soft drink first launched in Brazil in 1997. The word guarana comes from the Guarani word guna, which translates to 'fruit like the eyes of the people."
Inca Kola: Peru – Known as "The Taste of Peru," Inca Kola has an unusually sweet fruity flavor that many compare to the taste of liquid bubblegum, The name refers to the Quechua words for king and queen.
Beverly: Italy – With its bitter flavor, it is a popular non-alcoholic aperitif that is a traditional part of Italian refreshment culture.
Water Tips
You can ask for and receive a free glass of ice water at any Disney Quick Service restaurant and save on the cost of bottled water.
First and foremost, guests will need plenty of liquid while touring the theme parks. Bringing your own bottled water to the park can save a bundle over the $3.00 per bottle price that Disney charges. Disney knows you're going to get thirsty and charges accordingly. There are still plenty of water fountains in the park, but with bottled water conveniently available, many people don't like to use them. Florida water also has a slightly different taste than what visitors might be use to. If you're able to bring bottled water from home, it can save a lot.
While guests are not allowed to bring large coolers (or rolling backpacks) into the theme parks, Disney does not object to small coolers, as long as they do not contain any alcoholic beverages or glass containers. Totes no larger than 24″ x 15″ x 18″ with a shoulder strap are fine, but may not fit into park rental lockers. Lockers vary in size from park to park, but typically, a large locker is 17.5″H x 12″W x 16″D and will cost $9.00 per day plus a $5.00 key deposit, which is refunded when the key is returned. Small lockers measure 11″H x 9″W x 16″D and are $7/day plus deposit. Coolers are permitted, including those with wheels, at Walt Disney World Resort water parks, as long as they do not contain any alcoholic beverages or glass containers.
All standard resort rooms come with a mini refrigerator. They are small, but big enough to chill a half-a-dozen or more bottles of water each night plus hold other snacks. Refrigerators in standard rooms at the Value Resorts (called beverage coolers) don't come with the "small" freezer compartment available on models at Moderate and Deluxe resorts and at the Family Suites at the Value Resorts.
Disney's Art of Animation Resort is stocking 8 packs of bottled water for about $16 in the market section of Landscape of Flavors food court. This is a few dollars cheaper than the $3.00 per bottle price in the parks!
Many guests buy water and other groceries from services like Amazon Prime Now or Garden Grocer and have it delivered to their resorts . Be sure to include your reservation number and arrival date with your address if you try this.
Also consider packing an empty bottle and refilling it at quick service restaurants, your resort, or fountains in the park. Small packets of Kool-Aid or Crystal Light can turn bottled water in to a flavorful drink for the little ones. Disney sells a bottle strap for about $3.75, making a bottle convenient to tote. A filtered refillable water bottle can convert fountain drinking water to bottled quality.
A very economical filter bottle can be found at Amazon.com for anywhere from $8 to $15.
If you'll be making use of one of Disney's Baby Care Centers, water coolers are available as source of free "bottle water" quality water for filling baby bottles.
Other Beverage Tips
When purchasing drinks in the parks in between meals, buy the ones that come in a plastic bottle with a screw on cap. Open fountain drinks aren't allowed on rides and attractions, but you can take on the bottled type.
If you won't be purchasing a resort refillable mug, bring tea bags and hot chocolate from home. Hot water is available at the food courts. Food courts also have sugar, creamers, and lemon. If staying at a Moderate resort (or above), rooms have coffee pots with coffee, sugar and creamers provided and more is available by asking the housekeeping staff.
If you're a Pepsi drinker, you're out of luck. Walt Disney World Resort is a Coke only zone. You'll need to visit a nearby gas station, convenience or grocery store to purchase some, or have it delivered.
Beer, wine coolers, wine, cases of bottled water and other non-alcoholic bottled beverages can be bought at the Hess Gas Stations on Disney property much cheaper than at the resort's grab 'n go market sections or pool bars. The Hess stations carry most major brands of beer such as Budweiser, Coors, Heineken, Miller, Michelob, etc. Beer is available in bottle or cans by the 6-pack, 12-pack and 18-pack, depending upon the brand. Individual bottles are also available from 16 oz to 32 oz size. Be aware that no glass containers are permitted at resort swimming pools and also buy plastic cups or use the refillable mugs. Hess Gas Stations also carry a great selection of sandwiches, wraps, ciabattas, and cold or hot subs, as well as very good pizza and wings at an excellent price. There are 3 Hess stations on property. One Hess station is located at the Car Care Center on World Drive near the exit of the Magic Kingdom parking lot, another at Disney Springs, and another in the area of Disney's Hollywood Studios just before the entrance to the Boardwalk Inn.
If you'll be purchasing alcohol at any of the various kiosks located in Walt Disney World parks or Disney Springs, the following forms of I.D. are acceptable:
US State drivers license
US Military ID
Original Passport (not a copy)
"Copy" of Passport along with a government issued photo ID that includes date of birth
Several counter service restaurants in Epcot Future World offer self-serve beverages. They can be found at Electric Umbrella and Sunshine Season Food Fair in The Land pavilion. In the Magic Kingdom self-serve stations are available at the Be Our Guest restaurant and at Tortuga Tavern. At Animal Kingdom, Restaurantasaurus and Satu'li Canteen offer a self-serve beverage station. At Disney Springs self-serve soda is available at Earl of Sandwich. Many of these stations seem strategically placed as far from the seating areas as possible and can be easily forgotten. Still, one should be able to get free refills at these dining spots.

Many alcohol and kids virgin drinks at Walt Disney World are served with a glowing ice cube, but you can save $3 if you request your drink without it.

Epcot Wine Experiences at a Great Price
• Germany's Weinkellar shop in Epcot offers "Wine Flights" starting at just $9.39. Choose any three 2 ounce pours from 6 choices of German wine including white wines, apple wine, dessert wine and ice wine.
• The World Showcase Wine Walk offers 6 pours for $32, stopping at Germany, Italy, and France in Epcot. A Wine Walk Passport can be purchased at the Weinkeller shop in Germany, Enoteca Castello shop in Italy or Aux Vins de France shop in France. Show your passport at the three shops and you'll be given to samples at each shop. Plus, a cast members in each shop will give you a stamp for each wine you sample.