Weekends May 15 – June 14, 2015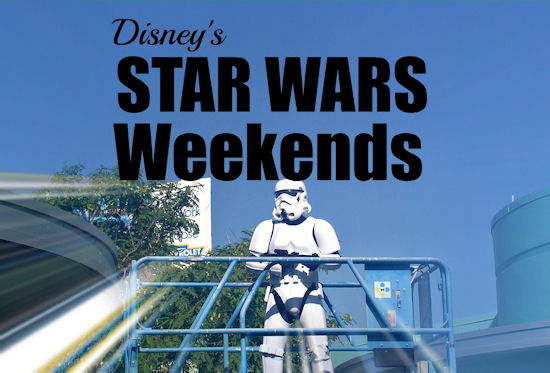 From the special "welcome" Guests receive at the park entrance from the stormtroopers and Star Wars trivia contests to Jedi Training Academy, Star Wars Weekends will have more fun than you can shake a gaffi stick at. Join Jedi, Sith, Ewoks, Wookiees, galactic bounty hunters and stormtroopers for the park's annual celebration of all-things-Star Wars.
At Star Wars Weekends, you can "Meet-and-Greet" with famous villains and heroes from the entire Star Wars saga. Never let your guard down though, guests never know which Star Wars character they'll find around the corner! Coming face to face with an armed Storm Trooper is not uncommon! Guests can also experience one of the largest Star Wars parades in the world during the day.
Jedi Training Academy, one of the interactive entertainment experiences at the theme park, is expanded during the event and allows young guests to learn from a Jedi Master before testing their newly acquired skills in a battle with Darth Vader or Darth Maul. Also featured: the chance for fans to purchase one-of-a-kind and limited edition Star Wars memorabilia, Star Wars trivia and star conversations with Star Wars celebrities.
The event runs for 5 consecutive weekends (Friday, Saturday and Sunday) in May and June at Disney's Hollywood Studios. Each weekend, different Star Wars celebrities are special guests and take part in meet-and-greets, interviews and Hollywood-style motorcades. Over 50 Star Wars characters from the entire saga will be featured.
Event activities are included in regular theme park admission to Disney's Hollywood Studios.
Read About Star Wars Weekends on our Blog
Star Wars Weekend Info
New for 2015 Celebrity Schedule Events and Activities Tips
New for Star Wars Weekends 2015
Star Wars Themed Character Meals
From May 4 – June 14, 2015, Star Wars Character Meals will be featured every day of the week. Sci-Fi Dine-In Theater will feature a galactic breakfast experience, while guests can enjoy a Star Wars character dinner and Fantasmic! package at the Hollywood & Vine restaurant. Don't delay! These special meals are sure to sell out quickly. A credit card guarantee is required at time of booking. The usual 24 hour cancellation policy with a $10 penalty per person applies. To book, call 407-WDW-DINE or visit www.DisneyWorld.com.
Star Wars Galactic Dine-In Breakfast
Location: Sci-Fi Dine-In Theater
Times: 8 a.m. until 11 a.m.
Cost: $49.99 adults; $31.99 children ages 3-9 (Prices include tax but not gratuity.)
Characters: Darth Vader, Boba Fett, Jawas, Greedo, and Stormtroopers
Additional Info: The usual science fiction clips featured on the restaurant's drive-in screen will be replaced with Star Wars trailers, clips, and music during these special meals.
Jedi Mickey's Star Wars Dine, including Fantasmic! Dining Package
Location: Hollywood and Vine
Times: 4:15 p.m. until 8 p.m.
Cost: $57.99 adults; $34.99 children ages 3-9 (prices include tax, but not gratuity.)
Characters: Jedi Mickey, Princess Leia Minnie, Darth Vader Goofy, Storm Trooper Donald, and Ewoks Chip 'n' Dale
Additional Info: Includes special decor and music and themed menu options. Included with the meal is a Fantasmic dinner package which allows reserved section seating for the nightly Fantasmic! show.
Star Wars Weekends Annual Passholder and DVC Posters
A Star Wars themed poster will be distributed to Annual Passholders and Disney Vacation Club Members each day of Star Wars Weekends. DVC members should go to any DVC location throughout the park. Annual Passholders should go to the area between One Man's Dream and Toy Story Mania! and show the Cast Member their annual pass or MagicBand with the "annual passholder" slider. Between 4 p.m. and 7:30 p.m., poster distribution will be at the Information Desk at ABC Sound Studio for both DVC and AP holders.
Galactic Gathering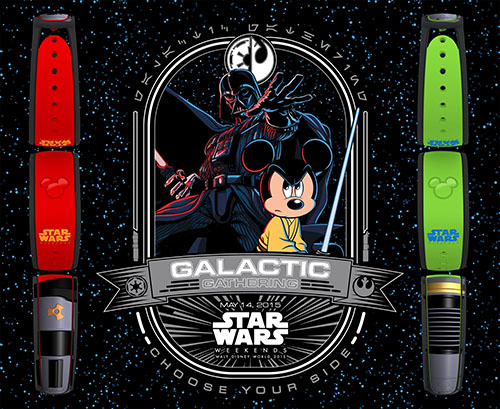 Beginning on March 4, 2015, guests can begin registering for the all-new Galactic Gathering. The Galactic Gathering will be held only on Thursday, May 14, 2015 between 10 a.m. and 3 p.m. at Disney's Hollywood Studios. Tickets are $250 per person, and theme park admission is required (but not included).
Guests attending this exclusive event will receive:
An Exclusive Rebel or Empire MagicBand (Guests can choose their side when registering online)
Exclusive commemorative trading pin
Exclusive Darth's Mall Light Speed Pass which gives expedited entry into Darth's Mall for all five weekends.
First opportunity to pre-purchase select merchandise including personalized Aurebesh nametags, D-Tech phone cases, Dooney & Bourke handbags, Galactic Gathering Disney Gift card, retail MagicBands, limited edition pins and Vinylmation.
First opportunity to purchase the new designs of Star Wars-themed Disney Gift Cards.
Han Solo inspired popcorn bucket with popcorn
Opportunity to meet Disney characters, Disney Design Group Artists and Ashley Eckstein from Her Universe.
Be among the first to purchase the new figures for Star Wars D-Tech Me including a Jedi Knight and a TIE-Fighter pilot.
Register at www.DisneyParksMerchandise.com for this exclusive event. No discounted tickets will be offered.
Guests can view the Galactic Gathering Merchandise catalog online.
2015 Celebrity Schedule
Celebrity Host Appearing All Five Weekends
James Arnold Taylor – the voice of Obi-Wan Kenobi in "Star Wars: The Clone Wars" will return as Official Celebrity Host of Star Wars Weekends 2015. Typically, Taylor stars each weekend in a one-man show that showcases some of the many voices he has performed throughout his career.
Weekly Celebrity Guests
Weekend I: May 15 – May 17
Ashley Eckstein: Ahsoka Tano (Star Wars: The Clone Wars, Star Wars Rebels)
Ian McDiarmid: Senator/Emperor Palpatine (Star Wars: The Phantom Menace; Star Wars: Attack of the Clones; Star Wars: Revenge of the Sith, Star Wars: The Empire Strikes Back, Star Wars: Return of the Jedi)
Amy Allen: Aayla Secura (Star Wars: Attack of the Clones, Star Wars: Revenge of the Sith)
Tiya Sircar: Sabine Wren (Star Wars Rebels)
Weekend II (May 22 – 24)
Warwick Davis: Wald, Wicket W. Warrick (Star Wars: The Phantom Menace; Star Wars: Return of the Jedi)
Silas Carson: Ki-Adi-Mundi, Nute Gunray (Star Wars: The Phantom Menace; Star Wars: Attack of the Clones; Star Wars: Revenge of the Sith)
Vanessa Marshall: Hera Syndulla (Star Wars Rebels)
Weekend III (May 29 – 31)
Warwick Davis: Wald, Wicket W. Warrick (Star Wars: The Phantom Menace; Star Wars: Return of the Jedi)
Daniel Logan: Boba Fett (Star Wars: Attack of the Clones)
Steve Blum: Zeb Orrelios (Star Wars Rebels)
Weekend IV (June 5 – 7)
Ray Park: Darth Maul (Star Wars: The Phantom Menace)
Jeremy Bulloch: Boba Fett (Star Wars: The Empire Strikes Back; Star Wars: Return of the Jedi)
Ashley Eckstein: Ahsoka Tano (Star Wars: The Clone Wars; Star Wars Rebels)
Weekend V (June 12 – 14)
Frank Oz: Yoda (Star Wars: The Phantom Menace; Star Wars: Attack of the Clones; Star Wars: Revenge of the Sith, Star Wars: The Empire Strikes Back, Star Wars: Return of the Jedi; Star Wars Rebels)
Ray Park: Darth Maul (Star Wars: The Phantom Menace)
Peter Mayhew: Chewbacca (Star Wars: Revenge of the Sith; Star Wars: A New Hope; Star Wars: The Empire Strikes Back; Star Wars: Return of the Jedi)
Taylor Gray: Ezra Bridger (Star Wars Rebels)
Schedules subject to change without notice.
Special Events and Activities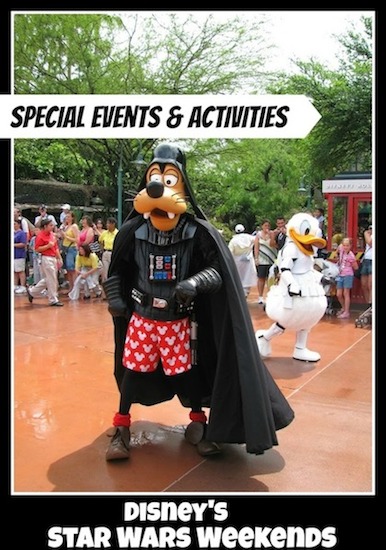 Hollywood Studios hours are from 8/9 a.m. to 10/11 p.m. on Star Wars Weekend dates. However, turnstiles usually begin admitting guests into the park between 7:15 a.m. and 7:30 a.m. Those wishing celebrity autographs should use the bag check line to the far right.
Characters
Encounter over 60 Star Wars characters from the entire saga – and a few new ones. From Darth Vader and Darth Maul to Anakin and Chewbacca, you'll find some of your favorite heroes and villains from a galaxy far, far away.
Stormtrooper Welcome – 7:30 a.m. on Hollywood Blvd
Legends of the Force Parade
Autograph opportunities are not the only place to see the celebrities. Star Wars stars also take part in the gala "Legends of the Force" parade. The motorcade begins at the front of the park and travels to the Hollywood Boulevard Stage, concluding with a grand celebrity welcome. The ultimate themed motorcade takes place at 11:00 a.m. each day of Star Wars Weekends.
Celebrity Welcome
Star Wars Weekends host James Arnold Taylor, along with 4 visiting celebrities, highlight the day's events and give you an exclusive Star Wars Weekends photo opportunity.
Jedi Training Academy
Jedi hopefuls learn the ways of the Force before coming face to face with Darth Vader to test their skills with a lightsaber. Child must be between the ages of 4 and 12 to participate. Sign up in front of Indiana Jones Epic Theater at park opening to secure your spot. Both parent (or adult over 18) and child must be present when signing up. Sign up immediately at park opening as spots go fast. Twelve guests will be selected for each show. Availability is limited and on a first-come, first-"sabered" basis. During Star Wars Weekends, additional characters may take part in this experience.
Padawan Mind Challenge
The Padawan Mind Challenge is held on Center Stage. The kids edition, which features Ezra and Sabine, is held at 12:15 p.m. and 4:15 p.m. To sign-up children ages and 11 and younger, go to ABC Sound Studio at park opening. A family edition, hosted by Ashley Eckstein, is held at 2:30 p.m. and 6:00 p.m. Sign-ups are not required for the family edition.
Star Wars Rebels: The Ultimate Guide
Guests can relive the adventures of the crew of the Ghost from Star Wars Rebels Season 1. The Ultimate Guide is held from 10 a.m. – 9:30 p.m. at the ABC Sound Studio.
Star Tours: The Adventures Continue
Experience droids, Starspeeders and out-of-this-world destinations, all in 3D, at Disney's Star Tours attraction. This attraction takes guests through one of 54 possible sequences – and you never know which journey you'll get!
Intergalactic Dance Party
DJ Lobot will be playing your favorite dance tunes for the intergalactic dance party beginning at 7:00 p.m. at Center Stage.
Symphony in the Stars
Don't miss the interstellar fireworks at 9:45 p.m. The celebration features a few of your favorite Star Wars characters and an amazing fireworks display.
Celebrity Talk Shows
Experience the fascinating life and movie making adventures of visiting celebrities at Theater of the Stars (Beauty and the Beast–Live location).
Stars of the Saga with host James Arnold Taylor and guests
Star Wars Rebels held at the Theater of the Stars at 1:45 p.m. This show features the voice acting of James Arnold Taylor and a special voice cast guest from Star Wars Rebels.
Obi Wan and Beyond held at the Theater of the Stars at 7:00 p.m. Follow James Arnold Taylor as he take the audience through the work of voice acting with his iconic characters.
Photo and Autograph Opportunities
Snap a pic' of your favorite Star War characters and celebrities each weekend during the month-long event or have a memento signed by Star Wars celebrities! As always, there is no additional charge for the celebrity autograph sessions at Star Wars Weekends. The autograph lines will once again be handled via a FASTPASS-type system. A Disney's FASTPASS ensures your place in line at the celebrity autograph kiosk outside the Front Gate entrance. Get there early to get one! One autograph (signed photo or memorabilia) per Guest. If you don't have an item to be signed, a small photo card will be available at the autograph table. See more about Autograph FASTPASS in our tips below.
Special Star Wars Merchandise
Blast into Star Wars Weekends 2015 with limited edition pins, artwork and collectibles for the entire family! Plus, there are always special opportunities for artist signings and book signings.
Darth's Mall offers guests the opportunity to purchase a variety of Star Wars merchandise and event logo items. There are three different locations oof of Streets of America. Darth's Mall opens with the park through 7:30 p.m.
Prop Shop (Prop shop is open 7 days/week)

Event Merchandise
Star Wars Merchandise
Lego Free Build Activity (only available on Star Wars Weekend event dates)

Watto's Grotto

Event Merchandise
Build Your Own Lightsaber
Build Your Own Droid
Name Tags
Ashley Eckstein Her Universe
Annual Passholder Items

X-Wing Collectibles

X-Wing Collectibles
Limited Edition/Release Pins
Dooney & Bourke
Vinylmation
MagicBands
Character Figurines
Annual Passholder Items
Star Wars D-TECH ME will be open Friday–Sunday each weekend and is located inside X-Wing Collectibles at Darth's Mall. Advance reservations are required and can be made by calling 407-WDW-TECH (407-939-8324).
Food and Beverage
Rebel Hangar: A Star Wars Lounge is located at Backlot Express and is open daily from 

4 p.m. to park close

. Advance reservations are strongly recommended. The menu includes small bits and specialty beverages.
Feel the Force Premium Package check in is located at Min & Bill's Dockside Diner beginning at 

10 a.m.

After the motorcade, Guests can pick up their credentials at Guest Relations.
Feel the Force Deluxe Premium Package check in is located at Sid Cahuenga's near the main entrance beginning at

10 a.m.

After the motorcade, Guests can pick up their credentials at Guest Relations. (SOLD OUT)
Begin the adventure with Star Wars Dine-In Galactic Breakfast at the Sci-Fi Dine-In Theater Restaurant. This character dining experience is held daily from 8 a.m. – noon and features an a la carte 4-course breakfast. Cost is $49.99 for adults and $31.99 for children (ages 3-9).
Hollywood and Vine has been transformed into Jedi Mickey's Star Wars Dine at Hollywood and Vine where Mickey, Minnie, Donald, Goofy and Chip and Dale have all come together to celebrate the greatest saga ever told. This character dining buffet is held daily from 4:15 p.m. – 10:00 p.m. at Hollywood & Vine. Cost is $57.99 for adults and $34.99 for children (ages 3-9).
Subscribe to our Free Disney Newsletter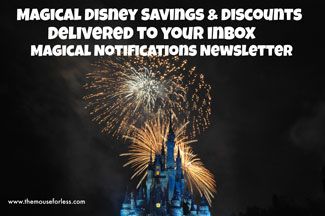 Subscribe to our newsletter, Magical Notifications, and receive our weekly email alerts about special money saving promotions to Disney destinations.
TheMouseForLess Tips for Star Wars Weekends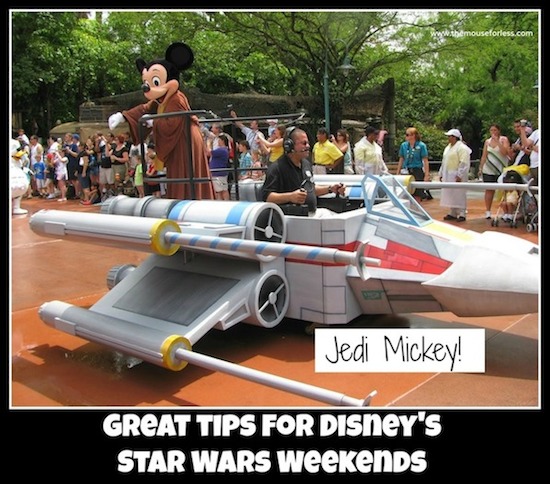 • Buses beginning running to Disney's Hollywood Studios from Disney owned resorts at approximately 6:15 a.m. or later. For those who don't have a car and wish to arrive earlier for celebrity autographs, you can ask the front desk or bell services at your resort to call for a taxi. While the park is typically slated to open at 8 a.m. during Star Wars Weekends, cast members begin admitting guests to the park between around 7:30 a.m.
• Grab a FASTPASS outside the Front Gate entrance before the park opens to ensure your place in line for celebrity autographs. FASTPASS quantities are extremely limited and are issued on a first-come, first-served basis. Some fans start lining up overnight! Show up between 2 a.m. to 3 a.m. to queue up if you want an autograph from the top stars, like Ray Park or Jeremy Bulloch. For most other celebrities you can arrive by 6:30 a.m. Join the line of the celebrity you would most like to meet. Each celebrity will have a line. While in line, you will receive a wristband. Handouts for wristbands start around 6 a.m. for early arrivals, followed by a security bag check. Your Theme Park admission media and wristband allow you to receive one FASTPASS ticket. FASTPASSes are handed out around 6:30 – 7:00 a.m. Only one autograph FASTPASS ticket will be given per guest. Please note that each Guest must be present to receive a FASTPASS. Guests may not get a FASTPASS for other members of their party, nor may Guests save a place in any FASTPASS line for other party members. After receiving your ticket, continue to wear your wristband. You will need to be wearing your wristband to get an autograph. Your FASTPASS ticket will have a designated autograph return time. Until that time, you may enjoy other Star Wars Weekends activities. At your designated time, proceed to the celebrity autograph location at Echo Lake to show your wristband and present your FASTPASS ticket. Once FASTPASS tickets for visiting celebrities have been distributed (typically, about 75 FastPasses are given to meet Ray Parks), Disney may issue stand-by tickets. Stand-by tickets, however, do not guarantee that you will get an autograph.
• Don't miss the Stormtroopers that stand on atop mobile columns inside the park entrance. Their mission: to keep all "Rebel Scum" out. It's great fun to watch them heckling the crowd entering the park and worth showing up early for. If you miss the opening show, the Stormtroopers will also be patrolling the Star Wars Weekend stage later in the day, as well as appearing in the "Stars of the Saga" pre-show at Premiere Theater.
• For Star Wars Weekends information, to get your questions answered, and to sign up for some events, visit the ABC Sound Studio entrance area.
• This is a very crowded event and you simply will not be able to do it all in a single day. As such, you'll need to decide what is most important to you ahead of time and do those things first. If you have children eager to take part in the Star Wars activities such as the Jedi Training Academy and Padawan Mind Challenge, plan to arrive early and sign up for these events as soon as the park opens. Want to ride the popular rides, make sure to get a Fastpass+ in advance for Toy Story Mania and ride Tower of Terror and Rock 'n' Rollercoaster as soon as you can. Then relax and take in some of the Star Wars fun. If you would like photos with some of the Star Wars-themed characters such as Jedi Mickey line up early; consistently, Darth Vader seems the most popular with the longest lines. If you're looking for "limited edition" Star Wars merchandise, buy it early before it sells out!
• For 2014, Disney began offering "Tier 1″ FastPass+ options for Premier Theater Stage Shows, including "Behind the Force – Star Wars: Rebels," "Obi-Wan and Beyond," and "Stars of the Saga Star Wars Celebrity Talk Show". Only one selection is available for Tier 1 options and the new Star Wars Weekend Tier 1 selections will compete with such popular offerings as Toy Story Mania and Rock 'n' Roller Coaster. Guests attending Star Wars Weekends may wish to consider making FastPass+ selections for shows starring major celebrities or the very popular "Stars of the Saga" show. Please not that a obtaining a FastPass+ does not guarantee entry into the selected show. For a complete list of FastPass+ choices, visit our FastPass+ Guide.
• Dress up! Both children and adults are frequently seen in Star Wars costumes during this event. It can add to the fun! If you don't have your own Star Wars gear, a selection of Star Wars custom items are available at the event. There is also usually a face painting station that offers Star Wars creations in the Star Tours area. It costs about $15.
• Make sure to stakeout your spot along Sunset Boulevard early, up to 2 hours in advance, for the special Symphony in the Stars Star Wars fireworks. The pre-show with characters starts at approximately 9:30 p.m. If crowds are heavy, you can also get a great view of the fireworks standing in front of 50s Prime Time Cafe although the stage with pre-show will not be visible. Special ear hats that glow with the fireworks show (as well as with Fantamic!) are available $25 at select merchandising locations throughout the park.
• Look for Star Wars-themed treats throughout the park. Special souvenir Stormtrooper mugs with fountain beverage can be found at most quick service restaurants for $9.99 and Darth Vader souvenir popcorn buckets can be found at popcorn carts and Darth's Mall for $12.50 and $14. The Darth Vader cupcake – rich chocolate-peanut butter filling and chocolate frosting with Darth Vader topping the confection – is always popular. You'll find it at Darth's Mall, Backlot Express, ABC Commissary, Fairfax Fare, Studio Catering Co, Pizza Planet, Starting Rolls and Rosie's. Guests can also pick up a Yoda Cupcake at Backlot Express Starring Rolls and Darth Mall. Both cupcakes are $5.19 and on the Disney Dining Plan. Kids Power Packs in R2D2 bucket are typically available at Sunset Ranch Market, Pizza Planet, Backlot Express, Studio Catering Company and ABC Commissary. Temporary bars are usually located outside Animation Courtyard, Sci-Fi Dine-in, 50′s Prime Time Cafe, and Mama Melrose and offer to special Star Wars drinks.
• For Star Wars Weekends merchandise and limited edition Star Wars merchandise, check inside Darth's Mal. On the opening day of Star Wars Weekend, waits to enter Darth's Mall can be several hours or more due to the purchasing of limited-edition merchandise to a horde of resellers. There's even a FastPass line for this outside the park entrance in the morning with the lines to get Star Wars celebrity autographs, and believe it or not, it's often the longest line! After the first few event days, however, crowds thin down at Darth's Mall. Items consistently available for sale at this location include Star Wars artwork, shirts, hats, toys, collectibles, build-a-droid, build-a-light saber, personalized nametags (using Aurebesh) & iPhone cases, and Ashley Eckstein's "Her Universe" clothing. The "Cast yourself in Carbonite" experience is also available at this location. Don't forget to ask for your Annual Passholder discount on merchandise! Additionally, there are usually photo opportunities with Star Wars characters such as Luke, Leia, R2D2, C3PO.
• Darth's Mall is not the only location for Star Wars merchandise. Don't overlook Tatooine Traders at the exit of the Star Tours ride.
• Use hashtag #StarWarsWeekends on Instagram and Twitter. You also can join the conversation online with the official event hashtag, #DisneyTheForce.
---
For the latest Star Wars Weekends updates, guests may also visit StarWars.com or disneytheforce.com.