April 9, 2023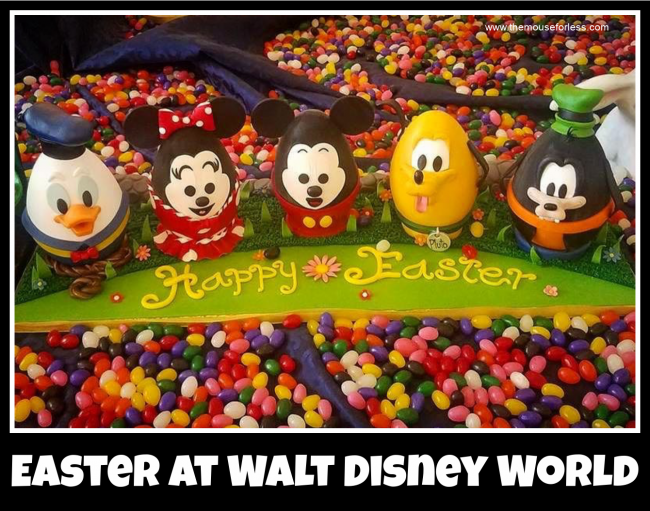 Every Easter, the Easter Bunny and his wife, Mrs. Bunny, visit the Walt Disney World Resort for some rest and relaxation in the days leading up to the annual holiday basket delivery. The Bunnies, who have spent most of the year painting eggs and stocking up on jelly beans, will spend their Disney Parks vacation meeting and greeting families at the Magic Kingdom. You won't want to miss meeting them and other special activities that take place in the parks, restaurants and resorts of the Walt Disney World Resort.
The following is information from 2022. Details for 2023 will be added when they get released.
2023 Easter Information
Theme Park Easter Activities Easter Day Dining Activities at the Resorts Easter Religious Services Easter Egg Displays Easter Baskets and Gifts
Theme Park Easter Activities
Magic Kingdom
Easter Bunny Meet & Greet – Mr Easter Bunny will be available at Bunny Lane Garden (at the Town Square Courtyard between City Hall and Chamber of Commerce on the left side of Main Street when entering the park) to meet & greet with guests.  PhotoPass photographers will be on hand to take pictures.
Easter Procession – Guests can look for Mr. Bunny to make a special pre-parade appearance along with other springtime characters and dancers, and the Azalea Trail Maids. Typically, Mr and Mrs Easter Bunny are joined by butterflies, flowers and dancing hippos, Daisy, Duck, Thumper & Ms. Bunny, White Rabbit, Rabbit, Clara Cluck, Ostriches, Dancing Chicks for this procession down Main Street, U.S.A.
Spring Trolley Show – The citizens of Main Street, U.S.A. in Magic Kingdom park are bursting with excitement now that spring is in the air. Dressed to the nines in bright pastels and with a few new songs in their hearts, they arrive in town on a horse-drawn trolley adorned with colorful bouquets of flowers and ribbons.
The MouseForLess Tip:
When making your Easter vacation plans, plan on arriving at the Magic Kingdom early, especially days the week prior to Easter as the park often closes due to reaching capacity.
Epcot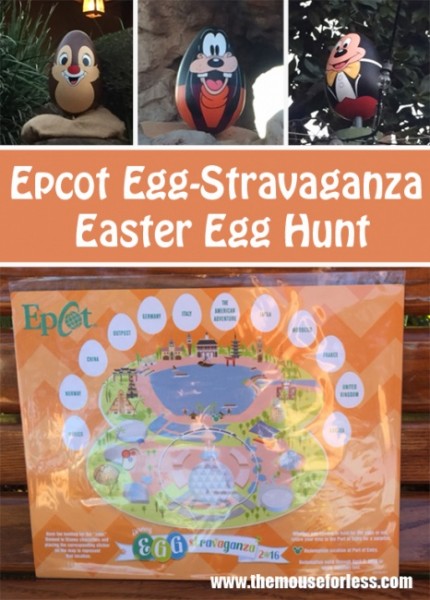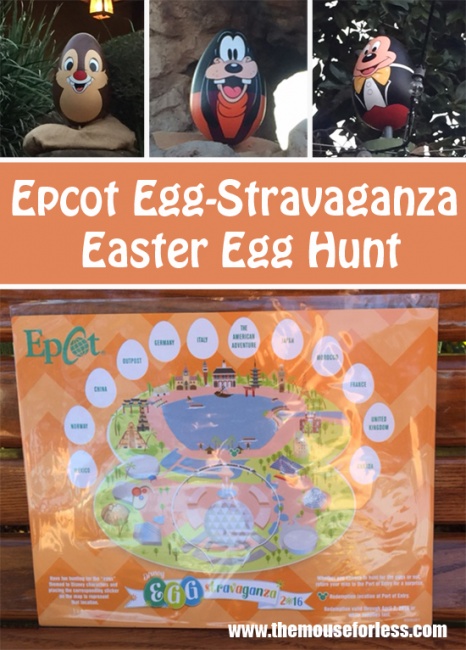 Easter Egg Hunt – Easter Egg Hunt Maps can be purchased at Disney Traders, Pin Central, or Port of Entry for $7.99. Once guests have their maps, they will be able to record hidden eggs, themed after Disney characters, by placing the right character sticker in the matching location on the special map. Whether you choose to hunt for eggs or not, return your map to Disney Traders in Epcot and participate in an 'egg-scramble' to pick up your surprise.
Easter Day Meals and Buffets
A number of special meals are held at select resort locations on Easter Day. Details for Easter meals are usually announced several weeks prior to the holiday. Holiday meals can be reserved up to 60 days in advance by calling (407) WDW-DINE (939-3463).
Easter Brunches
Pick up your Easter snacks at a number of locations around the Walt Disney World Resort. Find out all the locations and treats available here.
Additional Dining Options
Several other Disney Springs restaurants will offer custom Easter menus.
Additional dining information will be added as it becomes available.
For more information on visiting during Easter week, visit our Spring Break page.
Easter Activities at the Resorts
These are activities that were held in the past. No word on what will happen for 2023. 
Most Disney resorts, Moderate and above, will hold some sort of Candy Scramble in the morning at 9:00 am. and other organized activities. Easter activities at Deluxe and Deluxe Villa resorts and at Disney's Fort Wilderness Resort and Campground will be more extensive. A character meet & greet with Disney characters in their Easter finest is held at ALL resorts. Activities listed below are subject to change. Consult the front desk of your resort for a list of activities that will be held on Easter weekend.
Religious Services
For those who wish to attend a religious service Easter morning at Walt Disney World Resort, two denomination are held on Easter Sunday, in the Fantasia Ballroom of the Disney's Contemporary Resort. A Catholic Mass is held at 8:00 a.m. and 10:30 a.m. The Protestant Service is held at 9:15 a.m.
Parking at the Contemporary Resort is restricted to guests with hotel reservations only; all others must take Disney transportation to reach the Contemporary Resort. Typically parking at the Polynesian and Grand Floridian lots will be restricted for parking during service hours as well. Guest staying a monorail resorts are advised to use resort transportation via the resort monorail or Contemporary boat dock. All other Walt Disney World Guests must use Resort transportation to the Magic Kingdom and then transfer to a shuttle bus to Disney's Contemporary Resort. The shuttle will begin running at 7:00 a.m.
For worship outside of Disney property, consult our Houses of Worship Near Walt Disney World Guide.
Easter Egg Displays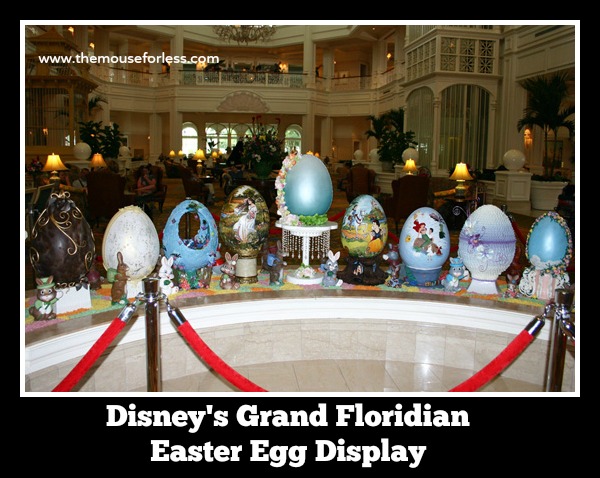 Hop on over to Disney's Grand Floridian Resort & Spa at Walt Disney World Resort for a delectable Easter egg display. The Disney pastry chefs there are known for their fabulous sugar shacks at Christmastime, but the Grand Floridian bakery team also spends weeks crafting yummy chocolate egg masterpieces. Each over-sized, 9- to 12-pound hollow chocolate egg stands 16-20 inches tall and is completely edible – hand decorated with modeling chocolate, fondant, sugar, royal icing, colored cocoa butter and themed sculpted sugar pieces. Enjoy a variety of Disney-themed and traditional Easter eggs displayed in the main lobby of the resort as well as a display in the dining room of the Grand Floridian Cafe.
At Disney's Beach Club Resort and Disney's Yacht Club Resort there will be a chocolate Easter egg display located in the lobbies. These will be hand-sculpted and hand-painted Disney-inspired chocolate eggs. The display will be on site from March 18 through April 4 and can be found in the Beach Club lobby, Yacht Club lobby, Ale & Compass Restaurant, and The Market at Ale & Compass.
At Disney's BoardWalk Resort, you can find another display of Disney-themed chocolate eggs in the lobby from March 26 through April 4.
At Disney's Saratoga Springs Resort, you can find another display of Disney-themed chocolate eggs in the lobby from April 1-11.
Take a look at our article on The Mouse For Less Blog all about what the displays look like at the various resorts.
Easter Baskets and Additional Gifts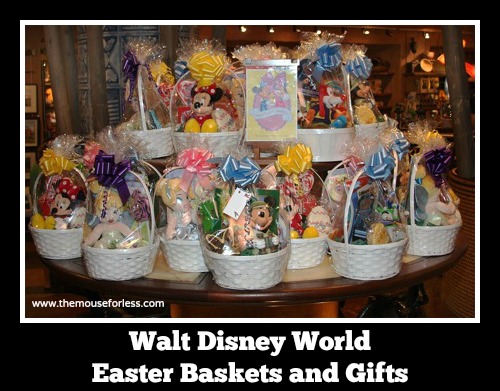 Easter Baskets are offered for sale at each of the Disney-owned Walt Disney World resorts. Each resort will have some pre-made baskets containing a variety of merchandise items. The retail for the pre-made baskets varies based on the items included (typically between $40-$65). There will also be cast members available to make customized baskets based on guests' requests. The customized baskets usually started at $7.00 plus tax for an empty white basket, grass, bow and shrink wrap. Anything added to a custom basket is extra – just purchase the items that you would like to include at the store.
As the holiday draws closer, a variety of Baskets, Surprises and Gifts are also available for delivery to Disney-owned resort rooms through Disney Floral & Gifts. Mickey's (or Minnie's) Easter Surprise is available for $79.95. New this year, delight the princess in your life with A Princess Easter Basket! Each of these predesigned offerings comes with activities, and snacks to share. Or, channel your inner "Imagineer" by creating an original basket for your loved one laced with the power of storytelling and (of course) the one of a kind magic only Disney can give! Simply visit the Custom Gift Builder tab, choose a basket, tote, or cinch bag from the selection of containers and fill with your favorite Easter or Disney treats. Become the captain of your very own crew with chocolate coins, an eye patch and all things pirate! Or dream up a happily ever after, adding a crown and a wand to complete your very own fairy tale. For more information on Disney gifting experiences, call a Dream Maker at 407-WDW-GIFT, or visit Disney Floral & Gifts to browser their Easter selections.
If you would like to capture your family's memories at the parks, you can book a session with Disney Fine Art Photography and Video, even if you're not staying at the Walt Disney World Resort. For more information on capturing the memory of your visit or to book a Disney Fine Art Photography session call 407-934-4004, or visit Disney Fine Art Photography.