December 31, 2022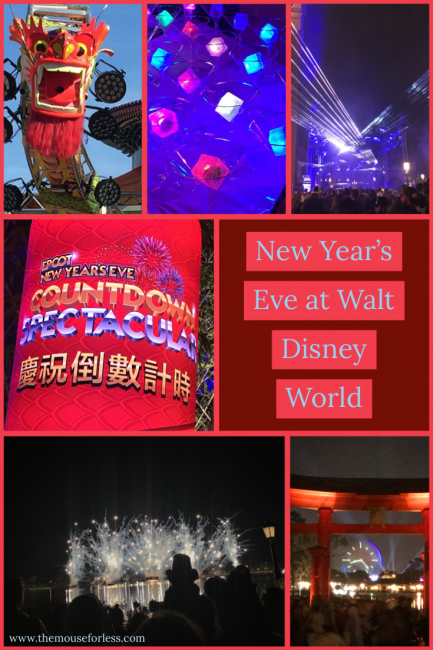 2022 New Year's Eve Info
From celebrations in the theme parks to an upscale dining experience and dancing at Disney's BoardWalk, take your pick of how you want to ring in the New Year. If previous years are an indication, park-goers will be given party hats and noise makers to ring in the New Year. There will also be elaborate firework displays that will decorate the skies at the stroke of midnight. Park visitors can expect extra live entertainment in the parks and should check their Times Guide for locations and times.
Be aware that the parks and parking lots often fill to capacity early on New Year's Eve. Guests staying at Disney-owned resorts should plan on using Disney's transportation to reach the parks. The Magic Kingdom almost always reaches capacity at some point during the day on New Year's Eve. TheMouseForLess recommends arriving at your preferred park early and staying throughout the day. Park hopping is not advised and may not be permitted on New Year's Eve.
To make a long day more comfortable, pack warmer clothes for the evening and stow them in one of the theme park lockers (make sure to rent a locker early if you would like to get one). Also, guest often spend 16 hours or more in the parks on New Year's Eve; we suggest getting plenty of sleep the night before.
Make dinner reservations for one of the park restaurants well in advance, and make them for a little earlier than you actually expect to eat. Crowds can cause many park restaurants to run behind. After dinner, stakeout your spot for the celebration. As the day wears on, navigating crowds will become increasingly difficult, especially for those with small children, strollers, motorized scooters, or wheelchairs.
In addition, be prepared for high levels of traffic on New Year's Eve night. As all of the parks begin to disperse after midnight, road closures and traffic pattern typically change around property, and particularly around Downtown Disney are. In the past, Hotel Plaza Blvd has been closed at the intersection with Buena Vista Drive with traffic routed along N. Buena Vista Drive towards CR 535. If your hotel is not located close by (preferably with direct walking access), try to find a nice spot to relax until after the major crowds have left the park. If you're staying on property, leave the driving to Disney! The traffic created by 3 packed-to-capacity parks emptying out at approximately the same time can be a logistical nightmare.
New Year's Eve is one of the busiest days (and nights) of the year in the parks. That being said, it can be spectacular, as long as you plan well in advance, know what to expect and come mentally prepared to handle the challenges. 
New Year's Eve at Magic Kingdom New Year's Eve at Epcot New Year's Eve at Disney's Hollywood Studios New Year's Eve at Animal Kingdom New Year's Eve at Disney Springs New Year's Eve at the Disney Resorts Special New Year's Eve Dining
New Year's Eve at Magic Kingdom
Magic Kingdom Park Hours
Magic Kingdom Park typically celebrates New Year's Eve for two nights, on both December 30th and 31st, however complimentary noise makers and party hats will only be handed out on New Year's Eve. One might think of December 30th in the Magic Kingdom as a full dress rehearsal for the big event, complete with live DJs and dance parties!
2022 Hours for Dec 30: 9:00 a.m. – 1:00 a.m.
2022 Hours for Dec 31: 9:00 a.m. – 1:00 a.m.
Magic Kingdom Park Schedule Dec 30 & 31
TheMouseForLess Tips
• See the Magic Kingdom's special New Year's Eve fireworks on December 30th when they are also shown. This park is insanely crowded on New Year's Eve! Plus, you'll be able to see a second New Year's Eve celebration at EPCOT. If you have your heart set on attending this park on New Year's Eve, however, be sure to be inside early and stay all day, as the crowds will only intensify, even with Theme Park Reservations.
• Frontierland and Tomorrowland often offer New Year's Celebration Dance Parties that will allow you to put on your dancing shoes and boot-scoot with a hoppin' beat 'til midnight in Frontierland. Or jump start the New Year with an upbeat get-together in Tomorrowland with futuristic tunes. Dance parties often take place from 7:00 p.m. until midnight.
• While alcoholic beverages are readily available at outdoor kiosks and stands in Disney's Hollywood Studios, EPCOT, and Disney's Animal Kingdom, Magic Kingdom park does not serve alcohol with the exception of select beers, wines, and mixed drinks available at the Be Our Guest Restaurant, Jungle Skipper Canteen, Tony's Town Square, Liberty Tree Tavern, and Cinderella's Royal Table. Thus, while Magic Kingdom does get extremely crowded on New Year's Eve, it tends to throw the most kid/family-friendly celebration.
• Hats and Horns will be distributed to Guests on December 31.
• Due to heavier crowds, consider dining during non-peak hours, avoiding noon until 2:00 p.m. and from 6:00 p.m until 8:00 p.m.
• To help with elevated crowds, Disney usually opens up some backstage areas for special entertainment and also as extra exits for after midnight. Also, consider staying in the park after midnight to avoid the rush to the parking lot.
• The New Year's Eve fireworks in the Magic Kingdom are spectacular and are shot over the castle as well as all around the park perimeter. Even the midnight countdown is done in fireworks that form the actual numbers. Those wishing to view Magic Kingdom's special fireworks from outside the parks can do so from the observation deck on the 4th floor of the Contemporary Resort, from the beaches (piped in music) of the Polynesian Village Resort, from the marina dock (piped in music) at the Grand Floridian Resort and from Transportation and Ticket Center along the walkway to Ferry loading area (breathtaking free views with piped in music), as well as restaurants such as California Grill or Narcoose's, or for a large group a fireworks cruise (see EPCOT tips for more info on special event firework cruises).
New Year's Eve at EPCOT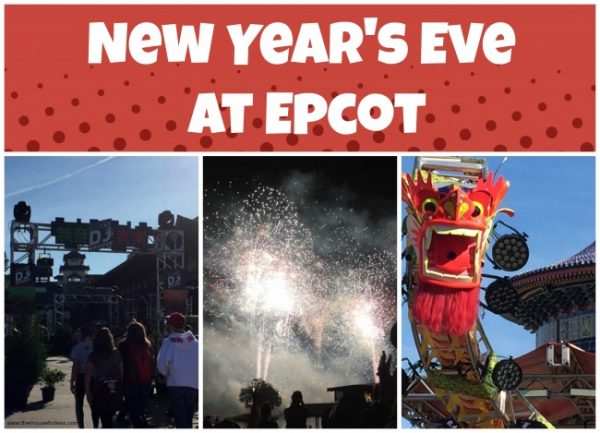 EPCOT Park Hours
2022 Hours Dec 31: 9:00 a.m. to 1:00 a.m.
Park Schedule Dec 31
Harmonious – 6:30 p.m., Cheers to the New Year: A Sparkling Celebration 11:54 p.m.
Live New Years Eve DJ Parties
Live DJ dance parties will be featured throughout EPCOT on New Year's Eve, including at World Showcase at America Gardens Theatre. There are usually dance parties in the courtyards at Italy, United Kingdom and China as well. EPCOT will be awash in changing colors from lasers and even flames jetting into the air above some dance party stages. Temporary Bars will be available on the promenade as well. Complimentary hats and noisemakers are handed out in the evening, as well.
DJ Dance Party Schedule

EPCOT will feature DJs in both Future World and World Showcase. They will be found from 7:00 p.m. until 1:00 a.m.
TheMouseForLess Tips
• EPCOT's midnight fireworks usually include a special salute to each country as, one at a time, fireworks are launched over each pavilion and traditional music plays. Look for more fireworks over the pavilions during the countdown to midnight and a huge firework finale. Additional space is usually set up for New Year's Eve firework viewing on either side of the promenade walking from Future World to World Showcase.
• New Year's Eve is the one night of the year where guests can take backstage bypasses to quickly get from Future World to World Showcase. Typically, there is a bypass open between Test Track and Norway-China and one between Imagination and the Showcase Pavilion next to the U.K. Epcot will also usually add some high-end restroom trailers between Future World and World Showcase in anticipation of crowds and open up the grassy area where Future World and World Showcase meet for fireworks viewing. Bring a blank to sit on and enjoy the show.
• EPCOT is very popular with adults due to the sheer number of dining options at this park. There are also a couple of restaurants with a great view of the nighttime fireworks spectacular. None will guarantee a window or patio seat, but if you book your reservation at Spice Road Table in Morocco or Rose and Crown Tavern in the United Kingdom about 2 hours prior to the show, you might be lucky enough to score a prime viewing spot. Whatever your choice, make sure to make your dinner reservations well in advance.
• For a uniquely different way for a group to see EPCOT's firework finale, consider booking a private fireworks cruise, complete with champagne! Securing one of these cruises is not for the faint of heart, however. Disney doesn't announce when it will begin taking reservations for special event fireworks cruises and availability is extremely limited. We suggest calling Disney's Recreation line (407-WDW-PLAY) as soon as phone lines open (7 a.m. EST) each morning, every day beginning six months out for a midnight boat. Yes, you heard right, every single day!
• Hats and horns will be distributed and will last until supplies run out.
New Year's Eve at Disney's Hollywood Studios
Disney's Hollywood Studios Park Hours
2022 Hours Dec 31: 8:30 a.m. to 12:00 a.m.
Park Schedule Dec 31
TheMouseForLess Tips:
• Of the 3 parks with nighttime shows, historically, Disney's Hollywood Studios tends to be a little less crowded than the rest.
• Temporary bar kiosks will be set up for New Year's Eve at select locations throughout the park.
• New Year's Eve crowds in the park can be challenging for groups. Bringing as many cellphones as possible is great way to reunited with any members of your party that may have become separated and good tip for all of the parks, especially during overcrowded events.
• Complimentary hats and noisemakers will be available
New Year's Eve at Animal Kingdom
Animal Kingdom Park Hours
2022 Hours Dec 31: 8:00 a.m. to 8:00 p.m.
Park Schedule Dec 31
Throughout the night, you'll find special New Year's Eve-themed food and drinks, as well as DJs in Asia, Discovery Island and DinoLand U.S.A.
New Year's Eve at Disney Springs
There has been no fireworks at Disney Springs on New Year's Eve for the past few years. For those looking for fireworks, please see our Magic Kingdom, Epcot and Disney's Hollywood Studios and Disney's Animal Kingdom sections above.
Live Performances – from live musicians to DJ dance parties, there's something for everyone to ring in the new year.
Walt Disney World Resort guests should plan to take Disney bus transportation and drivers should allow extra time as heavy traffic is expected.
Additional Entertainment Info
New Year's Eve at Walt Disney World Disney Resorts
If you plan on staying at a Disney resort, book your hotel as far in advance as possible. This is an extremely busy time of the year. Availability for on-property hotels is limited and will go fast. We're not kidding! To make travel after the party easier, decide which park you will celebrate in and book the closest hotel you can afford or one with the best direct access. As an added bonus, resort hotel guests are usually treated to Early Entry in all four theme parks on December 30 or 31.
If the crowds in the parks aren't for you and you can afford the cost of staying at a Disney Deluxe resort, you're in luck! Almost every Deluxe resort holds a celebration of its own. Registered guests at select Disney resort hotels will be treated to live music and entertainment. For example, the Grand Floridian resort usually has a "big band" playing in the lobby and the Boardwalk Inn has been known to throw a party on the resort's lawn with a live DJ. Check with the front desk or concierge desk for details.