December 31, 2018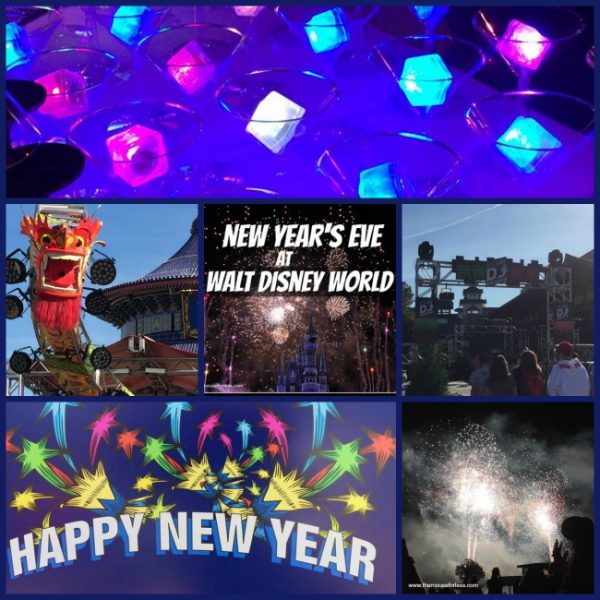 2018 New Year's Eve Info
From celebrations in the theme parks to an upscale dining experience and dancing at Disney's BoardWalk, take your pick of how you want to ring in the New Year. If previous years are an indication, park-goers will be given party hats and noise makers to ring in the New Year. There will also be elaborate firework displays that will decorate the skies over each park (except Animal Kingdom) at the stroke of midnight. Park visitors can expect extra live entertainment in the parks and should check their Times Guide for locations and times.
Be aware that the parks and parking lots often fill to capacity early on New Year's Eve. Guests staying at Disney-owned resorts should plan on using Disney's transportation to reach the parks. The Magic Kingdom almost always reaches capacity at some point during the day on New Year's Eve. TheMouseForLess recommends arriving at your preferred park early and staying throughout the day. Park hopping is not advised and may not be permitted on New Year's Eve. While the Walt Disney World Resort guarantees onsite guests will have park entry, it does not guarantee entry into a specific park. Late-comers may find themselves spending New Year's Eve day at Animal Kingdom if they wait too long to arrive at the parks.
To make a long day more comfortable, pack warmer clothes for the evening and stow them in one of the theme park lockers (make sure to rent a locker early if you would like to get one). Also, guest often spend 16 hours or more in the parks on New Year's Eve; we suggest getting plenty of sleep the night before.
If you are a Walt Disney World guest, make sure to make your FastPass+ selections well in advance so you're assured of enjoying a few of your favorite rides, but don't plan on making your park day all about the rides.
Make dinner reservations for one of the park restaurants well in advance, and make them for a little earlier than you actually expect to eat. Crowds can cause many park restaurants to run behind. After dinner, stakeout your spot for the celebration. As the day wears on, navigating crowds will become increasingly difficult, especially for those with small children, strollers, motorized scooters, or wheelchairs.
In addition, be prepared for high levels of traffic on New Year's Eve night. As all of the parks begin to disperse after midnight, road closures and traffic pattern typically change around property, and particularly around Downtown Disney are. In the past, Hotel Plaza Blvd has been closed at the intersection with Buena Vista Drive with traffic routed along N. Buena Vista Drive towards CR 535. If your hotel is not located close by (preferably with direct walking access), try to find a nice spot to relax until after the major crowds have left the park. If you're staying on property, leave the driving to Disney! The traffic created by 3 packed-to-capacity parks emptying out at approximately the same time can be a logistical nightmare.
New Year's Eve is one of the busiest days (and nights) of the year in the parks. That being said, it can be spectacular, as long as you plan well in advance, know what to expect and come mentally prepared to handle the challenges.
New Year's Eve at Magic Kingdom New Year's Eve at Epcot New Year's Eve at Disney's Hollywood Studios New Year's Eve at Animal Kingdom New Year's Eve at Disney Springs New Year's Eve at the Disney Resorts Special New Year's Eve Dining
Additional Information for 2018 will be added as its released.
New Year's Eve at Magic Kingdom
Magic Kingdom Park Hours
Magic Kingdom Park typically celebrates New Year's Eve for two nights, on both December 30th and 31st, however complimentary noise makers and party hats will only be handed out on New Year's Eve. One might think of December 30th in the Magic Kingdom as a full dress rehearsal for the big event, complete with live DJs and dance parties!
2017 Hours for Dec 30: 8:00 a.m. – 1:00 a.m.
2017 Hours for Dec 31: 8:00 a.m. – 1:00 a.m.
Extra Magic Hours for resort guests:
December 30 – Morning: 7:00 a.m. to 8:00 a.m. Evening 1:00 a.m. to 3:00 a.m.
December 31 – Morning: 7:00 a.m. to 8:00 a.m.
Magic Kingdom Park Schedule Dec 30 & 31
See our New Year's Eve Dining Section for New Year's Eve meals offered in the Magic Kingdom.
TheMouseForLess Tips
• See the Magic Kingdom's special New Year's Eve fireworks on December 30th when they are also shown and the park stays open until 3:00 a.m. for resort guests. This park is insanely crowded on New Year's Eve! Plus, you'll be able to see a second New Year's Eve celebration at Epcot or Disney's Hollywood Studios. If you have your heart set on attending this park on New Year's Eve, however, be sure to be inside before 10:30 a.m. as the park could close to some or all visitors for brief periods throughout the afternoon.
• Frontierland and Tomorrowland New Year's Celebration Dance Parties will allow you to put on your dancing shoes and boot-scoot with a hoppin' beat 'til midnight in Frontierland. Or jump start the New Year with an upbeat get-together in Tomorrowland, blasting into 2018 with futuristic tunes.
• While alcoholic beverages are readily available at outdoor kiosks and stands in Disney's Hollywood Studios, Epcot, and Disney's Animal Kingdom, Magic Kingdom park does not serve alcohol with the exception of select beers and wines available at the Be Our Guest Restaurant, Jungle Skipper Canteen, Tony's Town Square, Liberty Tree Tavern, and Cinderella's Royal Table. Thus, while Magic Kingdom does get extremely crowded on New Year's Eve, it tends to throw the most kid/family-friendly celebration.
• Hats and Horns will be distributed to Guests on December 31.
• Due to heavier crowds, consider dining during non-peak hours, avoiding noon until 2:00 p.m. and from 6:00 p.m until 8:00 p.m.
• To help with elevated crowds, Disney usually opens up some backstage areas for special entertainment and also as extra exits for after midnight. Also, consider staying in the park after midnight to avoid the rush to the parking lot.
• The New Year's Eve fireworks in the Magic Kingdom are spectacular and are shot over the castle as well as all around the park perimeter. Even the midnight countdown is done in fireworks that form the actual numbers. Those wishing to view Magic Kingdom's special fireworks from outside the parks can do so from the observation deck on the 4th floor of the Contemporary Resort, from the beaches (piped in music) of the Polynesian Village Resort, from the marina dock (piped in music) at the Grand Floridian Resort and from Transportation and Ticket Center along the walkway to Ferry loading area (breathtaking free views with piped in music), as well as restaurants such as California Grill or Narcoose's, or for a large group a fireworks cruise (see Epcot tips for more info on special event firework cruises).
• During the holidays, many Walt Disney World Resort quick-service restaurants issue dining receipts with a coupon for 20% off merchandise at select shops during hours before 1 p.m. While coupons have an expiration date, they do not have to be used the same day they are issued.
New Year's Eve at Epcot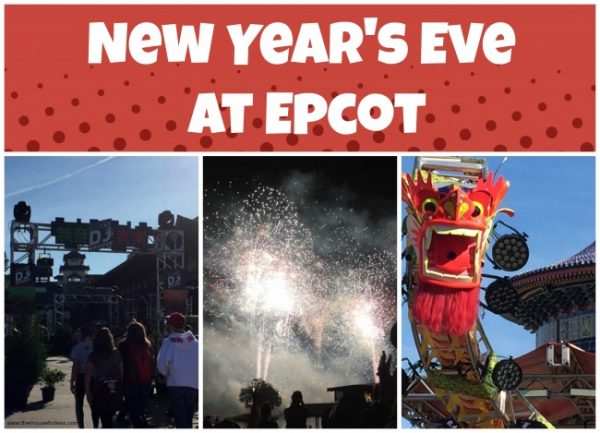 Epcot Park Hours
2017 Hours Dec 31: 8:00 a.m. to 1:00 a.m.
Park Schedule Dec 31
IllumiNations Peace on Earth holiday version – 6:30 p.m.
IllumiNations New Years Eve version with Countdown & Fireworks – 11:40 p.m.
Live New Years Eve DJ Parties
Live DJ dance parties will be featured throughout Epcot on New Year's Eve, including in Future World on the Fountain Stage and at World Showcase at America Gardens Theatre. There are usually dance parties in the courtyards at Italy, United Kingdom and China as well. Epcot will be awash in changing colors from lasers and even flames jetting into the air above some dance party stages. Temporary Bars will be available on the promenade as well. Complimentary hats and noisemakers are handed out in the evening, as well.
DJ Dance Party Schedule

Epcot will feature DJs in both Future World and World Showcase. They will be found from 7:00 p.m. until 1:00 a.m. at the following locations:
the Future World Fountain Stage
China – flame effects and smoke-billowing dragon
United Kingdom – British Invasion
Italy – Euro-pop and lasers
Japan – "Silent Groove" party
America Adventure – America Gardens Theatre Stage
TheMouseForLess Tips
• Epcot's midnight fireworks include a special salute to each country as, one at a time, fireworks are launched over each pavilion and traditional music plays. Look for more fireworks over the pavilions during the countdown to midnight and a huge firework finale. Additional space is usually set up for New Year's Eve firework viewing on either side of the promenade walking from Future World to World Showcase.
• New Year's Eve is the one night of the year where guests can take backstage bypasses to quickly get from Future World to World Showcase. Typically, there is a bypass open between Test Track and Norway-China and one between Imagination and the Showcase Pavilion next to the U.K. Epcot will also usually add some high-end restroom trailers between Future World and World Showcase in anticipation of crowds and open up the grassy area where Future World and World Showcase meet for Illuminations viewing. Bring a blank to sit on and enjoy the show.
• Epcot is very popular with adults due to the sheer number of dining options at this park. There are also a couple of restaurants with a great view of Illuminations. None will guarantee a window or patio seat, but if you book your reservation at Spice Road Table in Morocco or Rose and Crown Tavern in the United Kingdom about 2 hours prior to the show, you might be lucky enough to score a prime viewing spot. Whatever your choice, make sure to make your dinner reservations well in advance.
• For a uniquely different way for a group to see Epcot's firework finale, consider booking a private fireworks cruise, complete with champagne! Securing one of these cruises is not for the faint of heart, however. Disney doesn't announce when it will begin taking reservations for special event fireworks cruises and availability is extremely limited. We suggest calling Disney's Recreation line (407-WDW-PLAY) as soon as phone lines open (7 a.m. EST) each morning, every day beginning six months out for a midnight boat. Yes, you heard right, every single day!
• Hats and horns will be distributed and will last until supplies run out.
New Year's Eve at Disney's Hollywood Studios
Disney's Hollywood Studios Park Hours
2017 Hours Dec 31: 9:00 a.m. to 12:00 a.m.
Park Schedule Dec 31
New Year's Eve Dance Party
Revelers will get the party started with a DJ dance party all around Center Stage in front of the Chinese Theatre with special projections on the theatre. The fun starts at 7:00 p.m. on Dec. 31.
See our New Year's Eve Dining Section for special meals and celebrations offered at Disney's Hollywood Studios Restaurants.
TheMouseForLess Tips:
• Of the 3 parks with midnight fireworks displays, historically, Disney's Hollywood Studios tends to be a little less crowded than the rest.
• For the best view of Disney's Hollywood Studios fireworks, find a spot on Hollywood Boulevard facing The Chinese Theater.
• Temporary bar kiosks will be set up for New Year's Eve at select locations throughout the park.
• New Year's Eve crowds in the park can be challenging for groups. Bringing as many cellphones as possible is great way to reunited with any members of your party that may have become separated and good tip for all of the parks, especially during overcrowded events.
• Complimentary hats and noisemakers will be available
New Year's Eve at Animal Kingdom
Animal Kingdom Park Hours
2017 Hours Dec 31: 8:00 a.m. to 9:00 p.m.
Extra Magic Hours for resort guests: 7:00 a.m. to 8:00 a.m.
Park Schedule Dec 31
No specific special New Year's Eve celebrations or events are held at Disney's Animal Kingdom park, however there will be a performance of the nighttime spectacular, Rivers of Light.
New Year's Eve at Disney Springs
There has been no fireworks at Disney Springs on New Year's Eve for the past few years. For those looking for fireworks, please see our Magic Kingdom, Epcot and Disney's Hollywood Studios sections above.
 The Edison at Disney Springs will host a gala Grand Opening on New Year's Eve 2017, with tickets now available at $150 (plus tax and gratuity) per guest. The Edison's doors will open at 7:30 p.m. to ring in 2018. A fully immersive dining experience, The Edison features multiple themed areas to explore, such as the Lab performance space, The Ember Parlour, Telegraph Lounge, The Patent Office, The Tesla Lounge, The Radio Room, and the Waterfront Patio. The ticket price includes tray-passed hors d'oeuvres, live-action food stations and a wide selection of beer, wine and premium spirits from 8:00 p.m until midnight; plus, a selection of coffee, desserts and a celebratory midnight toast to ring in the new year. A minimum age of 21 is required to attend this event. Guests arriving to The Edison Orlando are asked to adhere to a dress code. Men may wear slacks, jeans or dress shorts. No ball caps, sleeveless shirts or flip-flops are permitted. Jackets are optional.
Walt Disney World Resort guests should plan to take Disney bus transportation and drivers should allow extra time as heavy traffic is expected.
Additional Entertainment Info
See our New Year's Eve Dining Section for additional meals offered at Disney Springs.
New Year's Eve at Walt Disney World Disney Resorts
If you plan on staying at a Disney resort, book your hotel as far in advance as possible. This is an extremely busy time of the year. Availability for on-property hotels is limited and will go fast. We're not kidding! To make travel after the party easier, decide which park you will celebrate in and book the closest hotel you can afford or one with the best direct access. As an added bonus, resort hotel guests are usually treated to evening Extra Magic Hours in several of the parks on either December 30 (Magic Kingdom) or 31 (Disney's Hollywood Studios). This is great for those who would like to stay late and ride the rides with limited crowds.
If the crowds in the parks aren't for you and you can afford the cost of staying at a Disney Deluxe resort, you're in luck! Almost every Deluxe resort holds a celebration of its own. Registered guests at select Disney resort hotels will be treated to live music and entertainment. For example, the Grand Floridian resort usually has a "big band" playing in the lobbyand the Boardwalk Inn has been known to throw a party on the resort's lawn with a live DJ. Check with the front desk or concierge desk for details.
Children's Activity Centers: Children's activity centers for children 3-12, located in select Deluxe resorts have stayed open until 2:00 a.m. on New Year's Eve. For reservations call 407-WDW-PLAY or contact the resort's Lobby Concierge.
Atlantic Dance Hall at Disney's BoardWalk invites you to ring in the new year with a great music and high spirits. For $42.60 (tax included, but not gratuity), Guests can enjoy tasty treats, party hats and horns, a view of Epcot fireworks, and a champagne toast at midnight. Doors open at 9:00 p.m. Guests must be 21 years or older with valid ID to enter. For reservations, call 407-WDW-DINE.
See our New Year's Eve Dining Section for additional meals offered at Disney Resorts.
Special New Year's Eve and New Year's Day Dining
Special dining opportunities are offered at many resort and park restaurants for both New Year's Eve and New Years Day. From lunches and dinners to a New Year's Day brunch, there are more than a dozen spots for ringing in the New Year. For reservations or additional information for any of the meals or celebrations listed below call 407-WDW-DINE.
Epcot

Monsieur Paul in the France Pavilion will be celebrating New Year's Eve beginning at noon with seatings throughout the day and evening.
Lunch – from 12:00 p.m. – 6:30 p.m. take part in a special prix-fixe lunch for $89 per person (adult or child) plus tax and gratuity.
Dinner – Starting 9:00 p.m., take part in a special prix-fixe dinner for $245 per adult ($310 with wine) plus tax and gratuity

 La Hacienda in the Mexico Pavilion will be celebrating the end of 2017 with a 5-course, prix fixe dinner. Savor a celebratory feast while being able to have  a great view of the fireworks as mariachis serenade you into the new year. This holiday event includes lavish, Latin libations throughout the evening—including a welcome margarita, a tequila pairing with appetizers, a glass of wine to complement the Surf and Turf main course and liquor with dessert for a sweet ending. This special event costs $280.12 per adult and $73.54 per child—tax and gratuity included. The party will last from 9:30 p.m. to 1:00 a.m.

New Year's Eve Buffet Dinner – Sip and dip your way into 2018 by indulging in a lavish buffet of savory foods and decadent desserts at this ticketed event in World Showplace. Call (407) WDW-DINE (3463).
Disney's Hollywood Studios

A special holiday dinner buffet called Minnie's Holiday Dine at Hollywood & Vine will take place.
Disney Springs
The following locations will offer special menus on December 31:
For New Year's Eve, Paddlefish will be serving their Surf & Turf with filet, cold water lobster tail, crab hollandaise and herb roasted potatoes for $49.  Reservations aren't necessary to enjoy these specials but they can be made on their website. Photos coming soon!
Additional food and beverage carts will be located throughout Disney Springs serving cocktails, beer, wine, and small bites.
Walt Disney World Resorts
Special dining for ringing in the New Year is planned at the following Disney resort restaurants:
Disney's BoardWalk Inn

 Spend the evening at the Atlantic Dance Hall with a New Year's Eve Bash. Here's you'll experience rockin' music and tasty treats like soft pretzels, churros, and other sweet and salty snacks. In addition, you can celebrate the new year with complimentary party hats and horns, a view of Epcot's fantastic New Year's Eve fireworks, as well as a champagne toast at midnight. The party begins at 9:00 p.m. and guests must be 21 years or older.
Disney's Contemporary Resort

California Grill This year, you can take your pick from a trio of unforgettable events at this Magic Kingdom-area Resort hotel destination. There are two options just for adults… and one the whole family is sure to love:
Disney Countdown to Midnight — Celebrate the new year at California Grill with delectable dining, live music and a spectacular fireworks display
Down In New Orleans: A Disney New Year's Eve Dining Experience — Enjoy a taste of New Orleans during a festive feast inspired by The Princess and the Frog
Pixar Party: A New Year's Eve Celebration — Be immersed in the magic of popular Disney·Pixar films during this family-friendly holiday event

California Grill New Year's Eve Hollywood Hideaway (SOLD OUT) – Swing in the New Year with "stars and starlets" high in the sky at this cool and classy California Grill get-together. Schmooze the last hours of 2017 away at this "Rat Pack" inspired shindig where favorite Disney characters make a guest appearance and the evening caps off with spectacular views of Magic Kingdom fireworks.

  At Chef Mickey's, on January 1, celebrate with a traditional New Year's Day meal—one featuring seasonal and holiday favorites, and all of our regular buffet items too! Characters who may appear include Mickey Mouse, Minnie Mouse, Donald Duck, Goofy, Pluto. The New Year's Day holiday dinner at Chef Mickey's takes place from 11:00 a.m. to 9:00 p.m. and is available for $53 for adults and $32 for children 9 and under (tax and gratuity not included).
Disney's Fort Wilderness Resort

 Ring in 2018 with a festive BBQ feast, live entertainment and exciting activities. with bluegrass music, a DJ, a video feed of Times Square and fantastic fun for all ages. Guests should also be on the lookout for Mickey and Minnie, as well as Chip 'n Dale. At the end of the evening, sip champagne as you enjoy a breathtaking fireworks display. The party begins at 8:30 p.m. and costs $95 per adult and $75 per child. Guests will be able to enjoy a buffet featuring mouthwatering favorites including:
A variety of meats, including smoked chicken, baked salmon, beef brisket and Italian sausage
Lobster macaroni and cheese
Baked potatoes and assorted toppings
Hot vegetarian meal
Assorted cold salads, including kale salad, jicama carrot salad and roasted beet salad
Appetizers, including a cheese board, vegetable crudités, crackers, breads and fresh fruit
Kids' options, like chicken nuggets, macaroni and cheese, hamburgers, hot dogs, fresh green beans and salad
Assorted desserts, like mini s'mores mason jars, cherry cheesecake and chocolate truffles
Additional Dining Options

For those who don't have reservations, you can always try dining at one of the many lounges across the Walt Disney World Resort Hotels including the lounge at Cítricos at Disney's Grand Floridian Resort & Spa; Crew's Cup Lounge at Disney's Yacht Club Resort, and Victoria Falls Lounge at Disney's Animal Kingdom Lodge.
Swan and Dolphin Resort
Guests can enjoy a variety of New Year's Eve options at resort restaurants. For more Swan and Dolphin holiday dining information, visit the Swan and Dolphin web site.