August – November 1, 2018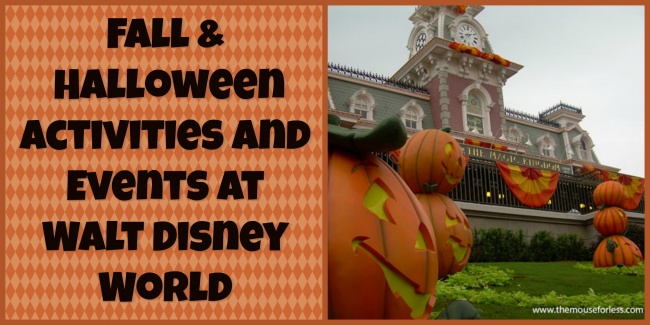 2018 Fall and Halloween Activities and Events at Walt Disney World
There's just so much to do at Walt Disney World during the Fall and Halloween season. In addition to Mickey's Not-So-Scary Halloween Party in the Magic Kingdom there are special decorations, treats, and events throughout the parks and resorts. Take a look at some of the great, spooktacular fun.
Magic Kingdom Epcot Disney's Hollywood Studios  Disney's Animal Kingdom Disney Springs Disney Resorts  Halloween Treats  Halloween Merchandise
Magic Kingdom
Halloween Decorations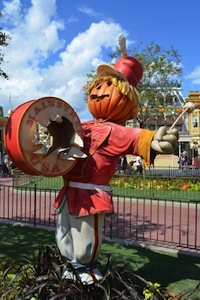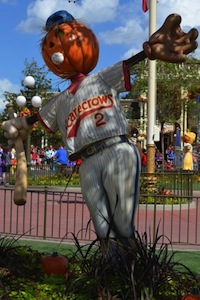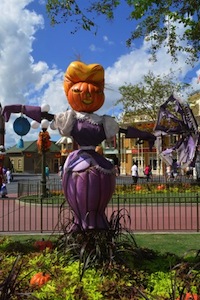 The Magic Kingdom park will be decked out for Halloween beginning late August/early September with decorations on Main Street U.S.A. and in Liberty Square. Be sure to check out are the pumpkin citizens—scarecrow-like creations found in Town Square on Main Street U.S.A. You'll find a fun pumpkin photo opportunity in Town Square, too.
Next, as you pass through Main Street, look around you at all of the beautiful fall foliage, as well as the carved pumpkins found in the upper story windows. You'll also find some holiday-themed statues of your favorite Disney characters in costume in the Main Street USA cut through area located near the Town Square.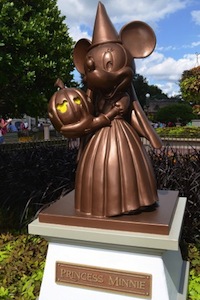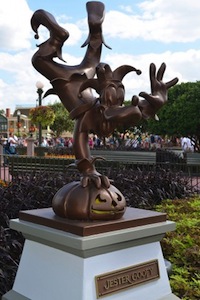 Catch HalloWishes Outside of the Magic Kingdom
With a Disney Villain theme, HalloWishes is quite possibly the best fireworks show offered at the Walt Disney World Resort. The show only takes place in the Magic Kingdom only during Mickey's No-So-Scary Halloween parties. Unlike Magic Kingdom's standard fireworks that are fired directly over the castle only, the party fireworks are 360 degrees around the Magic Kingdom perimeter as well.
Those wishing to view HalloWishes fireworks from outside the parks during Mickey's Not-So-Scary Halloween Party nights can do so from several locations. The observation deck on the 4th floor of the Contemporary Resort, the beaches of the Polynesian Resort (with piped in music), the marina dock at the Grand Floridian Resort (with piped in music) and the Transportation and Ticket Center along the walkway to ferry loading area (breathtaking free views with piped in music) are among the most popular viewing locations. Guests may also view the spectacular at a few select restaurants, such as California Grill and Narcoossee's.
Guests may also consider taking part in one of the private Magic Kingdom firework cruises.  Via this cruise Guests can experience an exclusive dessert party and unique fireworks viewing experience on Seven Seas Lagoon where guests will enjoy decadent desserts, specialty beverages (alcoholic and non-alcoholic) and a one-of-a-kind perspective of HalloWishes.
Epcot
Epcot International Food and Wine Festival
This annual event transforms Epcot into a food and wine lover's paradise! Try delicious foods, wines and beers from around the world at special marketplaces set up throughout World Showcase.
Growing in scope as one of America's top food festivals each year since 1996, the Epcot Food and Wine Festival, which is held in the fall, will feature inspired sips and bites throughout the park's World Showcase and Future World. Guests will have a chance to mix and mingle with celebrity chefs, experience hands-on culinary workshops and demonstrations at the Festival Center, and get their gourmet groove on at nightly Eat to the Beat concerts. You won't want to miss it!
Disney's Hollywood Studios
Halloween Dining
Things get spooky at Hollywood & Vine's lunch and dinner character meal called Minnie's Halloween Dine which takes place form beginning September 3 through November 8. During this dining experience, Minnie and her pals will gather for a frightfully festive Halloween feast. Guests can pose for photos with some of their favorite Disney Characters dressed in Halloween costumes and participate in fun table activities.
Minnie's Halloween Dine costs $50 per adult and $30 per child, plus tax and gratuity. Some dining plans are accepted.
Reservations for Minnie's Halloween Dine can be made by calling 407-WDW-DINE.
Disney's Animal Kingdom
Halloween Decorations & Activities
In the past, park guests have been treated to Halloween themed arts and crafts and other Halloween activities at Rafiki's Planet Watch.
Disney Springs
Photo Spots
Looking for some great fall fun? Look no further than Disney Springs. Guests are encouraged to stop at one of the different Halloween-themed photo locations. Guests should also keep an eye out for PhotoPass photographers who will be roaming property with fun fall-themed props.
Entertainment
In the past in the evening, Guests were able to experience special entertainment offerings. Halloween music haunts the Disney Springs promenade with a nightly family-friendly DJ Dance Party near Once Upon a Toy. Also, guests may come across other entertainment offerings like stilt-walkers.
Treats
Of course, treats are important. Be on the lookout for great seasonal indulgences. 2018 treats included:
YeSake
Harvest Fresh Bowl – a customizable bowl featuring sliced chicken breast, spinach, kale, carrot, dried cranberries, and sliced almonds tossed in a sweet Vidalia onion dressing. Also available as a wrap
Apple Cinnamon Sangria – complex flavors abound in this unique sangria featuring Japanese plum wine, orange, and lemon chilled down with frozen apples and finished with a sprinkle of sweet cinnamon
Enzos Hideaway
Fall Harvest Soup – roasted apple and winter squash soup with spiced mascarpone cream and spiced candied nuts
Pumpkin White Russian – Hangar 1 Vodka, Monin Pumpkin Spice, heavy cream, with a sprinkled sugar rim glass
WonderFall Promo Small Plate – pomegranate chili-glazed shrimp with butternut squash ginger purée and cranberry agrodolce
Pinot Grigio, Gabbiano, Delle Venezie, Italy – a light-bodied wine with a long finish that reveals hints of citrus and almonds
Maria & Enzo's
Fabulous Fall Butternut Squash Gnocchi – handmade ricotta gnocchi, roasted butternut squash, parmesan cream sauce, and pumpkin seed pesto
Medici Punch – Tuaca, Bulleit Bourbon, with charred cinnamon cider
Morimoto Asia
Cantonese Style Crispy Berkshire Pork Belly – autumn 5-spice rub, maple bourbon koshu gastrique, and lychee cranberry chutney
Fall All Over – a smooth, decadent blend of Rémy Martin, Averna Amaro, lemon, apricot preserves, and a spritz of cinnamon
Jock Lindsey's Hangar Bar
Bavarian Roasted Pork Shanks – tender, bite-sized "pig wings" tossed in an Oktoberfest beer sauce and served with fried spatzle mac and cheese
Air Pirate's Pretzels – Oktoberfest-themed flight of pretzels with spicy German mustard and beer cheese fondue
Autumn Smash – fall into the season with Captain Morgan Rum, lemon juice, peach nectar, simple syrup, and a touch of cinnamon
The Boathouse
Lucky Dux Oysters – half shell by the piece with green apple Champagne mignonette sauce
Bronzed Maple Coffee – whiskey, muddled candy, coffee, and maple whip cream garnished with a dusting of maple powder and candy
Raglan Road Irish Pub and Restaurant
Pumpkin Crème Brûlée Trart – pumpkin crème brûlée baked in a pastry shell with fried cheesecake bites, caramel toile, and chocolate ganache
Pumpkin Baileys Irish Coffee – Baileys pumpkin spice with fresh espresso topped with whipped cream
Braised Pork Shoulder – apple cider reduction with autumn spices and cauliflower purée
Paddlefish Hard Apple – apple cider, bourbon, and ginger beer, garnished with a cinnamon stick
B.B. Wolf's Sausage Co.
Smoked Sausage – with beer cheese sauce, bacon, and apple braised red cabbage on a Tuscan roll
Stella Artois Apple Cider – clean, crisp, and perfectly balanced with a little peach taste. Delicate apricot notes complement its fresh apple flavor
The Daily Poutine
Oktoberfest Poutine – stout gravy, bratwurst sausage, cheese curds, and cilantro
Ace Pineapple Cider – a balanced, crisp, natural offering made with fresh pineapple offering a sweet taste and tart finish. This pineapple cider was the first developed in the world
Caramel Apricot Cobbler – Verrine with apricot topped with sugared almonds and buttermilk panna cotta
Fall Harvest Petit Cake – cinnamon and nutmeg chiffon cake, layered with Calvados salted caramel mousse, cranberry cherry pate de fruit, and roasted hazelnuts
Apple Cider Riesling Wine Slushie
The Polite Pig
Fall Harvest Taco – apple cranberry-glazed smoked pork belly, soft corn tortilla, pumpkin-apple slaw, pepitas, and picked onions
Apple Cider Whiskey Sour – straight rye whiskey, apple cider, lemon, brown sugar, and cinnamon
Apple Whisky Jam and Smoked Sausage Burger – smoked gouda, lettuce tomato, and caramelized onions
Pumpkin Shake – Pumpkin, caramel, and graham crackers swirled together for a tasty fall treat
Additional Delights
4R Cantina Barbacoa Food Truck – Pumpkin Spice Churro Balls
AristoCrepes – Brie Cheese and Bosc Pear Crepe with Orange Blossom Honey
Chicken Guy! – Cinnamon Apple Milkshake
Disney's Candy Cauldron and Goofy's Candy Co. – Fall-Inspired Treats and Specialty Apples
Outdoor Vending Carts – Salted Caramel Pretzels and Pumpkin Churros (select carts only)
Sprinkles – Pumpkin Cupcake (Sept 1-30), Pumpkin Spice Latte Cupcake (Sept 10-23), Candy Apple Cupcake (Sept 24-Oct 7)
Fall-Inspired Hard Ciders at Dockside Margaritas and Select Outdoor Vending Carts
WonderFall Flavors at Disney Springs starts September 7 and runs through November 6.
Events at Select Disney Resorts
Return to Sleepy Hollow Experience
At Disney's Fort Wilderness Resort, you can have an experience with the Headless Horseman during the Return to Sleepy Hollow opportunity. During this event, Guests will view the 1949 Disney animated classic film The Legend of Sleepy Hollow inside the resort's Tri-Circle-D Ranch stables, but you will also get an up close encounter with the Headless Horseman. New for 2018 is a dessert party at 9:00 before or after the film depending on which showtime you are viewing. The Return to Sleepy Hollow experience will take place at 8:00 p.m. and 10:00 p.m. on:
September 29-October 2
October 5-9
October 12-16
October 19-23
October 26-31
There are 3 ticketing options for this event:
General : $22
Premium: $38
Ultimate: $60
The General admission includes a special pin, the headless horseman meet and greet, and the movie screening. The Premium admission includes a special treat bag and cup to take home. The Ultimate admission includes the new dessert party.
Guests age 3 and older, will receive an exclusive limited edition pin. Guests age 2 and younger will receive complimentary admission with their families, but they are asked to sit in a parent's lap. The Return to Sleepy Hollow experience can be reserved by calling 407-WDW-TOUR.
Halloween Activities
Most Disney resorts will have some special complimentary Halloween activities for guests on Halloween day that include a costume contest, spooky arts and crafts, special showings of Halloween movies at the resort pool or beach areas and possibly even trick-or-treating. Things really get jumping at Fort Wilderness Cabins and Campground. Highlights take place October 30 and 31, with a decorated Halloween Golf Cart Parade and a Camp Site & Cabin Decorating Contest. It's well worth the visit to Fort Wilderness sometime mid-October or later to see some of the elaborate decorations campers have on display.
All Disney resorts should be showing Halloween themed-movies the weekend of Halloween. Movies take place nightly at resort beach and pool areas. To see a schedule of movies playing for the current month at your resort, visit our Movies Under the Stars page and click on the "Activities" link for your resort.
Disney Resort Halloween In-Room Celebrations
If you'll be staying at the Walt Disney World Resort this fall, Disney Floral & Gifts has unique offerings for Halloween. There are a couple of different options available, currently a villians package and ghouls and ghosts night package. To learn more call a Disney Floral & Gifts Dream Maker 407-WDW-GIFT or visit Disneyflorist.com.
Halloween Treats
Halloween time at Walt Disney World resort brings with it a host of seasonal-themed treats. Here are just a few that have been available in the past few years:
Stop in the Main Street Bakery (Starbucks) for a bright orange Mickey Halloween Cupcake with chocolate cake filled with purple marshmallow fluff topped with orange vanilla buttercream, sprinkles and a white chocolate scarecrow Mickey. Also, there was a Mickey-shaped Cinnamon Roll with a spooky twist with orange icing and a chocolate spider web. At Plaza Ice Cream Parlor enjoy pumpkin-flavored ice cream.
Baked Goods & Confections: Pumpkin Fudge, Ghost Marshmallows; Mickey Pumpkin and Jack Skellington Cookies; Minnie Witch, Jack Skellington and Monster Caramel Apples; Candy Corn and Mummy Cupcakes and other assorted Halloween-themed Cupcakes and Cookies can be found at Main Street Confectionery or Bakery and at Big Top Treats in the Magic Kingdom or Candy Cauldron and Goofy's Candy Company in Disney Springs.
Skull Apple: Can be found at various confectioneries throughout the resort.
Halloween Popcorn Containers: Can be found at popcorn stands at all of the parks and refilled!
Halloween Merchandise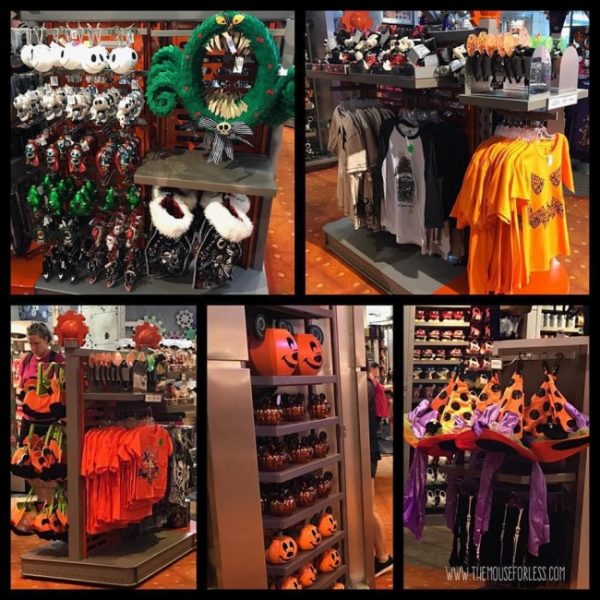 In recent years, the Halloween assortment of merchandise at Walt Disney World has grown to include a variety of items including home and decorative goods, plush, pins, souvenirs, apparel and more.
If you are headed to Mickey's Not-So-Scary Halloween Party at Magic Kingdom, be sure to look for select merchandise created especially for this annual event. A money saving tip is to check the Disney Outlet Stores for seasonal merchandise at the end of the season.