March 17, 2020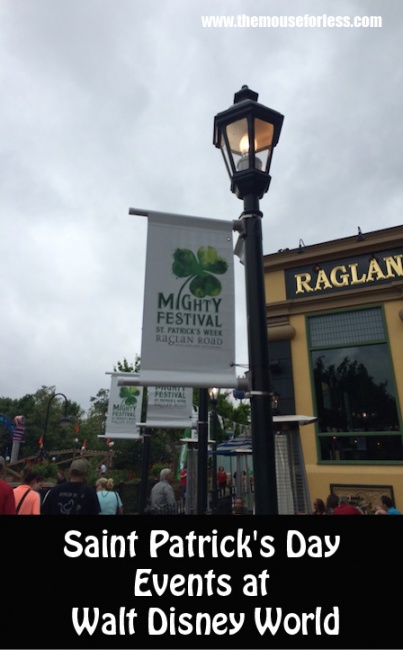 What better place to celebrate St. Patrick's Day at Walt Disney World than Raglan Road at Disney Springs? If you've been, you know you're always part of the entertainment at the pub and restaurant but Saint Patrick's Day is special. Raglan Road hosts a ceili, which is a fancy way to say a big Irish party with music and dance. Authentic Irish food, music and dance performances set the scene for a St. Patrick's Day celebration and the "wearin' of the green" at Raglan Road, a true Irish pub with Dublin roots, and throughout the surrounding Disney Springs area. Along with Irish dancing, there's fun for all the family including face painting, giveaways and lots of crazy St Patrick's Day memorabilia.
The following is for 2019. 2020 details will be updated when released.
2019 Mighty St. Patrick's Day Festival
March 15 – 17, 2019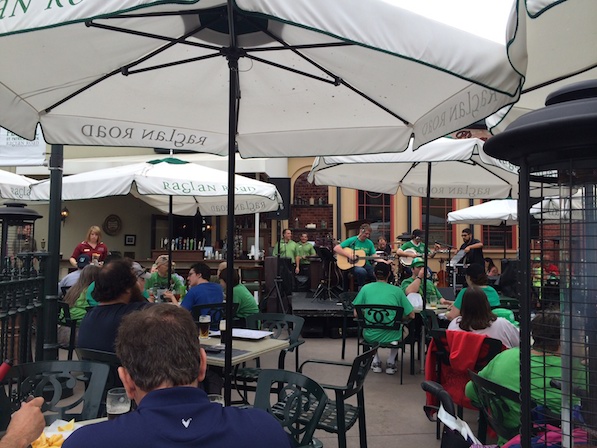 Raglan Road Irish Pub & Restaurant is painting the town green with their Mighty St. Patrick's Festival March 15-17. This authentic St. Patrick's Day celebration features inventive cuisine, live music, along with performances by award-winning Irish dancers. The festivities take place from 3:00 p.m. – 1:00 a.m. on Friday, March 16 and from 11:00 a.m. – 1:00 a.m. on Saturday, March 17 and Sunday, March 18.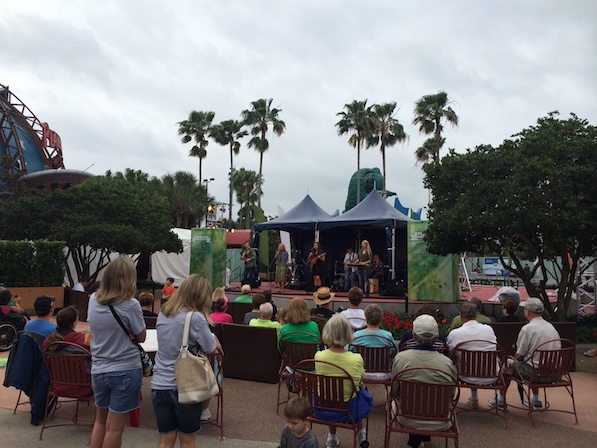 Celtic Face Painting is available for guests to enjoy on Friday and Sunday from 12:00 p.m. until 9:00 p.m. and on March 17 from 10:00 a.m. until 9:00 p.m. during the festival. The Raglan Road Dancers perform throughout the Mighty Festival. Schedule is subject to change without notice due to inclement weather. Please allow extra time for parking. Guests may find parking at the multi-level parking garage. Cover charge of $10 will apply to each guest 18 and over on March 17th only.
Performers
Young Dubliners – The Young Dubliners are known for their hearty rock and Irish-infused live performances.
Ben Gunnery – Irish music superstar and multi-instrumentalist has been soloist for high-profile productions like Riverdance and films including "Lord of the Rings" and the Harry Potter movies.
Briste — This inspiring all-female duo creates a fresh and exciting mix of country, folk and Irish traditional music.
The Byrne Brothers — Their show combines exciting Irish tunes with modern dance beats.
The Raglan Roots Coalition – This edgy house band is known for its soul-rockin' Celtic bluegrass with hip-swingin', knee-shakin' funky roots beats.
Reel Republic – Seriously talented musicians always pushing to make the next gig better than the last.
Trad Gad – Three talented musicians will charm Raglan Road audiences with their vibrant performances.
Maca – Three Irish sister-musician-songwriters dubbed "Ireland's next big thing" are rocking Raglan Road Pub stages with their extraordinary talent.
The Raglan Road Irish Dancers – The Raglan Road Irish Dancers perform throughout the Mighty Festival. You can even learn some traditional Irish dance steps – no experience necessary!
Dining
Of course Raglan Road is not the only place to enjoy the St. Patrick's Day festivities. Many other Walt Disney World restaurants are getting in on the fun.
You'll want to stop by the Rose and Crown Pub in the UK pavilion at Epcot on St. Patrick's Day for some green beer or cider. Be forewarned, however, that on St. Patrick's Day the lines at the pub and the outdoor beer tap can be very long.
Guests can also pick up additional Saint Patrick's Day-themed treats such as cookies, caramel apples, cupcakes and more can be found at bakeries and candy shops throughout the Walt Disney World Resort.
Shopping and More
Looking to shop around a bit? There's also some very unique shopping opportunities that are available just in time for the St. Patrick's Day festivities.
In the Magic Kingdom, stop by the Emporium for great plush, shirts, and more.
Catch live performers throughout every neighborhood at Disney Springs.
Grab themed snacks at many of the shops like The Confectionery, Main Street Bakery, Trolley Car Cafe, the Fountain View Cafe, and more.
At Disney Springs, get your photo taken with unique PhotoPass props and photo buttons.