April 22, 2018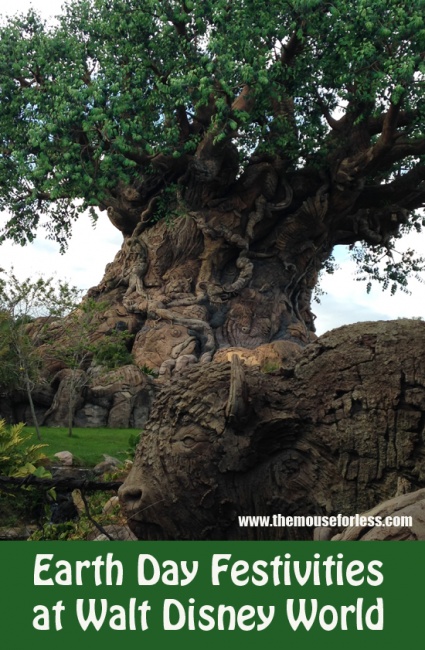 Earth Day sprouted as a grassroots event on college campuses and in local communities on April 22, 1970. Over 20 million people participated in the first Earth Day, and it continues to be celebrated around the world. Earth Day has evolved into a yearly celebration with Disney–in the parks, in the theaters and at the Disney Stores.
Disney's Animal Kingdom theme park opened its doors on Earth Day, April 22, 1998, giving families a whole new way to appreciate, enjoy and interact with animals, and Disney an even bigger reason to celebrate Earth Day. In 1998, an elaborate grand-opening ceremony was attended by a crowd of 2,000, with primatologist Jane Goodall, Ph.D., playing a special role in the festivities. Then-CEO Michael Eisner introduced the theme park to the world, calling it "a kingdom we enter to share in the wonder, gaze at the beauty, thrill at the drama and learn."
2018 will mark the 20th anniversary of Disney's Animal Kingdom and Walt Disney World will be celebrating with a two week event.
Party for the Planet Tours Tips
Party for the Planet
Each year Earth Day events at Disney's Animal Kingdom integrate animal themes to create fun activities for the whole family to enjoy and learn about conservation. Animal Kingdom's Party for the Planet events are held throughout the park. Throughout the day, Guests can discover fun and engaging activities throughout every land in the park. These activities are designed to encourage Guests to connect with nature. The offerings around the park are a special way for Guests to connect with nature and gives them a chance to meet a Conservation Guide and see first-hand how Disney monitors wildlife and is working to reverse the decline of endangered species around the world. Party for the Planet activities are unique each year and included with regular admission to Disney's Animal Kingdom.
In 2018, Party for the Planet will take place from April 22 through May 5. The majority of the events will take part on Earth Day, April 22.
Event Highlights
To kick off the event, there will be a Special Welcome Celebration for the 20th Anniversary of Disney's Animal Kingdom in front of the Tree of Life, featuring music, dancers and some of your favorite Disney characters. Exclusive
Guests will be able to find exclusive 20th Anniversary Disney's Animal Kingdom frames that are part of the "Reverse the Decline" campaign and highlight animals supported by the Disney Conservation Fund and have their photos taken by Disney PhotoPass.
Wilderness Explorers will have a special limited-time badge location that will allow Guests to learn how to better connect with nature while on vacation, as well as once they return home.
With Rafiki's Planet Watch Backstage Experiences, Guests can meet animal ambassadors, participate in unique mini-tours, learn about animal nutrition, visit the state-of-the-art veterinary hospital, hear how Disney promotes global wildlife conservation and more.
Guests will also want to be on the lookout for commemorative 20th Anniversary merchandise. Items will be inspired by nature and wildlife, like plush toys, apparel and more. Special Party for the Planet and 20th Anniversary commemorative souvenirs are also available.
In addition, there will be a special-edition lunch menu at Tiffins, themed treats throughout the park and new Penny Press designs celebrating the Disney Conversation Fund. You'll also be able to transform your look with a nature-inspired design from a face-paint artist.
Educational Activities
The Party for the Planet will feature family-friendly activities that will delight nature-lovers of all ages. Guests will be able to learn more about the many majestic animals at Disney's Animal Kingdom from Animal Care Experts. Additional experts will be on hand throughout Party for the Planet, meaning you'll have more chances to see animal enrichment programs, trainings and feedings, and ask the experts questions about animals.
Tiffins Talks
Tiffins Talks are intimate four course dining experience that will take place at the signature restaurant Tiffins. This even will allow Guests to enjoy specialty food and beverages that complement the topics at hand that are shared by one of the park's very own animal and conservation experts. Tickets for this event cost $165.00 per person (tax and gratuity included) and the event begins at 5:30 p.m.
Dates and Speakers
Sunday, April 22 – Dr. Joseph Soltis, a research scientist at the park, will speak about the "Elephants and Bees" project in which honeybees are helping people and elephants in Kenya. The menu will feature African cuisine.
Wednesday, April 25– Joe Rohde, a veteran Imagineer, will share tales from his adventures all over Asia, India, Nepal and China. The chefs of Tiffins will follow Joe's journeys with a menu inspired by his travels.
Friday, April 27 – Dr. Jason Fischer, one of the park's Conservation Program Managers will speak about Disney's efforts to conserve the purple martin, a remarkable migratory songbird that travels to Walt Disney World Resort from the Brazilian Amazon to raise a family each year. The menu will feature North American cuisine.
Sunday, April 29 – Rachel Daneault, one of the park's Zoological Managers, will talk about the Gorilla Rehabilitation and Conservation Education Center (GRACE) project that Disney supports in the Democratic Republic of Congo. The menu will feature African cuisine.
Wednesday, May 2 – Dr. Anne Savage, the park's Conservation Director, will speak about the cotton-top tamarin conservation project Disney supports in Colombia. The menu will feature South American cuisine.
Friday, May 4 – Dr. Scott Terrell, Director of Animal and Science Operations, will chat about caring for the Sumatran tigers that call Disney's Animal Kingdom theme park home, as well as the conservation work Disney is doing to protect tigers in Asia. The menu will feature Asian cuisine.
Keep in mind that Disney's Animal Kingdom theme park admission is also required and is not included in the price of Tiffins Talks. In addition, Disney Dining Plan entitlements may not be used for this event. In addition, discounts are not eligible for this event.
Food
What's a celebration without tasty treats like Earth Day and Tree of Life cupcakes at Creature Comforts, Pizzafari, Flame Tree Barbecue and Restaurantosaurus. In addition, a delicious plant-based Impossible Burger is on the menu at Restaurantosaurus, and Earth Day Sliders (mini Impossible Burgers) are available in Nomad Lounge.
Tours
A Path Less Traveled – Disney's Animal Kingdom 20th Anniversary
During this tour, you'll receive an insider's glimpse at what goes into making the magic of nature come to life at Disney's Animal Kingdom for the past 20 years.
During the tour, Guests will be able to experience:
A Visit to Rafiki's Planet Watch where you'll go backstage and learn about the animal care program at our state-of-the-art veterinary hospital. You'll also get a behind-the-scenes peek at the Animal Nutrition Center, which is the meal prep headquarters for more than 1,500 animal residents.
During the Birds Nest Exploration, Guests will play conservationist and check on the homes of the purple martins, a species that migrates to Walt Disney World every year.
Delve into the wondrous world of our park's largest inhabitants during a one-hour Caring for Giants tour.
Receive VIP Viewing of Rivers of Light nighttime show along the water from the comfort of a premium seat.
The tour begins at 11:00 a.m. and check-in is at Curiosity Animal Tours Kiosk at 10:30 a.m. The cost of the tour is $59.00 per person and Guests must be at least four years old or older to participate.
The Mouse For Less Tips
Want to make sure you find out about all the activities taking place during the Party for the Planet? Pick up a Times Guide at the park when entering for the day.