April 14, 2017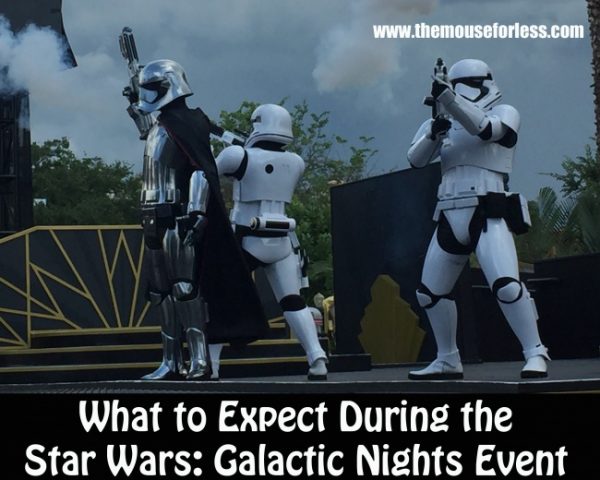 This event has sold out. There is no word on if Disney will hold another Star Wars: Galactic Nights event in the future.
Attention Star Wars fans! Disney's Hollywood Studios is going to be holding the ultimate event this April to celebrate all things Star Wars. Star Wars: Galactic Nights will take place on April 14 from 7:00 p.m. until midnight. This family-friendly event invites Guests to dress up as their favorite Star Wars character and take part in activities and experiences exclusive to this particular hard ticket event night. Guests who attend the event will be able to experience Star Wars like never before during this glitzy, Hollywood-inspired evening.
The event will be themed after a movie-premiere-style party where Guests of all ages can come together and celebrate 40 years of the Greatest Saga Ever Told. The best part is that Star Wars: Galactic Nights will be taking place in the midst of this year's Star Wars Celebration! Guests of all ages are encouraged to put on your finest Star Wars-themed costumes and attire, and walk the red carpet. Experiences will include motorcades, shows, characters, photo opportunities, and many of your favorite Disney's Hollywood Studios attractions! In addition, Star Wars: Galactic Nights event will also include AWR Trooper sightings, roaming droids, Star Wars-themed food and beverage options, special merchandise and much more.
Tickets are available for the Star Wars: Galactic Nights $124 per child (ages 3-9) and $129 per adult (ages 10 and up) (plus tax). There is a Disney Vacation Club and Passholder discount available. Tickets for Star Wars: Galactic Nights are extremely limited; call 407-827-7036 for more information.
Rebel Base
Guests will start their evening at the Rebel Base Event Hub, found at the center of the park. At the Rebel Base, there will be multiple shows, events, dance parties and stunning, interactive projection featuring iconic Star Wars scenery.  For those who enjoy the popular weekly starwars.com series, "The Star Wars Show" you'll be able to catch a filming of the show live, on location. You will also be able to experience Celebrate the Saga, during which you'll have the opportunity to take off on an interactive journey that chronologically celebrates the milestones of Star Wars. Showtimes are at 9:15 p.m. and 11:15 p.m.
Epic Theater
After a brief pre-show warm-up featuring the hosts of "The Star Wars Show," Andi Gutierrez and Anthony Carboni, Guests will be able to watch Vanessa Marshall, the voice of Hera Syndulla from Star Wars Rebels, who will serve as host of the "Inside the Saga: Celebrity Chat Show" that will take Guests behind the scenes of Rogue One: A Star Wars Story.  Showtimes are 9:00 p.m., 10:00 p.m., and 11:00 p.m.
During "Inside the Saga – Behind the Magic", you will be able to learn what it takes to make some the film's most beloved moments, as a crew member explains all that goes into bringing the world to life.
Galactic Nights Stars in Cars Motorcade
Star Wars celebrities will be welcomed in a procession down Hollywood Blvd.  The parade starts at 8:05 p.m. and he motorcade begins at the park entrance and ends by Star Tours.
Star Wars: A Galaxy Far, Far Away
Guests will be able to experience this popular stage show that features clips of the best moments from the film saga as well as on stage character moments, including Chewbacca, Darth Vader, Kylo Ren and more. Showtimes are  7:45 p.m., 8:50 p.m. and 10:50 p.m.
Star Wars: A Galactic Spectacular
Unique to the evening will be a special interactive pre-show on the main stage, just prior to the popular fireworks spectacular to end the night. The Galactic Nights Epilogue will begin at 11:40pm and the fireworks will begin at 11:45 p.m.
Jedi Training: Trails of the Temple
Young Padawans learn the ways of the Force at a sacred Jedi temple. Guests must be between the ages of 4 – 12. Space is limited and sign ups located near Indiana Jones Outpost. Showtimes are 7:45 p.m., 8:45 p.m., 9:45 p.m., 10:45 p.m.
March of the First Order
Captain Phasma leads a unit of First Order Stormtroopers down Hollywood Boulevard in a unique march. Showtimes are 8:30 p.m. and 10:30 p.m.
Imperial March
Darth Vader will lead a battalion of Stormtroopers to the Rebel Base. Begins at Star Tours to the Rebel Base at Center Stage. Showtimes are 7:25 p.m., 9:25 p.m., and 11:25 p.m.
DJ Dance Party
At the Rebel Base, dance the night away from 7:00 p.m. to 7:25 p.m. and from 9:45 p.m. to 10:25 p.m.
Photo and Character Opportunities
During Star Wars: Galactic Nights, you'll be able to take unique photos that revolve around the Star Wars world. Backdrops will include Han Solo cast in carbonite, Jabba the Hutt's Palace, the Hoth Wampa Cave and more.
In addition, Guests will also be able to come face to face with favorite Star Wars characters. (Some will be appearing at Walt Disney World for the very first time!) Character Experiences will include:
Ewok Encounter: While walking through the forest of Endor en route to Star Tours – The Adventures Continue, you'll have an encounter with the Ewoks.
Stormtroopers on Patrol: As you board your vehicle in Star Tours – The Adventures Continue, you may come face-to-face with Imperial Stormtroopers patrolling the embarkation ramps in pursuit of a Rebel spy.
March of the First Order:  Captain Phasma will lead her squad of Stormtroopers up Hollywood Boulevard.
Imperial March: Darth Vader will lead a battalion of Stormtroopers down Hollywood Boulevard during a dramatic Imperial March to the event stage.
Characters at Star Wars Launch Bay: Visit the Cantina for a chance to meet with Boba Fett. You could also meet Darth Vader too.
Learn more about the photo experiences you'll get to participate in ere.
Seize the Saga Interactive Scavenger Hunt
During the Seize the Saga Scavenger Hunt, you'll need to find 8 takeaway clues located at each of the photo backdrops locations. After gathering all of the clues, Guests will then be encouraged to act out your very own mini scene or capture a heartfelt message about their love for Star Wars and will be able to post your moment on social media. Guests should tag photos or 10-second videos with #GalacticNights, #PhotoPass, and @StarWars.
Photo locations are:
Jabba the Hutt's Palace
Han Solo Frozen in Carbonite
Hoth Wampa Cave
Trash Compactor
Emperor's Throne Room
Rogue One
Speeder Bike
Attractions
Special for the event, Rock n' Roller Coaster will be feature a special Star Wars edition. Guests can take a journey through hyperspace int his not-to-be-missed experience.
During the evening, Guests will be able to enjoy the following attractions:
Star Tours – The Adventures Continue
Star Wars Launch Bay
Star Wars: Path of the Jedi
Jedi Training: Trials of the Temple
Toy Story Mania!
The Twilight Zone Tower of Terror
The Great Movie Ride
Muppet*Vision 3D
Voyage of the Little Mermaid
Dining
Skywalker Vineyards wines will be available at the bars located near the Rebel Base. General Manager Tom Johnson will be signing bottles.
In addition, various snack carts will feature lightsaber churros, specialty cupcakes, Chebacca steins, and TIE Fighter popcorn buckets.
Additionally, the following locations are open to Guests:
Hollywood Brown Derby Lounge
Min and Bill's Dockside Diner
Backlot Express
PizzeRizzo (until 8:00 p.m.)
ABC Commissary (until 11:30 p.m.)
Sunshine Day Cafe
Rosie's All American Cafe
Catalina Eddies (until 11:00 p.m.)
Fairfax Fare
Merchandise
Special event merchandise will be available at the following locations:
Legends of Hollywood – Star Wars apparal, gifts, and gear
Mickey's of Hollywood – Disney character gifts and park souvenirs
Keystone Clothiers – Men's and women's fashion and accessories
Launch Bay Cargo – Take home a piece of the sage, including life-size sculptures, autographed memorabilia, high-end movie prop replicas, print-on-demand photo cases, and more.
Tatooine Traders – Star Wars-inspired toys and apparel, build your own droids and lightsabers.
Costume Rules
While Disney certainly encourages creativity when wearing costumes to their events, they also value safety.
General
Disney reserves the right to deny admission to or remove any person wearing attire that is considered inappropriate or attire that could detract from the experience of other Guests.
All Guests may dress as their favorite character, but may not pose for pictures or sign autographs for other Guests.
Costumes must be family-friendly and may not be obstructive, offensive, objectionable or violent.
Costumes may not contain any weapons that resemble or could easily be mistaken for an actual weapon.
Costumes may not contain sharp objects, pointed objects or materials that may accidentally strike another Guest.
Guests who do not adhere to these guidelines may be refused entry into, and/or removed from, unless his or her costume can be modified to meet the above standards.
For Guests ages 13 and under:
Costumes and some masks may be worn, as long as the mask does not cover the entire face and eyes are visible.
For Guests ages 14 and older:
Layered costumes or costume props that surround the entire body are strongly discouraged and may be subject to additional security screening.
Costumes may not reach or drag on the ground. (e.g.,full-length Princess dresses)
Capes may be worn if the length does not go below the waist.
Themed T-shirts, blouses, sweatshirts, and hats are acceptable.
Acceptable accessories include: transparent wings, plastic light sabers, toy swords, and tutus. Headwear may be worn as long as it does not cover the face.
Masks of any kind may not be worn.