December 16, 2017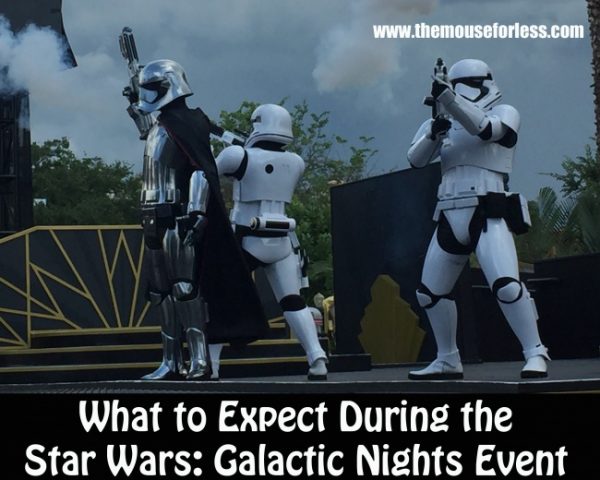 Attention Star Wars fans! Disney's Hollywood Studios is going to be holding the ultimate event this April to celebrate all things Star Wars. Star Wars: Galactic Nights will take place on December 16 from 7:00 p.m. until midnight. This family-friendly event invites Guests to dress up as their favorite Star Wars character and take part in activities and experiences exclusive to this particular hard ticket event night. Guests who attend the event will be able to experience Star Wars like never before during this glitzy, Hollywood-inspired evening.
The event will be themed after a movie-premiere-style party where Guests of all ages can come together and celebrate the Greatest Saga Ever Told. The best part is that Star Wars: Galactic Nights will be taking place in celebration of Star Wars: The Last Jedi! Guests of all ages are encouraged to put on your finest Star Wars-themed costumes and attire, and experience the fun. The event will include shows, characters, photo opportunities, and many of your favorite Disney's Hollywood Studios attractions! In addition, Star Wars: Galactic Nights event will also include AWR Trooper sightings, roaming droids, Star Wars-themed food and beverage options, special merchandise and much more.
Tickets are available for the Star Wars: Galactic Nights $124 per child (ages 3-9) and $129 per adult (ages 10 and up) (plus tax). Tickets for Star Wars: Galactic Nights are extremely limited; call 407-827-7036 for more information.
Rebel Base
Guests will start their evening at the Rebel Base Event Hub, found at the center of the park. At the Rebel Base, Guests will find a DJ dance party, as well as being the home for ongoing event information, hosted shows, interactive moments and more!
Epic Theater
In the Epic Theater, you will get to experience a one-night-only panel discussion called "Inside the Saga: A Galaxy in the Making" about building Star Wars: Galaxy's Edge. This unique event will be taking place multiple times throughout the evening and will be the place where you learn about exciting developments about the new expansion opening in 2019 at Disney's Hollywood Studios.
Star Wars: A Galaxy Far, Far Away
Guests will be able to experience this popular stage show that features clips of the best moments from the film saga as well as on stage character moments, including Chewbacca, Darth Vader, Kylo Ren and more.
Star Wars: A Galactic Spectacular
Unique to the evening will be a special interactive pre-show on the main stage, just prior to the popular Star Wars: A Galactic Spectacular fireworks show to end the night.
Jedi Training: Trails of the Temple
Young Padawans learn the ways of the Force at a sacred Jedi temple during Jedi Training. Guests must be between the ages of 4 – 12. Space is limited and sign ups located near Indiana Jones Outpost.
Jedi Recruitment Package
Young padawans will have chance to receive an enhanced Jedi-training experience. This special limited-time package includes:
Enrollment for one youngling in one show of Jedi Training: Trials of the Temple
Jedi Training: Trials of the Temple robe
Official Star Wars lightsaber
Personalized name badge
Exclusive Jedi Training: Trials of the Temple t-shirt
Picture with a Jedi Master—available via free digital download
The cost is $149.95, plus tax. To book a package, please call (407) WDW-PLAY.
March of the First Order
Captain Phasma leads a unit of First Order Stormtroopers down Hollywood Boulevard in a unique march.
Imperial March
Darth Vader will lead a battalion of Stormtroopers to the Rebel Base. Begins at Star Tours to the Rebel Base at Center Stage.
DJ Dance Party
At the Rebel Base, dance the night away.
Photo and Character Opportunities
During Star Wars: Galactic Nights, you'll be able to take unique photos that revolve around the Star Wars world. Step into iconic Star Wars scenes throughout Disney's Hollywood Studios where you will discover 3-dimensional photo opportunities throughout the park. You will be able to act out your very own mini-scene or capture a heartfelt message and post your moment on social media during the event.
Guests will also be able to pose in front of Star Wars-themed backdrops depicting popular scenes from the entire Star Wars Saga. Each backdrop will play an important role in the event's interactive Seize the Saga.
In addition, Guests will also be able to come face to face with favorite Star Wars characters. Character Experiences will include:
Ewok Encounter: While walking through the forest of Endor en route to Star Tours – The Adventures Continue, you'll have an encounter with the Ewoks.
Stormtroopers on Patrol: As you board your vehicle in Star Tours – The Adventures Continue, you may come face-to-face with Imperial Stormtroopers patrolling the embarkation ramps in pursuit of a Rebel spy.
Characters at Star Wars Launch Bay: Visit the Cantina for a chance to meet with Boba Fett. You could also meet Darth Vader too.
AWR Trooper Sightings: Spy these black armor-clad operatives scanning for rebels in the Animation Courtyard.
Seize the Saga Interactive Scavenger Hunt
During the Seize the Saga Scavenger Hunt, you'll need to find 8 takeaway clues located at each of the photo backdrops locations. After gathering all of the clues, Guests will then be encouraged to act out your very own mini scene or capture a heartfelt message about their love for Star Wars and will be able to post your moment on social media. Guests should tag photos or 10-second videos with #GalacticNights, #PhotoPass, and @StarWars.
Attractions
During the evening, Guests will be able to enjoy the following attractions:
Dining
Skywalker Vineyards Wine Seminar
Enjoy a seminar discussing Skywalker Vineyards. Guests will learn about the wine making process and have the ability to purchase tasting samples. Attendees of this free-admission experience will also have the opportunity to purchase full bottles to savor at home.
Galactic Tasting Sampler
During Star Wars: Galactic Nights, savor Star Wars-themed food and drinks as you taste your way around the galaxy. Tasting-sized sips and bites inspired by the stories and characters of Star Wars will be available at various locations throughout the park. With the Galactic Tasting Sampler, you can choose 5 of these items, which may include:
Lightsaber churros
Root Leaf Stew
Character cupcakes
Charcuterie plates featuring C3PO crackers
Specialty beverages
The Galactic Tasting Sampler is $30 per person, including tax.
Merchandise
Special event merchandise will be available.
Costume Rules
While Disney certainly encourages creativity when wearing costumes to their events, they also value safety.
General
Disney reserves the right to deny admission to or remove any person wearing attire that is considered inappropriate or attire that could detract from the experience of other Guests.
All Guests may dress as their favorite character, but may not pose for pictures or sign autographs for other Guests.
Costumes must be family-friendly and may not be obstructive, offensive, objectionable or violent.
Costumes may not contain any weapons that resemble or could easily be mistaken for an actual weapon.
Costumes may not contain sharp objects, pointed objects or materials that may accidentally strike another Guest.
Guests who do not adhere to these guidelines may be refused entry into, and/or removed from, unless his or her costume can be modified to meet the above standards.
For Guests ages 13 and under:
Costumes and some masks may be worn, as long as the mask does not cover the entire face and eyes are visible.
For Guests ages 14 and older:
Layered costumes or costume props that surround the entire body are strongly discouraged and may be subject to additional security screening.
Costumes may not reach or drag on the ground. (e.g.,full-length Princess dresses)
Capes may be worn if the length does not go below the waist.
Themed T-shirts, blouses, sweatshirts, and hats are acceptable.
Acceptable accessories include: transparent wings, plastic light sabers, toy swords, and tutus. Headwear may be worn as long as it does not cover the face.
Masks of any kind may not be worn.