January 24-27, 2018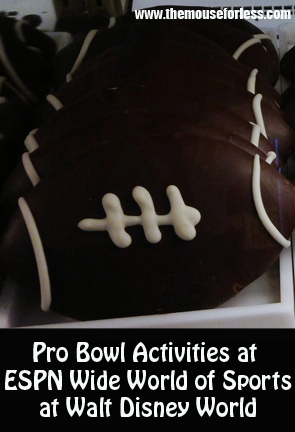 In 2018, the NFL Pro Bowl will take place in the city of Orlando! The NFL will celebrate its brightest stars of today and tomorrow with a week of Pro Bowl festivities. The weekend will culminate with the 2018 Pro Bowl game at Camping World Stadium on Sunday, January 28 which will be televised live at 8 PM ET on ESPN. Prior to the game will be a week that celebrates all levels of football — from youth to high school to the NFL's best.
To celebrate the Walt Disney World Resort and the ESPN Wide World of Sports will be getting in on the action and holding a few special and official activities for Guests to experience and get in on the fun.
Additional details for 2018 will be added as they get released. 
2017 Pro Bowl 5K
For those of you who love to run, Guests can participate in the Pro Bowl 5K at Epcot on January 28. The entire family will be able to run for fun, with entertainment available along the way. Registration for the 5K is now available.
NFL Excitement at ESPN Wide World of Sports
If you're favorite National Football League athlete is participating in the game, you may be able to see them in action, working out. That's because the ESPN Wide World of Sports Complex is the official practice site for the Pro Bowl. You never know who you'll see getting ready on the field.
ESPN Wide World of Sports and Walt Disney World Resort will host a week of activities that will feature competitors from around the world and draw thousands to Central Florida to celebrate all levels of football, with competitions at ESPN Wide World of Sports Complex such as youth flag football and punt, pass, kick, the North American Game of all-stars, and Women's World Football Games. Additional activities include:
EA Sports Madden Tournament –ESPN Wide World of Sports Complex – January 24-28
Pro Bowl Experience Fan Zone – ESPN Wide World of Sports Complex – January 25-28
Pro Bowl practices for AFC/NFC teams – ESPN Wide World of Sports Complex – January 25-28
Pro Bowl practices at the ESPN Wide World of Sports Complex are open to the public at no charge and are based on availability.
The ESPN Wide World of Sports Complex will also host the taping of "The Pro Bowl Skills Showdown," pitting the AFC and NFC All-Stars against each other, which will air on ESPN on January 26 at 7:00 p.m. EST. The skills challenge  will test individual NFL players' athletic abilities and skills through a variety of challenges including Pro Bowl dodgeball, precision passing, best hands, a power relay challenge and additional challenges.
Parade and Other Entertainment
Guests can celebrate their favorite athletes, NFL cheerleaders and various community groups who will join Mickey and friends in a special Pro-Bowl Captains parade down Main Street U.S.A. on January 27 in the Magic Kingdom. In addition Disney Springs will feature additional entertainment offerings:
"Mike & Mike" and "NFL Live" broadcast – Disney Springs  – January 26-27
Pro Bowl Dance Party – Disney Springs – January 28
Click here for more info about the great activities associated with Walt Disney World and the Pro Bowl.
Tickets for the game are now on sale. To register for event ticket information, click here. To see the full Pro Bowl
roster, visit www.NFL.com/ProBowl.  In addition, for more information on the 2017 Pro Bowl, Guests can download the "NFL Mobile" app.
.