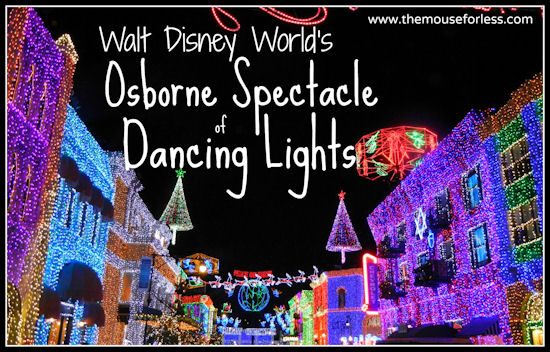 The Osborne Family Spectacle of Dancing Lights was retired in 2016. A new holiday nighttime spectacular now takes place called Jingle Bell, Jingle BAM!. In addition, Guests can enjoy the Sunset Seasons Greetings on Sunset Boulevard.

Take a stroll down the Streets of America at Disney's Hollywood Studios as the streetlights fade and snowflakes start falling. All of the sudden, you are surrounded by millions of lights, dancing in synchronized splendor to a symphony for the senses! You'll see twirling carousels, heavenly angels – and even Santa with his reindeer – amidst electrifying holiday music! Recently enhanced, this amazing spectacle is a Walt Disney World tradition that makes holiday dreams come true!
New for 2015
Guests can participate in the Merry & Bright Dessert Party (Nov. 6-Dec. 30) and the Merry & Bright Dinner Reception (Jan. 1- 3).  With the dessert party, Guest will enjoy holiday-themed desserts, specialty alcoholic and non-alcoholic beverages, sodas, water, tea and coffee, all while surrounded by the amazing light display. Each Guest in the party will receive a keepsake roll-up stadium blanket. The price is $69 per adult and $39 per child (ages 3-9). Tax and gratuity are included. The party will take place November 6 through December 24 from 7:00 p.m. until 8:30 p.m. and from December 25-30 from 8:30 p.m. – 10:00 p.m.
During the Merry & Bright Dinner Reception, Guests can enjoy a holiday buffet including shrimp, beef, turkey and more, as well as specialty alcoholic and non-alcoholic beverages, beer and wine. Each Guest in the party will receive a custom keepsake shadow box featuring their own Osborne Family Spectacle of Dancing Lights bulb. The price is $99 per adult and $54 per child (ages 3-9). Tax and gratuity are included. The reception will take place on January 1 from 8:30 p.m. until 10:00 p.m. and on January 2-3 from 7:00 until 8:30 p.m.
To book call 407-WDW-DINE or book online at Disneyworld.com/dine.
A Little History
Initially constructed by an Arkansas businessman, Jennings Osborne, as a gift for his six-year-old daughter, the Osborne Lights display was later moved to Walt Disney World in 1995 after the collection grew so large neighbors complained. The original display at Walt Disney World was purely lights from the Osborne estate, but over the years Disney has built upon what Osborne created adding an additional 2 million lights to the original 3 million. Approximately every 10 minutes, the lights dim and then dramatically spring to life – choreographed in a dance to traditional holiday music. Disney has also added a number of hidden Mickeys into the lights.
The 5-million-light display is made up of over 10 miles of rope lighting connected by another 30 miles of extension cords. The extension cords and lights are held together using two million ties. There are 130 angels and 43 hidden Mickeys in the display and 66 snow machines are used to complete the spectacle. It takes 21,000 man-hours to install the display each holiday season, starting in August. The lights are turned on at dusk each night, beginning mid-November and run into the first week of January. The display requires 800,000 watts of electricity.
In 2011, a number of technological upgrades resulted in a better, brighter and more colorful Osborne Lights. The show is now lit by 100% LED lighting. The look is crisper and more colorful than ever before. Everything in the show now seems synced, including the previously static building facades, angels, Peace on Earth globe, and it's all incorporated into the dancing light sequences. The solid red canopy of lights that once hung over the San Francisco facade now features new RGB (red, blue and green) LCDs. LEDs mean the canopy can now project millions of different color combinations and patterns! Additionally, there are new animated videos placed in six windows of the Chevy building, featuring elves, toy trains, stuffed bears, Christmas trees and other holiday animation.
Click here to see a 360-degree Panorama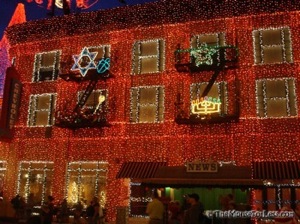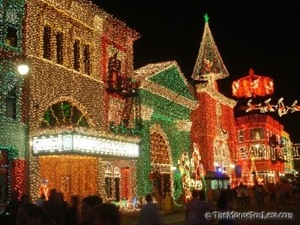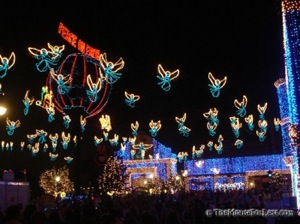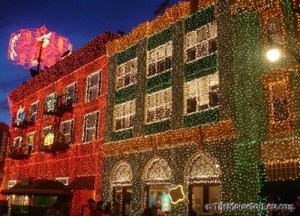 Santa Goofy joined the fun and began making nightly appearances on the Streets of America. Guests are able to meet him in Goofy's Winter Wonderland, a special area set up right in Tri-City Square. In addition to his usual hours of approximately 6:15 p.m. – 9 p.m. during the Osborne Lights, Santa Goofy is also available to meet and greet during the day, usually from 1:00 p.m. – 5 p.m. with short intermittent breaks throughout the afternoon. Photopass is of course on-hand to preserve the memories as your little ones pose with Santa Goofy. The manger scene that used to sit in this area was moved to the end of the building just before you enter the square at the end of the street.
"Glow with the Show" Ear Hats: These special hats employ leading edge technology to light up and synchronize with entertainment experiences in dazzling new ways – making members of the audience an integral part of the show. For the holiday season, "Glow with the Show" Ears will become part of The Osborne Family Spectacle of Dancing Lights. Be sure to wear your Ears for special surprises during performances of The Osborne Family Spectacle of Dancing Lights at Disney's Hollywood Studios. You can buy glow ears at merchandise shops throughout Magic Kingdom Park and Disney's Hollywood Studios, as well as at the kiosk on the Streets of America right in the center of the Osborne Lights. Batteries may also be replaced free of charge at any location that sells the hats. Ears purchased at Disneyland Resort will work, as well.
Additional Information
The Osborne Family Spectacle of Dancing Lights occurs nightly from dusk (approximately 6 p.m.) until park closing, and one lucky family is chosen each evening to turn the lights on. The lights dance approximately every ten minutes with short intermissions between songs. Special light up stuff to wear can be purchased at Youse Guys Moichendise on Streets of America near the entrance to the Osborne lights. The Osborne Family Spectacle of Dancing Lights is included with standard admission to Disney's Hollywood Studios theme park.
Sample Osborne Light Song List
Jingle Bells by Barbara Streisand
Feliz Navidad by Jose Feliciano
A Mad Russian's Christmas by Trans-Siberian Orchestra
Christmas Eve/Sarajevo 12/24 by Trans-Siberian Orchestra
Parade of the Wooden Soldiers by Arthur Fiedler and the Boston Pops
Christmas Is Starting Now by Big Bad Voodoo Daddy
I'm Gettin' Nuttin' for Christmas by the Plain White T's
Winter Wonderland arranged by Dan Stamper
TheMouseForLess Tips:
The entrance to the Osborne Spectacle of Dancing Lights is now one-way only, entering from the far end of New York Street. You are able, however, to exit from either end of the display.
Santa Goofy begins greeting guests at Osborne Lights at 6 p.m. Lines can get long quickly. For a shorter wait, try queuing up about fifteen minutes before Santa is scheduled to appear.
A purple cat from Jennings Osborne's Halloween display was mistakenly transported to Walt Disney World with the Christmas light display. Each year, Disney hides the cat somewhere in the display, so don't forget to hunt for it! Also, see if you can spot the mannequin leg lamp from "A Christmas Story". You might also want to try and spot the single Angel that is different from the rest.
Even amateur photographers should be able to take great photos of the Osborne Lights. The lights are so bright, the auto mode on most cameras should work just fine for these night time photos.
If you are going to see the Osborne Lights after Fantasmic!, let the crowd letting out of the show get ahead of you. If you enter about 15 minutes prior to park closing, you'll have more time to admire the lights and a have better view too. Just because the park is closing, you can still take your time and admire the beautiful lights as they usually remain on an additional hour. This advice goes for the opening of the show, too, when everyone lines up to enter. Wait about 30 minutes or so after opening and you won't be caught up in the throngs entering the show. Of course, everyone should see the lights switched on at least once, so if it's your first time, you may want to brave the crowd.