Select Nights November – Mid-December 2015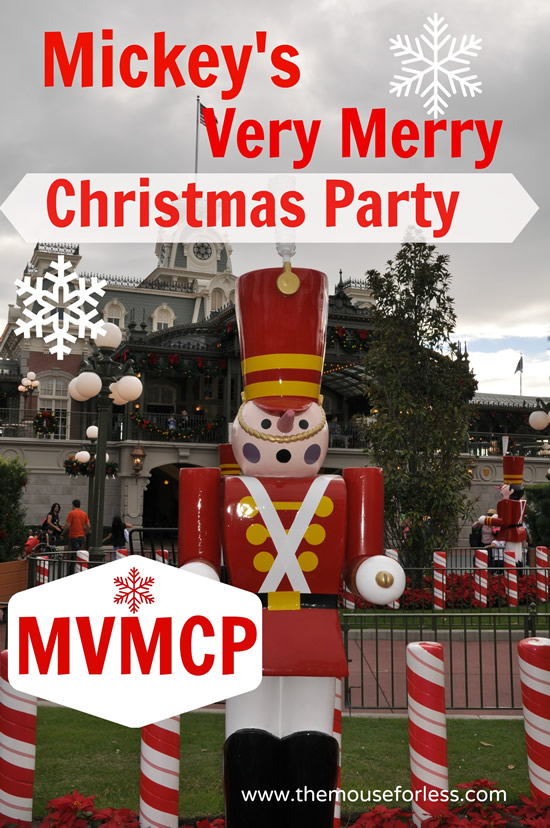 The Magic Kingdom will be transformed into a winter wonderland for this holiday fete. Snow will magically fall on Main Street, Mickey and friends will be garbed in seasonal apparel, and Cinderella Castle will once again shimmer in ice with the indescribable Castle Dream Lights. You won't want to miss the party's special fireworks show Holiday Wishes – Celebrate the Spirit of the Season which is set to your favorite traditional holiday music. The special, enchanting holiday parade, Mickey's Once Upon A Christmastime Parade, will take place twice an evening during the party. Guests may also attend live Disney character stage shows at select locations throughout the Magic Kingdom, ride park attractions under the stars, and enjoy free hot cocoa and cookies.
Special entertainment includes the dance parties Holiday Hootenanny at The Diamond Horseshoe in Frontierland and Club Tinsel at Cosmic Ray's Starlight Cafe in Tomorrowland, both with live DJs. A Totally Tomorrowland Christmas, a high energy Christmas bash with Buzz Lightyear, Mike Wazowski, Stitch, dancers and singers, occurs multiple times throughout the night on the Tomorrowland Stage. The Fab Five and other Disney characters appear in their holiday finery in the Celebrate the Season show on Castle Forecourt Stage.
Mickey's Very Merry Christmas Party is a special event held each winter on select nights at Magic Kingdom theme park. Purchase of an event admission ticket is required to attend Mickey's Very Merry Christmas Party. Advance savings of $5 per ticket are available for select dates. Separate theme park admission is not required to attend the party, nor is your party ticket connected to your Magic Your Way admission ticket in any way. Purchasing your tickets in advance is strongly recommended.
Ticket Sales Begin April 8, 2015
2015 Mickey's Very Merry Christmas Party Info
2015 Party Dates have been announced. Other details will be added as they are announced.
Ticket Information New for 2014 Essential Info for Attending
Entertainment Schedule Tips Party Backstory
2015 Ticket Info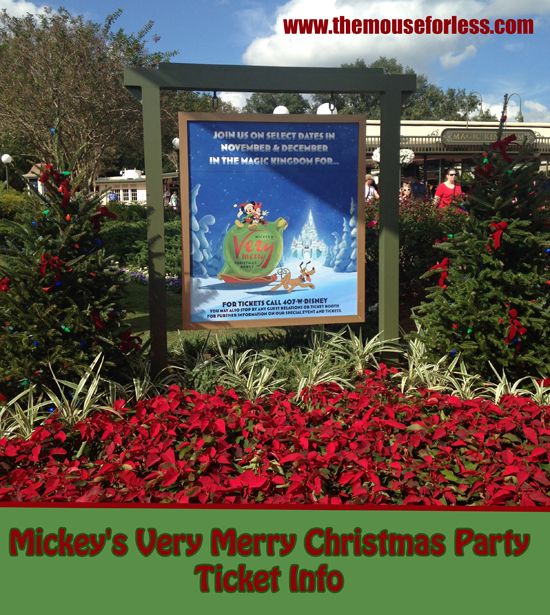 2015 Dates:
November 8, 10, 12, 13, 15, 17, 19, 20, 29
December 1, 3, 4, 6, 8, 10, 11, 13, 15, 17, 18
Time: All parties are from 7:00 p.m. to 12:00 a.m. with Mickey's Once Upon a Christmastime Parade at 8:15 p.m. and 10:30 p.m. and Holiday Wishes fireworks at 9:30 p.m. Guests may link their special-event tickets in their My Disney Experience accounts. Typically, party-goers can enter the park as early as 4 p.m. on the day of the party using just their party ticket or linked-MagicBands. While Disney does not generally publicize this information, for years it has had an "early entry" policy as a means of staggering the crowd entering the Magic Kingdom on party nights and preventing a backup at the gates at the start of the party. While you are not "technically" guaranteed early entry with your party ticket, to date, we have not heard of a single person with only a party ticket for admittance being turned away after 4 p.m. Wrist bands are distributed at the gate and can also be picked up at the Rose Garden near the castle hub (and other park locations) beginning at 4:00 p.m. During party hours from 7 p.m. to midnight, FASTPASS+ service is not available. The party goes on rain or shine, and there are no refunds for inclement weather.
2015 General Public Tickets Prices (tax not included):
November 8, 10, 12, 13, 15, 17, 19
December 1, 3, 6, 8, 10, 13, 15
Advance Purchase Discount: $74 Adult: $69 Ages 3-9
Day of Event: $79 Adult; $74 Ages 3-9
November 20, 29
December 4, 11, 17
Premium/Day of Event: $79 Adult; $74 Ages 3-9
December 18
Premium/Day of Event: $82 Adult; $77 Ages 3-9
Annual Passholder & DVC Member Tickets Prices (tax not included):
November 8, 10, 12, 13, 15, 17, 19 & December 1, 3, 8
$70 Adult | $65 Ages 3-9
Military Tickets Prices (tax not included):
November 8, 10, 12, 13, 15, 17 & 19
$51.80 Adult | $43.30 Ages 3-9
Most tickets can be ordered by calling 407-W-Disney (407-934-7639) or online on Disney's Web site. Payment in full is required at time of purchase and tickets are non-refundable after purchase. Party tickets ordered online from the 'My Disney Experience' website or app will be automatically linked to your 'My Disney Experience' account. If for any reason your tickets are not linked, they can linked manually. A linked party ticket allows you to use your RFID ticket or MagicBand for admission to the party. Guests ordering by phone can pickup a plastic souvenir ticket at their resort concierge, theme park, or other ticket sales location. You must present the original credit card used during your purchase, a valid government-issued photo ID, and confirmation number at the time of pick up. There is also an option to have the tickets mailed as plastic souvenir tickets if time allows. Mailing cost for tickets is as follows: $5 USPS (7 to 14 days), $15 Fedex (up to 7 days) or $25 for International Fedex (up to 12 days).
Premium/Day of Event Tickets: Generally, Premium Ticket parties are not only more expensive, but will also be the most crowded parties. Premium Tickets are sold in advance but do not offer a discount. Essentially, all party tickets may be purchased in advance, but not all are discounted. The price for Premium Tickets is the same as those tickets purchased at the gate on the day of the event. All tickets purchased within 10 days of event will be available for pick up at the Will Call Window at Guest Relations or emailed as an eticket. Day of Event tickets are offered at the gate for any party date that has not sold out in advance and are often not available.
Premium Dates (may be purchased in advance): Premium ticket dates are the same as Advance Purchase blackout dates below.
Advance Purchase Discount Tickets are sold at a discount and must be purchased at least 1 day in advance. This is the best possible discount for the general public. The number of tickets available is limited. Events often sell out early, so purchase these tickets as soon as you're sure your going to ensure your discount. All tickets purchased within 10 days of event will be available for pick up at the Will Call Window at Guest Relations or emailed as an eticket. Tickets are valid only during specific event dates and hours.
Advance Purchase Discount Blackout Dates: Nov 20, 29; Dec 4, 11, 17, 18
Annual Passholder and DVC Member Discount Tickets are available on the advance purchase of tickets for select dates and will not be available the day of the event. Specially priced tickets are available for Passholders with the following Annual Passes: Premier Annual Passport, Premium Annual Pass, Annual Pass, Seasonal Pass, Weekday Select Pass, and Epcot After 4pm Annual Pass. Annual Passholders can call (407) 560-PASS for additional information. Annual Passholders who purchased online must show a valid Passholder ID at park entrance for each ticket or pass purchased. Disney Vacation Club members must call Member Services at (800) 800-9808 to purchase.
-Passholders can purchase for themselves and up to 3 Guests.
-DVC Members can purchase for themselves and up to 5 Guests.
AP & DVC Blackout Dates: November 20, 29 & December 4, 6, 10, 11, 13, 15, 17, 18
Active Duty, Retired, and Permanently Disabled US Military, including members of the U.S. Coast Guard and active members of the National Guard or Reservists, can purchase discounted tickets for themselves and up to 5 family members and/or friends for select dates. TThe tickets may be purchased in person at any theme park ticket window, guest relations location or Shades of Green with proper military ID. For sold out parties, Military discounted tickets for MVMCP will be available only at the Magic Kingdom Front Gate Guest Relations window on the day of the event. Discounted tickets are NOT available online, by phone or at MWR/ITT locations.
Military Blackout Dates: November 20 & 29 and All December party dates
New for 2014
A Frozen Holiday Wish — Held nightly on the Cinderella Castle Forecourt Stage. Elsa, Anna, Kristoff, and Olaf appear, and Elsa's icy powers are utilized to present a gift to everyone — transforming Cinderella Castle into a beautiful icy wonderland. The Castle Dream Lights are something that you do not want to miss! They are simply stunning!
A meet and greet opportunity with Jack Skellington dressed as Sandy Claws takes place in Storybook Circus. Tip: Get in line early. This is a very popular meet-and-greet opportunity!
The Holiday Hootenanny is held in Liberty Square's Diamond Horseshoe This dance party features Clarabelle Cow, Horace Horsecollar, Clara Cluck, and The Country Bears. It takes place from 7:00 p.m. until 12 midnight.
Essential Info for Attending
Rides and Attractions: Guests have unlimited use of popular attractions such as The Haunted Mansion, Splash Mountain, Big Thunder Railroad, Pirates of the Caribbean, Dumbo, Space Mountain, Buzz Lightyear's Space Ranger Spin, and many more. Not all attractions will be open during the party. FASTPASS tickets are not distributed during the party since lines are usually pretty short. Lines will be the shortest during the two parades and after the Holiday Wishes Fireworks when many families with young children leave the park. See a complete list of attractions that will be open for 2014 parties in the chart below.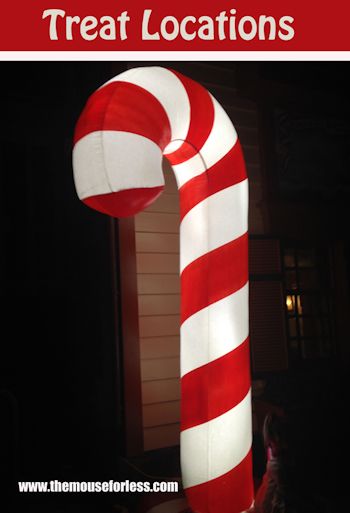 Food: Dining is available at select counter service and snack locations throughout the park, but is very limited once the party begins. It's probably wise to eat your main evening meal prior to attending the party. And don't forget to enjoy free hot cocoa and cookies at select locations. In years past, cookies have varied from locations with "large" chocolate chip, macadamia white chocolate chip, snickerdoodle and sugar cookies available. For 2014, thus far, we've only seen snickerdoodles offered. If you're looking for healthy choices, apple slices and apple juice are available, as well as sugar-, nut- and gluten-free options like sugar-free cookies, and sugar-free cocoa. Disney usually has Enjoy Life Gluten Free Chocolate Chip cookies behind the counters at most Treat stops. Ask about alternative choices at the treat locations. Hours will vary from location to location. Generally, the free treat station located at Tomorrowland Terrace is one of the least crowed. There is no limit to how many times you can visit the treat stations, so enjoy as much as you like. See a complete list of free treat locations and restaurants that will be open for 2014 parties in the chart below.
Merchandise: Holiday merchandise is available at the Emporium on Main Street U.S.A and other shops throughout the Magic Kingdom. Items like limited-edition Mickey's Very Merry Christmas Party (MVMCP) trading pins, MVMCP Vinylmation, MVMCP apparel (youth & adult sizes) and other party-exclusive merchandise can go quickly and should be purchased early. Otherwise, save the shopping for last or another day. Most holiday merchandise is available throughout the Holiday season and is not unique to the parties. See a complete list of holiday merchandise locations for 2014 parties in the chart below.
For addition essential info, visit our MFL Tip Section Below
2014 Entertainment Schedule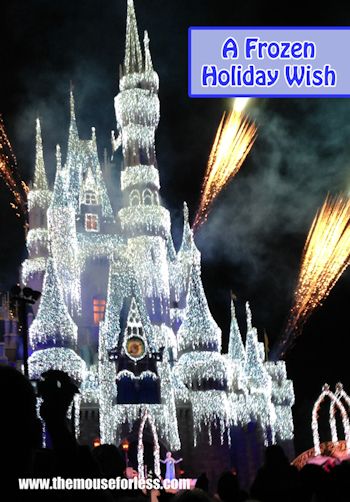 A Frozen Holiday Wish – 6:15 p.m. & 8:00 p.m.
Mickey's Once Upon a Christmastime Parade – 8:15 p.m. & 10:30 p.m., steps off from Frontierland
The parade features all of your favorite holiday classics, including snowmen, dancing reindeer, Disney characters, tin toy soldiers, and of course, Santa! It's a fun and fanciful romp! (Also, be prepared as this parade pipes in some fantastic scents, like peppermint, evergreen trees, and gingerbread!) For the best view, make sure to be standing on Main Street, about halfway down the street. You don't want to be too close to the castle.
For the first time this year, Anna and Elsa, plus Kristoff and Olaf will appear in the parade! Also new this year are Vanellope and Wreck-It Ralph from "Wreck-It Ralph".
Celebrate the Magic Castle Projection Show – 9:15 p.m.
The Castle Show gets a special holiday tag included on the end of its regular show. The holiday tag includes the castle looking like a Christmas present, decorated with "lights", and it looking like a candy cane and a gingerbread house!
Holiday Wishes Fireworks – 9:30 p.m.
Here, Jimminy Cricket shares with guests, through fireworks, why home really is where the heart is. It really is the Spirit of the Season! This show features beautiful holiday music, as well as perimeter fireworks, which are a sight to see.
Celebrate the Season show (Castle Stage) – 7:45 p.m., 10:05 p.m., and 11:20 p.m.
This stage show features your favorite Disney characters, like Mickey, Minnie, Donald, and Goofy, plus Pluto and Chip n' Dale.
A Totally Tomorrowland Christmas show (Tomorrowland Stage) – 7:45, 8:45, 9:55, 10:50, and 11:45 p.m.
This trio of Buzz Lightyear, Mike Wazowski, and Stitch band together to fight holiday doldrums across the galaxy in a jolly musical revue. The show features many rockin' versions of different classic Christmas anthems.
Holiday Hootenanny dance party (Diamond Horseshoe in Frontierland) – 7:00 p.m. – 12:00 a.m.
Club Tinsel dance party (Cosmic Ray's in Tomorrowland) – 7:00 p.m. – 12:00 a.m.
Character Meet-and-Greets – 7:00 p.m. – 12:00 a.m.
Please note that while you can interact with characters at the dance parties, you can not get autographs.
2014 MVMCP at a Glance

Location

Character Meet & Greet

Free Treat Location

Open Food Location

Open Attraction

Main Street U.S.A.
Holiday Merchandise Locations: Emporium

Town Square Theater

Talking Mickey Mouse

–

–

–

Candy Cane Garden
(next to City Hall)

Santa Claus

–

–

–

Crystal Palace

–

√
9pm-11pm

–

–

Casey's Corner

–

–

√

–

Main Street Bakery &
Plaza Ice Cream Parlor

–

–

√

–

Sorcerers of the Magic Kingdom

–

–

–

√

Adventureland
Holiday Merchandise Locations: Plaza del Sol Caribe Bazaar

Pirates of the Caribbean

Captain Jack Sparrow

–

–

√

Magic Carpets of Aladdin

Aladdin, Jasmine, Genie, Abu

–

–

√

Sunshine Tree Terrace

–

√
7pm-12am

–

–

Swiss Family Treehouse

–

–

–

√

Jungle Jingle Cruise

–

–

–

√

Tortuga Tavern

–

√
7pm-11pm

–

–

A Pirate's Adventure~Treasures of the Seven Seas

–

–

–

√

Frontierland
Holiday Merchandise Locations: Trading Post (pins only)

Diamond Horseshoe

Holiday Hootenanny
Woody, Jessie, Bullseye
(no autographs)

–

–

–

Splash Mountain

–

–

–

√

Big Thunder Mountain Railroad

–

–

–

√

Country Bear Jamboree

–

–

–

√

Pecos Bill Cafe

–

–

√
open until 11pm

–

Westward Ho

–

–

√

–

Frontierland Turkey Leg Cart

–

–

√
open until 11pm

–

Frontierland Churros Wagon

–

–

√
open until 11pm

–

Liberty Square
Holiday Merchandise Locations: Heritage House

Liberty Square Riverboat

–

–

–

–

Enchanted Glade

Tiana & Naveen

–

–

–

Columbia Harbour House

–

√
7pm-12am

–

–

Haunted Mansion

–

–

–

√

Sleepy Hollow

–

–

√

–

Liberty Square Market

–

–

√
open until 9pm

–

Original Fantasyland

Fantasyland Wall

Minnie Mouse
in holiday attire

–

–

–

Princess Fairytale Hall

Disney Princesses

-Cinderella
-Rapunzel
-Ann and Elsa

–

–

√

Mickey's PhilharMagic

–

–

–

√

Adventures of Winnie the Pooh

Pooh, Eeyore, Tigger, Piglet

–

–

√

Fairytale Gardens

Merida

–

–

–

Pinocchio's Village Haus

–

√
7pm-10:30pm

–

–

Peter Pan's Flight

–

–

–

√

Prince Charming Carrousel

Mary Poppins, Bert and Penguin

–

–

√

Mad Tea Party

–

–

–

√

It's a Small World

–

–

–

√

Storybook Treats

–

–

√
Look for: seasonally flavored waffles with soft serve ice cream

–

Friar's Nook

–

–

√
open until 9pm

–

Fantasyland – Enchanted Forest

New Fantasyland Entrance

The 7 Dwarfs
(lines begin forming as early as 5:30 p.m.)

–

–

–

Ariel's Grotto

Ariel

–

–

√

Under the Sea~Journey of the Little Mermaid

–

–

–

√

Enchanted Tales with Belle

Belle

–

–

√

Gaston's Tavern

–

–

√

–

Seven Dwarfs Mine Train

–

–

–

√

Fantasyland – Storybook Circus
Holiday Merchandise Locations: Fantasy Faire

Storybook Circus Entrance

Daisy
Donald
Scrooge McDuck

–

–

–

Storybook Circus Tents

Jack Skellington dressed as "Sandy Claws"

–

–

–

Barnstormer

–

–

–

√

Dumbo the Flying Elephant

–

–

√

Casey Jr. Splash 'N' Soak


–

–

√

Tomorrowland
Holiday Merchandise Locations: Mickey's Star Traders

Cosmic Ray's

Club Tinsel Dance Party
Phineas and Ferb
no autographs

√
8pm-12am

√

–

Tomorrowland Terrace

–

√
7pm-12am

–

–

Tomorrowland Speedway

–

–

–

√

Space Mountain

–

–

–

√

Astro Orbiter

–

–

–

√

Buzz Lightyear

–

–

–

√

Stitch's Great Escape

–

–

–

√

Tomorrowland Transit Authority

–

–

–

√

Monsters, Inc. Laugh Floor

–

–

–

√

The Lunching Pad

–

–

√

–
TheMouseForLess Tips

Do a little advance planning before and after purchasing party tickets. Generally, "Premium Ticket" parties are not only more expensive, but will also be the most crowded parties. Other dates offer a savings, so plan accordingly. Typically, Tuesday parties are the less crowded than parties that occur on other days of the week. If you're on the fence about attending, consider that the Magic Kingdom usually closes earlier during party dates, and this may be one of your few opportunities to be in the Magic Kingdom after 9 p.m. during your trip. Since you can enter the Magic Kingdom as early as 4 p.m. with your party ticket, you may want to make Advance Dining Reservations at a Magic Kingdom restaurant for dinner. Table Service restaurants book up early on party nights so book as far in advance as possible. You can book up to 190 days out if you are staying at a Walt Disney World resort, and 180 days in advance otherwise. Allow yourself enough time to finish eating before the party begins. If you're planning on eating at a Quick Service restaurant prior to the party, be aware that some restaurants may close earlier than expected. This is especially true for Quick Service restaurants that will not be opened during the party – some closing as early as 5-5:30 p.m. on party nights.

If you'll be attending MVMCP and are also purchasing Magic Your Tickets for your trip, you may want to skip purchasing an admission day for your party date. Earlier in the day would make a wonderful time to visit some of the Deluxe resorts to check out the decorations and even some of the holiday activities. You can find a few suggestions listed on our holiday page. If your MYW tickets are more than 3 days in length, you may find this only reduces your costs by $10, but if you really won't be able to visit a theme park on party day, that's a savings you could put toward your MVMCP ticket. And remember, you can enter the Magic Kingdom as early as 4 p.m. using nothing but your MVMCP ticket.

To help prepare for the late night, try to relax or even take a nap in the afternoon before the party. Then arrive a little early to dine or to review the special party map and guide and decide what everyone in your party would enjoy doing. Be sure to be in the park by 6:15 p.m. to catch "A Frozen Holiday Wish" on the castle stage. This short show sees Anna, Elsa, Kristoff, and even Olaf who are visiting the kingdom, when Elsa uses her magic to bring a great surprise. What follows is "Castle Dream Lights", featuring over 200,000 twinkling lights draping the castle to create a shimmering ice palace.

Make sure to dress appropriately. There are no refunds for inclement weather so if rain is in the forecast, bring a rain poncho if you have one. Ponchos can also be purchased in the park. Check the temperature the day of the party. Evenings in November and especially December can require a sweatshirt or light jacket, or even better, one of those special holiday sweaters. Come dressed for the occasion!

Those attending the party will be given a wrist band as they enter the park through a designated turnstile. If you entered the park prior to wrist bands being distributed, you may also obtain a wrist band after 4 p.m. at the Rose Garden near the castle hub by showing your MVMCP ticket. There are different color bands for each party night. Make sure you do not remove your wrist band. Cast members do check for wrist bands, and without one, you will not be able to get on rides, meet characters, enter stores, purchase food or do anything else after 7 p.m. If you are spotted without a wrist band, you will be asked to leave the park once the party has started. There are no exceptions. If you don't have a ticket but would like to stay in the park and attend the party, you can check at City Hall to see if tickets are available for that particular evening. Some parties do sell out in advance, but if tickets are available, they may be purchased at City Hall without exiting the park.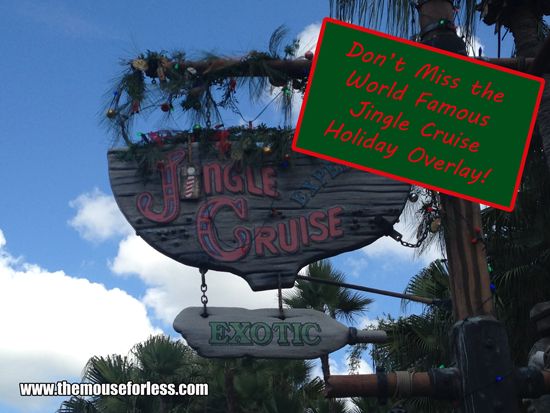 Make to make a stop at the Jungle Jingle Cruise. This holiday-themed attraction sees the skippers homesick during the holidays. They have decorated the queue house and the boats in celebration. In addition, they were planning to have some decorations shipped, but they didn't quite land in the correct destination.

Mickey's Once Upon A Christmastime Parade is a "must see," with gingerbread men, elves, snowmen, wooden soldiers, Snow White waltzing with her Prince, Chip and Dale's snowball fighting, snowflakes skating and of course, Santa himself. If you'll be experiencing the parade for the very first time, do try to get a seat on Main Street U.S.A. where it will be snowing all evening, you are immersed in holiday decorations and lighting, and can enjoy pre-parade entertainment while you're waiting. If you can snag a location looking straight down Main Street, the shimmering ice castle makes a beautiful backdrop as the parade approaches and is great for taking photos or video. If you prefer less heavy crowds, look for a spot in Frontierland or Liberty Square. The second parade tends to be less crowded then the first.

The fireworks are the 360 degree fireworks, over the castle and around the perimeter of the park, and they are incredible. Fog has even been added show. The clouds of gray mist hover just over the top of Cinderella's Castle and often mix with lower fireworks creating a rainbow of hues in the sky. Try to stand some where so that you have an unobstructed view of the sky around the Magic Kingdom. Plus, the fireworks are scored to some favorite Christmas songs.

Don't overlook the special shows such as A Totally Tomorrowland Christmas (Tomorrowland Stage) and Celebrate the Season (Castle Stage). Other than the approximately two weeks between when MVMCP ends and NYE, you won't be able to see them anywhere else! "Celebrate the Season" takes place on the Castle Stage and is the more popular of the two shows with its classic Disney characters (Mickey, Minnie, Donald, Goofy, Chip, Dale), a salute to "The Nutcracker" and sing-along format. You'll want to arrive early to get a spot for that one.

Character meet & greet locations are marked on the maps. You can pick up a map as you enter the park. A small flashlight will help to read the map at night. The areas where Photopass photographers take photos can get quite crowded, especially the character meet & greets. And speaking of characters, this will be a unique opportunity to get photos of Disney characters in their holiday attire, as well as with some rare Disney characters, such as the 7 Dwarfs (most popular, so get in line for this first and early); the Disney Princesses, and possibly Scrooge McDuck. Try to get a few photos done when the party first starts or towards the end of the night. And don't forget to bring your own camera so you don't miss that special shot in case there is no Photopass photographer around. Many characters will be unavailable to meet during the parade since they will be taking part in the parade.

While it's possible to meet Santa Claus at the party, lines can sometimes be long. Just remember that Santa is also available for meet and greets during the day at the Magic Kingdom throughout the holiday season. Santa can be found at Candy Cane Garden next to City Hall. Since Santa also appears in the Mickey's Once Upon A Christmastime Parade, he will not be available to meet during either parade performance.

For even more than usual character interaction, be sure to attend one of the two dance parties. At the Holiday Hootenanny at the Diamond Horseshoe, kids can interact with Clara Cluck, Horace Horsecollar, Clarabelle Cow, and the Country Bears, plus a DJ spinning tunes. At Cosmic Ray's Starlight Cafe's "Club Tinsel" kids can get down with Santa Goofy, Pluto and an energetic DJ to learn some new line dances. If it's a cold night, these are always a great way to warm up and grab some cookies and cocoa. No meets or autographs are available at dance parties.

If you're not into meeting characters or Dance Parties, MVMCP is a great time to ride as many rides as possible. Most of the best rides will be operating and since Disney limits attendance to the parties (unofficially, we hear attendance is capped at 25,000), lines are usually short throughout most of the night – even when the party is a sellout.

Don't forget to stop and smell the poinsettias. The Magic Kingdom decorations are lovely this time of year with garland hung down Main Street and snow gently falling. There are 2 great photo opportunities heading down Main Street, the first is in Town Square with the wooden toy soldiers, and the second is in the hub area in front of one of the poinsettias trees. The Emporium windows on Main Street USA are decorate with an animated "Mickey's Christmas Carol" theme again in 2014. Holiday music plays through out the park with pieces themed to each land, and in recent years, Disney has been using special lighting effects on buildings and pavements to add to the holiday decor during the parties. And don't miss special entertainment like Rusty Cutlass, the pirate band that entertains guests in Adventureland during Mickey's Very Merry Christmas Party.

Photopass photographers hand out event photo cards that night that "may" offer special deals for purchasing and printing the photos that are taken at the party, but this is not a guarantee. You can add the MVMCP PhotoPass card to your other PhotoPass cards and make a PhotoPass CD (if you've purchased one) when you get home.

Cast Members have been known to hand out treats to guests leaving the park. Ghirardelli peppermint squares have been distributed to guests in the past and they are so yummy!
Mickey's Very Merry Christmas Story
For the first time, Disney is now offering a back-story for its Christmas party events and it goes something like this…
Once upon a Christmas time
In a far-off magic land
A merry little party
Got a little out of hand…
It began when Goofy goofed
And curled a ribbon too curly
Which set off a certain duck
Who was notoriously surly
So Minnie grabbed the scissors
And, being the holiday pro
Re-curled the curly ribbon
Into a gigantic big red bow!
Everyone was cheering
When Donald Duck spoke up
'Sure, the bow is merry
But is it merry enough?'
The party grew dead quiet
Then Daisy said at last
'Why, such a grand ribbon
Needs a gift to match!'
So Pluto fetched a grand piano
And placed the bow on top
But when it wouldn't fit beneath the tree
They knew they'd have to swap
The new tree was all trimmed
When Donald Duck spoke up
'Sure the tree is merry
But is it merry enough?'
They added twice the garland
Four time as many lights
But then a strange thing happened
Everything else looked half as bright!
So they strung a few more bulbs
Half a million or so
Until Cinderella Castle
Was perfectly aglow!
The entire party was glittering
When Donald Duck spoke up
'Sure, the lights are merry
But are they merry enough?'
Santa flew in quite promptly
For such a 'busy' man
He brought eight dancing reindeer
And entire North Pole caravan
He surveyed the party quickly
Gave a hearty ho, ho, ho!
And within a couple seconds
All around was falling snow!
Everyone was twirling
Until Donald Duck spoke up
'Sure, the snow is merry
But is it merry enough?'
Soon Chip was making cookies
Dale was baking treats
As real toy soldiers stretched
For their big march down Main Street
The fireworks were about to burst
When at last the Host spoke up
The party grew dead quiet
Yes, even Donald Duck
And they waited…
'Why, this isn't merry at all!'
Mickey Mouse exclaimed
'This Christmas is Very Merry!'
And so his party was named
Click here to download and print Disney's keepsake version of this story.
---
Visit Disney's Mickey's Very Merry Christmas Party page for a personalize, interactive experience with a little taste of what the party has to offer or get more info on Walt Disney World's Holiday Facebook page.