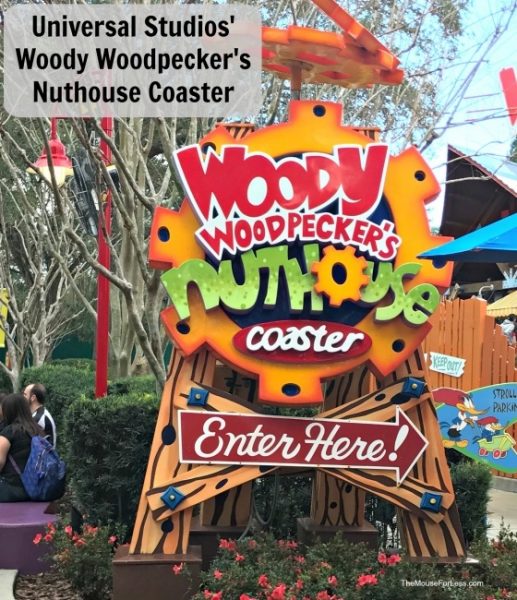 This attraction has closed to make way for a brand new DreamWorks land. More info can be found here. 
Woody Woodpecker's Nuthouse Coaster is the perfect starter coaster for those daring little ones. After watching mom and dad play all day on fun rides at Universal Orlando Resort, now its the kids' turn! Wood Woodpecker's Nuthouse Coaster is full of windy turns and small dips. Your little one will love it.
Ride Information  Ride Restrictions  Location  Fun Facts  Tips

Planning a Universal Vacation?
Ride Information
Opening Day: March 13, 1999
Type of Ride: Kid-Friendly Thrill
Age Recommendation: Young Children
Ride Duration: 1 Minute
Typical Wait Time: 30 Minutes
Single Rider Line: No
Express Pass: Yes
Child Swap: Yes
Wheelchair Accessible: No
Ride Photo: No
Ride Restrictions
Height Requirements: Minimum 36″(92cm). Riders under 48″(121.9cm) must ride with a supervising companion.
Location
Nearby Attractions: Fievel's Playland
Dining: Fast Food Boulevard & KidZone Pizza Company
Shopping: SpongeBob StorePants
Did You Know?
Did you know that Woody Woodpecker does not belong to any actual bird species?
Animator Walter Lantz created him after being inspired by an Acorn Woodpecker.
Wood Woodpecker's Nuthouse Coaster was the first rollercoaster built on Universal Property.
The Mouse For Less Tips
Usually when the crowd levels are slow to moderate, Woody Woodpecker's Nuthouse Coaster and other attractions in the KidZone won't open until 10:00 a.m. However, when the park is busy Woody Woodpecker's Nuthouse Coaster will open when the rest of the park does.
Even though Woody Woodpecker's Nuthouse Coaster is located in the KidZone, you do not have to be a child to ride it. Nor do you have to be accompanying a child. This coaster is great for those who just want a little bit of thrill.
During peak season this can be one of the busier attractions inside Woody Woodpecker's KidZone. You can download the official Universal Orlando Resort app to find out real wait times.