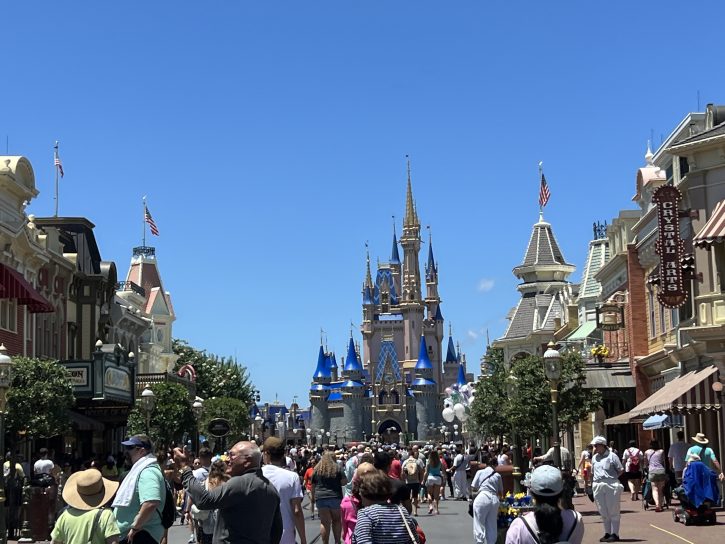 DisneyGenie+ (Genie+) is a great system that lets you make your theme park visit easier and more fun. Disney Genie+ service can be found in the My Disney Experience mobile app. Disney Genie+ does have a cost.  This service allows you the opportunity to use these Lightning Lane entrance at select attractions and experiences at the Walt Disney World theme parks. (The former FastPass+ queues.) On average, Guests can experience 2 to 3 attractions or experiences per day using Disney Genie+. Keep in mind, that is if the first selection is made early in the day.
Guests are able to enjoy ride one attraction or see one show using the Disney Genie+ Lightning Lane entrance once per day. If you'd like to experience the attraction again within the same day, you'll need to use the standby line.
Disney Genie+ varies in pricing, based on the date the Guest is visiting, much like theme park tickets currently do. Pricing is lower on less busy days and it will cost you more to use the Disney Genie+ service on busier, peak days. Example pricing is $15 per Guest, per day on less busy dates, $22 on busier dates, and somewhere in between on other dates (plus tax.)
Disney has also introduced individual park pricing for those looking to take advantage of Disney Genie+. Guests at Walt Disney World will now be able to purchase Disney Genie+ based on how they want to visit. This means that Guests will be able to purchase for either a single-park option OR they can choose a multiple-parks option. In addition some Walt Disney World theme parks may offer lower pricing for Disney Genie+ than other parks.
So, for example, Guests who are only visiting, say Disney's Hollywood Studios for the day will only need to purchase the service for that specific park. But, let's say that you are Park Hopping. So, you're visiting Disney's Animal Kingdom and the Magic Kingdom in the same day; you'll then need to purchase the multi-park option for Disney Genie+.
Experiences may vary by date and are subject to change or closure. There's limited availability for experiences. Also they may not be available at all on the date of visit. Or it is possible they are not available at the specific time you are looking for.
Also, in order to be able to use Disney Genie+, Guests will need to have valid admission. They will also need a Theme Park reservation for the same Park and same date. Park reservations are limited, subject to capacity and availability, and specific dates or Parks are not guaranteed.
Magic Kingdom Disney Genie+ Tips and Strategies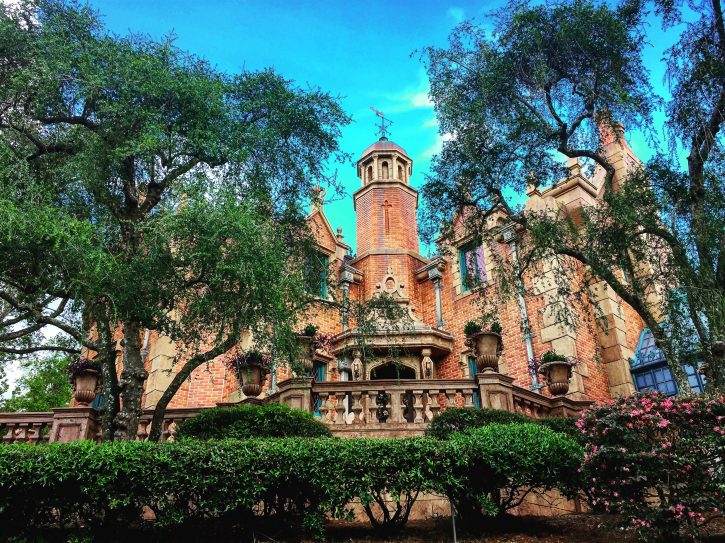 Getting the most out of both Genie+ and Individual Lightning Lanes first involves preparation. For Genie+, you definitely want to have completed your purchase before you try to make your first booking. You can also choose to buy through the My Disney Experience app starting at midnight.
At 7 a.m., everyone is able to start making their first Genie+ reservation. Guests staying at select Walt Disney World resort hotels can also begin making Individual Lightning Lane reservations at that time. You will want to start choosing your attractions as close to 7 a.m. as possible for the best selection.
To fully maximize your Lightning Lane usage, you will also want to make any additional selections as soon as possible. If your first selection was made inside that 2 hour line, you can make a new selection as soon as your final entry scan is complete. (So if you make your first selection at 11:00 a.m. for a ride on Peter Pan's Flight with a return time to the attraction of 12:30 p.m., you'll actually be able to make your next Genie+ selection at 12:30 p.m., after you scan through the final touch points.) To optimize the number of attractions you'll be able to see, you'll want to start booking your next Genie+ attraction AS SOON AS you scan through that final touch point.
Pay attention to the exact time your initial selection was made, if your first Genie+ selections are more than 2 hours in the future. At that time, Gusts will want to be ready on the My Disney Experience app to make another selection, 2 hours after making their first selection. (So if you make your first selection at 7:00 a.m. for a ride on Peter Pan's Flight with a return time to the attraction of 10:00 a.m., even though you've not ridden the attraction, you'll actually be able to make your next Genie+ selection at 9:00 a.m.)
How to Purchase
Same Day of Visit:
Available for single-day use for existing ticket holders or Annual Passholders. Purchase via Disney Genie service in the My Disney Experience mobile app
What Are Individual Lightning Lane Attractions?
Guests will need to purchase access for Lightning Lane entrances individually for the most popular attractions. Guests may purchase and select an arrival window one at a time for up to 2 of these attractions a day. (If available.) This option is available for all Guests, no matter whether you've already purchased Disney Genie+ or not. The pricing varies by attraction, and can even vary by day. Guests will find out the cost of the Individual Lightning Lane access in the My Disney Experience app on the day of their visit. To purchase, you can do so within the Disney Genie service Tip Board or My Day itinerary in the app. This must be done on the same day of your visit.
Guests of a Disney Resort Hotel will be able to make their first purchase starting at 7:00 AM on the day of their visit. This option is available to Disney Resort hotel Guests and Guests of Walt Disney World Swan and Dolphin Hotels and Shades of Green. All Other Guests will be able to make their first purchase when the park opens.
Find our Lightning Lane Guide here!
Attractions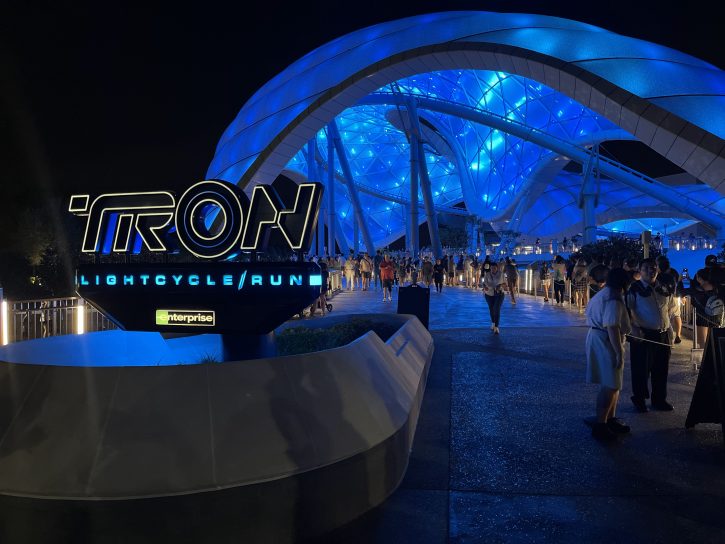 Currently, Individual Lightning Lane attractions are:
Currently, Disney Genie+ is available for the following Magic Kingdom rides, shows, and experiences:
Ariel's Grotto
Enchanted Tales With Belle
Disney Genie+ Tips for Magic Kingdom
The Magic Kingdom also has the most attractions of any park at Walt Disney World, so there are endless ways to organize your Disney Genie+ selections. Here are a few tips to help you decide which three experiences you will choose.
General Strategy
If you and your group are up for anything and just want to experience all that the park has to offer, the attractions for which Magic Kingdom Disney Genie+ will save you the most time are generally Peter Pan's Flight, and the mountains (Space and Big Thunder). Peter Pan has consistently long lines nearly all the time, so if you think your group would like to ride it, that might be the most valuable Disney Genie+ selection for you, no matter the age group. Also, if you are looking to meet Mickey and Minnie, that has proven to be a popular Disney Genie+ selection and disappears quickly in the day.
Groups with Small Children
When visiting the Magic Kingdom with small children, Peter Pan's Flight should still be the first priority, as explained above. After that, the rides that will most likely save you the most time are Buzz Lightyear's Space Ranger Spin and Pirates of the Caribbean.
However, the Magic Kingdom offers several other attractions that might be beneficial for groups with small children. The character meet and greets can be very popular. If you have little ones, you should definitely consider making a Disney Genie+ reservation to meet some of your favorites.

Planning a Walt Disney World Vacation?
For a Free no-obligation quote, contact our sponsor
The Magic For Less Travel
. Services are provided free of charge and their expert planning advice will help you make the most of your vacation time and money.
Thrill Seekers
For thrill seekers visiting the Magic Kingdom, get ready for some mountain exploration. Arguably, the three biggest thrills in the Magic Kingdom are Space Mountain and Big Thunder Mountain. You'll also want to purchase the Individual Lightning Lane option for Seven Dwarfs Mine Train and TRON Lightcycle/Run.
Visit our Disney Genie+ Guide for more details on Disney Genie+, and great MouseForLess tips on how to use utilize this tool to its fullest. Visit our MyMagic+ to get information about using MagicBands during your park visit.
Tips and Tricks
As an extra help, Guests are able to use the My Disney Experience app to check your My Day itinerary or Tip Board to see when you're eligible to make another selection.
For quicker access to select attractions and entertainment, when using Disney Genie+, you should choose the next available attraction arrival window.
If you are booking those Disney Genie+ reservations later in the day, you can also "stack" reservations close to each other. This means that you can experience numerous attractions in quick succession. Be sure you give yourself enough time to experience the attractions and travel to the next.
Guests are also able to book a Disney Genie+ reservation for a park that they have not yet park hopped to. So if you are planning on hopping, you can make a reservation for an attraction in the park you're planning to hop to before you begin your travel to save time upon arrival.