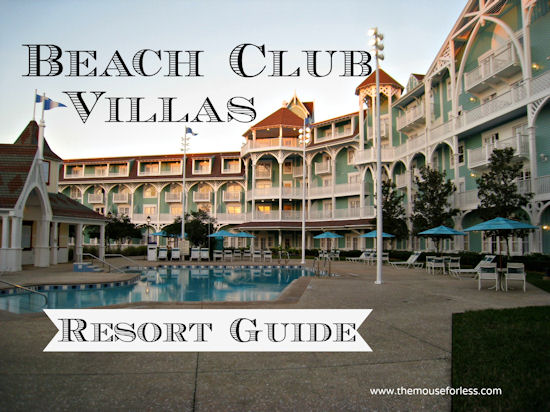 1800 Epcot Resorts Boulevard
Lake Buena Vista, Florida 32830
Phone: 407-934-8000
Fax: 407-934-3850
Refurbishment   Theme   Rooms   Dining   Recreation   Shopping
Transportation   Childcare   Resort Rates   Resort Map   Reviews
Activities   Top 10 Resort Tips   MFL Tips   Photos
Disney Deluxe Villa Resort Classification
Located in the Epcot resort area
Check In: 4:00 p.m. / Check Out: 11:00 a.m.
The Beach Club Villas are Disney Vacation Club accommodations that are also available to the public as Disney Deluxe Resort Villas for nightly reservations. The "home away from home" setting gives guests access to all the services and amenities of the Beach Club and Yacht Club resort along with the convenience of villas which include kitchenettes( studios) or full kitchens, living rooms, and in-villa laundry facilities (one-bedrooms and two-bedrooms). This resort is a favorite among guests for its cozy atmosphere, its access to fine dining, and its excellent (and extensive) sandbottom pool. And you can't beat the location: the Beach Club Villas are within easy walking distance of Epcot and the BoardWalk, as well as the "sister resort," the Yacht Club.
The Beach Club Villas, like all Disney resorts, are smoke-free. Designated outdoor smoking areas are indicated on the Resort Map.
Resort Refurbishment
Check our Rehabs and Closures schedule for any refurbishments or work taking place at the Beach Club Villas during your visit.
Resort Theme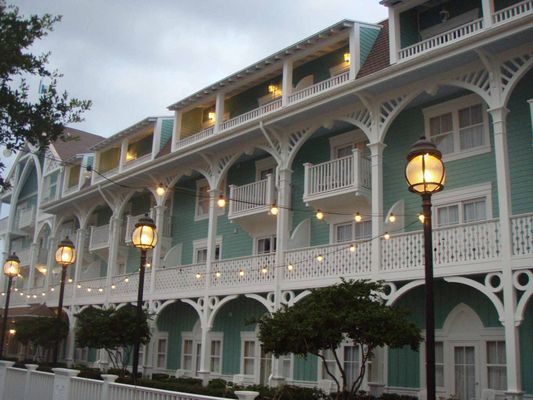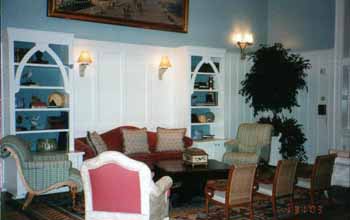 Beach Club Villas is a Disney Vacation Club property with a late 19th-century New England beach destination theme.
Resort Rooms
This resort's 282 villas are studios, one-bedrooms or two-bedrooms.
Studio:
– 356 square feet
– queen bed and double sleep-sofa
– kitchenette with mini-fridge, microwave, toaster and sink
One-bedroom:
– 726 square feet
– master bedroom with king bed, master bath with whirlpool tub
– living room with queen sleep-sofa
– full kitchen with eating area, full-size fridge, microwave, stove, oven, toaster, dishwasher
– washer and dryer
Two-bedroom:
– 1083 square feet
– master bedroom with king bed, master bath with whirlpool tub
– second bedroom with queen bed, double sleep-sofa
– living room with queen sleep-sofa
– second full bathroom
– full kitchen with eating area, full-size fridge, microwave, stove, oven, toaster, dishwasher
– washer and dryer
All villas have either a balcony or a patio.
Disabled accessible villas available.
Each villa has:
Alarm Clock
Ceiling Fan
Coffeemaker & setup
DVD player or DVD/VCR combo player (except Studios)
Hair dryer
In-room wall safe
Iron and ironing board
Vacuum cleaner
Pack 'n Play crib available upon request
Telephone with voice mail
Satellite TV (includes Disney programming) in each bedroom and living room
Complimentary wireless Internet (Wi-Fi) (click link for specific details)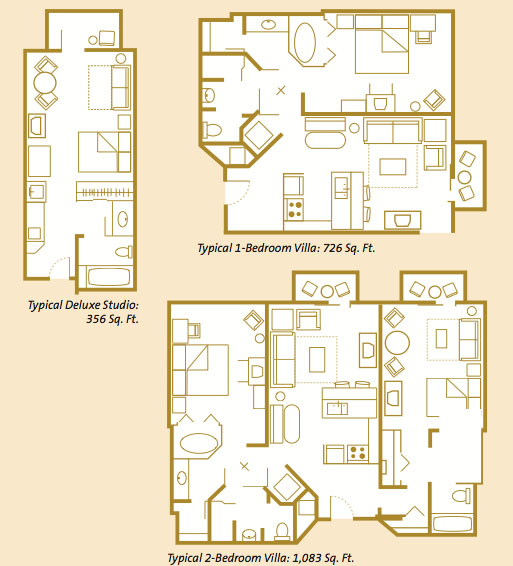 Resort amenities include:
Self service laundry facilities near the 'quiet' pool
Valet laundry service
Salon/barber services
Valet parking
Available upon request, subject to availability
Bed Boards/Rails
Crib: Pack 'n Play
Electric Mixer
High Chair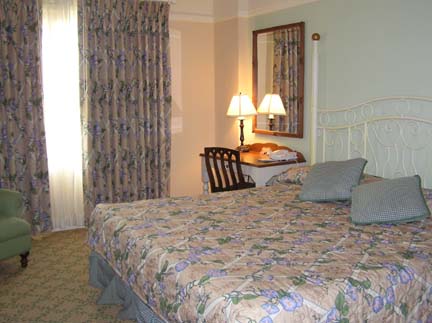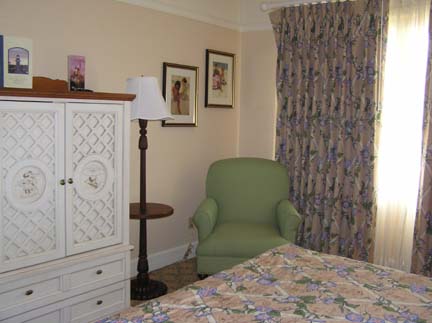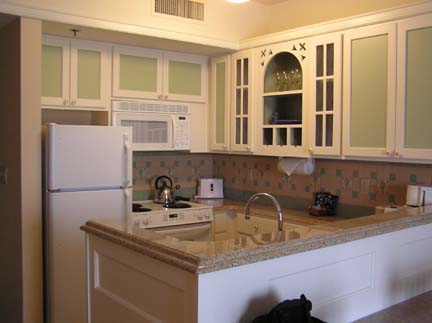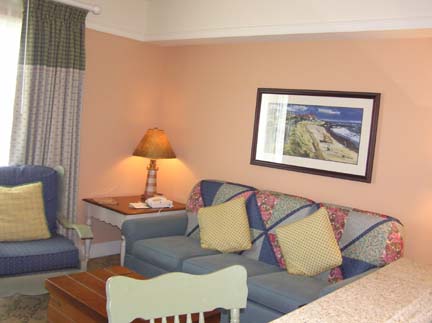 Resort Dining
Cape May Café is a Table Service buffet-style restaurant which hosts a character breakfast in the morning and a clam-bake themed dinner in the evening.
Beaches and Cream Soda Shop is a casual Table Service location at the Beach Club.
There is also a Beaches and Cream Soda Shop To Go Menu available for those who wish order take-out.
Beach Club Marketplace sells Quick Service meals, snacks and a limited selection of groceries.
The Dunes Pool outside of the Beach Club Villas offers private poolside dining or beverage service by phone order. Food is delivered poolside for a $3 fee plus 18% gratuity. Disney Dining Plan credits can not be used, but cash, credit card or room charge are accepted as payment.
Hurricane Hanna's pool bar serves Quick Service meals and snacks.
Martha's Vineyard serves appetizers, wine and drinks.
Rip Tide Lounge serves drinks and snacks.
In-Room Dining is available 24 hours a day.

Yacht Club dining options:
Captain's Grille table service location serves breakfast, lunch and dinner.
Yachtsman Steakhouse Signature Dining location is open for dinner.
Ale & Compass lounge serves drinks and snacks.
Crew's Cup lounge serves drinks and snacks.
BoardWalk dining opportunities are within easy walking distance:
Big River Grille & Brewing Works brewpub
ESPN Club sports café
Flying Fish (Signature Dining location)
Seashore Sweets for coffee, ice cream and candy
BoardWalk Bakery
BoardWalk Pizza Window
Refillable mugs are available for purchase at Beaches and Cream Soda Shop, Beach Club Marketplace and Hurricane Hanna's for $15.49 plus tax.
Resort Recreation
· Stormalong Bay– a three-acre water park comprised of three sand-bottom pools with zero-depth entry, and a water-slide (also open to Yacht Club guests- resort ID required for use)
· A 'quiet' pool and whirlpool spa (villa area)
· 4 whirlpool spas (resort area)
· Children's playground
· Lafferty Place Arcade
· Two lighted tennis courts (Yacht Club)
· Bayside Marina boat rental (Yacht Club)
· Water cruises (Yacht Club)
· Fishing (Yacht Club)
· Beach area
· Volleyball
· Jogging trail around Crescent Lake
· Disney movies under the stars nightly in beach area
· Disney's Pirate Adventure (children ages 4 to 12)
· Periwig's Beauty and Barber Shop– full-service salon
· Ship Shape Health Club with workout equipment and massage/spa services (reservations: 407-938-3256)
Resort Shopping
Atlantic Wear & Wardrobe Emporium stocks Disney character apparel and souvenirs as well as Beach Club Villa and Disney Vacation Club logo merchandise and general sundries.
Beach Fittings and Fairings at the Yacht Club is another shopping option. And the nearby BoardWalk has numerous shopping venues.
Resort Transportation
Disney's bus service is available to the Disney's Hollywood Studios, the Magic Kingdom and the Animal Kingdom, as well as Downtown Disney and the Disney water parks. Water launch transportation is available to the Epcot International Gateway entrance, to the Disney's Hollywood Studios, and to the BoardWalk. The Beach Club, Boardwalk and Epcot's International Gateway entrance are within walking distance.
The bus stop is located to the left of the main lobby, as you exit the front of the building. The water launch stop is on the dock to the right as you exit the main lobby toward Crescent Lake.
Transportation Times Between Beach Club Villas and Disney Destinations
These times are approximate, provided to give you an idea of average travel times. Please plan on up to a 20 minute wait for Disney transportation in addition to walking time to resort or theme park transportation stops.
Magic Kingdom – 19 minutes by bus, 35 minutes by car (with transfers)
Epcot International Gateway – walking 5 minutes, 18 minutes by boat, 16 minutes by car (to front gate)
Disney's Hollywood Studios – walking 20 minutes, 18 minutes by boat, 15 minutes by car
Disney's Animal Kingdom – 24 minutes by bus, 20 minutes by car
Downtown Disney – 20 minutes by bus, 12 minutes by car
Blizzard Beach Water Park – 22 minutes by bus, 15 minutes by car
Typhoon Lagoon Water Park – 20 minutes by bus, 10 minutes by car
Resort Childcare
Sandcastle Club
Hours: 4:30 pm to 12 midnight
Reservations: (407) WDW-DINE
Free play, arcade games, Sega/Nintendo, board games, Disney movies, "play" kitchen and living room area, dolls and stuffed animals, arts and crafts, and much more!! Charge is $11.50 USD per hour per child, with a two-hour minimum.
Sandcastle Club provides a complimentary dinner for children that is available at 6:00 p.m., 7:00p.m. and 8:00 p.m. in the Club. Reservations required.
In-room child care is available at all resorts.
Resort Rates
Looking for a discounted rate for your Disney Vacation? Let The Magic for Less Travel, an Authorized Disney Vacation Planner, work for you. Their concierge services are always provided free of charge, and The Magic for Less Travel will help you find the best published or unpublished discount for your vacation. Already have a vacation booked directly with Disney? Contact The Magic for Less Travel to see if they can help you find a lower rate.

GET A FREE QUOTE NOW!
Beach Club Villas Photo Gallery
Click photos for larger image or slide show
Tips From TheMouseForLess Members
TheMouseForLess Interesting Facts about the Resort
It is a charming New England beach resort. The décor is fresh and airy. – Marylynn Miles
The three-acre Stormalong Bay is the largest swimming pool on Disney property, and with its lazy river where you can float along on inner tubes, many consider it to be the best. – Carol. Vandiver
TheMouseForLess Room Request Tips
We are DVC members so always stay in the Villa's. Ask for a 5th floor view, as on one trip we actually watched Illuminations from the bed! Last month were there and I enjoyed the fireworks more from our balcony than being right inside EPCOT! – Connie Norman
Room 552 will give you a great view of illuminations and the Epcot ball. – Barbra Jones
TheMouseForLess Hidden Treasures
Beaches and Cream! The best little soda shoppe around! The proximity of MGM and EPCOT are great – you can walk to the parks or take a boat. – Connie Norman
Look for the Pressed Quarter and Penny machines located on the walkway outside of Beaches and Cream. You can also get a Scavenger Hunt by asking at the desk at Guest Services. – Carol Vandiver.
You can see some of Epcots fireworks from the beach or on the bridge leading to the Boardwalk. – Carol Vandiver.
This resort has both croquet and volleyball courts. Just stop by the Ship Shape Health Club to pick up free equipment for either. – Binnie
TheMouseForLess Tips for Romance
We love going to the MarketPlace and pick up something for breakfast and then take it to the Solarium to eat. The Solarium is beautiful! Very quiet, it seems not many people know about that area:):) Sit on the balcony and watch Illuminations. The night walks around the resort and Boardwalk are beautiful! – Connie Norman
TheMouseForLess Tips for Families
The pool is the BEST on Disney property. You can go around the island on a tube, the pool has a sand bottom, nice slide. It's great for little kids, as there is also a shallow part where the little kids can build sand castles! – Connie Norman
Try the Cape May character buffet breakfast. It's fantastic! I enjoy seeing the pictures through the years of my boys with Minnie Mouse in her beach garb. It's a vacation last day tradition for us. – Marylynn Miles
Don't miss the treasure cruise offered at the marina. It's for kids from ages 4 to 10. Even though there is a fee, it's a great way to get some alone time to explore the resort and the Boardwalk across the lake. – Carol Vandiver
TheMouseForLess Tips for Large Travel Groups
This is a great choice for groups that often like to go separate ways during their vacation. It's located within walking distance of MGM and EPCOT and between the three resorts located in this area there are plenty of great sit-down dining choices to meet up for diner. – Carol Vandiver.
We always rent 2 bedroom villas so we can all stay together. – Marie Lemmon
TheMouseForLess Tips for Guests with Special Needs
My son, who has Asperger's and needs breaks from the crowds and excitement at the parks, really enjoyed the pool (what a fantastic pool!), looking at the sandcastle structures in the restaurant and lobby, and the butterflies in the garden out back. He was calling the resort home' by the second day, and he sometimes has trouble with new places and people. – Marylynn Miles
TheMouseForLess Tips for WDW Newbies
What a great location! You are steps away from EPCOT, a boat ride away from Disney's Hollywood Studios, and a walk around the lake away from lots of entertainment on the Boardwalk. – Marylynn Miles
Beware of credit card scammers! Several scams have been perpetrated on unsuspecting tourists staying at hotels or resorts in the Orlando area in recent years, including Disney resorts. The first involves a phone call to your resort room in which you are informed that there is a problem with the credit card info you provided the hotel; you are then asked to give your card information again, including name and address. If you receive such a call, inform the caller that you will talk to the front desk personally about the problem and hang up. If you are convinced the call may be legitimate, call the front desk from your resort phone or visit the front desk to inquire. The second scam involves flyers left on your resort room door advertising cheap pizza for delivery. Those who call the number and give the requested credit card info with their order soon find that not only does no pizza arrive, but a huge string of unauthorized purchases show up on their credit card.
TheMouseForLess Tips for Budget Travelers
This is a deluxe resort, however, if you have an annual pass, watch for the A/P discounts. Plus if you stay in a villa, you have the refrigerator, kitchen, etc. – Connie Norman
We have ordered groceries from goodings or the garden grocer in the past and that has helped cut down on some food costs – and they deliver! – Barbra Jones
TheMouseForLess Tips for Luxury Travelers
This resort has it all, great pool, nice views, and you can walk to EPCOT and MGM. The rooms are beautiful! Coming from Minnesota, this resort is a real vacation! The DVC portion is beautiful, especially the 1 bedroom villas. – Connie Norman
Let's see, lots of dining opportunities, 2 parks within walking distance, tons of water recreation, a spa and health club, concierge services, tennis courts, and lots of shops and evening entertainment very closeby. Yep, this is luxury. – Carol Vandiver